Sunnyside Yards: Finding Our Place In Space & Time
Part I. A Closer Look Into The Many Dimensions Of The Mayor's Proposed Development Of Sunnyside Yards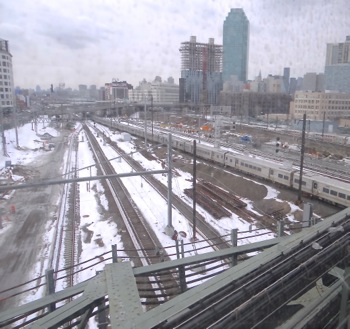 Updated March 2017 / First Posted March 8, 2015 / Bronx History & Bronx Neighborhoods / Sunnyside Yards & NYC Railroad History / Gotham Buzz NYC.
There's been plenty of talk about the proposed real estate development of Sunnyside Yards since Mayor de Blasio first announced it as one of the top real estate development sites that could be used to mitigate New York City's current affordable housing crisis.
I've been taking an informal poll about the proposed development, and generally have heard people voice their opposition to it, even though the proposal is still in the early stages. To be sure, there are plenty of issues associated with the real estate development which one could easily construe to be negative [like the population density impact on infrastructure], but there are also opportunities associated with it, which one could see in a positive light [like tying funding for more transit to address the stress already on the #7 subway line].
The photo at right shows one section of the Sunnyside Yards looking south from Queens Blvd, just east of Jackson Avenue in Long Island City.
What follows is a deeper look into the proposed development of the Sunnyside Yards. This is our first report in a series. For Part II of this series, click the link at the end of the story entitled Sunnyside Yards.
---
Sunnyside Yards: Finding Our Place In Space & Time
Part I. A Closer Look Into The Many Dimensions Of The Mayor's Proposed Development Of Sunnyside Yards
Updated March 18 / First Posted March 8, 2015 / Bronx History & Bronx Neighborhoods / Sunnyside Yards & NYC Railroad History / Gotham Buzz NYC. Continued.
Early 19th Century Farmland: Sunnyside Yards & Queens Histories Intertwined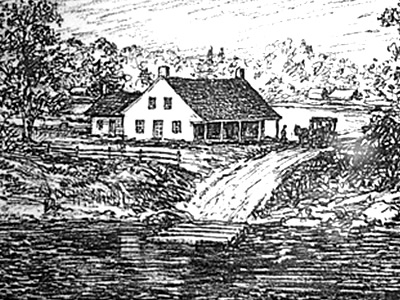 In the late 18th and early 19th century, Queens was a bucolic land populated with productive farms and woodlands. The Onderdonk House in Ridgewood still enables one to conjure up its memory, as does the King Manor in Jamaica and the Steinway Mansion in Astoria. Over the course of the 19th century, Queens evolved from a mostly farming community into a productive industrial and manufacturing area. I shot the photo at right of a print from the Onderdonk House / Ridgewood Museum showing the Newtown Creek area in the 1700's.
Mid To Late 19th Century Long Island City & Queens: An Evolving Industrial & Manufacturing Center
Queens economic base included a significant amount of farming to the east, and industrial facilities including lumber, coal and oil along and some of which polluted Newton Creek and the polluted the East River. Queens offered commercial transit to and from Long Island by way of a combination of the East River ferries which were located near the railroad depots.
Early modern manufacturing facilities also emerged, including numerous piano factories, which made what was the 19th century equivalent of the TV or computer - or the home entertainment center. The photo below right shows the large East River manufacturing facility of Steinway & Sons Piano company in the late 1800's. I photographed the picture below right at Steinway Hall in Manhattan before Steinway & Sons Piano Company moved out of the historic building.
Dawn Of The 20th Century: Queens Becomes Annexed Into NYC & The Birth Of NYC Mass Transit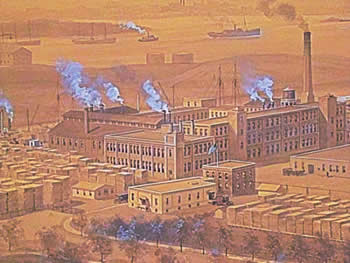 In the late 19th century [1892] William Steinway was the first to attempt to drill a tunnel beneath the East River to enable mass transit which would have created greater demand for his vast Astoria real estate holdings. The East River tunnel effort was put on indefinite hiatus in 1893 when an accident occurred killing several people. A few years later Steinway died [1896] leaving that task to another generation. Nonetheless, William Steinway's groundbreaking efforts to tunnel underneath the East River did not go unnoticed, and it is why the #7 subway line tunnels are called the Steinway Tunnels.
By the dawn of the 20th century, Queens had been annexed as a borough of New York City. Housing began to grow in the borough as laborers and tenement dwellers moved out of the city to live in their own homes, while continuing to work in Manhattan.
Homeownership miles away from work was made possible by way of an evolving public mass transit system which now included sub terranean trains or subways which whisked people from distant boroughs to and from their jobs in Manhattan. It was during this evolutionary time that the Sunnyside Yard first came to being in 1910.
Queens Circa 1920 / 1930: Evolution Of Mass Transit Changes Queens Population Density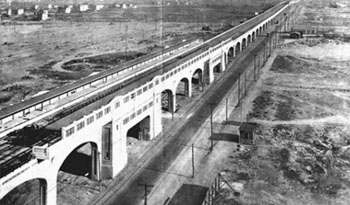 The NYC subway system began operating around the turn of the last century. Prior to the subway, in the 19th century, there were trolley cars and elevated trains that ran short urban distances frequently - all of which were privately owned. The subway building began with private investment in 1902 as these urban transit companies began expanding their service.
The first subway opened in 1904 and ran from City Hall to the Bronx. The subway didn't come to Queens until 1917 and, as you can see by the photo at right, the folks back then had vision, as Queens wasn't much but open farmland, except along the waterfront. I believe this photo begins with the stop at 46th Street in Sunnyside, looking west to Long Island City [photo from ForgottenNY.com].
Queens Circa 1920's & 1930's: Real Estate Developments And Affordable Housing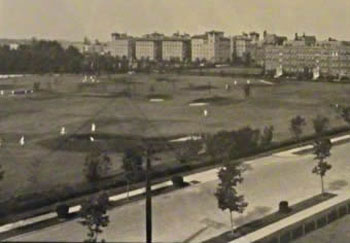 In the early part of the 20th century Queens farmlands gave way to residential housing real estate developments. Some of the developments during this period were influenced by urban developments in Europe. Examples of Queens European-influenced developments include the co-op garden apartments in historic Jackson Heights that were developed by the Queensboro Corporation. Sunnyside Gardens is another example, as the City Housing Corporation in the 1920's developed Sunnyside Gardens along with the adjacent privately owned park. And a third European-influenced development was Forest Hills Gardens, named by Cord Meyer and guided in part by Margaret Slocum, as the two world wars began changing the world.
The photo at right shows the Jackson Heights golf course which was one of the many amenities used to lure Manhattan residents to Queens in the early / mid part of the 20th century. I shot this photo at the annual Jackson Heights Beautification Group's Historic House Tour. Today residential amenties include a building health club or a new dishwasher.
Queens Public Housing 1940 - Present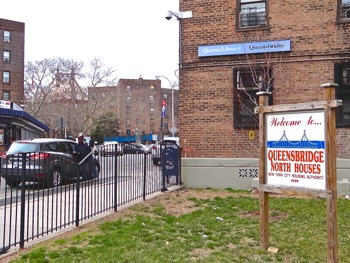 What followed after the wars were private real estate developments which were generally less grand in size, funding and vision. Huge private developments were replaced by huge public housing developments which were erected in numerous parts of Queens, and the other boroughs.
In time public housing quickly became what one pundit called "centers for institutionalized poverty". Part of of the public housing plight was that the Public Housing Projects became the front line of a civil rights struggle in America, and in tandem with the social struggle and upheaval, the widespread sale and use of illicit drugs.
Fast forward more than a half century later to today and public housing is as safe as its been in decades. It is also better maintained and more ethnically mixed, although there are still racial skews. The photo at right shows one of the Queensbridge public housing complexes in Queens.
Click here to go on to Part II of this series about the proposed Sunnyside Yards real estate development which takes a closer look into the 20th century development of Queens and into the evolving relationship between mass transit and real estate development.
---
Gotham Buzz Subscriptions
We work very hard to help keep you informed by providing you with independent news coverage, as well as information about events in the arts, culture and business in the borough.

You can help us continue to provide you with independent, first-person, fact-based, contextural reporting by purchasing an annual voluntary subscription, which we've priced to accommodate all budgets.
Thanks for your encouragement and support.
---
$element(adman,groupad,Catgry Realestate)$
Sunnyside Neighborhood Links
Click on these advertisements for promotions, discounts and coupons by retailers and restaurateurs in Astoria and nearby Queens.
Click this link to go to the Sunnyside & Woodside Neighborhood.
---
LIC Neighborhood - Long Island City Links
$element(adman,groupad,Catgry Foodwine)$
Click on these advertisements for promotions, discounts and coupons by retailers and restaurateurs in Long Island City LIC and nearby Queens. Click here for a related story about the hotels & restaurants in Dutch Kills section of Queens.
Click this link to go to the Long Island City Neighborhood.
---
$element(adman,groupad,Catgry Finance)$
Site Search Tips. 1) For best results, when typing in more than one word, use quotation marks - eg "Astoria Park". 2) Also try either singular or plural words when searching for a specific item such as "gym" or "gyms".
$element(bwcore,insert_search,N)$
---
Click the log in link below to create an ID and post an opinion.
Or send this story to a friend by filling in the appropriate box below.
$element(adman,groupads,Sectional2 Ad)$
---