Sunnyside Yards: Part III
Feasibility, Functionality, Public Policy & Community Strategies
May 18, 2015 / Long Island City / Bronx History & Bronx Neighborhoods / Sunnyside Yards & NYC Railroad History / Gotham Buzz NYC.
In the first two segments of our series on the Sunnyside Yards we took a look at the centuries old history of transit and real estate development in Queens as the two went hand in hand.
In this report we're going to explore the feasibility and functionality of building over Sunnyside Yards by looking at the history of platform development over rail yards and highways in New York City since the turn of the 20th century.
This will be followed by a brief look at some of the economics of the Hudson Yards platform development in West Midtown, which will be used to make a calculated estimate of the cost of erecting various sized platforms over the Sunnyside Rail Yards.
Urban Density Measures: People per Square Foot of Land or Living Space Per Person?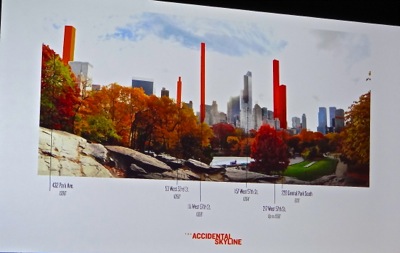 We will also look at two very different measures of population density. One metric is people per square foot of land and the other is the amount of living space per person.
The first metric - the population density per square foot of land - can be managed by ensuring the proper amount of public infrastructure is in place. Public infrastructure including open space, pedestrian space, parklands, public transit conduits, schools and libraries.
The second metric - living space per person - can be managed by creating more space by buidling upward.
Affordable Housing: Public Financing of Rentals or Ownership?
Before completing this report we will include a brief look into the history of government lead efforts to address affordable housing shortages in New York City in the past. Generally public / private collaborative housing developments have resulted in the erection of price controlled rental apartments, of which the ownership was given to private real estate developers and financiers.
Home ownership is one of the most important components of wealth creation and upward social / economic mobility in America. Hence, in this report we will also show how significantly household wealth is affected by ownership / lack of ownership of one's residence.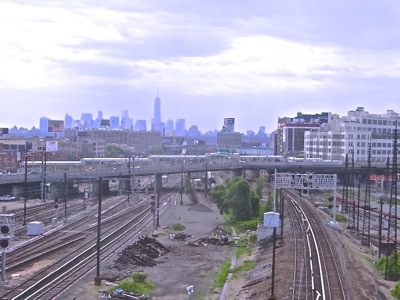 We will explore the possibility of distributing the ownership of affordable housing units to those who reside in them, as an alternative to what has been done in the past. The economics of which can be made feasible by taking New York Central Railroad visionary Wilbur J. Wilgus's advice by "creating wealth from the air", by building up. This alternative makes economically possible, government efforts to enable citizens to own their own homes.
This goal of examining an alternative approach to government efforts to address New York City's affordable housing crisis is that this approach is in alignment with the ideals of the American Revolution which took governance by the few [Kings and Nobles] and distributed it to the nation's citizenry. Self-determination. Self-governance. Home-Ownership.
The distribution of home ownership also simultaneously strikes at one of the root causes of the shrinking American middle class, by mitigating one of the chief causes of the growing disparity of wealth accumulation of American citizens.
We will end this report with a look at different strategies that the community / neighborhood can explore to block, guide or embrace a real estate development over Sunnyside Yards.
Fasten your seat belt. And click here for Part III of our series regarding the real estate development of Sunnyside Yards and affordable housing solutions in NYC.
---
Sunnyside Yards: Part III
Feasibility, Functionality, Public Policy & Community Strategies
May 18, 2015 / Long Island City / Bronx History & Bronx Neighborhoods / Sunnyside Yards & NYC Railroad History / Gotham Buzz NYC. Continued.
Sunnyside Yards: Report Directory
As this report constitutes a deep dive into the various aspects of developing residential housing over Sunnyside Yards in Queens, I've provided the following Directory so you can click to view a section or scroll through the work in its entirety.
High Rise Building Developments Began with Development of the Elevator
The first modern elevator was showcased in the mid 1850's, but elevators didn't go into widespread public use until the 1870's after elevator safety issues had been addressed.
A couple decades later in the 1880's, elevators began to run on electricity not steam, and the erection of high rises in New York City and elsewhere began in earnest. The Dakota at 71st Street and Central Park West on the Upper West Side was one of the first great high rises in New York City and it was erected in 1884. John Lennon, one of the most famous residents of the building, wasn't even a sparkle in his grandfather's eye.
The photo at right shows Central Park West looking south from about 80th Street. The Dakota is one of the high rises shown along the right.
20th Century Platform Developments NYC
By the turn of the 20th century, high rise buildings were popping up everywhere. Real estate development visionaries like Wilbur J. Wilgus, who worked for New York Central Railroad, envisioned a period of even grander buildings. Wilgus was the first to propose building over the railway yards just north of Grand Central Terminal. For the next century and beyond, ambitious real estate developers identified and executed a number of large scale platform developments in New York City. To date the engineering issues associated with erecting platforms over large spaces in New York City have always been technically and economically surmountable.
Several notable executions of large platforms over rail yards and roadways in metropolitan New York City include: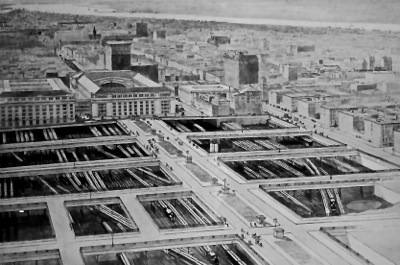 1) Grand Central Terminal 1903 - 1913. The photo at right shows the proposed early 20th century platform development north of Grand Central Terminal in present day Midtown.
A second time in 1963 with the erection of the Pan Am Building [now MetLife] over the northern end of Grand Central Terminal. A third effort began in the late 1960's but it was beaten down by historical preservationists including Jacqueline Kennedy Onassis.
2) Penn Station was erected in 1910 [check] over the Penn Central rail yards. The station was replaced in 1962 - 1963 with Madison Square Garden.
3) The Brooklyn Queens Expressway was built under the Brooklyn Heights Promenade to preserve the community / historic district.
4) The Washington Heights Public Housing Project collaboration with a developer [?] in 1963 over the Manhattan entrance to the George Washington Bridge.
5) Barclays Stadium in Brooklyn in 2012 [?].
6) currently the Related Companies is building over the Hudson Yards near Penn Station.
We'll make references to all of these developments at some point in this report.
Community / Historical Preservation not an Issue for First Early 20th Century Developments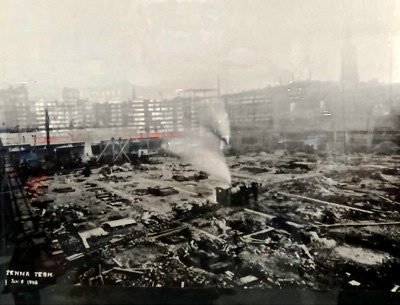 Our litany of platform development examples begins with Grand Central Station, followed by Penn Station. Both of these platforms over rail yards were started and completed in the first two decades of the 20th century. The photo at right shows Penn Station rail yards prior to the erection of Penn Station.
In the early 20th century there doesn't appear to have been any community opposition for covering up what had been rail yard eyesores in what was becoming the middle of the city.
Grand Central Terminal 1871. When Grand Central Terminal was first erected in 1871, the terminal was essentially located at the northern end / outskirts of what was then considered the densely packed and rapidly growing New York City.
Platform Over Rail Yards: Park Avenue 1903 - 1913. It was William J. Wilgus who coined the phrase "taking wealth from the air" when he first proposed monetizing the air rights of the New York Central and Hudson River Rail yards, which ran north of Grand Central Terminal along what is North Park Avenue and vicinity today.
The platforms were built over the rail yards which terminated at the north side of Grand Central Terminal at 42nd Street. It's worth noting that by the turn of the 20th century Grand Central Terminal was no longer located on the northern edge of the growing NYC metropolis, but it was also not yet the Midtown NYC we know today.
Historical Preservation Modifies a bit of Robert Moses' Mid Century Roadway Developments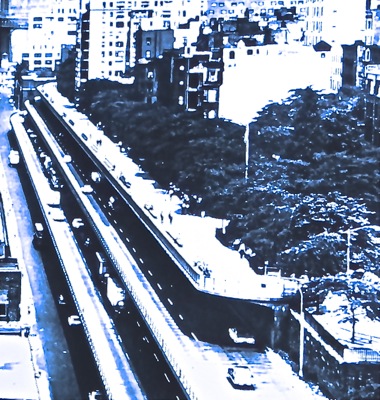 By the middle of the 20th century Robert Moses, 'the master builder', erected the Brooklyn Promenade Park over the Brooklyn Queens Expressway in Brooklyn Heights at the request of the community [circa 1942]. The Brooklyn Heights community had opposed a number of Moses' efforts to build the Brookyn Queens Expressway through their neighborhood.
Brooklyn Heights found a means by which to assert their will by becoming the first community in New York City to carve out a historic district. Following the creation of the historic district, the neighborhood successfully asserted its new found legal rights to have the BQE circumvent the neighborhood by building the BQE highway under the Brooklyn Promenade [see photo at right].
Moses & SS Yards: Large Scale Development by Segment
Robert Moses also built the FDR Drive underneath / around Gracie Mansion and Carl Schurz Park. The FDR Drive development was implemented in segments over a period spanning nearly a decade from 1934 - 1942.
A segmented approach to development of Sunnyside Yards has already been publicly discussed by financiers and real estate developers, and a recent sale of air rights adjacent to the Sunnyside Yards appears to be an indication that this is something that is already occurring.
Mid Century Private Real Estate Development Over Roadway
In the early 1960's, the Bridge Apartments were erected over the Interstate 95 roadway leading to the Washington Bridge in northern Manhattan [1961 - 1964] following the sale of the air rights to a real estate developer. The apartments, built atop the noisy and air polluted roadway, were used to provide low-income housing. According to a New York Times report, when the windows are closed you don't hear the noise and of course don't breathe the polluted air.
Mid 20th Century Development: Penn Station & Grand Central Terminal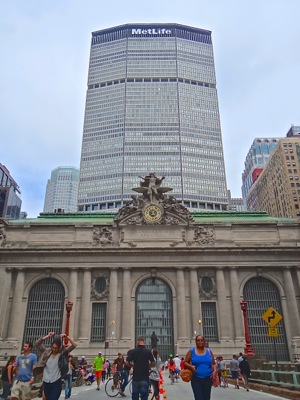 The Pan Am Building [later renamed MetLife] was erected over Grand Central Terminal in 1963 just as Penn Station was being bulldozed down and replaced with Madison Square Garden [1964]. A photo of the Pan Am / MetLife Building is shown at right.
In the early 1960's Pennsylvania Railroad sold the air rights associated with Penn Station. This lead to the demolition of Penn Station and erection of Madison Square Garden. Penn Railroad subsequently merged with New York Central Railroad which owned Grand Central Terminal.
Historical Preservation Thwarts A Large-scale Development
As the railroad industry was in a precipitous descent, the newly merged Penn Central Railroad proposed building an office tower larger than the Pan Am Building atop Grand Central Terminal, using the existing foundations of Grand Central Terminal, but by modifying the interiors and turn-of-the-century Beaux Arts facades [1968]. The community strongly objected.
In 1978 a court decision upheld the government's right to preserve Grand Central Station, thus blocking the newly proposed development. The thwarted effort to modify the landmark by building atop of it was lead in part by Jackie Kennedy and the Municipal Art Society [MAS] of New York.
Historical Preservation has Selectively Thwarted Development
As you can see from these examples above, successful community actions thwarting real estate developments generally revolve around historic preservation and little else. For better or for worse, the skyline continues to change.
II. Hudson Yards & the Economics of 21st Century Platforms
21st Century Cost of Building Platforms: Hudson Yard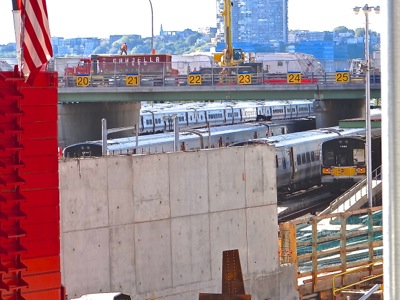 As we've seen above, generally large scale building platforms have been built up over rail yards and roadways. In this decade of the 21st century there are currently two large platforms in various stages of development: 1) Hudson Yards in West Midtown and 2) Atlantic Yards in the Greenpoint section of Brooklyn.
One of the platforms currently underway is located about three miles away from Sunnyside Yards in West Midtown. The platform is being built up over the 28 acre site of Hudson Yards [formerly Pennsylvania Railroad Yards]. According to a Bloomberg News Service report, the cost to build the platform over the 28 acre Hudson Yard is estimated to be $250 million.
In densely packed Midtown, the cost of building is higher than in Long Island City due to traffic, tight space limitations, as well as access and storage of building equipment and materials.
A photo of a concrete wall of the platform being built over the Hudson Yards railroad yards in West Midtown is shown at right.

Cost of Building Platforms & Cost Per Unit Foundation: Sunnyside Yard
We used the Hudson Yard platform cost estimate to figure out what it might cost to build a platform over Sunnyside Yards. The cost of building a platform over the entire 180 acre site would be six times greater [total cost of $1.5 billion] than that of Hudson Yard based on the square acreage of the Sunnyside Yard site.
If the city built the 11,000 units referenced in Mayor de Blasio's State of the City Address, the cost per unit for the foundation of each of 11,000 units would come to about $227,000 per unit - assuming the units were built in tandem with a platform over the entire 180 acre site.
Comparing Acreages: Sunnyside Yard & Stuyvesant Town / Peter Cooper Village
But using the entire site to erect buildings isn't anywhere close to being necessary to accommodate the construction of this many units. For example, Stuyvesant Town / Peter Cooper Village contains over 11,000 units on only 80 acres of land. So you could cut the platform cost by more than half by developing the units over a similar footprint / configuration as Stuyvesant Town / Peter Cooper Village which has plenty of open space. Scroll down several photos to see aerial view of Stuyvesant Town / Peter Cooper Village.
Construction Cost Differentials: Manhattan vs Queens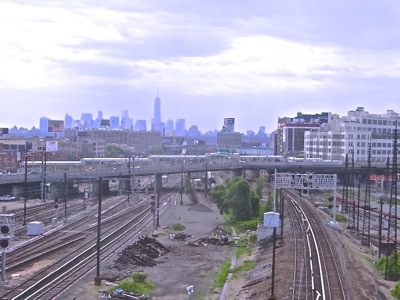 This estimate also assumes the cost of building in Queens is the same as the cost to build in Manhattan [which it isn't], and that there isn't any volume discount for building a platform on a grander scale [there is], and that the cost of the development rights of a Queens site foundation costs the same as building in Manhattan. Likely most of these cost parameters will work in favor of the Sunnyside Yard on the lower / cost favorable side.
Building Up: Marginal Cost of Added Floors Has Beneficial Impact on Return on Investment
At a recent real estate conference one of the developers said that the incremental cost of adding another story was modest in comparison to the overall cost of a development, which is why higher is more profitable. So adding more units, building up, can also make the economics work even more favorably. The point here is that economics, like engineering feasibility, is an issue that can be addressed by building up.
Stuyvesant Town & Peter Cooper Village
It's worth noting that Stuyvesant Town / Peter Cooper Village in Manhattan sits on 80 acres and is home to a bit less than 11,300 apartments and about 25,000 residents. See photo at right.
Using this as the example, one could build the roughly the same number of units, which was proposed by the Mayor, and maintain the same density as Stuyvesant Town / Peter Cooper Village - AND still have 100 acres of open space left to dedicate to parkland or some other public function.
As no platform currently exists over the Sunnyside Railyards, that space is currently unused by folks - although it certainly gives one a feeling of openess [scroll up to see photo depicting this statement].
Acreage of NYC Parks: Astoria Park, Washington Square Park, Bryant Park, Battery Park
To help put the space of 100 acres in perspective, I looked up the following parkland acreages.
Astoria Park is about 50 acres
Washington Square Park and Bryant Park are each about 10 acres
Battery Park is 25 acres
Central Park is 843 acres
Flushing Meadow Corona Park 897 acres
Prospect Park Brooklyn 585 acres
Thus one could hypothetically build 11,000 units, in 110 buildings which would be no higher than the roughly 12 to 13 stories, with each building containing about 100 units, located on 80 acres [these are the parameters of Stuyvesant Town / Peter Cooper Village] and still have 100 acres left over.
The remaining space could accommodate two Astoria Parks into the development of what is currently unusable public space - or one Astoria Park and three added parks comparable in size to Battery Park [access Newtown Creek], Washington Square Park and Bryant Park.
I'm not proposing this should be done. I'm just laying out the various building blocks for the community to examine and consider - before little by little the site is developed without a master plan / vision that incorporates some of the livability components that might be important to the surrounding neighborhoods / communities.
Atlantic Yards Brooklyn: Too Little & Too Late
It's worth mentioning that with respect to the Atlantic Yards in Brooklyn, the community opposed it and pretty much got nothing. They finally came up with an alternative plan at the end of the wrangling, but it was far too little and far, far too late.
Neighborhood & Community Issues: Density Impact On Infrastructure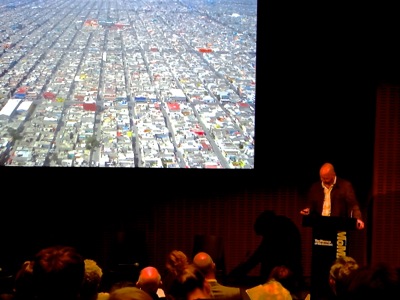 I attended an NYU Furman Center event a few weeks ago in Manhattan entitled Discussion on Density. It was a series of short lectures designed to educate the audience about the many economic aspects and social implications of urban design from an economic / urban planning perspective.
The speakers included an NYC City Planner, architectural historian, an architect and a social scientist. They were there to discuss different approaches to making New York City more livable. The lectures were followed by a speaker forum.
One of the most interesting observations I took away from the presentations was a discussion about density. One of the speakers noted that the Upper East Side is one of the most densely populated sections of the city, and yet has one of the highest qualities of life in the city. Why? Well, that was the interesting part.
The photos to above and below right were taken at another forum I attended at the Museum of Modern Art entitled What is a Decent City.
The point of the two photos / slides is that in the first the density covers the entire land area, whereas in the photo below it, the urban landscape has been made more liveable by building up which frees the space below for the public to share / use. This MoMA forum was organized in the same fashion as the NYU forum, and in some measure addressing the same topic, but from a more academic artistic perspective / point of view. The speakers on this panel included professors of architecture and design, curators and social scientists and the experiences they brought to the forum were from around the world.
Urban Density: Two Metrics - People Per Square Foot vs Per Person Living Space
Density can be measured by population per square foot of land, which is how the Upper East Side is measured as being one of the most densely populated neighborhoods of the city. Conversely, the Upper East Side also has one of the highest living space per person metrics in the city, because it is populated with numerous high rise apartment buildings.
Using the second measure [living space per person] Corona Queens tops the scale as one of the neighborhoods that has larger families, a higher number of people living in each unit, and thus less square foot of living space per person. This is so, even though the population density of the neighborhood is comparable to many other parts of the city.
Upper East Side Quality Of Life: Short Commutes
One of the reasons for the high quality of life on the Upper East Side is that they have shorter commutes to work than most folks. Likely within the neighborhood, to Midtown or possibly downtown. Many of the lower and middle income folks in New York City have far longer commutes, coming into Manhattan to perform service jobs from the outer reaches of the outer boroughs and / or suburbs.
Infrastructure: NYC Pedestrian & Park Space
Another aspect one of the speakers noted is the impact that space on the street for pedestrians and green / open space has on quality of life. The Upper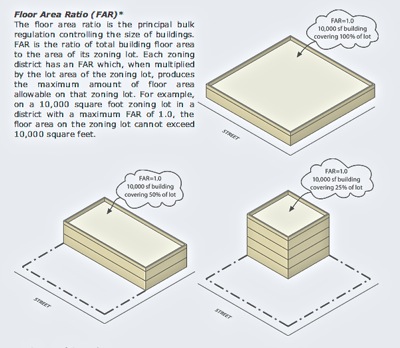 East Side has wide sidewalks and is adjacent to Central Park, both of which provide a feeling of openess. The speaker also informed us, that the Upper East Side is home to some of the highest performing public schools in the city.
So in spite of the high population density as measured by people per square foot of land, the Upper East Side residents have spacious living quarters, space on the street, access to parkland and good schools.
This is something interesting to contemplate when thinking about the future of the Sunnyside Yards.
Zoning the FAR: Floor Area Ratio
The Floor Area Ratio or FAR is about zoning space. As you can see in the photo at right, there are many different design approaches that could be taken toward the development of Sunnyside Yards.
One could either disperse low height living units across the space and use up the public space, or one could build 12 - 13 story high rises like in Stuyvesant Town / Peter Cooper Village containing 100 units leaving considerable space, or build further upward like some of the developers in LIC have done by erecting buildings of hundreds of units that take up a smaller land area footprint and leaving the rest of the space for park land / community buildings.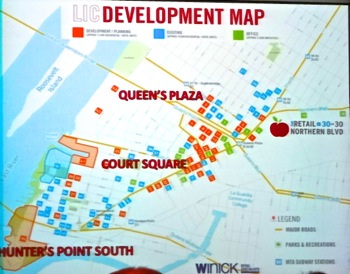 Bloomberg Administration Developments Did Not Include Comparable Infrastructure Build Out
LIC, Sunnyside and other Queens residents have shuddered at the prospect of adding 11,000 new units to the neighborhood, as they are beginning to see and feel the impact that the new real estate developments in LIC are beginning to have on existing infrastructure.
But according to a local business development group, this is just the beginning of what's to come.
According to the agency about 8,000 new units have come on line in the past decade. But twice as many units are expected to come online in the next few years. An added 18,000 new units are already under construction or in planning in LIC alone. One can see this on the development map created by a local real estate company in the photo to your right, but it's also easily visible on the LIC skyline which is dotted with construction cranes.
Anyone who rides the #7 subway line during rush hour knows that the new buildings already approved by the Bloomberg Administration which are currently under construction are going to place a significant strain on the public transit resources.
Hence while there's been a significant increase in private development in western Queens, in so far as I know, the city and state have not added much in the way of new subway or roadway capacity to keep pace with it. The Bloomberg Administration and NYS did however, begin to address some of the long overdue maintenance and upgrade issues on the number 7 subway line. And they also resumed work on the East Side Access train tunnel, which is about the only significant new addition to public transit infrastructure capacity in Queens in decades, that does not include airports.
Developing Sunnyside Yards: What about Infrastructure?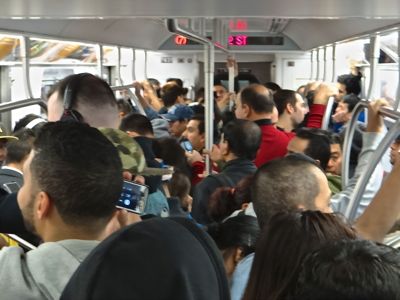 So the City, State and possibly Federal government agencies are already lagging behind the infrastructure eight ball when it comes to keeping pace with private real estate development growth already underway due to lack of holistic planning and budgeting in municipal government.
The de Blasio Administration recently announced that is has begun to address this planning gap by tying infrastructure budgeting to proposed zoning changes / building approvals in order to include infrastructure build out in tandem with private neighborhood development and growth. This may be a solution going forward, but the deficits created over many of the past decades must also be addressed.
Infrastructure is the Focus of Part IV in this Series
We'll return to the infrastructure issues in our fourth installment of this report series regarding Sunnyside Yards.
---
Gotham Buzz Subscriptions
We work very hard to help keep you informed by providing you with independent news coverage, as well as information about events in the arts, culture and business in the borough.

You can help us continue to provide you with independent, first-person, fact-based, contextural reporting by purchasing an annual voluntary subscription, which we've priced to accommodate all budgets.
Thanks for your encouragement and support.
---
$element(adman,groupad,Catgry Realestate)$
Sunnyside Neighborhood Links
Click on these advertisements for promotions, discounts and coupons by retailers and restaurateurs in Astoria and nearby Queens.
Click this link to go to the Sunnyside & Woodside Neighborhood.
---
LIC Neighborhood - Long Island City Links
$element(adman,groupad,Catgry Foodwine)$
Click on these advertisements for promotions, discounts and coupons by retailers and restaurateurs in Long Island City LIC and nearby Queens. Click here for a related story about the hotels & restaurants in Dutch Kills section of Queens.
Click this link to go to the Long Island City Neighborhood.
---
$element(adman,groupad,Catgry Finance)$
Site Search Tips. 1) For best results, when typing in more than one word, use quotation marks - eg "Astoria Park". 2) Also try either singular or plural words when searching for a specific item such as "gym" or "gyms".
$element(bwcore,insert_search,N)$
---
Click the log in link below to create an ID and post an opinion.
Or send this story to a friend by filling in the appropriate box below.
$element(adman,groupads,Sectional2 Ad)$
---