---
NYC / NYS Congestion Pricing 3.0
NYS Senators Liz Krueger & Brad Hoylman Host Community Transit Discussion
March 5, 2018 / Midtown Manhattan / Manhattan Neighborhoods / Manhattan Business / News Analysis & Opinion / Manhattan Buzz NYC.
It was a cool Thursday evening as I made my way to the CUNY Graduate Center in Midtown. The CUNY Graduate Center is located on Fifth Avenue just north of 34th Street kiddy-corner from the Empire State Building.
I was headed to a community discussion about the public transit crisis facing NYC. I suppose, not surprising, was that one of the Congestion Pricing representatives, Alex Matthiessen, was there to present. Alex started out the conversation with a presentation of the new Congestion Pricing Plan, which is now called Fix NYC, telling us how this Congestion Pricing plan was different from the two prior ones floated by the Bloomberg Administration and by Mattheissen's Move NY group a few years back.
Click here to read our report about NYC Congestion Pricing posted in March 2016 when we took a pretty in-depth view at who has been pushing this plan [consultancies & businesses that will profit from the infrastructure build out], how much of the London implementation revenue went back into improvements in that city [about 50%], how congestion pricing didn't reduce traffic, but time shifted traffic in a New Jersey bridge / tunnel implementation [they had claimed emissions reductions and used a 'green' label to promote the last version of this plan], and other important things to consider regarding implementing a 'new and improved' congestion pricing system along the East River Bridges.
Matthiessen started by telling us things we all know, from firsthand use of the century-old subway system, that is the backbone of the NYC public transit system - namely that it's crowded and has been slowing down due to capacity constraints, maintenance and improvements like the installation of the new signaling system which should enable the MTA to insert more cars on the track.
He then switched to the tolling on the bridges used by private motorists, where he talked about the toll structure, which he characterized as 'unfair', telling us that the motorists who use the East River Bridges are getting a free ride. I couldn't help but think that many of the motorists, who generally work and / or live in the boroughs, pay pretty huge sums of money in property or business taxes and / or rent, so to characterize them as getting a free ride didn't seem to factor in the whole scenario.
He then showed us the 'Fix NYC' plan which would change these rates, raising them for the East River Bridges and for Manhattan riders south of 60th Street, while reducing them for the bridges heading to New Jersey or upstate New York. The last piece of his presentation included a timeline for the implementation of this plan, which included:
1) Identifying 'transit deserts' where public transit isn't that effective.
2) Imposing added fees on for hire vehicles like taxies, Uber and others operating in the south of 60th Street Manhattan zone.
3) Set up and begin operating tolls on all East River bridges, with some possible exceptions.
4) 'Lock boxing' the revenue so that it can't be used for other political agendas.
What I found interesting about the 'Fix NYC' plan versus the prior version, the 'Move NY' plan was: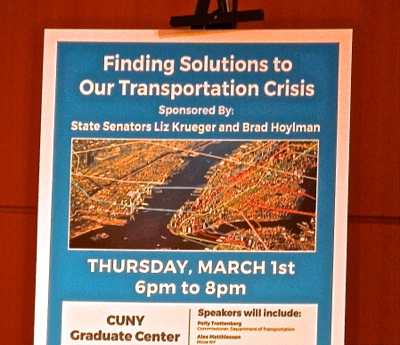 1) That they weren't making the misleading claims previously proffered about saving the environment by reducing traffic.
2) They continued not to discuss the expense of the implementation and operation, nor about what percentage of the proceeds will actually make it to funding public transit improvements [not that I would necessarily believe the 'estimates', as in political implementations they are all too frequently underestimated on the cost side and overestimated on the revenue side].
3) And none of this really 'fixes' the public transit system, which Matthiessen originally highlighted in the beginning of the presentation - as the subways and buses - not so much the roads. I understand that the buses use the roads, but it's important to note that buses represent less than 25% of public transit rides.
So, while the 'Fix NYC' doesn't seem to really fix anything, it does appear to be a very expensive method of taxing people for something for which they are already paying in their state and local taxes. Matthiessen told us the plan would raise $1.5 billion, but did not present that as a 'net of costs' number. He compared it with other taxation methods like raising gas, sales, auto registration or millionaires' tax [proposed by Mayor de Blasio], which would cost very little to implement as the infrastructure and operating costs for collecting those taxes are already in place.
Following Matthiessen's presentation, a panel of speakers came onto the stage. Each then gave a short presentation of who they were and what they're working on related to NYC's transit problem.
First up was Polly Trottenberg who is the Commissioner of the Department of Transportation. She began by telling us what public transit the city controls versus what is controlled by the state.
To be continued later tonight or tomorrow.
---
$element(bwcore,article_picker,1380-1422-1321-130-1069-1033-679-490,Y,N,page_title_home,N)$
---
$element(adman,groupad,Sectional Ad)$
---
Bronx Public Transit - Biking Around Bronx, Bronx Subways & Roadways & LGA LaGuardia & JFK Airports - Bronx Mass Transit, MTA & Infrastructure - Bronx Related Info
$element(adman,groupad,Catgry Foodwine)$
Click this link for promotions, discounts and coupons in the Bronx.
Click for Bronx Weather & Horoscope.
Click for Bronx Neighborhoods & Bronx Public Transit & Infrastructure & Bronx Buzz front page & things to do in the Bronx.
---
$element(adman,groupad,Catgry Health)$
Site Search Tips. 1) For best results, when typing in more than one word, use quotation marks - eg "Midtown Neighborhood". 2) Also try either singular or plural words when searching for a specific item such as "gym" or "gyms".
$element(bwcore,insert_search,N)$
---
$element(adman,groupads,Sectional2 Ad)$
---
Click the log in link below to create an ID and post an opinion.
Or send this story to a friend by filling in the appropriate box below.
---
Bronx Related Links
Click for New Years Parties & Restaurants Bronx NYC
Click for Bronx Farmers Markets NYC
---