---
NYS Primary This Month & Bronx Politics
NYS Primaries are June 28th - Except for U.S. Congressional & NYS Senate Races
June 14, 2022 / NYC Neighborhoods / News Analysis & Opinion / Gotham Buzz NYC.
The NYS primary election is June 28th. On the ballot are the following races: U.S. Senate, Governor, Other state executives, State Assembly, Special state legislative, School boards, Municipal government and Ballot measures.
Click on the image above to access the poll finder website, so you can easily find where to vote in your neighborhood. Remember this is the land of the free and the home of the brave and many of our ancestors died for our right to vote, as the Ukrainians appear to be doing now. So try to be brave, and also be careful in who you choose to represent you. There's still time to do some researchs on candidates on the web.
Early Voting - June 18 - 26, 2022
Early voting began on Saturday, June 18th and runs through Sunday, June 26th, 2022. Two days later is election day, when you can find your poll site by clicking on the graphic above. For those who wish to find an early voting poll site use this link, which not only shows the sites, but also the wait times.
The New York City election is Tuesday June 28th and polls are open from 6 am - 9 pm.
---
1504
Ruben Diaz Sr.'s Comments on Gays
NYC City Council Member Ruben Diaz Sr. Creates Stir & Loses Chairman Post
February 15, 2019 / Bronx Neighborhoods / Bronx Buzz NYC.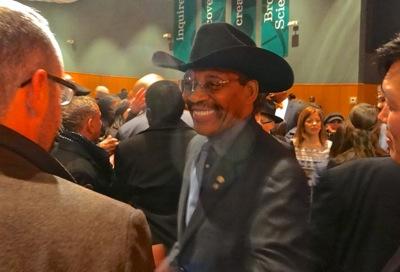 The photo at right shows Ruben Diaz Sr at Ruben Diaz Jr's State of the Borough Address in 2018. This week or so, New York City Councilman Diaz opened his mouth and stuck a cowboy-sized boot in it, declaring that City Hall was, "... controlled by the homosexual community ...". The statement cost Diaz his NYC Council Chairmanship, and the NYC Council then voted 45 - 1 to punish him, following an investigation.
Diaz Sr isn't doing his son, Bronx Borough President Ruben Diaz Jr, any favors, as his son has been rumored to be contemplating a run for Mayor in 2021.
Bronx Borough President Ruben Diaz Jr tweeted that his father's remarks were antagonistic, not inclusive nor respectful of our diversity, and that his father should apologize. Thus far Ruben Diaz Sr has refused to do so. Diaz, a former minister, ought to pay heed to the Bible, which in the Book of Proverbs tells us that, "Pride goeth before the fall."
---
Joe Crowley Runs Against Candidate of the Party he Chairs
Crowley's Name is on the Ballot - But Not as a Democrat
October 29, 2018 / Queens Neighborhoods / Queens Politics & Government / News Analysis & Opinion / Queens Buzz NYC.
I can just see it now "Crowley Win"'.
On Wednesday morning, November 7th, our television screens will be filled with video and interviews with Congressman Joe Crowley. The reporters will be asking him how he won back the congressional seat he lost in the Democratic primary to Alexandria Ocasio-Cortez - by running as the 14th District Congressional candidate on the Working Families and Women's Equality tickets.
I can see Joe Crowley, who seemed not to really concede to Alexandria Ocasio-Cortez back in June, tell the cameras how "honored and humbled" he is to have received the majority vote of the 14th District - even though he was running AGAINST the candidate of the party he chaired.
More Political Theater - Coming to a TV Screen Near You?
If this scenario plays out, the political theater will be as worthy of watching as North Carolina Senator Lindsay Graham's Oscar award winning outrage, which sold the narrative that turned Supreme Court Justice Brett Kavanaugh from an alleged compulsive gambler, drunkard and rapist - into the 'dry your tears' victim of the Clintons and the Democrats. It's worth mentioning that Lindsay Graham's political committees accepted $800K from the companies of a Russian Oligarch according to OpenSecrets.org.
But in the day of an often-enough propagandistic press [Fox News, WSJ & NY Post], or the oftentimes mindless parrot press [the Mainstream Media TV networks], I wonder whether reporters will ask Crowley why he left his name on the ballot of two other parties, while he chaired the party of the candidate he defeated?
Will the reporters ask Congressman Joseph Crowley why he or the party didn't recuse him from the Queens Democratic Party Chairmanship, while he challenged the candidate chosen by the Democratic voters in the June 2018 primary?
Will they ask Democratic Party Chairman Joe Crowley if he worked the Democratic party machinery behind-the-scenes to make sure that Democratic voters would turn out to vote for HIM - NOT the Democratic nominee - on election day?
And will they ask Crowley if he brokered a deal with Bronx Borough President Ruben Diaz, Jr. and Bronx Democratic Party Chairman Marcos A. Crespo to obtain the help of the Bronx Democratic party machinery apparatus to get out the vote for Crowley in exchange for helping Diaz with a [rumored] 2021 mayoral run?
Or will Crowley shy away from getting into tight quarters with reporters [that's why most of Trump comments are done on the helicopter / airplane tarmacs - so he can end the conversation whenever he wants], or only speak with those who will coddle him - like the Donald?
Alexandria Wins Primary & Why Crowley Didn't Seem to Really Concede
In the June primary Alexandria Ocasio-Cortez won 15,897 votes to Crowley's 11,761 votes. But in 2016 Crowley received 147,587 votes, to the Republican challenger's 30,545 votes, so Alexandria Ocasio-Cortez has to win ten times more votes in the general election on November 6th than she did in June. And Crowley only has to win a bit more than half the total of Democrats in the general, to defeat both Ocasio-Cortez and the Republican rival.
This seems a steep hill to climb for Alexandria Ocasio-Cortez - especially if the Democratic machine apparatus run by the Queens and Bronx borough head haunchos, work against the nominee picked by the voters of their party. And this outcome seems somewhere between possible and probable given Crowley's re-election as Queens Democratic Party Chairman on September 17, 2018 at a meeting held in Flushing where Crowley retained his hold on the Queens Democratic party in a landslide vote he won 60 - 4.
In a September 17, 2018 report the NY Post stated,
"One stunned attendee said the 60 electors acted as if Crowley didn't lose his own election in a blowout to progressive star Ocasio-Cortez. "They acted like never ever happened. They buried their head deep in the sand. It's incredible," the insider said."
Democratic Political Insiders Re-elect Crowley - Were They Voting on Inside Information?
But maybe these political insiders didn't bury their heads in the sand. Maybe these insiders know how very clever Congressman Joseph Crowley is, as he has managed to hang onto the Democratic Party Chairmanship since 2006, in spite of spending most of his time in Washington, D.C. where he [and his family] have lived for nearly two decades.
So perhaps these insiders expect Crowley to defeat newcomer Ocasio-Cortez on November 6th and that is why Crowley did not make the effort to remove his name from the ballot and - as mentioned above - never really conceded to Alexandria Ocasio-Cortez.
A July 15, 2018 report in the Washington Post tells us,
"Ocasio-Cortez said Crowley had "stood me up" for scheduled concession calls and accused him of seeking to mount a third-party challenge to keep his seat in November."
The Washington Post goes on,
"Responding directly on Twitter, Crowley blamed Ocasio-Cortez's campaign for the failed calls and said "the race is over." His showing last month entitled Crowley to run as nominee of the Working Families Party, and vacating the [Working Family] party's line on the November ballot would entail either changing his address or accepting nomination for another office."
Crowley's defense of his remaining on the Working Families Party ticket seems less than sincere given Cynthia Nixon just gave up her position on the Working Families Party ticket as a candidate for NYS Governor, by using the "running for another office" loophole to vacate the spot in favor of NYS Democrat Governor Andrew Cuomo.
According to an April 16, 2018 report in Politico, the Working Families Party can only select another candidate under certain conditions. They tell us the conditions are that,
"Party leaders can pick a new candidate if their existing candidate dies, moves out of state, or is nominated for another office -- usually a judgeship -- that might be vacant."
An October 11, 2018, NY State of Politics report informs us of how easily getting off the ticket really is. They said,
"Nixon formally dropped her bid for governor this month and was transferred by the WFP to an Assembly race; she is not actively campaigning and has endorsed the incumbent Democrat, Deborah Glick. The WFP endorsed Gov. Andrew Cuomo, who defeated Nixon in a Democratic primary on Sept. 13."
So Queens Democratic Party insiders appear, by virtue of their near unanimous re-election of Crowley, to be expecting Crowley to prevail over Ocasio-Cortez. But the Queens pols are not saying this, and the knucklehead media are not reporting this, as it doesn't fit into the Democrat - Republican struggle for control of congress. It's a side show.
Odds of Alexandria Ocasio-Cortez Defeating Joseph Crowley?
The historical votes, as noted above, appear to be in Crowley's favor. Joe Crowley also has deep ties to the Democratic machine in Queens, which he has operated since 2006. And he likely has deep ties to the Bronx Democratic machine, given his length of time in office as the Queens Democratic Party boss. So Ocasio-Cortez is running against the man who chairs the party she represents. What are the odds of her taking away the legislative position of the Queens Democratic party Chairman?
Working in Ocasio-Cortez's favor is all the publicity she has received as darling of the new Progressive wing of the Democratic party. And she is riding what appears to be a wave of female and minority activism arising in the wake of the tyrannical Donald.
I put in a call to the Working Families Party to get their take on things, but they have not returned the call, which makes sense. They can likely only lose by commenting.
So who will win this race? Nobody is paying attention to it, because either way it's a highly probable Democratic win. Crowley seems to have all the incumbent structural advantages, while Ocasio-Cortez is riding some gender, ethnic and cultural momentum. I'm no expert, but I'd rate this race a toss-up, or possibly even leaning Crowley. But all I know I just shared with you - so your guess is as good as mine.
But YOU will decide on Tuesday, November 6th ... And then we'll all know.
---
1489
Jeff Klein's IDC: Republicans Running as Dems?
The Independent Democratic Caucus Aligns with Republicans which Enables Republicans to Control the NYS Senate
Updated September 7, 2018 / March 21, 2018 / Bronx Neighborhoods & Bronx News / Bronx Politics / News Analysis & Opinion / Bronx Buzz NYC.
There's an NYS State primary election this month. The primaries will be held on Thursday, September 13th; instead of on Tuesday, September 11th, in recognition of 911. And the general election will be held on Tuesday, November 6th.
As in any year, the elections are important, but perhaps made more so this year, by what appears to be the anarchistic destruction and disrespect, for our government institutions and processes, by Republican President Donald Trump.
Trump Republicans: Debt Bomb Deficits Levied on America's Children to Enrich the Richest?
The Donald passed a stimulus tax bill that is expected to increases the deficit by $1.5 trillion over the next ten years, and there are some pundits who put the figure higher. He and the Republicans passed this budget busting stimulus tax bill, while the economy was operating at levels considered above a full employment economy [5% unemployment is considered standard / normal] and at a time when wages were rising over 2%.
Inflation above 2% is considered to be detrimental to economic stability by the Federal Reserve, so stimulating the economy while it's at full employment with rising wages is about the opposite of what makes sense, especially when you consider the funding for it is coming from America's children and most of the benefits for it are going to the wealthiest people on the planet. We posted a report analyzing the Trump Tax Reform Bill slightly before it was finalized, which includes a lot of facts and figures to help provide context to better understand what was in the bill they passed.
The Independent Democratic Caucus Aligns with NYS Senate Republicans & Gives Them Control
In 2010 / 2011 NYS Senator Jeffrey Klein broke away from the Democratic Party and formed the Independent Democratic Caucus which aligns with the Republican Party, thereby giving them control of the NYS Senate. The effect of this is that bills passed by the Democratic controlled NYS Assembly are indefinitely tabled, or in lay man's terms pretty much killed, in the Republican-controlled NYS Senate. The Republicans control the NYS Senate, because eight NYS senators who run as Democrats [IDC Independent Democratic Caucus], either vote with or kill bills with the Republicans.
Democratic NYS Assembly Bills Effectively Killed by IDC
According to the Democratic Senate Conference, the Republican controlled NYS Senate - with the help of their Republicans running as Democrats allies - have effectively killed one education bill providing full day kindergarten funding, three wage / leave bills, four voting rights bills including the allowance of early voting, four immigration bills including one related to the DREAM Act, four housing bills including several pertaining to NYC rent laws that help renters, three criminal justice bills including creation of correctional ombudsman and sealing of marijuana possession records [as marijuana is rapidly being legalized in states across the country], one related to LGBTQ issues, and six regarding healthcare, several of which pertain to women's reproductive rights.
The IDC Deception: REPUBLICANS RUNNING AS DEMOCRATS?
The net effect of this is that Democrats are, in a sense, cheated or tricked out of their majority by what appears to be Republicans running as Democrats. The Independent Democratic Caucus or IDC includes Jeffrey Klein of the Bronx, who founded the IDC, David Valesky of Oneida and Madison Counties in upstate New York, David Carlucci of Rockland and Westchester Counties, Diane Savino of Staten Island / Brooklyn, Tony Avella of Queens, Jose Peralta of Queens, Jesse Hamilton of Brooklyn, and Marisol Alcantera of Washington Heights / Manhattan. Simcha Felder of Brooklyn also runs as a Democrat and caucuses with the Republicans.
The following is a list of challengers, eight of which I obtained off the NoIDCNY.org website. For some reason Blake Morris - Simcha Felder's challenger - was not included on their website. I have just contacted them to find out why.
Jessica Ramos is challenging Jose Peralta in District 13 in Queens.
John Liu is challenging Tony Avella* in District 11 in Queens.
Robert Jackson is challenging Marisol Alcantera in District 31 in Washington Heights / Inwood / Manhattan.
Alessandra Biaggi is challenging Jeff Klein in District 34 in the Bronx.
Zellnor Myrie is challenging Jesse Hamilton in District 20 in Brooklyn.
Blake Morris is challenging Simcha Felder in District 17 in Brooklyn.
Jasmine Robinson is challenging Diane Savino in District 23 in Brooklyn / Staten Island.
Julie Goldberg is challenging David Carlucci in District 38 in nearby upstate New York.
Rachel May is challenging David Valesky in District 53 in upstate New York.
* A Word About NYS Senator Tony Avella as He Appears to be a Real Independent
Of all of the IDC candidates listed above, NYS Senator Tony Avella deserves special consideration. NYS Senator Avella CHALLENGED Republican Mayor Michael Bloomberg and Queens Country Democratic Party Chairman Joe Crowley when both of these men, and many in their parties, supported real estate developments in Flushing Meadows Corona Park. Queens Borough President Melinda Katz took a position that appeared somewhere between supportive of the developments to - at best - indifferent.
NYS Senator Avella advocated on behalf of the community to thwart billionaire and mega millionaire real estate developers from grabbing Queens parkland - AND WON. In doing this, NYS Senator Tony Avella, appears to be more like a Maverick or Independent, resembling legislators like deceased U.S. Senator John McCain (Republican) and U.S. Senator Bernie Sanders (Democrat), both of whom have charted their own path through party-dominated politics.
Avella is an important independent voice in the Queens, NYC and NYS community, which the Democrats in his district will have to decide whether or not to keep.
---
IDC Challengers' Rallies Sunday
Challenging Republicans Posing as NYS Senate Democrats?
April 28, 2018 / NYC Neighborhoods / NYC Politics & Government / Gotham Buzz NYC.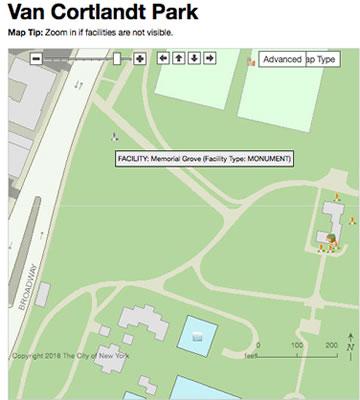 I just received an email notifying me of simultaneous rallies which will be held by IDC [Independent Democratic Caucus] member CHALLENGERS within the NYC Metro area. The members of the IDC, who these challengers are rallying against, have been caucusing with the Republicans since 2010 / 2011. By caucusing with the Republicans, the IDC Democrats have provided Republicans with a majority in the NYS Senate. Thus the IDC members appear to be Republicans running as Democrats on the Democratic ticket.
The IDC CHALLENGER rallies are intended to inform the electorate as to how their IDC electeds have been (mis?) representing them - as well as how the challengers would like to represent them - should they be given the chance.
"In an unprecedented show of strength and unity following the release of their joint statement about their agenda, the candidates will set forth their visions for their districts and will enlist those present at the rallies in registering voters, canvassing, and the like in preparation for the Thursday, September 13, 2018 primary election."
"The rallies will explain the need to replace the former IDC members with true blue Democrats whom we can trust not to turn their backs on the people who elected them. The IDC may have rejoined the Democrats for now, but they've been willing to ally themselves with the GOP since 2011 - and they've claimed to return to the Democratic fold before. The damage is done and we will not forget. New York deserves REAL Democrats who stand for progressive values, not Trump Democrats."
SUNDAY Rally Details:
Blue Wave Rally for Jessica Ramos, April 29, 2 PM, 31-04 Ditmar Blvd., Intersection at 31st Street Astoria, Queens.
Blue Wave Rally for Alessandra Biaggi, April 29, 2-3 PM, Memorial Grove in Van Cortland Park, Bronx. Memorial Grove is located in Van Cortlandt Park, near West 246 Street between Broadway and the Van Cortlandt Mansion - see map above.
Blue Wave Rally for Robert Jackson, April 29, 1:30-2:30 PM, at Bennett Park, W 183rd St & Fort Washington Avenue, Manhattan.
Blue Wave Rally for Rachel May, April 29, 2-3 PM, State Office Building, 301 East Washington Street, Syracuse.
Blue Wave Rally for Zellnor Myrie, April 29, 2-3 PM, at the Prospect Park subway stop, on Lincoln Avenue between Flatbush and Ocean Avenues, Brooklyn.
Blue Wave Rally for Jasmine Robinson, April 29, 2-3 PM, at Tappen Park, Staten Island (near the Stapleton SIR stop).
Blue Wave Rally to Make NY True Blue in SD38, April 29, 2-3, at 20 South Main Street, New City, NY
Blue Wave Rally to Make NY True Blue in SD21, April 29, 2-3 PM, Bell Boulevard at 73rd Avenue, Oakland Gardens, Queens
Press contacts:
Rise and Resist: Claire Ullman, 917-679-7120
True Blue NY: Lisa DellAquila, co-leader, 917-991-0605
Jackson campaign: Harris Doran, 917-797-6180
Myrie campaign: Andre Richardson (campaign manager), 201-892-5829, andrerichardson@gmail.com
Robinson campaign: Jane Nixon Willis, 914-584-2833; improvised3@gmail.com
Ramos campaign: Monica Klein, 917-565-0715, monica@seneca-strategies.com
Biaggi campaign: Dominique Shuminova, Deputy Campaign Manager, 917-821-7700
Avella protest: Judy Kirschner from Rise and Resist, 917-270-2705
Carlucci protest: John Gromada from Rockland Citizens Action, (845) 323-9896
Scroll down for related story or click here for the full story about the Independent Democratic Caucus & members.
---
1488
Bronx Special Elections April 24
For the 32nd NYS Senate & 80th NYS Assembly District Offices
April 2, 2018 / Bronx Neighborhoods - Foxhurst / Bronx Politics & Government / Bronx Buzz NYC.
On Tuesday April 24th a few Bronx voters will go to the polls to decide who is to represent them in the special election for a Senate [District 32] and an Assembly Seat [District 80]. The NYS Senate seat was vacated by Democrat Ruben Diaz Sr. who was elected to be an NYC Councilmember representing District 18 replacing term-limited Annabel Palma. The NYS Assembly seat was vacated by Democrat Mark Gjonaj, who was elected to be an NYC Councilmember representing the 13th District, replacing James Vacca.
While these seats were vacated as of the beginning of January, Governor Cuomo decided to delay holding the special elections until after the budget was expected to be passed on April 1, 2018. Elections are held 70 days following the Governor's call for them.
The IDC - Republicans Running as Democrats
Critics contend that Cuomo's delay of the special elections disenfranchised over a half million NYS Senate voters adn nearly a million NYS Assembly voters from the process. Republicans currently have a majority in the NYS Senate, as they are joined through caucuses with eight Republicans who run as Democrats including Jeffrey Klein of the Bronx, who founded the IDC, David Valesky of Oneida and Madison Counties in upstate New York, David Carlucci of Rockland and Westchester Counties, Diane Savino of Staten Island / Brooklyn, Tony Avella of Queens, Jose Peralta of Queens, Jesse Hamilton of Brooklyn, and Marisol Alcantera of Washington Heights / Manhattan. Simcha Felder of Brooklyn also runs as a Democrat but caucuses with the Republicans. The Democrats have a significant majority and control the NYS Assembly.
---
1492
Ruben Diaz Delivers State of the Borough Address
Bronx Borough President Provides Holistic Overview of Borough Affairs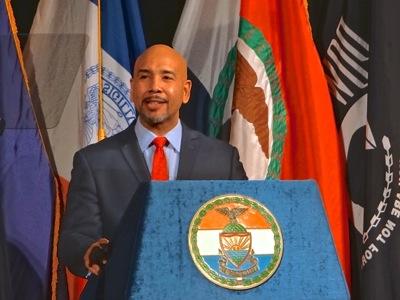 February 26, 2018 / Bedford Park Neighborhood Central Bronx / Bronx Politics & Government / Bronx Neighborhoods / Bronx Buzz NYC.
I attended Bronx Borough President Ruben Diaz's State of the Borough Address last Thursday at the Bronx Science High School in the Bronx neighborhood of Bedford Park.
There was a reception that began at 10.30 am and the speech was scheduled to begin at 11.30 am. I arrived a bit after Bronx President Ruben Diaz began his speech.
Diaz began by talking about how much things had improved since he became Bronx Borough President. Crime is down, as homicides have dropped below 100 for the fifth straight year, and he told us that this year was the lowest year on record. He told us that employment is up, that the Bronx has a 5.5% unemployment rate and that 110,000 new jobs have been added since he took office as the Bronx Borough President in 2009. Diaz said that school graduation rates are up, and drop outs are down, but that the Bronx still has the lowest math and reading scores in the city. He went on to say that many high school graduates are unprepared for the future.
The Bronx Borough President noted that there is still far more to do. And it was about what needs to be done, that he spoke about at his 9th State of the Borough Address.
Public Education in the Bronx & NYC is Underfunded
Regarding education, he told us that NYC schools continue to be underfunded. He allocated $20 million last year to technology and auditorium upgrades, and has allocated $60 million on 400 schools since he took office eight years ago. He said that over 50% of NYC schools are overcrowded, and that 60% of elementary and middle school kids were in overcrowded classes last year. He said he would like to see the Department of Education [aka DOE] cap classes at 22 students.
Are Schools in the Bronx & Ethnic Communities Underperforming?
Bronx Borough President Ruben Diaz said that he has been working with Brooklyn Borough President Eric Adams to address what he termed an uneven playing field for Blacks and Latinos. He said that while Blacks and Latinos represented 44% of those taking the Specialized High School Admissions tests, they only received 10% of the offers.
It's worth noting that this skew is possibly the result of using the test scores to place students. But even if so - it still illustrates the problem of unequal opportunity. And lower test scores by Blacks and Latinos, may be due to underperforming schools in their neighborhoods, which represents a more deeply embedded educational opportunity inequality.
---
Diaz to Give State of the Boro Address
Bronx Borough President Ruben Diaz to Give State of the Borough of Bronx Address 2/22/18
January 29, 2018 / Bronx Neighborhoods / Bronx Politics & Government / Bronx Buzz NYC.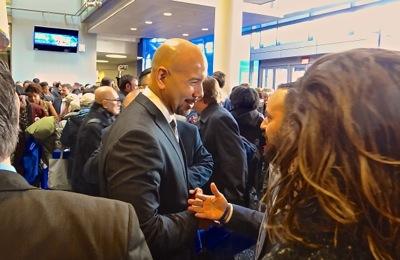 Last Friday I briefly met Bronx Borough President Ruben Diaz Jr. at the Frank Sinatra School in Astoria Queens. We were both attending Melinda Katz State of the Borough Address to Queens. Bronx Borough President Diaz was there along side a number of other elected officials including but not limited to U.S. Senator Chuck Schumer, NYS State Senator Leroy Comrie, and a number of mostly Queens NY City Councilmembers.
The Bronx Borough President is slated to give his Bronx State of the Borough Address on Thursday, February 22nd at the Bronx High School of Science at 75 West 205th Street at Goulden Avenue near the Jerome Park Reservoir in the Jerome Park / Bedford Park neighborhood of the Bronx. The doors open at 10.30 am and the speech is slated to begin at 11.30 am. You can rsvp a free ticket / seat by going to www.bronxboropres.nyc.gov.
Diaz entered politics at age 23, one of the youngest people to enter the legislature since Theodore Roosevelt, according to Wikipedia. Wikipedia also notes that Diaz graduated from Lehman College in the Bronx with a degree in Political Theory.
Diaz has been Bronx Borough President since 2009, and this will be his eighth State of the Borough Address. Diaz was allowed to serve three terms as Bronx President [the office is currently limited to two four year terms], due to a roll back of term limits by Mayor Bloomberg, so Bloomberg could legally serve a third term as the Mayor. The term limits were then reinstated in 2010 after Bloomberg won the third term, but the elected officeholders in place at the time [which included Bronx Borough President Diaz], were allowed to serve a third term, based on the legislation guiding the reinstated term limits.
In any case, I am looking forward to hearing what Bronx Borough President Diaz has to say.
---
De Blasio Wins 2nd Term by Landslide
Nationally Democrats Pick up New Jersey & Hold onto Virginia
November 8, 2017 / NYC Neighborhoods / NYC Politics / Gotham Buzz NYC.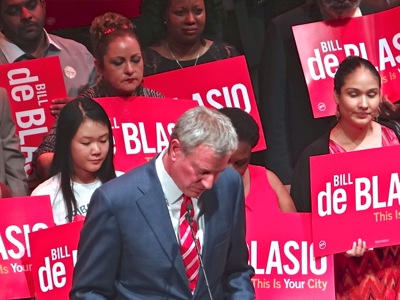 City-wide & Borough-wide Offices. Mayor de Blasio won a decisive victory against Republican challenger, Assemblywoman Nicole Malliotakis, on Tuesday by winning nearly 67% of the vote.
In fact it was a landslide for nearly all incumbent Democrats who won by comparably wide margins, including Letitia James for Public Advocate (74%), Scott Stringer for NYC Comptroller (77%), and all five Borough Presidents including Gale Brewer (Manhattan - 83%), Eric Adams (Brooklyn - 83%), Ruben Diaz (Bronx - 88%), Melinda Katz (Queens - 78%) and James Oddo (Staten Island - 75%).
Mayoral Election Results by Borough. De Blasio won four of the five boroughs by wide margins including roughly 5:1 in the Bronx, 3:1 in Manhattan and Brooklyn and approaching 2:1 in Queens. Malliotakis won her home borough of Staten Island approaching 3:1. Staten Island has a significantly smaller population than the other four boroughs as it has only between 20% and 30% the population of any of the other boroughs.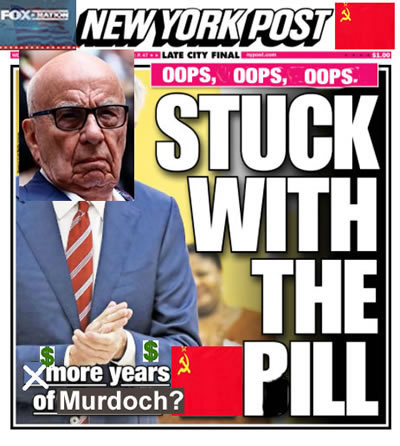 Trump Referendum & Job Performance Approval. Several pundits speculated that in a city where Democrats outnumber Republicans six to one - this was an NYC referendum on the Trump presidency. This may be so, but some mention should also be given to how well NYC is performing vis a vis other cities in terms of jobs creation, improving performance in the public schools, fiscal management and low crime rate.
Results for the Three NYS Proposals on Ballot. The first Proposal - to change the NYS Constitution - lost overwhelmingly with 83% voting NO. The second Proposal - to take away pensions of some government employees found guilty of some crimes - won overwhelmingly with 73% voting YES. And the third Proposal - to allow some 'development' in public parks won in a close vote - 52% vote YES while 48% voted NO.
New Jersey Governor Race. On the national front, newcomer Phil Murphy (D) beat Lieutenant Governor Kim Quadagno (R) in the governor race in New Jersey. Murphy received 55% of the vote while Quadagno received 43% of the vote. Murphy will replace Chris Christie (R) who has an approval rating of 19%. In exit polls, 11% said they cast their votes in support of Trump, while 32% said they cast their votes in opposition to Trump.
Virginia Governor Race. In Virginia, the latest polls were once again off significantly, predicting a tight race that wasn't. Democrat Lieutenant Governor Ralph Northam won 54% of the vote while Republican Ed Gillespie who was the former Chair of the Republican National Committee won 43% of the vote. Gillespie won the rural parts of the state, while Northam won the urban areas. Gillespie was reported to be using Trump-style campaign tactics to win the race, but from Japan, Trump distanced himself from Gillespie's loss.
We Elect Pols but Not Publishers. In the graphic at right, you can see the pill face of the unhappy Billionaire which I superimposed over the face of the Mayor. The power-hungry, media mogul's outlet had published the headline 'Stuck with the Bill' - which he published in defiance of the two-thirds of the NYC voters who came out to re-elect the Mayor. He appears to be working toward conquering the U.S. so he can make us a 'Fox Nation', like he did Australia.
We don't get to elect publishers, but every time you purchase one of his papers, or click into his TV stations or websites, you are indirectly supporting him [NY Post, Fox News, WWOR Ch9, WNYW Fox Ch5 and the WSJ]. Some of the people in his organizations do good work, but many of those he puts front and center, appear to be highly paid propagandist mouthpieces who push what appears to be his greedy, deceitful, power-grabbing agenda. The story below provides more detail.
---
Election 2017 Tuesday 11/7 - Please Vote
November 5, 2017 / Queens Neighborhoods / Queens Politics & Government / Queens Buzz.
The New York City general election is this week, Tuesday November 7th.
The polling booths will be open from 6 am to 9 pm Tuesday.
To find your poll location click on the graphic at right.
Once on the website, input your address, and then click the small icon to the right of it to get the results of the search. I hope the NYS Board of Elections does better cyber security on their voting systems than they do web design for this site, as the tiny arrow mentioned above is easily overlooked.
NYS Ballot Propositions - Vote Tuesday
There are three Referendums on the Ballot.
Proposal I
Calling A State Constitutional Convention
This is where it appears that all the lobbyists would re-write the NYS Constitution to favor them and their interests, and screw the general public aka you. Their argument is to streamline government, but democracy works slowly for a reason - as it takes time for the general public to become aware of issues and then to organize in time for a proper vetting. That's why our Founding Fathers included so many checks and balances in the system - to give us - We The People - time to react.
I recommend voting NO.
Proposal II
Forfeiture of Public Officer's Pension if Convicted of Felony
This is where a public official who's found guilty of a felony that violates the public trust, loses their pension. This is targeted only at a certain class of government officials - not all of them. Voting Yes, mitigates the effort to expand the scope of government officials covered. It seems an unfair application of the law and I don't know who drafted this or why they limited it.
I have no recommendation.
Proposal III
Authorizing Use of Forest Preserve Land for Specified Purposes
This is what looks like the creation of a first opening for development in the Adirondack and Catskills parks. It's not specific to any identifiable project and open ended, which looks like giving government officials / developers a blank check. Each project should be evaluated on its own merits.
I recommend voting NO.
---
NY Post Propaganda, Fox News Distortions & NYC Elections
Will Murdoch's Propaganda Outlets Impact NYC Municipal Elections & the NYS Ballot Referendums of 2017?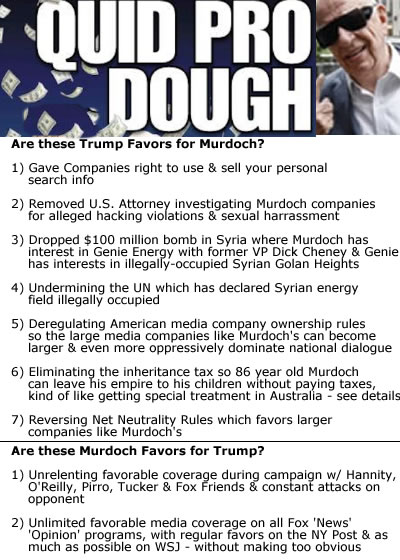 November 5, 2017 / NYC Neighborhoods / NYC Politics / News Analysis & Opinion / Gotham Buzz NYC.
How Reliable are the Polls?
On Tuesday November 7, 2017 New Yorkers have an opportunity to assert their will at the ballot box. While the polls indicate Mayor de Blasio will win re-election, it's important to recall that only a year ago, all but one of the polls forecast that Hillary Clinton would win the presidency.
Having reliable information sources is important to making good choices.
In the 2016 presidential election we saw a corruption of a lot of information that was published and videocast about the candidates, which was used in an attempt to manipulate voters' view of them - aka propaganda.
The following provides a look at the dominant NYC news information provider with an eye to how fair and accurate they have been in their reporting of NYC news. The report contains links to additional information related to this report, as well as additional information about the impending NYC Mayoral election.
Billionaire Murdoch's NY Post & Fox News Appear to have Spent the Past Couple Years Distorting NYC News
One billionaire, Keith Rupert Murdoch, controls a guesstimated 40% of the branded, local, major media outlets in New York City - including the
NY Post
Fox News Network
WWOR TV Channel 9
The Wall Street Journal
WFOX TV Channel 5
Murdoch appears to use his media outlets as one giant propaganda machine, pouring out billions of impressions around the world into unaware voters / consumers minds. The Murdoch media oftentimes appears to contain misleading, out-of-context narratives that seem intended to manipulate audiences into believing / feeling positively or negatively about politicians / government officials based on distorted reporting of allegations, sensationalizing nits and sometimes outright fictions fabricated or amplified by contributors of the Fox Fake News Factory. These impressions often enough appear to further Murdoch's insatiable appetite for money and power, by removing or promoting pols into positions where they can be used to advance Murdoch's profit-seeking interests.
---
---
Murdoch also controls a number of national publications he's acquired over the past decade or so, such as Barrons and National Geographic. Oftentimes, if not always, it appears that Murdoch changes editorial staff and reporting standards soon after Murdoch acquisitions have been completed. Generally those changes appear to change what was once a respected news organization into what seems to be a Murdoch propaganda machine. We've been reporting on what appears to be Rupert Murdoch's nefarious use and abuse of his media outlets in a series we've entitled Murdoch Media Madness / Fox Fake News / NY Post propaganda.
---
NYC Mayoral Debates Fall 2017
Dietl Effervesces, Malliotakis Attacks & de Blasio Defends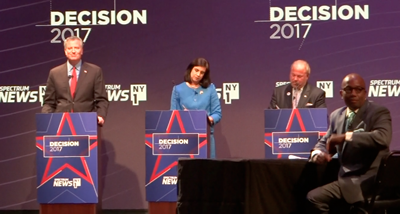 October 15, 2017 / Upper West Side Neighborhood UWS / Queens Politics NYC / News Analysis & Opinion / Gotham Buzz NYC.
I attended the Mayoral Debate at Symphony Space on Tuesday, October 10th, where former NYC Detective [1970 - 1985] and security firm businessman Bo Dietl [Independent], New York State Assemblywoman Nicole Malliotakis [Republican Staten Island] and Mayor Bill de Blasio [Democrat] squared off for one of two general election debates. The debates are sponsored by the New York Campaign Finance Board and are a requirement for those candidates who receive matching funds.
NYC Mayoral Debates - Opening Statements
Each candidate came out and made opening statements. Bo Dietl talked about his time working the streets as a policeman in the 1970's and 1980's and how since then he has run a successful security firm that also employs minorities. He described his two opponents as Column A and Column B candidates.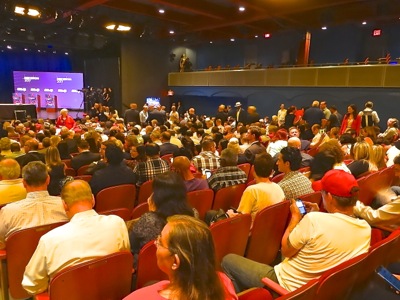 Nicole Malliotakis told us how she is the first member of her family to obtain a college degree and a Masters of Business Administration and that she is the 'American Dream'. She went on to say she would fix our schools, transit system and homelessness.
Bill de Blasio said that his two opponents were both right wing Republicans and that he was the only one that would stand up to Trump. He went on to say that crime is down, test scores at NYC public schools are up, but that there's more to do and he needs New Yorkers' help to continue making progress.
There was a small, but very boisterous minority of rude and disruptive people in the audience, who began their noisy tirades with the opening statements. It wasn't until near the end of the program - that one of [several of] the loudest shouters and screamers was finally escorted out.
Click here for a fairly full recount of the NYC Mayoral Debates with Malliotakis, Dietl & de Blasio.
---
NYC Mayoral Debates: De Blasio & Albanese
Democratic Candidates Discuss Issues Facing NYC
September 4, 2017 / Upper West Side Neighborhood / NYC Politics & Government Manhattan / Gotham Buzz NYC.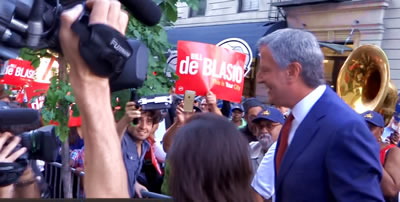 On Wednesday evening, August 23, I made my way to Symphony Space on the Upper West Side to watch the two Democratic candidates for mayor of New York City debate the issues.
Sal Albanese Democratic Challenger
Sal Albanese is the Democratic challenger, who raised just enough money to qualify for the NYC Campaign Finance Board qualification, which mandates debates between candidates who receive matching funds.
Albanese hails from Brooklyn and served as a member of the NYC City Council from 1983 to 1998. In the twenty years since he left public office, Sal has run for mayor on two previous occasions as a reformer. Since leaving office, Albanese spent ten years working in financial services and the rest of the time as an attorney, doing related work. Based on his political career efforts, Albanese appears to support many of the same progressive causes as Mayor de Blasio.
Conservative Commentator Sliwa Backs Albanese Bid
I ran into conservative talk show commentator Curtis Sliwa of the Guardian Angels who told me he was there to support liberal reformer Sal Albanese. I found this to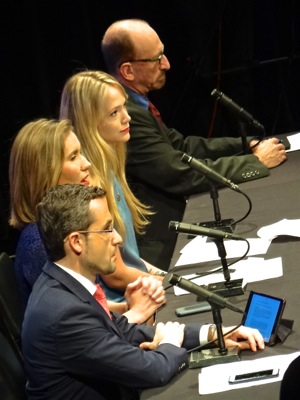 be ironic - given that Sliwa is a conservative Republican commentator who a couple years ago publicly announced that he was going to run as a Republican for Queens Borough President, challenging Democrat Melinda Katz. When I asked him if he still planned to run as a Republican against Democrat Katz, he replied no, and said he was here tonight supporting Sal Albanese and the Reform Party.
NYC Mayoral Debates 2017
What follows is probably less a summary, than a full accounting of the debate.
As I came out of the subway, I saw people gathered in front of Symphony Space. Some were supporters of the Mayor and some supporters for Goodwin, a challenger to the Upper West Side NYC City Councilwoman, Helen Rosenthal.
Inside I found that the free tickets had been fully subscribed, and while the auditorium was generally filled - it was not full - as not everyone used the tickets they booked.
Errol Louis of NY1 was the debate moderator and the debate panelists included: Brian Lehrer of WNYC, Laura Nahmias of Politico, Grace Rauh of NY1 and Juan Manuel Benitez of Noticias on NY1.
Each candidate opened with brief statements.
Albanese: Cites The Issues Facing NYC & America
Albanese started by talking about many of the major issues facing not just New York, but in many respects, all of America. He mentioned class warfare, pay to play politics, public transit investment, empty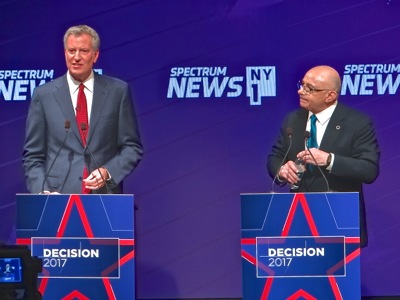 storefronts, lawless developers, and the negative impact of gentrification on communities, public space and tenants.
De Blasio: Cites Administration Accomplishments
De Blasio started by talking about the accomplishments of his administration over the past three and a half years. He noted that his administration is in the process of building affordable housing for 500,000 tenants and is on time and on budget. That Stop N Frisk is down 93% while the NYC crime rate has continued to fall, so that NYC is now one of the safest big cities in America. And that 78,000 children are now attending pre-school. He said while his Administration has achieved a lot, there's a lot more to do.
Later this week I'll post the rest of the report about the Mayoral Debate between Sal Albanese and Mayor Bill de Blasio.
---