BRONX NEWS - NEIGHBORHOOD NEWS BRONX
$element(bwcore,insert_search,N)$
---
City Island Art Fair
Where City, Sea & Country Meet in the Bronx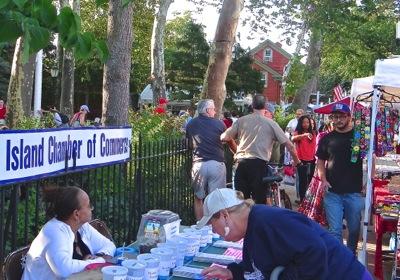 September 18, 2017 / City Island Neighborhood in the Bronx / Bronx Things To Do / Bronx News / Bronx Buzz NYC.
Just over a week ago, I made my way to City Island to take in their bi-annual art fair. The art fairs are organized by the City Island Chamber of Commerce and generally held the first weekend in June and the second weekend in September.
The art fair generally runs about three blocks along City Island Avenue [the main north / south street] between Fordham Street and Schofield Street. There's a small public space, Hawkins Park, which lies across from the Chamber of Commerce, and is generally the epicenter of all the fun. When I arrived there was a live band performing and some light food and beverage was being served.
It's a quaint art fair and has the faint air of a south Long Island beach town. Most of the residents show up for a spell, and the street fair offerings range from handmade drawings and paintings to jewelry to locally made culinary delights. But that's not all, as there are tables of objets d'art for the home, books, hand knit sweaters and scarves and leather goods.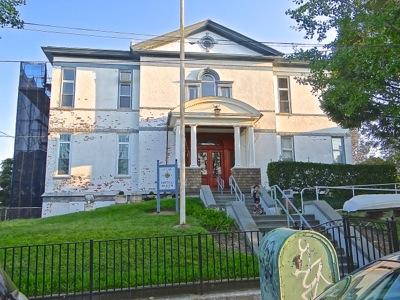 Complementing the art fair offerings are the quaint stores and restaurants lining City Island Avenue. The shops that line the street offer antiques, old fashioned variety store offerings as well as ice cream, drinks and food.
There are a couple of tourist attractions on the island including the City Island Nautical Museum [only open weekends from about 12 noon to 5 pm] and the historic Samuel Pell house, which is privately owned.
Perhaps one of the biggest attractions is the sense of having gotten away. The small island isn't that populated yet, although the main street is pretty heavily trafficked given how remote the island is. But one can easily walk the island, and find water views at nearly every restaurant. On this particular day, it was warm and sunny and many folks were enjoying their meals outside.
City Island on the Bronx is where the city actually does get some sleep.
---
Table of Silence Transcends 911
Lincoln Center Dance Commemoration Transcends Hate through Love
September 11, 2017 / Upper West Side Neighborhood / Modern Dance Manhattan / Bronx News / Manhattan Buzz NYC.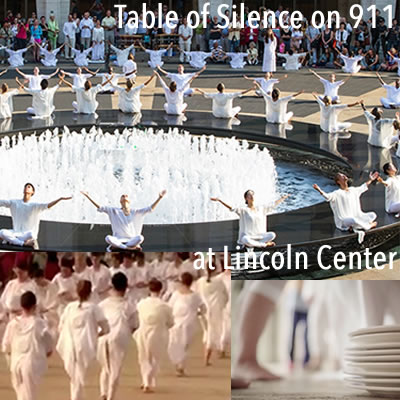 This morning at 8.15 am over one hundred dancers began a spiritual commemoration of the events of 911 with a modern dance performance in the main plaza at Lincoln Center on the Upper West Side. This was the seventh year of the performance, and its meaning seems to grow - rather than diminish - with time. It's about the classic and timeless struggle, between giving into hate, or striving to love.
The dancers were all dressed in white, and they created a resplendent symmetry mimicking nature's own. The performance was accompanied by a bit of minimalist music - originating from a beating drum, the air passing through a conch shell, and the human vocal cords.
The dancers transformed the plaza at Lincoln Center into a table, with the bountiful water fountain in the middle. Plates appeared, signifying the sharing of a feast ... a spiritual feast ... a prayer for all humanity.
We feel a heavenly sharing of being together, in a single place, at a single time. It's a solemn place, a sagely peace, a peace with each other, a peace within, and a peace with all the world ... even as the world continues to swirl around us, as does the NYC traffic ... but we remain centered ... as one.
At exactly 8.46 am the performance stops. All is still in Lincoln Center Plaza as we observe a minute of silence together. It's a silence within, as we are surrounded by the ambient noise of the city during rush hour. Sixteen years ago at 8.46 am the second of two planes struck the World Trade Center wreaking havoc. Taking lives. Creating chaos.
Cleansed of hate and vengeance - we depart to go on with our days. We have defeated the terrorists, by not giving into their desire for an endless cycle of violence and hate.
---
Election 2017 Tuesday 9/12 - Please Vote
September 11, 2017 / Bronx Neighborhoods / Bronx Politics & Government / Bronx News / Bronx Buzz NYC.
The New York City primary election is tomorrow, Tuesday September 12th.
The polling booths will be open from 6 am to 9 pm Tuesday.
To find your poll location click on the graphic at right.
Once on the website, input your address, and then click the small icon to the right of it to get the results of the search. I hope the NYS Board of Elections does better cyber security than they do web design, as the tiny arrow is easily overlooked.
If there is a runoff to this election, it will be held on Tuesday, September 26th and the general election is Tuesday, November 7th, 2017.
---
NYC Mayoral Debates: De Blasio & Albanese
Democratic Candidates Discuss Issues Facing NYC
September 4, 2017 / Upper West Side Neighborhood / NYC Politics & Government Manhattan / Gotham Buzz NYC.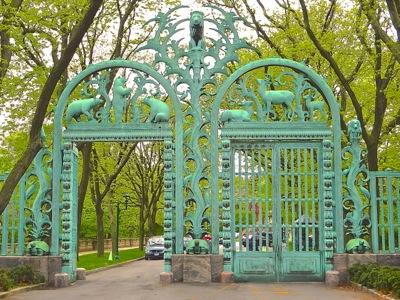 On Wednesday evening, August 23, I made my way to Symphony Space on the Upper West Side to watch the two Democratic candidates for mayor of New York City debate the issues.
Sal Albanese Democratic Challenger
Sal Albanese is the Democratic challenger, who raised just enough money to qualify for the NYC Campaign Finance Board qualification, which mandates debates between candidates who receive matching funds.
Albanese hails from Brooklyn and served as a member of the NYC City Council from 1983 to 1998. In the twenty years since he left public office, Sal has run for mayor on two previous occasions as a reformer. Since leaving office, Albanese spent ten years working in financial services and the rest of the time as an attorney, doing related work. Based on his political career efforts, Albanese appears to support many of the same progressive causes as Mayor de Blasio.
Conservative Commentator Sliwa Backs Albanese Bid
I ran into conservative talk show commentator Curtis Sliwa of the Guardian Angels who told me he was there to support liberal reformer Sal Albanese. I found this to

be ironic - given that Sliwa is a conservative Republican commentator who a couple years ago publicly announced that he was going to run as a Republican for Queens Borough President, challenging Democrat Melinda Katz. When I asked him if he still planned to run as a Republican against Democrat Katz, he replied no, and said he was here tonight supporting Sal Albanese and the Reform Party.
NYC Mayoral Debates 2017
What follows is probably less a summary, than a full accounting of the debate.
As I came out of the subway, I saw people gathered in front of Symphony Space. Some were supporters of the Mayor and some supporters for Goodwin, a challenger to the Upper West Side NYC City Councilwoman, Helen Rosenthal.
Inside I found that the free tickets had been fully subscribed, and while the auditorium was generally filled - it was not full - as not everyone used the tickets they booked.
Errol Louis of NY1 was the debate moderator and the debate panelists included: Brian Lehrer of WNYC, Laura Nahmias of Politico, Grace Rauh of NY1 and Juan Manuel Benitez of Noticias on NY1.
Each candidate opened with brief statements.
Albanese: Cites The Issues Facing NYC & America
Albanese started by talking about many of the major issues facing not just New York, but in many respects, all of America. He mentioned class warfare, pay to play politics, public transit investment, empty
storefronts, lawless developers, and the negative impact of gentrification on communities, public space and tenants.
De Blasio: Cites Administration Accomplishments
De Blasio started by talking about the accomplishments of his administration over the past three and a half years. He noted that his administration is in the process of building affordable housing for 500,000 tenants and is on time and on budget. That Stop N Frisk is down 93% while the NYC crime rate has continued to fall, so that NYC is now one of the safest big cities in America. And that 78,000 children are now attending pre-school. He said while his Administration has achieved a lot, there's a lot more to do.
Later this week I'll post the rest of the report about the Mayoral Debate between Sal Albanese and Mayor Bill de Blasio.
---
The Solar Eclipse of 2017 in NYC
The Solar Eclipse: A Shared American Communal Experience
August 21, 2017 / Queens Neighborhoods / Manhattan Neighborhoods / Gotham Buzz NYC.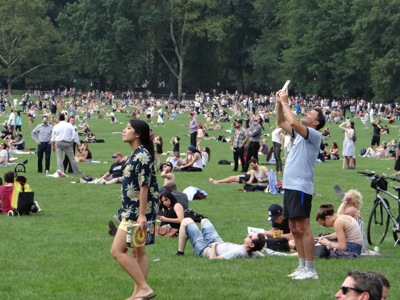 I set about to experience the solar eclipse of 2017, departing for Manhattan at about 1.30 - a bit after the eclipse was to begin. As I made my way to the subway, I met a woman who was heading to Hunters Point South Park to do the same. She offered me the use of her eclipse glasses, which I examined but it was far to early to really use.
The eclipse glasses were opaque and I couldn't see through them. Apparently they only work when you're looking at the sun. The glasses this woman had were sponsored by Cisco Systems through a science camp in Rochester, NY. Consumers were advised to be careful about which eclipse glasses to use, as apparently some would not filter out the harmful, eye-damaging rays of the sun. One eclipse audience member told me that the glasses were being sold online - ten for $100. I'll have more about the protective glasses a bit later as I used the glasses to take what I would call 'meaningful' photos.
There were many reports published about how one can damage their eyes by looking directly at the sun. The Washington Post noted that the damage can begin in as little as one and a half minutes, and that looking at the sun in a sequence of little peaks at a time, may not prevent you from doing real damage. It's worth noting that one can also damage their camera by pointing it directly at the sun for a long period of time. The New York Times noted that the longest the full eclipse will last, is less than three minutes, and that in many places in America it will last less than a minute.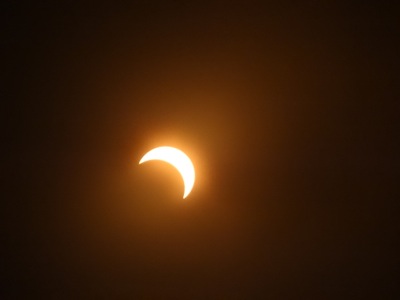 Historically, it's worth noting that the moon eclipsing the sun happens every 18 months, but most eclipses happen over the oceans which cover about two thirds of the planet earth surface. According to the New York Times, the last time America experienced a full solar eclipse was in 1918, a full 99 years ago, so few if any who are old enough to experience the eclipse this time, are likely to see it again.
The eclipse began along the west coast in Oregon at about 1.15 pm, the peak was at about 2.45 pm and the final was at about 4 pm. I'll note a few of my times as we run through the rest of this report.
Anyhow, I arrived at Lexington and 77th Street about 2 pm, about 45 minutes before the peak of the eclipse. A few folks were standing in the street looking up, so I shot a photo of the sun at that time, but it didn't look like much at the blinding rays of light blocked any real photo clarity.
Rest of story with plenty more photos coming sometime later.
---
Mott Haven Historic District & St Mary's Park
Large Audience Attends SummerStage Music Gathering
August 14, 2017 / Mott Haven Neighborhood Bronx / Bronx Music / Bronx News / Bronx Buzz NYC.
On Sunday, July 30th, I attended the SummerStage concert in St Mary's Park in the Mott Haven neighborhood of the Bronx. The stage was set in the western side of the park, which opened up onto a large field, but also gave the advantage of providing 'balcony seats' where one could enjoy the concert watching and listening from the hills.
SummerStage Concerts Bronx: St Mary's Park Mott Haven
The SummerStage concert in St Mary's Park featured Lisa / Lisa who hit the national scene in 1985, in the year before she turned 20. The Hells Kitchen native and her 1980's group - Lisa Lisa and Cult Jam - took the hit single 'I Wonder if I Take You Home', to #1 on the Billboard Hot Club Dance Play chart for a week in June of 1985.
Lisa / Lisa is of Puerto Rican descent and was born and raised in Hells Kitchen in Manhattan. Lisa / Lisa was one of the wave of freestyle musicians to help usher in dance pop. In 1982 Michael Jackson released his best selling dance album Thriller which rose to become the world's best selling album - a title which I believe it still holds to this day. In 1984 - just two years later - teenager Lisa / Lisa and her Cult Jam band released 'I Wonder if I Take You Home', which as mentioned above, rose to number 1 atop Billboard Magazine's dance pop charts.
Lisa / Lisa shared the stage in concert where she had a male and female dancer who artistically interpreted her magical music while we in the audience moved to the rhythms. In the photo above right, Pop Dance Hip Hop musician Lisa / Lisa with one of the dancers at the SummerStage concert in St Mary's Park in the Mott Haven neighborhood of the Bronx.
The weather was a warm but dry 80 degrees as the sun was making its way west and we were sheltered by the St Mary's Park foliage. While most folks in attendance were adults there were also a number of families with children.
Mott Haven Historic District: Bronx
After the concert I made my way down past the Mott Haven Historic District to the #6 subway at 138th Street and Third Avenue. The Mott Haven Historic District is rather small, running along Alexander Avenue between 138th Street and 141st Street. The buildings date back to the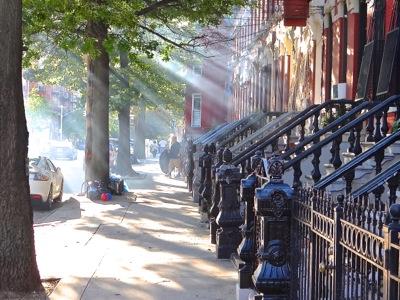 last half of the 19th century, when people were moving to the Bronx because rail transportation was enabling more easy movement of people and goods. Alexander Avenue is believed to have been named after Alexander Bathgate who was the Morris land holdings manager.
The photo at right shows some of the houses from the 19th century that still exist in the Mott Haven neighborhood of the Bronx.
The Morrises bought the land in the south Bronx in 1670 from Jonas Bronck, a Swedish immigrant and one of the original Bronx settlers and after whom the Bronx is named. Bronck in 1641, less than thirty years earlier, bought theland from the Dutch West India Company, which had purchased the lands from the Indians in 1639.
The Bronx neighborhood in which Alexander Avenue resides, is called Mott Haven, and was named after Jordan Mott. Mott was the inventor of the coal burning stove. In 1828 Mott opened up the first manufacturing facility in the Bronx, his ironworks. Today Mott Ironworks manhole covers are reportedly still in use today.
Also nearby is St Mary's Park where the SummerStage concert took place, as well as St Ann's Church, which is an Episcopalian Church where two generations of Lewis Morris are buried, as well as Gouverneur Morris. They are members of one of the founding families of the Bronx, second only to Jonas Bronck himself.
The Bronx SummerStage concert series is organized and sponsored by SummerStage and City Parks Foundation in tandem with the NYC Parks Department. SummerStage organizes several free concerts in Bronx each summer, including two concerts in Crotona Park in the Central Bronx.
---
Salsa Sways & Swoons in the Bronx
August 8, 2017 / Pelham Bay Park & Orchard Beach Neighborhoods / Bronx Dance & Theater / Bronx News / Bronx Buzz NYC.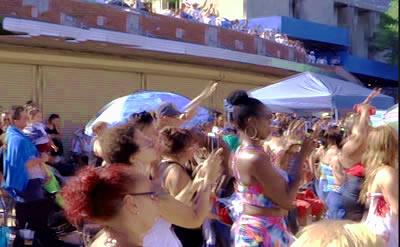 The folks at Orchard Beach in Pelham Bay Park have been hosting Sunday Salsa for over 50 years. The event takes place on Sunday afternoons on the cement pavilion that stands adjacent to the Orchard Beach facility - between the structure and the water. The concerts / dance parties run from 1 pm to 5 pm and are hosted by either a DJ or a live band playing salsa tunes so attendees and beach-goers can dance salsa.
The photo at right shows folks in the Pavilion at the Sunday Salsa party at Orchard Beach in the Bronx.
Salsa County Continues to Dance
According to Salsa New York, DJ Carlos Santiago is the organizer of the event. And Bronx Borough President Ruben Diaz calls Bronx 'El Condado de la Salsa' or 'Salsa County' ... which it seems to be.
I made my way to Orchard Beach last Sunday, taking the #6 train northeast to the last stop of the line - Pelham Bay Park station. I then hopped aboard an Orchard Beach bus - which runs seasonally between the Memorial Day and Labor Day weekends - and only during the operating hours of the park. There was quite a bit of traffic on the road between the subway station and Orchard Beach / City Island - in part because it was a beautiful day and in part because there's construction work being done on the bridge between City Island and the Mainland.
Orchard Beach in Pelham Bay Park is Recovering its Allure
Orchard Beach was once - and again is - a beautiful park and beach. The beach fell into neglect during the last decade(s) of the 20th century as did the water lapping up on its shores. The deterioration of the park was compounded by the pollution of its waters in a manner not unlike what happened to the water at nearby beaches in Brooklyn, Queens and Long Island. It's taken a bit longer for nature to clean the mess man left behind at Orchard Beach because the water doesn't renew itself as frequently due to the beach / City Island / Long Island Sound and East River geography. This is the observation of a neophyte - not an expert.
The photo at right shows the beautiful sun, sand and blue waters at Orchard Beach in Pelham Bay Park in the Bronx.
Nonetheless I saw people swimming in the water, and when I asked, the swimmers told me they shower after going in to be sure they're not coated with pollutants later. Some folks said they're still reluctant to go swimming, but enjoy spending the day soaking in the sand and the sun and the cool breeze off the beach.
After watching a end of the salsa party I made my way back amidst a loquacious and friendly crowd.
---
Quite a Memorial Day Weekend in the Bronx
Good Weather, Cook outs Galore & Plenty of Things To Do
May 30, 2017 / Bronx Neighborhoods / Holidays in the Bronx / Opinion / Bronx Buzz NYC.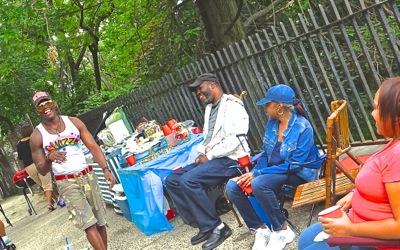 I spent a fair amount of time biking around the Bronx this weekend. I ventured as far east as the Bartow-Pell Mansion Museum in the East Bronx across the waterway from Co-op City [Hutchinson River?], as far north as the Woodlawn Cemetary and Mosholu Golf Course by Norwood, as far west as the High Bridge [formerly an aqueduct] in Highbridge along the Harlem River and as far south as Barretto Point Park in Hunts Point. And overall I found traveling the borough to be good exercise and quite fascinating.
Over the Memorial Day Weekend I found more people cooking out than I've seen in any other borough over the past 30 years. People were relaxing, hanging out with their family and friends, and playing games with their kids.
Given it was Memorial Day Weekend, I stopped by the Woodlawn Cemetery to pay my respects to those who fought for the freedoms we currently enjoy. To be sure Freedom is a Right. But it's a right that had to be fought for and many died so that others might live. It seems our freedoms are under attack these days, so it's worth reminding folks of a few sayings that one of our Founding Fathers said.
Thomas Jefferson said that "Eternal vigilance is the price of democracy." and "A nation that expects to be ignorant and free is expecting something that never was and never shall be." and "were it left to me [Jefferson] to decide whether we should have a government without newspapers or newspapers without a government, I should not hesitate a moment to prefer the latter."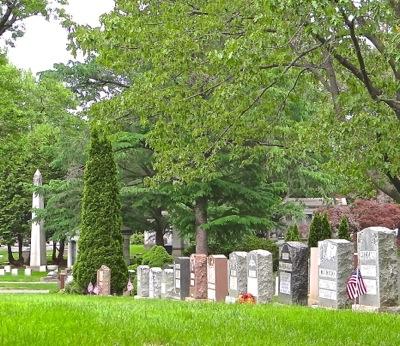 There are those who seem to never be able to get enough for themselves, no matter what the cost by others. And these people, throughout all prior generations, and for generations to come, are constantly finding ways to hack our system of checks and balances so that they might get more and others get less - by simply changing the laws to work in their favor. Left unchecked, we will return to the misery of the past.
The first place to start is to make sure that you're not voting on soundbytes put out there by unreliable or very self-interested people. We've been running a series on billionaire Rupert Murdoch who over the past few decades bought and now controls Fox TV, the Wall Street Journal, the NY Post and the National Geographic. He appears to have taken these generally reliable brands and repurposed them to further his own interests, oftentimes at the expense of the American people. Scroll down to learn more.
Click here for stories about Bronx street fairs, Bronx farmers markets, and upcoming free summer theater in the Bronx and free summer concerts in the Bronx.
---
City Island Neighborhood - Bronx News
City Island Art Fair & City Island Neighborhood Bronx News & Related Info
$element(adman,groupad,Catgry Foodwine)$
Click this link for promotions, discounts and coupons in the Bronx.
Click these links for promotions by advertisers in the Bronx.
Click this link to go to the Bronx Neighborhoods section.
---
$element(adman,groupad,Catgry Rest)$
Site Search Tips. 1) For best results, when typing in more than one word, use quotation marks - eg "Midtown Neighborhood". 2) Also try either singular or plural words when searching for a specific item such as "gym" or "gyms".
$element(bwcore,insert_search,N)$
Click the log in link below to create an ID and post an opinion.
Or send this story to a friend by filling in the appropriate box below.
Click this link to the Bronx Buzz front page.
---
$element(adman,groupad,Catgry ManWmn)$
Bronx NYC Related Links
Click for Bronx Restaurants - Bronx NYC.
Click for Bronx Banks Loans & Mortgages - Bronx NYC.
Click for Bronx Shopping - Bronx NYC.
Click for Bronx Things To Do Bronx NYC.
Click for Bronx Neighborhoods - Bronx NYC.
Click for Bronx Real Estate & Business - Bronx NYC.
Click for Bronx Schools & Bronx Public Education NYC.
Click for Bronx Street Fairs NYC.
Click for Bronx Politics & Government NYC.
Click for Bronx Farmers Markets NYC.
Click for Bronx Arts & Culture
---
$element(adman,groupads,Sectional2 Ad)$
---