---
1486
Bronx Museum Anarchitect Closing & Pig Roast
Anarchitect Closing Celebrated w/ Pig Roast on 2nd Floor Patio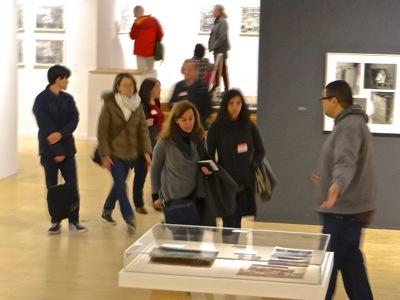 March 27, 2018 / Concourse Neighborhood Bronx South / Bronx Art & Museums / Bronx Restaurants / Bronx Buzz NYC.
On Sunday the Bronx Museum held the closing reception for its exhibit entitled Anarchitect. The closing was held on the second floor of the musem and they sold tickets for folks to come and enjoy a pork sandwich prepared by a chef and enjoy a beer made by the Bronx Brewery.
It was a sunny and cool March afternoon as I made my way north on the #4 subway line. I had to get off at 38th Street and take the #1 bus because work was being done on the #4 line.
When I arrived the Bronx Museum cafe was fairly busy and folks were milling around. After checking in I headed up to the second floor to see what was happening.
Bronx Museum Hosts Pig Roast & Bronx Brewery Beer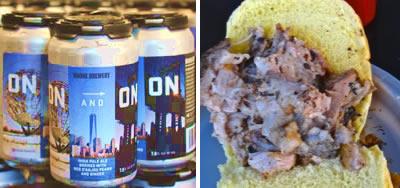 There's a patio that opens up from the back of the second floor, and oftentimes the museum hosts various artistic and cultural events there. Today, there was a skewered pig roasting over a bed of coals. Chef Angel Jimenez of Lechonera La Pirana, which is a two food truck restaurant that may be found at at 152nd Street and Wales Avenue in the Mott Haven neighborhood of the Bronx, had prepared the feast. Jimenez who came from Puerto Rico in 1984 has been cooking and feeding his restaurant guests for over a decade. Lechonera La Pirana translates literally into something like Piglet the Pirahna, but I'm guessing means something like devouring pork.
I sampled one of the roasted pork sandwiches and decided to eat it plain, even though everyone else was adding catsup. The pork inside the bread was juicy, flavorful and skillfully cooked, so I didn't need the catsup - but that said next time I'm going to try it. There was a bit of skin included with the pork cuts which I took out. I also sampled a Bronx Brewery beer, which had a citrus name added to it. And again, I was delightfully surprised by the clean, crisp flavor of a medium bodied brew. I hope to sample more of each in the future.
There were a number of people there, from what appeared to be many walks of life, of various ages and in an eclectic mix of small groups of friends and family. I decided I should pay my respects to the artwork, having taken a little break, so I made my way down into the exhibit rooms.
The Bronx Museum Tries to Capture & Reflect one of NYC's Most Fascinating Boroughs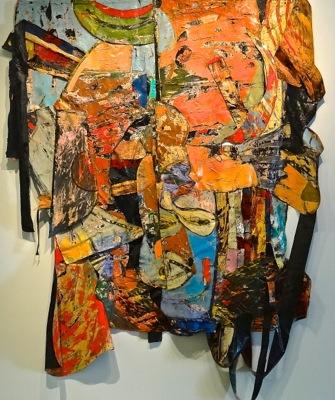 The first stop was the exhibit room located between the second and first floors. In the room were a number of thick paint on canvass pieces created by Angel Otero and the exhibit was entitled Elegies.
According to the curator, Christian Vivero-Faune, the work references the late Robert Motherwell who between 1948 and 1967 created over 200 paintings which he entitled Elegy to the Spanish Republic, which laments the Spanish Civil War.
Christian tells us that Otero's Elegies aren't elegies in the traditional sense, but are a medium with which to contemplate one's own losses. I found the bright, colorful abstracts works soothing and cheerful.
Click here to continue reading our report about the Bronx Museum in the Concourse neighborhood, including a closer look at the exhibit entitled Anarchitect by Gordon Matta-Clarke. We have also included photos of the work and of the pig roast social on the second floor patio.
---
1493
Bronx Art Space in Mott Haven
Bronx Cultural Space Provides Venue for Artistic Expression
June 13, 2023 / 11.13.17 / Mott Haven Neighborhood / Bronx Neighborhoods / Arts & Culture in the Bronx / Bronx Buzz NYC.
A few weeks ago I visited the Bronx Art Space as part of my effort to in some measure capture [and release] the heart and soul of the Bronx in pixels. Beverly Emers was my primary contact and her guidance was invaluable not just into the Bronx Art Space, but also in introducing me in some small way to the surrounding community.
As a bit of background, the Bronx Art Space first opened in 2008 in the South Bronx to provide a communal artistic venue to local artists, musicians, film makers and performers. The Bronx Art Space was co-founded by Linda Cunningham and Mitsu Hadeishi.
I arrived on a Saturday evening to witness one of the Bronx Art Space Gatherings. In 2017 at the Bronx Art Space began hosting the Gatherings, which have been organized by James A. Brathwaite, who I met shortly after I arrived. James told me he's been organizing at least one Gathering per month. The Gatherings consist of performances by local talent which is offered free to the public.
James told me it's an opportunity for local dancers, musicians, comedians and performers to get in front of an audience to express themselves and show what they can do. At the time of the October 21st Gathering, James had organized and hosted nine of them year to date.
---
City Island Art Fair
Where City, Sea & Country Meet in the Bronx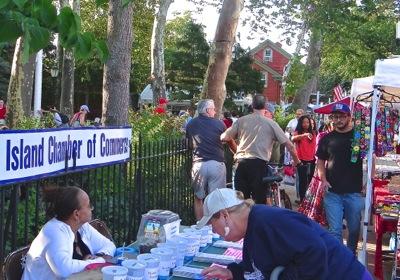 September 18, 2017 / City Island Neighborhood in the Bronx / Bronx Things To Do / Bronx Buzz NYC.
Just over a week ago, I made my way to City Island to take in their bi-annual art fair. The art fairs are organized by the City Island Chamber of Commerce and generally held the first weekend in June and the second weekend in September.
The art fair generally runs about three blocks along City Island Avenue [the main north / south street] between Fordham Street and Schofield Street. There's a small public space, Hawkins Park, which lies across from the Chamber of Commerce, and is generally the epicenter of all the fun. When I arrived there was a live band performing and some light food and beverage was being served.
It's a quaint art fair and has the faint air of a south Long Island beach town. Most of the residents show up for a spell, and the street fair offerings range from handmade drawings and paintings to jewelry to locally made culinary delights. But that's not all, as there are tables of objets d'art for the home, books, hand knit sweaters and scarves and leather goods.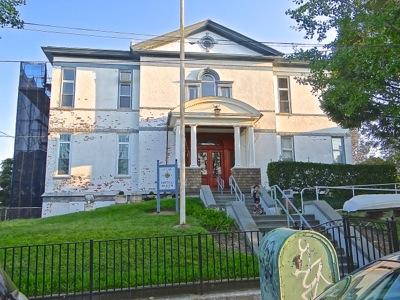 Complementing the art fair offerings are the quaint stores and restaurants lining City Island Avenue. The shops that line the street offer antiques, old fashioned variety store offerings as well as ice cream, drinks and food.
There are a couple of tourist attractions on the island including the City Island Nautical Museum [only open weekends from about 12 noon to 5 pm] and the historic Samuel Pell house, which is privately owned.
Perhaps one of the biggest attractions is the sense of having gotten away. The small island isn't that populated yet, although the main street is pretty heavily trafficked given how remote the island is. But one can easily walk the island, and find water views at nearly every restaurant. On this particular day, it was warm and sunny and many folks were enjoying their meals outside.
City Island on the Bronx is where the city actually does get some sleep.
---
1450
Bronx - Free Summer Outdoor Theater 2022
Free Things To Do in the Bronx - Free Summer Theater Park in NYC
August 12, 2022 / Bronx Neighborhoods / Dance & Theater / Theatre Bronx / Bronx Things To Do / Bronx Buzz NYC.
Summer is in full swing. A number of community groups in collaboration with the NYC Parks Department and frequently some measure of government funding, have put together a summer full of free summer theater in the parks. The free theatre events listed below are designed for young and old alike and they're FREE.
Editor's Note - Note that only ASTERISKED LOCATIONS have been updated. Pay attention to the performance dates / years. We will be updating / adding this summer theater report between now and the end of September. So check back periodically for updates which you can note by the date changing above.
Some summer theater programs in the Bronx have been curtailed or cancelled, many in part due to the ongoing CoVid threat. We'll continue to update / add to this schedule of free theater in the park in the Bronx, as we become aware of additional productions.
Free Summer Movies in the Bronx 2022

Click here to view our report on free movies in the park - summer movies in the Bronx, Mott Haven, Claremont Village, Hunts Point, Morrisania, Highbridge, Norwood, Bedford Park, Pelham Bay, Van Cortlandt, Riverdale, Concourse, Highbridge, Kingsbridge and Morris Heights.

Music / Concerts in the Park in the Bronx 2022

Click here to view our report on free summer concerts in the Bronx - Mott Haven, Claremont Village, Hunts Point, Morrisania, Highbridge, Norwood, Bedford Park, Pelham Bay, Van Cortlandt, Riverdale, Concourse, Highbridge, Kingsbridge and Morris Heights.

Free Things To Do in the Bronx

Current Bronx Things To Do. Click here to view a listing of current Bronx things to do.
---
Bronx Museum - Where Bronx Art & Culture Meet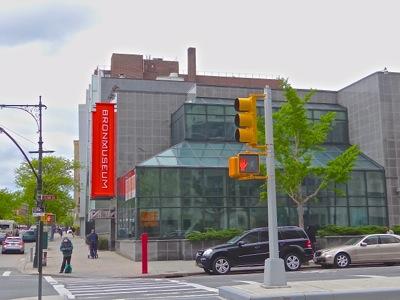 May 2017 / Bronx Neighborhoods / Bronx Arts & Culture / Bronx Buzz NYC.
I visited the Bronx Museum a few weekends ago. The museum is located along the Grand Concourse a bit northwest of Yankee Stadium in the Concourse neighborhood of the Bronx.
They had a number of exhibits on display, ranging from an exhibit about Fidel Castro to a modern art exhibit on the second floor that used color and light to alter one's perception.
There's a cafe located on the first floor for folks to rest, grab a bite to eat and share their experience of visiting the museum.
The photo at right shows the Bronx Museum in the Concourse neighborhood in the Bronx. They feature local artists and cultural themes relevant to the community. The Bronx Museum is located at Grand Concourse and 165th Street in the Bronx.
---
Panorama Music Fest on Randalls Island
Three Day Musical Festival Strikes a Grammy Chord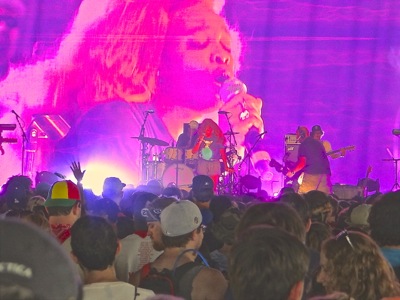 July 25, 2016 / Bronx Neighborhoods - Randalls Island / Bronx Music & Culture / Bronx Buzz NYC.
I attended the Panorama Music Festival on Randall's Island this past weekend. The music festival featured dozens of top and second tier bands and musicians with the event starting Friday and ending Sunday night. Some of the music festival headliners included award winning groups like Kendrick, Alabama Shakes and the return of LCD after a ten year hiatus. Panorama also featured a number of other highly regarded, well known groups - many of which are likely to continue gaining recognition.
In the photo at right, vocalist Sza, is performing in the Pavilion at the Panorama Music Festival on Randalls Island on Sunday.
The weather over weekend was a very seasonal hot, with temperatures hitting nearly 100 on Saturday [high 98], before descending into the low 90's on Sunday. But the island breeze coming across the East River on Randall's Island and not-too-high humidity, made strolling around the event campus not only doable, but enjoyable. There was also a public water station where you could refill your water bottle [free] and there was ample shade within the tree filled park.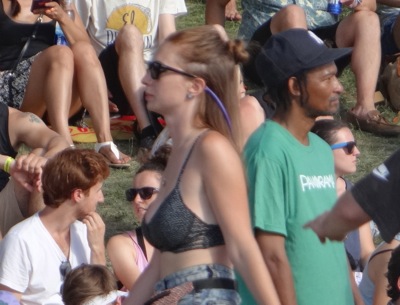 The crowd dressed for Panorama to beat the heat, more than anything else. This translated into a near beach-like scene for people-watching, with many youthful men and women enjoying the glow of their Adonis-like years. In 1992 there was a gender equality lawsuit, which contested women's right to go topless without being arrested - a right men enjoyed in this country since its founding. More than a decade later, in 2015, panhandlers in Times Square began asserting that right by painting their bare breasts with American flags and other designs, while soliciting tips from resident and tourist passers-by, for the pleasure of viewing them. These 'performance artists' were nicknamed the 'Desnudas'.
NYS and NYC Government officials found a way to reign in this practice - as it was creating quite a stir - by confining the solicitations to specified areas within the Times Square Plaza. Fast forward to 2016 and things continue to evolve, with women now wearing swimsuit / lingerie-like tops as fashion statements, some of which were on display at the Panorama Music Festival.
In the photo at right, a woman sports a fashionable swimsuit / lingerie-like top, at the Panorama Music Festival on Randall's Island.
We'll have a bit more later this summer, including video and a discussion of some of the art on exhibit at the Panorama Music Festival on Randall's Island in NYC.
---
1387
Bronx St Pat's Day 2022 Bx
Bars, Restaurants & Historic Irish Pubs in the Bronx
Bronx St Pat's Day Pubs, Irish Bars & Restaurants On St. Patrick's Day in the Bronx Neighborhoods of Throgs Neck, Kingsbridge, Fieldston, Bedford Park, Mott Haven, Norwood, Woodlawn Heights, Westchester Square [near Morris Park], Middleton Pelham Bay [near City Island], Williamsbridge and one in Yonkers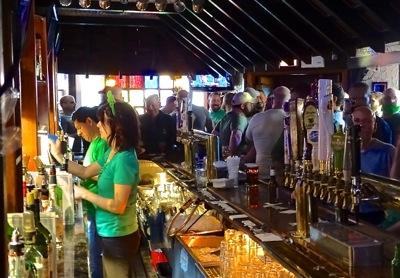 March 19, 2022 / Bronx Neighborhoods NYC / Bronx Restaurants NYC / St Patricks Day Parade Throgs Neck Bronx / Bronx Buzz NYC.
St. Patrick's Day is upon us once again and it's time for one and all, regardless of genetic history, to don their green clothing and head out to the Irish bars for a pint of ale or to the Irish restaurants for some down home Irish fare ... or something like that.
This report is about some of the Bronx Irish bars and restaurants that have survived the test of time, and likely a might bit ... more. The Irish pubs include Irish bars and restaurants from Throgs Neck, Kingsbridge, Fieldston, Bedford Park, Morris Park, Mott Haven, Norwood, Woodlawn Heights, Westchester Square, Middleton Pelham Bay [near City Island], Williamsbridge and one in Yonkers.
St Patrick's Day is on a Thursday this year.
While St. Patrick's Day is one big party, it's important to keep in mind, that like New Years Eve, all the amateurs come out to play [it's not just the Irish who are out drinking on St. Patrick's Day]. So some measure of caution is advised and you have to be careful.
At a later date we'll add a bit of history of St. Patrick's Day.
---
1361
In Search Of A Civilization Lost By Mass Media
LaGuardia College Performing Arts Center Uses Theater & Art To Stimulate Cross Cultural Community Conversation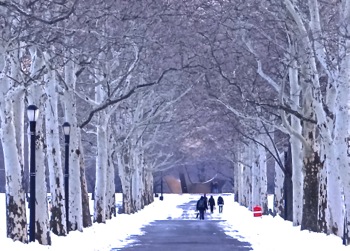 February 9, 2015 / Queens Theater & Arts / Bronx Theater in NYC / Gotham Buzz NYC.
It was nearing sunset on Saturday evening as I made my way through a beautifully quiet Flushing Meadows Corona Park. The clean white snow glistened gently in the fading light, and the leafless trees along the road provided what felt like an ancient natural cathedral.
I checked in at the admissions desk and made my way to the second floor of the Queens Museum. The Queens Museum was once the home to the United Nations and hence provided the perfect context for this community conversational performance. The floor to ceiling windows looked out onto the landmarked Unisphere which emanated a universal vibe. In the long wide hallway a crowd was engaged in clustered conversations following the conclusion of four performances shown that afternoon. I had seen the performances at an event earlier in the season.
I began talking to Tasneem, a member of the audience who is shown in the photo at right standing alongside a photo taken by a friend of hers who is shown in the photo. Tasneem came fromJordan twelve years ago, only two years after 911. She said that it's important for the general populace of Muslims to stop being afraid of showing they're Muslim, because otherwise New Yorkers and the rest of America will be left with the picture of Islam as depicted by a few extremists which is amplified and continually repeated by the American mass media.
I couldn't deny it. It seems American television stations, radio stations, newspapers and magazines are obsessed with providing the Islamic terrorists all the publicity they want.
But here, tonight, in the Queens Museum; I would not see any of the faces shown by our mass media. I would see only the faces of everyday Islamic New Yorkers who generally receive no publicity at all. Muslims who hail from dozens of cultures around the world. And there wasn't a single terrorist among them. Hence - and likely not coincidentally - there also wasn't a single mass medium reporter covering this event.
Tasneem told me how she, like many other American Muslims, fears showing she's Muslim because of the stereotypes created by the terrorists and perpetuated and blown up by the American mass media. The notion of a silent majority came to mind.
It occurred to me that the gore of the Islamic extremists must be good for tabloids and TV ratings. And I pondered what it must feel like to be stereotyped by this relentless, distorted depiction of one's culture and people. Andy Warhol's characterization of the mass production of images came to mind.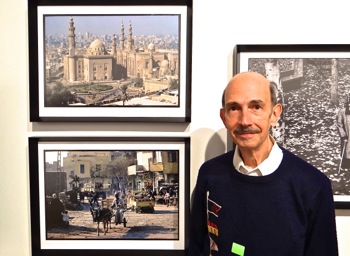 I thought about what it would be like if I lived somewhere else in the world where the nation's media mass produced stereotypes of Americans, depicting us as murderers, rapists and thieves. That could easily be done if a nation's media decided to portray Americans by solely covering the 5.6 million violent crimes and the 17.1 million property crimes that took place in this country in 2011 alone [source: Wikipedia / Bureau of Justice Statistics]. That just wouldn't be right ... would it?
And yet, it seems that this is exactly what's been happening to Muslims in America, because of the unbalanced coverage of Islam by the big American mass media companies. The TV and newspaper tabloids make a living by sensationalizing - spinning things out of context - but aren't the real journalists supposed to provide perspective by putting things back in context?
This seems generally not to have been done.
And so the LaGuardia Performing Arts Center applied for and received a grant to begin such an effort. An effort to provide exposure to the lives and contributions of the other billion Muslims who go peacefully and productively about their lives each day, just like most of the rest of us. An effort to create a community conversant with a deeper and broader understanding of a millenial and centuries old culture that is embedded in the lives of over a billion people on the planet. People who live in dozens of nations around the globe, and none of whom are terrorists - and hence generally not represented in the American mass media.
I met American born Charles Bernett of Rego Park who had traveled to Cairo in 1979. Thirty-five years ago he was about to embark on his second trip through Africa ... [see photo at right].
The LaGuardia Performing Arts Center exploratory, year-long, theater and arts, cultural endeavor entitled Beyond Sacred: Unthinking Muslim Identity, more of which you can find on our Queens Buzz website. Click here for a related piece done around the same time about Art & Theater in NYC: Exploring Islamic / Muslim identity in America.
---
1390
Bronx Gentrification: Epitaph To An Era: Whitewash In LIC
In Gentrifying Long Island City Loses A Bit Of Its Heart & Soul
Jeffrey Leder Art Gallery Showcases Demise Of 5 Pointz Through Artwork Of Its Circle Of Graffiti Artists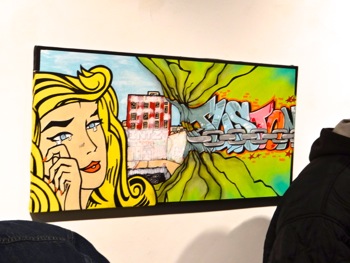 April 5, 2014 / Long Island City LIC / Bronx Arts & Museums / Queens Buzz NYC.
Saturday evening I made my way into Long Island City to attend the opening night of the Whitewash art exhibit at the Jeffrey Leder Gallery. Whitewash is an exhibit of the art works of a collection of the 5 Pointz graffiti artists. These artists recently lost their artistic and spiritual home - the 5 Pointz building in LIC - and the exhibit opening was part funerary rites and celebration of a new beginning. The photo to your right shows one of the paintings on exhibit at the Whitewash art exhibit at the Jeffrey Leder Gallery in LIC.
As I got off the #7 train, I decided to swing by the building to witness its whitewashed walls. I took a couple of photos of them, recalling prior visits to the outdoor art gallery, where every five to ten feet, in vivid living color, one could witness the creation of a local graffiti artist. The outdoor gallery exhibits would change, piece by piece, week by week, month by month and year by year. There always seemed to be a few artists working the walls. The 5 Pointz building is southeast of the Court Square subway stop, and for drivers it's just across from PS1 MoMA on Jackson Avenue between Crane & Davis Streets.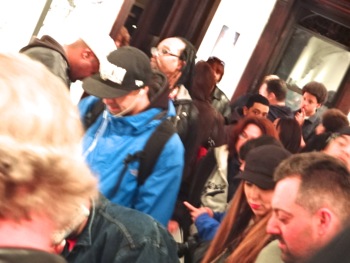 As I shot photos of the walls and loading dock area, I could still see in my mind, the outdoor parties of the past. I recalled the art exhibits that had been thrown over the years, with music emanating from somewhere. Intellectually we all know it was within the building owner's rights to whitewash his own building. And it isn't hard for anyone to understand why the building owner would want to reap a huge profit by razing the building and erecting a new structure from which the cash will flow. I reckoned we were lucky to have had the years we had, to enjoy the beauty and the beat of the graffiti on the street, seen from the windows of the subway train as it snaked its way through LIC.
So with these thoughts, I headed onto 45th Road, to the Jeffrey Leder art gallery to witness and participate in the Whitewash art exhibit opening night reception. Click here to read our report about Whitewash art exhibit / 5 Pointz in LIC. NYC Art & Artists near the Bronx NYC.
---
Frieze Art Fair NYC - Randall's Island
Fun Fair Attracts Artists, Friendly Financiers & Fashionistas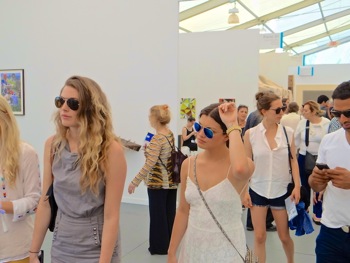 May 12, 2014 / Bronx Neighborhoods - Randalls Island / Bronx Arts & Culture / Bronx Buzz NYC.
The Third Annual Frieze Art Fair turned out to be ... in a word ... FUN.
It was held on Randall's Island, which once one makes the effort, turns out to be an easy and enjoyable get-away from the din of the big city. Traffic thins out and slows down, and one can again see the horizon. With the NYC skyline in the background and the East River water slowly flowing on by, the locale almost seems idyllic.
Inside the white tented structure, complete with flowing ribbons and a lofty airy vaulted ceiling, there were literally tons of people milling about. But the fair managers had done a good job of figuring out how to comfortably accommodate the 8,000 people who passed through daily [except Saturday due to rain].
The fair easily encompassed enough space to hold one or more football fields. The structure was designed as a rectangle with four quadrants. And where the quadrants met, there was a cafe / rest area / and outdoor patio space.
We'll post more at a later date including a photo slide show of the 2014 Frieze Art Fair in NYC.
---
1392
Feared Immigrantula Seizes PS1
Hundreds Held Spellbound & Released Unharmed Saturday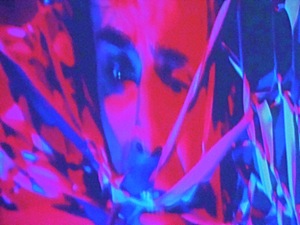 May 1, 2011 / Long Island City LIC / Bronx Arts & Museums / Queens Buzz NYC.
I have to admit, it was frightening. I was there and I saw it. The long feared 'Immigrantula' swept through PS1 Art Museum and captivated a spellbound audience Saturday afternoon.
I arrived at PS1 Art Museum around 3 pm. I had decided to check out the Saturday afternoon art performance entitled 'We Have Come To Take Your Jobs'. And even though it was a nearly perfect day outside, I found hundreds of people waiting for the performance to begin, in one of large rooms on the third floor of the museum. The lights were out and videos were playing on two large screens that hung along the back wall of the large room. It was hot and steamy, as drapes hung over the doorways, sealing the human heat inside. Modern music with a rock beat filled the space. It reminded me of a downtown Manhattan club in the late 80's.
Click here to read more about the live art performance and photos of Immigrantula at PS1 Art Museum in Long Island City LIC. Art, artists, galleries & musems near the Bronx NYC.
---
Bronx Arts & Culture Related Links
Click this link for promotions, discounts and coupons in the Bronx.
Site Search Tips $element(bwcore,insert_search,N)$
---
Or send this story to a friend by filling in the appropriate box below.
---