---
---
1484
St Raymonds Girls & Boys High Schools in the Bronx
St Raymond's is the Oldest Catholic Church & Largest Cemetery in the Bronx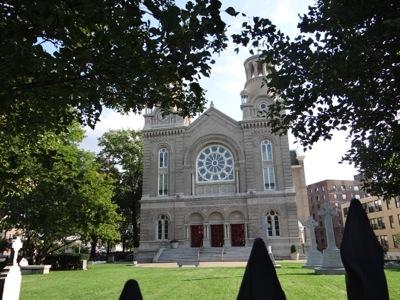 December 10, 2017 / Parkchester Neighborhood East Bronx / Bronx Private Schools / Bronx Buzz NYC.
This past summer I took a long bike ride from Central Bronx to City Island. As I made my way along a busy East Tremont Avenue, I noticed a near magnificent Church with expansive surrounding grounds. I shot a few photos, and studied it for a while, taking note that this was St Raymonds in the Bronx. The cross street was Castle Hill Avenue and it was located in the northeast corner of Parkchester.
When I returned home, I looked up St. Raymonds, where I discovered a great deal of history and lore about the institution dating back 175 years to the post Colonial / Pre-Modern era of the Bronx.
St. Raymond's Parish in Parkchester in the Bronx
The land upon which the Church now stands, was purchased in 1842 by Reverend John Hughes who converted the barn into a church. In 1843 construction on a proper church began, and it was completed two years later in 1845 on the feast day of St. Raymond Nonnatus - which is where the parish got its name. St. Raymond Nonnatus spent his life freeing Christians from captivity in the 13th century in Spain and is considered a patron saint of pregnant mothers, because he was delivered by Caesarean section and his mother died. The church was the first Roman Catholic church erected in the Bronx.
---
1479 - add foto DSC02015
Bronx Colleges & Universities
This section is a compendium of most of the Bronx universities and colleges. We have organized them geographically by Bronx neighborhoods. The Bronx has a wide variety of higher education offerings, ranging from several CUNY colleges to private schools like Fordham University and Manhattan College, and the Medical School of Yeshiva University.
Click here to view our report about the colleges and universities in the Bronx.
---
1471
Fordham University Rose Hill Campus in the Bronx
Fordham University Serves Approximately 15,000 Students
October 10, 2017 / Bronx Neighborhoods - Fordham / Bronx History / Bronx Colleges Universities Schools / Bronx Buzz NYC.
$element(bwcore,insert_search,N)$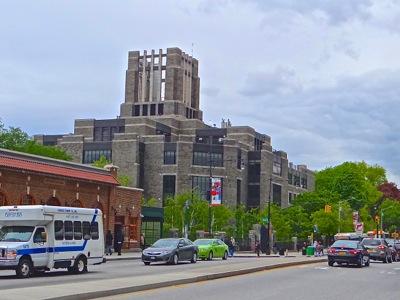 During my travels in the Bronx in the spring and summer of 2017 I could not help, but make a visit to Fordham University. According to Wikipedia Fordham University was originally founded as St. Johns College in 1841 and changed its name to Fordham University in 1907. Just a couple of years earlier, in 1904, they had begun both a graduate medical school and a graduate law school.
Wikipedia reports that Fordham University is the third oldest university in New York, and the oldest Catholic college / university in the northeast section of the United States. In 1969 the Board of Trustees was reorganized to include a majority of non clerical members, thus officially making Fordham University an independent institution.
Historically, Fordham has been known as a Jesuit school. The Fordham University website notes that their Rose Hill campus is comprised of 85 acres and that their ten schools - including the college, law school, medical school, business school, education & others] serves nearly 16,000 students. Of the total Fordham University student body, over 9,000 of the Fordham University students attend the college. As for locations, nearly 8,000 students attend Fordham University in the Bronx at their Rose Hill campus, while over 7,000 attend Fordham University at their Lincoln Center location. Fordham University also has a small outlet in Westchester County that serves about 500 students.
Fordham is a highly regarded school. According to U.S. News Fordham University is #60 in the ranking of 1600 colleges and universities in the U.S. That puts it in the top 4%, with high school counselors ranking them #42 and with their business program ranked #77. This kind of education doesn't come cheap as U.S. News noted that tuition and fees are pegged at $47,000 and room and board is estimated at $16,000.
Click here to read the rest of our report on the history of Fordham University in the Bronx neighborhood of Fordham and Belmont.
---
1379
De Blasio Delivers State of the City Address
Mayor Takes Humanist, Social Science Approach to Solving NYC Problems
NYC Crime Down, Stop N' Frisk Down 97%, NYC Public School Graduation Rate Up, H.S. Drop Out Rate Down, College Bound Graduates Up, 70,000 Children Enrolled in Universal Pre-K, Financing Initiated on 62,000 Units of Affordable Housing, NYC Budget Surplus
See Related Analysis of Reporting by Multi-Billionaire Owned NY Post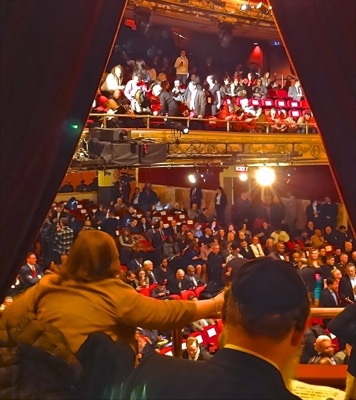 February 14, 2017 / Harlem Neighborhood / Bronx Politics Government & Media / News Analysis & Opinion / Manhattan Buzz NYC.
I attended Mayor de Blasio's third State of the City Address at the Apollo Theater in Harlem on Monday. The beautiful old theater, built in 1904, didn't admit African Americans until thirty years later. And it was in 1934 that the historic theater began earning the fame it has today, by becoming the showcase for African American musical and theatrical legends.
In the photo at right is the Apollo Theater as seen from one of the balcony booths prior to the beginning of Mayor de Blasio's 2017 State of the City Address.
Fighting Tyranny & Thomas Paine: These are the Times that Try Men's Souls
There were a number of performances and speeches leading up to the Mayor's address, including a performance by the Dorothy Maynor Choir of Harlem and an operatic delivery of the Star Spangled National Anthem by FDNY's Regina Wilson. Recently deceased Detective Steven McDonald's son, Conor, gave a speech, as did NYC First Lady Chirlane McRay, the Reverend David Ramos, Rabbi Arthur Schneier and Imam Souleimane Konate.
The Pledge of Allegiance was delivered by Jian 'John' Yuan Lin, Chyna Huertas and Eva Lin. And the Reverend Michael Walrond, of the First Corinthian Baptist Church, gave a fiery, inspirational speech talking comparing the national state of affairs today to the American colonists fighting to shake off the shackles of tyranny. He cited the words of American Revolutionary Thomas Paine, who in 1776 said,
"These are the times that try men's souls."
Just before the Mayor came on stage was a video highlighting the de Blasio Administration accomplishments.
Mayor de Blasio Standing Big & Tall for All New Yorkers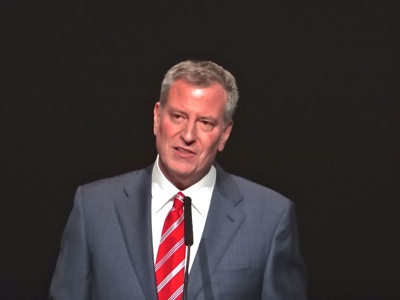 The Mayor came onto the stage, beginning by thanking the various people and departments that helped make his Administration's accomplishments possible. His thanks always include his wife, Chirlane McCray, who has been evolving in her role as NYC's First Lady.
Here's a sampling of the de Blasio's efforts to make New York a better place for all New Yorkers. Some of the information came from the video presentation referenced above, which I have augmented with some additional research and information obtained in prior reporting efforts.
In the photo at right stands a weary, but determined, Mayor Bill de Blasio at his 2017 State of the City Address at the Apollo Theater in Harlem.
I. De Blasio Administration NYC Public School Achievements
A. Social Science & Humanist Approach to Education
• Universal Pre-K Enrollment 70,000
• Advanced Placement For All
• Drop Out Rates Down
• Graduation Rates Up
• College Bound Graduates Up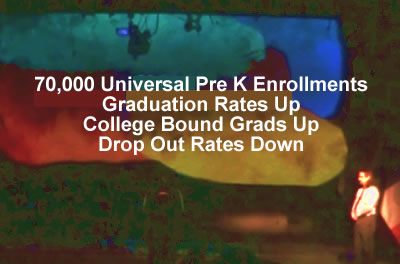 The slide at right shows some of the gains made by the de Blasio Administration with the NYC public school system over the past three plus years.
1. Stop the Bleeding - Stop the 'CORPORATE' run Charter Schools from Maximizing Profit at the Expense of Maximizing Human Potential
Editor's Note: There is a BIG DIFFERENCE between the NON-PROFIT CHARTER SCHOOLS and FOR-PROFIT CHARTER SCHOOL CORPORATIONS. Non profit charters are generally older organizations, designed as an alternative in response to failing public schools decades ago, and whose focus is on improving education - not improving profits.
By contrast the FOR-PROFIT CHARTER SCHOOL CORPORATIONS generally arose in the 21st century, and this group appears to be pillaging the public school system by recruiting and siphoning off the good [low cost / high performing] students so they can maximize profits - not enhance public education.
The despicable consequence of this for-profit charter school strategy is that they are simultaneously robbing the most vulnerable, disadvantaged children of anything resembling an opportunity in life as promised in the founding documents of this nation.
Family background continues to be the highest determinant [have the highest correlation] of a student's academic achievement.
So the de Blasio Administration has significantly slowed the corporate charter school assault on the public education system.
Corporate Charter School Business Strategy Comparable to Old Health Insurance 'Gaming the System'
Recruit the Academic Achievers, 'the Healthy Ones', Because They're Most Profitable & Shun the Rest
It appears the charter school corporations have employed a strategy designed to recruit and retain the best students to their schools, while leaving the rest behind. They appear to recruit the kids who are already performing well, because the performing children cost the least to educate, thus providing the highest return to the hedge fund profiteers because the funding is allocated on a per capital / per student basis. High performing student enrollments also enable corporate charter schools to claim they are 'performing well' because they've recruited the highest scoring students.
The recruitment and retention strategy referenced above resembles the old health insurance strategy of recruiting the healthy people to buy health insurance as they are the most profitable, while denying those who aren't blessed with good health because they cost the most to keep healthy. This was a systemic inequity Obamacare attempted to eradicate.
In the photo at right stand an Imam [Islam], a Rabbi [Jewish] and a Reverend [Christian] all sharing the same podium with a message of love, peace, respect and understanding.
2. Help the Youngsters & Maximize Human Potential - Not Profits
The De Blasio Administration pushed through universal Pre-K, which has enrolled 70,000 students since its inception in the Fall of 2014.
When this first came out I, and a number of people I know, didn't really grasp the importance of this effort. As family support is the highest determinant in a child's success, many youngsters were entering the public school system at a significant disadvantage vis a vis their better parented peers.
By accessing these kids while they are younger, and providing access to the guidance and resources of the public school system earlier, the NYC Public School system now has a greater chance of motivating these kids, which will inevitabley empowering them, raising their self esteem, and give them a chance at a far more engaged and productive life.
I now get it. And this seems like it can only be a good thing for all of society, as it will reduce societal costs of failing these people early on.
MAXIMIZE HUMAN POTENTIAL - Good Public Policy Costs Less in Long Haul & Enormously Benefits Society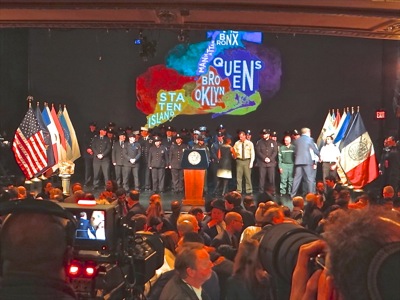 This approach to education enables us as a society to maximize our human potential, which will benefit all the community - and in some small way - all mankind. Not only is this a more humanistic approach to engaging these children, but it's more cost effective in the long haul, as those left behind will inevitably cost society more through lost opportunities, lost productivity, and increased spending on health, human services and criminal justice programs.
In the photo at right is the Mayor on stage at the Apollo Theater with all of the people working for the city that he honored that night including policemen, firefighters, sanitation workers and educators. The Mayor appears to be one who is very much in touch with the middle & working class rank and file of New York City.
Click here for our report about Mayor Bill de Blasio's State of the City Address 2017 including an update on crime, the affordable housing crisis, the city's finances, sanitation and social activism.
---
1354-1367-1404-1405-1406-1407-1408
Bronx Public Schools & Public Education - Bronx NYC
Bronx Issues - Bronx Public & Private Schools Related Info
Click this link for promotions, discounts and coupons in the Bronx.
Click these links for promotions by advertisers in the Bronx.
Click this link to the Bronx Buzz front page, Bronx Neighborhoods or Bronx Schools & Education.
---
Site Search Tips. 1) For best results, when typing in more than one word, use quotation marks - eg "Midtown Neighborhood". 2) Also try either singular or plural words when searching for a specific item such as "gym" or "gyms".
$element(bwcore,insert_search,N)$
---
Click the log in link below to create an ID and post an opinion.
Or send this story to a friend by filling in the appropriate box below.
---
Bronx Related Links
Click for Bronx Restaurants - Bronx NYC.
Click for Bronx Banks Loans & Mortgages - Bronx NYC.
Click for Bronx Shopping - Bronx NYC.
Click for Bronx Things To Do Bronx NYC.
Click for Bronx Neighborhoods - Bronx NYC.
Click for Bronx Real Estate & Business - Bronx NYC.
Click for Bronx Schools & Bronx Public Education NYC.
Click for Bronx Street Fairs NYC.
Click for Bronx Politics & Government NYC.
Click for Bronx Farmers Markets NYC.
Click for Bronx Arts & Culture
---