---
$element(bwcore,article_picker,1489-1484-1471,Y,N,page_title_home,N)$
NYC Mayoral Debates Fall 2017
Dietl Effervesces, Malliotakis Attacks & de Blasio Defends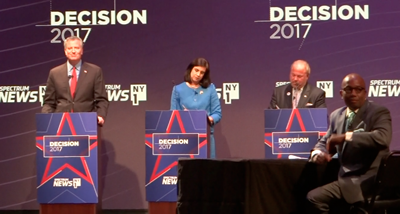 October 15, 2017 / Upper West Side Neighborhood UWS / Queens Politics NYC / News Analysis & Opinion / Gotham Buzz NYC.
I attended the Mayoral Debate at Symphony Space on Tuesday, October 10th, where former NYC Detective [1970 - 1985] and security firm businessman Bo Dietl [Independent], New York State Assemblywoman Nicole Malliotakis [Republican Staten Island] and Mayor Bill de Blasio [Democrat] squared off for one of two general election debates. The debates are sponsored by the New York Campaign Finance Board and are a requirement for those candidates who receive matching funds.
NYC Mayoral Debates - Opening Statements
Each candidate came out and made opening statements. Bo Dietl talked about his time working the streets as a policeman in the 1970's and 1980's and how since then he has run a successful security firm that also employs minorities. He described his two opponents as Column A and Column B candidates.

Nicole Malliotakis told us how she is the first member of her family to obtain a college degree and a Masters of Business Administration and that she is the 'American Dream'. She went on to say she would fix our schools, transit system and homelessness.
Bill de Blasio said that his two opponents were both right wing Republicans and that he was the only one that would stand up to Trump. He went on to say that crime is down, test scores at NYC public schools are up, but that there's more to do and he needs New Yorkers' help to continue making progress.
There was a small, but very boisterous minority of rude and disruptive people in the audience, who began their noisy tirades with the opening statements. It wasn't until near the end of the program - that one of [several of] the loudest shouters and screamers was finally escorted out.
Click here for a fairly full recount of the NYC Mayoral Debates with Malliotakis, Dietl & de Blasio.
---
Table of Silence Transcends 911
Lincoln Center Dance Commemoration Transcends Hate through Love
September 11, 2017 / Upper West Side Neighborhood / Modern Dance Manhattan / Manhattan Buzz NYC.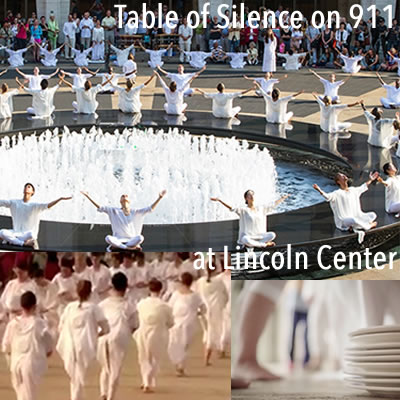 This morning at 8.15 am over one hundred dancers began a spiritual commemoration of the events of 911 with a modern dance performance in the main plaza at Lincoln Center on the Upper West Side. This was the seventh year of the performance, and its meaning seems to grow - rather than diminish - with time. It's about the classic and timeless struggle, between giving into hate, or striving to love.
The dancers were all dressed in white, and they created a resplendent symmetry mimicking nature's own. The performance was accompanied by a bit of minimalist music - originating from a beating drum, the air passing through a conch shell, and the human vocal cords.
The dancers transformed the plaza at Lincoln Center into a table, with the bountiful water fountain in the middle. Plates appeared, signifying the sharing of a feast ... a spiritual feast ... a prayer for all humanity.
We feel a heavenly sharing of being together, in a single place, at a single time. It's a solemn place, a sagely peace, a peace with each other, a peace within, and a peace with all the world ... even as the world continues to swirl around us, as does the NYC traffic ... but we remain centered ... as one.
At exactly 8.46 am the performance stops. All is still in Lincoln Center Plaza as we observe a minute of silence together. It's a silence within, as we are surrounded by the ambient noise of the city during rush hour. Sixteen years ago at 8.46 am the second of two planes struck the World Trade Center wreaking havoc. Taking lives. Creating chaos.
Cleansed of hate and vengeance - we depart to go on with our days. We have defeated the terrorists, by not giving into their desire for an endless cycle of violence and hate.
---
NYC Crime Continues To Drop, Breaking Records
Mayor de Blasio & NYPD Discuss City Safety & Ongoing Improvements
February 7, 2017 / Bronx Neighborhoods / Bronx Government / Bronx Buzz NYC.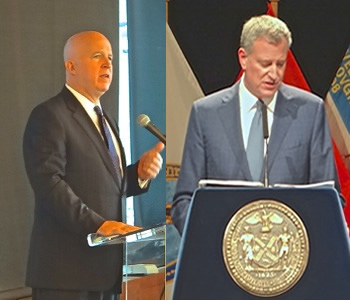 This just came in on the heels of our coverage of the Public Safety discussion below. Mayor de Blasio and NY Police Commissioner O'Neill spoke in the Bronx regarding ongoing efforts and results in improving safety in the city. The following are some of the crime statistics noted in their meeting taken directly out of a press release sent by them.

Chief of Crime Control Strategies Dermot Shea, NYPD: Thank you, Mr. Mayor. Good afternoon, everyone. As you've heard, we have begun a strong start to 2017 in terms of overall crime reduction. Strategies that have been put in place to address repeat offenders, illegal gun possession and gangs are having the desired effect. We're building on the momentum of the last few years.
So, some of the highlights for crime statistics from this January - overall index crime is down 0.2 percent for the month of January. When you carry it over to this morning, we are now down 2.7 percent in overall index crime in New York City.
To note - with the overall index crime, January marks the tenth consecutive month of reduced index crime. That's the momentum we've been talking about. Currently, four out of five boroughs in New York City - all but Queens - are down to start the year.
Homicides - we recorded 20 homicides in January. That's down two from 22. That 20, as the Mayor alluded to, is the lowest January that we have ever recorded going back a minimum into the 1960s.
Shooting incidents - down 1.7 percent in January. Last January we hit the modern mark with 59 shooting incidents. We came in with 58 this January.
Talking about momentum again - nine of the last 13 months we've had a reduction in shooting incidents. Nine of the last 13.
Three months in a row we've had a reduction in shooting incidents in New York City. We have now, when you look at New York City as a whole, we now have 24-hour periods where we do not record a shooting incident in New York City. That kind of thinking was impossible in the not too distant past.
This is the new normal. We want to build on it and we feel that we will build on it but there's still plenty of work to do.
Stabbings and slashings for January - down 7.2 percent.
Robberies - down 7.5 percent. Lowest January robbery number we've seen.
Felony assaults in New York City - down 5.4 percent.
Burglaries tied the lowest mark set last year.
Transit crime - down 1.4 percent.
And housing crime - not to be outdone - down 1.9 percent.
Clearly, a wide breath of crime across New York City - property and violent crime, down.

But there is, I alluded to, there is still work to do - three categories we saw increases in January.
Grand larceny, specifically, credit card related skimming and forging of checks - those two drove grand larcenies. And grand larceny was up for the month of January 4.7 percent.
And lastly, rounding out the crime totals - stolen vehicles which we have seen drop to unprecedented lows saw an increase of ten cars for January. So, that's 480 versus 470 - a two percent increase.
Commissioner O'Neill: Okay, thanks, Dermot. We'll take your questions.

Question: Do you think it's possible, really to keep driving crime down further at this point? And how could you achieve that?
O'Neill's response was yes, with some added context.
---
Hundreds of Thousands March in NYC
Women's March Appears to Approach 21st Century NYC Protest Record
January 21, 2017 / Bronx Government & Politics / Bronx Buzz NYC.
I headed into Manhattan around noon on Saturday. The #7 subway line was packed, even more than during rush hour on a weekday morning. There were protesters wearing pussy hats, bearing protest signs and placards, and generally in pretty good cheer as they headed into Manhattan for the Women's March in NYC.
I got off the subway at Grand Central Station along with the crowds of protesters, and made my way up to the 42nd Street exit. Out on the street there was a moving mass of marchers making their way down to Fifth Avenue where they would turn north to march up to Trump Tower along Fifth Avenue at 57th Street.
I have to admit I was surprised by the massive turnout. One person told me that over 50,000 people had signed up for the event on Eventbrite. But it would become obvious to me as the day wore on that the crowd had easily exceeded that number.
The event was planned to begin at 11 am in Dag Hammarskjold Plaza at Second Avenue and 47th Street. There would be a few speeches, followed by a march down Second Avenue to 42nd Street, then west to Fifth Avenue and then north up Fifth Avenue ending at Trump Tower at 57th Street. It was scheduled to end at 4 pm and waves of protesters had been choreographed to leave Dag Hammarskjold Plaza in 15 minute intervals.
I had listened to Donald Trump's Inauguration speech the day before [Friday] and there didn't seem to be anything in there that struck me as very objectionable if one didn't read anything into it. So I kind of thought the march might be a bit premature given he'd just assumed office and hadn't really done anything yet.
I asked one woman if I had missed anything in Trump's speech, that she / others found objectionable. She told me no, he hadn't said anything objectionable, but she went on to say that she didn't believe anything he said. I asked another woman why she'd come out to protest today. She told me that she wanted to stand with other women in making a statement to Trump that they weren't going to passively stand by and allow him or the Republican Party to roll back their hard fought equal rights.
There was a festive mood throughout the day. I occasionally asked policemen keeping the peace how things were going. Many smiled and said it was going well and that they hoped it would continue that way.
I'll have more on this, including some details of how the protest morphed throughout the day, as well as a photo slide show and some video, sometime in the next week.
---
Trump Election Victory Protests Continue
The Democratic Way to let off Steam, While Coming to Grips with an Unexpected Outcome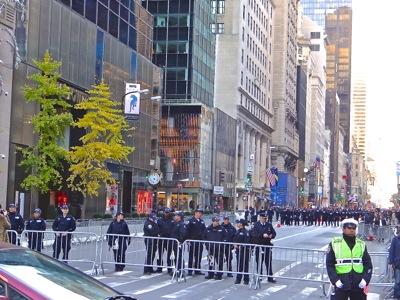 November 13, 2016 / Bronx Politics / News Analysis & Opinion / Bronx Buzz NYC.
Like most folks, I had seen and heard the protests that sprung up around the city and country in defiance of the Trump election victory. On Saturday I received an email about the one of the upcoming protests from a number of small, civic-minded non-profit groups that wanted to make a statement in favor of respecting women and minorities, and immigrant rights. The protest was being held on Sunday at 2 pm at the Trump International Hotel on Columbus Circle near the Upper West Side, so I decided to attend it to get a closer look as to what was going on.
I came up from the subway in Midtown Manhattan and began making my way toward the Trump Hotel at 57th and 5th Avenue. At the Tiffany's corner there were marchers and protesters chanting and singing, while waving signs with slogans, and encouraging passing pedestrians to join in the effort.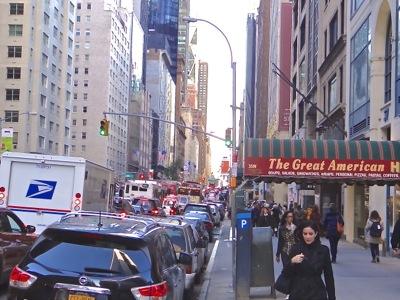 The NYPD seemed to have everything under control. They had their hands full with gnarly traffic and gated walkways, which herded holiday visitors and New Yorkers alike through snake-like pedestrian paths in Midtown. I asked one officer how things were going and he said they were going well enough. I asked him how long things had been this tied up and he said since Tuesday, the night of the election. I asked him how long he thought this would continue and he said until the protesters had let off enough steam.
On election night I had visited both the Trump campaign at the Hilton Hotel Ballroom in Midtown, and the Clinton campaign at the Javits Center. Trump appeared fully prepared for defeat, given the space he booked only accommodates about 1,000 or more guests; while Clinton appeared to be counting her chickens before they had hatched given she'd booked the Javits Convention Center where thousands had gathered in anticipation of seeing her announce to the world that females had finally broken through the ultimate glass ceiling. Clinton's expectations were dashed and Trump's were never came to pass, as he is now destined to become the 45th President of the United States of America.
Trump Defeats Clinton - a Brief Explanation of What Happened
While plenty of pundits have weighed in on what happened, I'll give you a short snapshot from a man on the street. While more people voted AGAINST Trump than Clinton, it was by only a very narrow margin. And enough of those voters were from the more sparsely populated white rural and manufacturing states, which is what enabled Trump to claim the electoral college win and the presidency.
On my way out of the Javits Center election night, I spoke with a young man who was dumbfounded that Clinton had lost. He could not imagine what those who voted for Trump were thinking. I suggested he take a look at Michael Moore's video piece, created early this year, predicting a Trump win. In the piece Moore comments on the huge jobs losses and the general disenfranchisement felt by large swaths of the middle class. These were sentiments that both the Clintons and the national broadcast & print media, had largely ignored.
Click here to view more photos of the protests in NYC of the Trump election victory, as well as snippets from several conversations I had with people on the street.
---
$element(bwcore,article_picker,1379,Y,N,page_title_home,N)$
United Nations: Cultural Influences on Gender Roles
Women's Groups Discuss Cultural Influences on Gender Equality
April 4, 2016 / Bronx Neighborhoods / Bronx Social Issues / Gotham Buzz NYC.
On March 17th I attended a series of lectures entitled, The Role of Culture in Women's Empowerment: Possibilities and Challenges. The lectures were given to a standing room only audience in Conference Room 7 on the lower level.
The five member speaker panel was comprised of women from Liberia, Nigeria and Thailand. And each speaker came from a different walk of life including law, government, education and social work.
The program was organized by the United Nations Mission from Gambia in collaboration with a number of other groups. The intent of the program was to disseminate information to help those in attendance understand the role in culture in defining gender roles, and how to go about dealing with embedded cultural biases.
We'll have more at a later date. The photo at right was taken in the United Nations lobby.
---
Tribeca: Crane Falls Kills One
Mayor de Blasio Responds with Increase in Oversight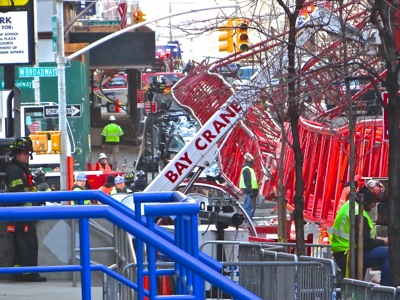 February 15 , 2016 / Bronx Neighborhoods / Bronx Buzz NYC.
On Friday February 5th at around 8 am, crane operators began lowering a very long extended steel arm [565 feet according to the Mayor's Office], to reduce its exposure to high winds. Instead of a controlled descent, the crane arm fell to the ground, killing one and injuring three others. This occurred on Worth Street between Hudson Street and Church Street in Tribeca.
The crane was located between Hudson and West Broadway and the winds were estimated to be in the neighborhood of 20 - 25 mph at the time of the crash. This is a mobile crane, and various cranes have different specifications for being secured at certain wind speeds. The last time there was a crane accident in New York City was in 2008, when there were two building crane accidents.
The crane was put in place only a week earlier, on January 30th, and a few days earlier had been inspected by the NYC Department of Buildings. The crane was authorized or designed to go to the 565 feet to which it had recently been extended. The crane was owned by Bay Crane Company and it was being operated by Galasso Trucking and Rigging.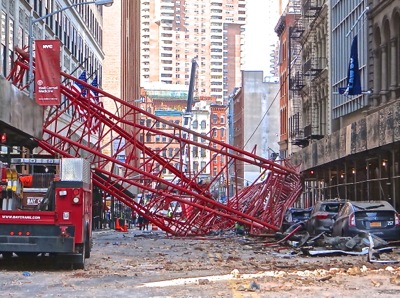 I went down to the site on the Saturday after occurrence to take photos and while there talked to a few bystanders. You could see that the stationary crane, which was based on the street level, had toppled the length of Worth Street. The crane was put in place to install generators and air conditioning units atop the building at 60 Hudson Street which was the former Western Union Building.
It appeared that the crane just fell and in its wake crashed upon a few cars and pedestrians who fled. The one who was killed was an Upper West Sider. The area was secured in the aftermath, but Con Ed reported that their infrastructure appeared to be ok. One of the subway lines (#1) skipped a couple stops in the vicinity over the weekend and pedestrian and street traffic around Worth Street between Church and Hudson was blocked off. Overall the scene appeared relatively peaceful, although there were police tapes up and rerouted traffic as the police and the Department of Buildings conducted their investigations and follow up.
On Sunday, February 7th, the Mayor made a statement announcing several new policies. The first is with respect to mandates for the securing of mobile cranes, which is to be whenever winds are forecast to be 20 mph or above and for gusts of 30 mph or above. Secondly the Mayor said that there will be stricter guidelines for enforcing and ensuring pedestrian compliance and safety while cranes are being secured, and there may be some additional assistance / oversight from the NY City police [NYPD], NY City Fire Department [FDNY], the NY City Department of Transportation [NYCDOT], NY City Department of Buildings [NYCDOB]. Now when a crane is being secured or to be secured, the operators will be required to notify the community in advance. And lastly, a task force is being assembled to see what can be learned from this accident so that best practices may be learned and put in place so that this doesn't happen again.
---
$element(bwcore,article_picker,1377-1354-1348-1321,Y,N,page_title_home,N)$
Newspapers, Magazines, Television Producers, Filmmakers, Artists, Photographers, Journalists, Actors, Musicians, Writers & Software Developers
Copyright Law Change Alert: Pending Legislation May Curtail Your Ownership Rights
July 5, 2015 / News Analysis & Opinion / Gotham Buzz NYC.
Click the Queens Notices link to view proposed overhaul of copyright laws which would significantly curtail the ownership rights one has to their own work. It includes a bit about how you can help by sending a notice to the government regarding this effort to overhaul copyright law.
According to the report, the law would weaken content creators' ownership rights and thus their ability to monetize their creations. They also allege that the big internet companies are pushing this. We surmise that this is because the big internet companies are using everyone's content, collecting revenue for organizing and distributing it, and not compensating the content creators for the use of it. This may leave a huge outstanding, unestimated legal liability on their balance sheets.
The weakening of copyright laws has disturbing societal implications as well, as it completely destroys the economic incentive for artists, filmmakers, writers, journalists, photographers, actors, recording artists and software developers to invest their time and resourcess in the creation art, film, journalism, photography, music, software and other media content and entertainment. And in doing so, paves the way for considerable consolidation and control over freedom of speech and what media and entertainment content we as a society consume.
The net effect of the law is to curtail content creator ownership rights, and thus in some good measure transfer the ability to monetize content from the content creators to the content distributors. But it's not too late for you to do something about this.
The deadline for comment is July 23rd, 2015. Click Queens Notices and scroll down to first notice. There are links there to the authors of the report, as well as instructions and links to making a comment to government officials. Is retaining ownership rights to your work worth 10 to 15 minutes of your time?
"Many hands make light work." Chip in and make your concerns heard.
---
Albany Legislative Session To End Friday
Pending Bills: Public School Funding & Rent Stabilization Law
June 15, 2015 / Bronx Neighborhoods / Bronx Government & Politics / Gotham Buzz NYC.
There are two important bills expected to be finalized by the New York State Legislature this week: 1) one having to do with taxation and funding for the public schools and 2) the second having to do with NYC rent stabilization law.
I've been paying some modest measure of attention to both of these bills, and the following is a brief snapshot of a critical talking point in each bill.
Use Public Money To Fund Private Education?
From what I can gather, perhaps the most contentious item in the public education funding bill is the provision for sizeable tax deductions for those who choose to send their children to private, not public schools.
As I understand it, these tax deductions would be included as part of the funding for the public schools budget and therefore will reduce what's left for the NYS / NYC public school systems.
It's worth noting that private school tuition in NYC can cost in the range of about $5,000 to $30,000 per year per student. And that there are about 900 private schools in NYC alone, so depending on how these proposed deductions are ultimately structured, the funds reallocated from the public schools to private individuals would be in the tens to hundreds of millions of dollars and possibly more.
You might want to contact Governor Cuomo's office at 1.518.474.8390 to let him know you support or oppose the measure, since we understand that he's been the major force pushing for this public school funding change. You can also send him an email via the Governor's contact form.
Albany & Expiring Rent Stabilization Laws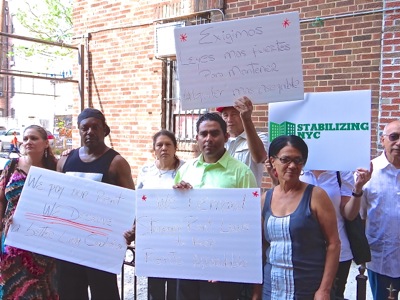 The Rent Stabilization Laws are due to expire tonight, June 15, 2015.
There was talk earlier this year that there would be a push to expand or strengthen the Rent Stabilization Laws given the rapid growth in homelessness in New York City. The NYC homeless population is currently estimated at over 60,000 or nearly 1% of the entire NYC population. About 70% of New York City residents are renters, of which about two million of less than eight and a half million residents, live in rent stabilized apartments.
Over the past decade or so, the Rent Stabilization Laws have been curtailed in the favor of the free market and landlords. The curtailment of rent price control legislation is believed to have spurred additional real estate development investment, as the profits of most new buildings are no longer affected by rent stabilization laws.
Much of the rapid growth in homelessness over the past decade is believed to be the result of tenants losing their rent stabilized apartments, as new owners of buildings have found ways to circumvent the laws. A recent NYU Furman Center Study has shown the loss of over 330,000 unsubsidized affordable apartments since 2002, due in part to the rent stabilization legislative changes referenced above.
NYS legislative insiders told me that tenants rights supporters were hoping to make legislative gains this year, but that the NYS Assemblypeople and NYS Senators opposing the changes, were going to allow the rent stabilization laws to expire as a negotiating tactic.
Vicki Been, Commissioner of NYC Department of Housing Preservation and Development, informed us that the current rent stabilization laws remain in effect through the term of existing leases and leases up for renewal that are already in the hands of the tenants. She also said that tenants should call 311 with any questions or problems.
Cuomo & NYS Officials - Quinnipiac Poll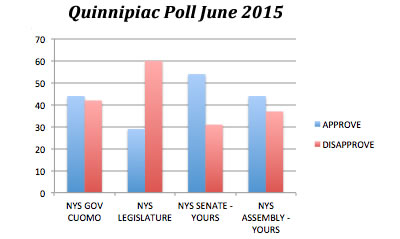 On June 3, 2015 Quinnipiac released a poll showing voters are feeling negatively about the NYS Legislature as a whole, while continuing to favor their local representatives. In the poll Governor Cuomo has only a 2% margin of those favoring him.
Governor Cuomo had a 44% approval rating versus 42% disapproval rating, as voters are not satisfied with his handling of the corruption scandals that have plagued Albany this year. In February 2015 Assembly Speaker Sheldon Silver [Democrat Manhattan] was indicted on federal corruption charges. And in May 2015 NYS Senate Leader Dean Skelos [Republican Long Island] was indicted by a federal Grand Jury.
Less than a year ago, NYS gubernatorial candidate Zephyr Teachout, a law professor at Fordham University surprised polls by garnering nearly 2 votes for every 3 won by the governor in the NYS Democratic primary. Ms. Teachout did not have much in the way of significant private backing or union support, but won nearly 40% of the vote waging an online campaign.
According to the Quinnipiac poll, voters by a margin of 52% - 32% said that with respect to Albany's corruption problem:
"... the Governor is part of the problem, not part of the solution."
As for the NYS Assemblymembers and NYS Senators the Quinnipiac Poll reported the following:
"Voters disapprove 60 - 26 percent of the job the State Legislature is doing, but approve 44 - 37 percent of their own Assembly member and approve 54 - 31 percent of their own state senator."
"At the same time, 45 percent of voters say their state senator should be thrown out in a general house-cleaning, while 40 percent say their senator deserves reelection."
"Voters are divided 41 - 41 percent on whether their Assembly member should be reelected or thrown out."
As you can see, the sentiments collected in the Quinnipiac poll seem a bit contradictory, as the answers received depend on how the questions are stated. Nonetheless, this looks to be an interesting legislative week as things wind down in Albany, and as the 2016 election cycle begins to ramp up.
---
NYS Medical Marijuana Law & DPA
Drug Policy Alliance Reports First Deadline For Submissions Passes
June 8, 2015 / Bronx Neighborhoods / Bronx Healthcare / Gotham Buzz NYC.
I attended a forum on medical marijuana last week. It was sponsored by the Drug Policy Alliance, a non profit group, whose mission is to promote
"drug policies that are grounded in science, compassion, health and human rights".
During the course of this forum I found that there's a lot going on in this area - not just with regard to implementing the legalized use of marijuana for medical use - but in going signficantly beyond that milestone, to making it available to the general public by regulating it in a manner, of which the options range in similarity to: pharmaceuticals, alcohol or tobacco.
To be sure, as public perceptions and policy change, there are important concerns and issues associated with these changes that must be properly managed, or the results of these changes won't be beneficial to the community as the marijuana legalization advocates suggest - but rather could be just the opposite.
We'll have more on the Drug Policy Alliance forum held last week at ABC Carpets on Broadway.
---
De Blasio's State Of The City Address
NYC Mayor Maps Out A Framework To Tackle NYC's Affordable Housing Crisis
Real Estate Lobbyist: "Zoning Is The Equivalent Of Minting Money"
February 9, 2015 / Bronx Neighborhoods / Bronx Government & Politics / Gotham Buzz NYC.
Mayor Bill de Blasio sent the NYC political, media and real estate worlds abuzz on Tuesday, February 3rd, 2015 when he laid out his administration's plan to solve one of the severest shortages of affordable housing in the history of New York City. It seems everyone had something to say in response to it - from the folks on the street to the NYS Governor. NYC Mayor Bill de Blasio is shown standing in the bottom left corner of the photo, after giving his first State of the City Address.
The housing crisis in New York City reached crisis proportions during the Bloomberg Administration. Former Mayor Bloomberg's approach to the issue was to let rent regulated apartments expire or become transformed to encourage investment, provide generous tax incentives and city land deals to real estate developers to build luxury high rise apartments, and build more homeless shelters.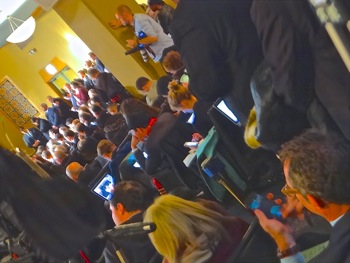 A severe shortage of affordable housing was lurking in the background, as candidate Bill de Blasio began running for the office of mayor with the theme of "the tale of two cities". His campaign keyed into the pinch being felt by the 70% of New Yorkers who rent.
Thus one year later, while giving his first State of the City Address, the 109th Mayor of New York City put the affordable housing problem front and center for his Administration in a manner similar to what he had done on the campaign trail.
And in doing so, the Mayor set afire talk about affordable housing by city and state pols, the media and city real estate developers.
Click here later in the week to read the rest of our report about Mayor Bill de Blasio's State of the City Address, including reactions by banking and real estate executives, members of labor unions and other government officials. By Michael Wood.
---
Organic 469 /
$element(bwcore,article_picker,1104-1033-700,Y,N,page_title_home,N)$
---
Bronx Neighborhoods in NYC
$element(adman,groupad,Catgry Foodwine)$
Click these links for promotions by advertisers in NYC.
Click this link to go to the Bronx Neighborhoods.
---
$element(adman,groupad,Catgry Finance)$
Site Search Tips. 1) For best results, when typing in more than one word, use quotation marks - eg "Midtown Neighborhood". 2) Also try either singular or plural words when searching for a specific item such as "gym" or "gyms".
$element(bwcore,insert_search,N)$
Click this link to search for something in our Manhattan Business Directory which will soon contain hundreds of listings.
---
$element(adman,groupads,Sectional2 Ad)$
Click the log in link below to create an ID and post an opinion.
Or send this story to a friend by filling in the appropriate box below.
---
$element(adman,groupad,Catgry Rest)$
Bronx Related Links
Click for Bronx Restaurants NYC on the Bronx Buzz NYC.
Click for Bronx Shopping NYC on the Bronx Buzz NYC.
Click for Things To Do Bronx on the Bronx Buzz NYC.
Click for Holidays in Bronx on the Bronx Buzz NYC.
Click for Bronx Neighborhoods NYC on this site.
---