---
1498
Bronx Free Public Outdoor Swimming Pools - Bronx NYC
This Bronx NYC Public Swimming Pool Directory Includes Contact Info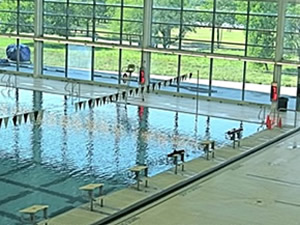 May 25, 2022 / Bronx Neighborhoods NYC / Bronx Swimming Pools, Parks & Sports / Bronx Buzz NYC.
Bronx offers easy access to a wide range of recreational swimming pools. The following is our first attempt to provide you with a view of the range of public swimming pools available in the parks of the Bronx. We encourage you to make use of these facilities because they provide healthy, fun, and frequently free or inexpensive entertainment for both individuals and families with children.
Bronxoutdoor public pools will open beginning Tuesday June 28th, 2022. A few of the indoor pools will be closed this summer to allow for construction and improvements.
Generally pool hours are from 11 am - 7 pm daily, with a one hour break between 3 and 4 pm for cleaning. Bring a padlock for your locker and proper swimming trunks are required [for boys this means not shorts as trunks must have liners]. Don't bring food, glass bottles, newspapers, electronics, floaters and no or as few valuables as you can bring to minimize your risk because the park isn't responsible for your losses. Free sunscreen will be made available while supplies last.
As of this posting 5.25.22, masks are NOT required for indoor activity including in the locker rooms, but stay tuned as it's possible that could change.
Click here to view a listing of Bronx swimming pools, free public swimming pools in Van Cortlandt, Mott Haven, Hunts Point, Concourse, Parkchester, Morris Park, Crotona, Edenwald and East Tremont. Please note the photos do not reflect the onsite pools as of this post 5.25.22.
---
1497
4th of July Fireworks Bronx 2022 NYC
Coop City Bronx Fireworks on Hiatus & East River Fireworks Wednesday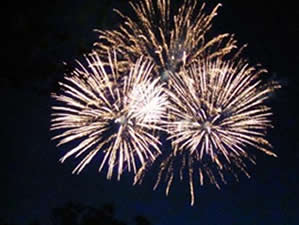 June 28, 2022 / Bronx Neighborhoods / July 4th Holiday in the Bronx / Bronx Buzz NYC.
July 4th Weekend Weather. As of this post 6/28/22, the temperature highs will be in the high 80's during the day and around 70. There's a 50% - 60% chance of rain on Saturday [over a half inch] and a quarter inch of rain on Sunday. The humidity will be 50% - 80% Saturday, falling to 60% on Sunday and down to 50% on Monday. Winds will be 5 - 10 mph throughout the weekend.
July 4th 2022 and Independence Day Fireworks the Bronx
Typically there are a number of July 4th fireworks displays that are viewable in or from the Bronx. While 2020 was a wash, and 2021 wasn't fully back to normal, it seems in 2022 we're back to having what were the prepandemic fireworks display options. The Orchard Beach fireworks is in the Bronx, and the Astoria Park fireworks in Queens are viewable from the South Bronx, and the Macy's July 4th fireworks is remotely viewable from the southern Bronx. The Coop City fireworks continues its hiatus and at this point seems to have discontinued its effort. And for those who wish to travel to Long Island, the Jones Beach fireworks continue in 2022.
Click here for a report about the 4th of July Fireworks in Bronx NYC & surrounding areas, including times and locations for the Orchard Beach fireworks 2022, the Coop City fireworks 2022 [none known to be planned at this time], the Astoria Park fireworks 2022, the Macy's 4th of July fireworks along the East River in NYC, and the Jones Beach fireworks on Long Island.
---
Nature's Wonders at Wave Hill in the Bronx
Historic Wave Hill in Riverdale Overlooks the Hudson River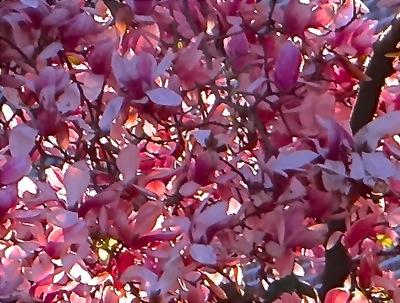 April 23, 2018 / Riverdale Neighborhood / Bronx Parks / Bronx Buzz NYC.
Wave Hill is a 28 acre estate, in the western section of the Riverdale neighborhood in the Bronx, overlooking the Hudson River. The estate was built in 1843 by William Lewis Morris, a lawyer, to accommodate his large family. Morris was a descendant of one of the Bronx and America's founding families, which included a 17th century colonialist who migrated here following the Cromwellian Wars in Britain, a contributor and signer of the Declaration of Independence, and a vast land holding family in the Bronx.
Wave Hill evolved over the years, starting as a Georgian Revival home, but later converted to a Victorian manor by Publisher William Henry Appleton [1866 - 1869]. Appleton purchased a section of the estate from Morris's heirs following his death.
President Theodore Roosevelt [1870 - 1871], author Mark Twain [1901 - 1903], Italian Conductor Arturo Toscanini [1942 - 1945], and the British delegation to the UN hosted John Foster Dulles, Konrad Adenauer and Queen Elizabeth [1950 - 1956] over numerous summers there. The Wave Hill of today includes what was once two estates, which were merged by Financier turned Conservationist George W. Perkins in 1903. Perkins added the greenhouses and the second house of the estate which I believe [unconfirmed] was called Glyndor. It burned in the early 1920's and was replaced by a smaller Glyndor II, completed in 1927. Wave Hill was inherited by daughter Dorothy Woosley Freeman and her husband Edward.
Wave Hill was donated to New York City in 1960, designated a New York City Landmark in 1966, added to the National Registry of Historic Places in 1983 and added to the Riverdale Historic District in 1990.
In 2011 Wave Hill closed for two years for renovations. In 2013 it reopened, with enhanced facilities that included upgrades to the Sally and Gilbert Kerlin Learning Center where family art projects are conducted, and enhanced lighting and sound [2014] in the Amour Hall which is host to musical performances. A new space, the Sarah and Geoffrey Gund Theater was added where lectures are held and films are shown and the cafe was expanded and the dining room renovated.
Today all areas are used to accommodate public programs, many of which include a fee, and many of which are free with admission. Local artists, musicians and performers are oftentimes showcased. We periodically post their events on the weekends, so stay tuned.
Sources for this story include Wikipedia.org / LivingPlaces.com / WaveHill.org.
---
1467
Yankee Stadium History: Concourse Neighborhood Bronx
A Bronx Institution Since 1923 was Rebuilt in 2009 with Taxpayer Funds on Public Parkland
October 8, 2017 /South Bronx Neighborhoods - Concourse / Bronx History / Bronx Things to do / Bronx Parks & Sports / Bronx Buzz NYC.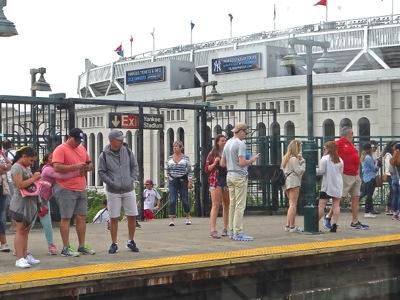 In 1901 the New York Yankees baseball team originated in Baltimore as the Orioles [no relation to present day team]. In 1903, they were purchased by casino man Frank J. Devery and former police chief William S. Farrell, and moved to New York, where they were renamed the Highlanders, because of a Scottish reference and because they played in Hilltop Park which is in present day Washington Heights. Today Hilltop Park is occupied by New York Presbyterian / Columbia University Medical Center at 165th Street and Broadway.
The New York Giants baseball team had reportedly tried to keep the Highlanders out of New York, by disallowing them the use of the Manhattan Polo Grounds as a venue. The Manhattan Polo Grounds was located in East Harlem at 112th Street west of 5th Avenue [and just north of Central Park], and it is where the New York Giants baseball team played.
In 1911 the Manhattan Polo Grounds burned down, and for a time, the NY Giants used Hilltop Park. While the Manhattan Polo Grounds was being rebuilt, relations between the two teams warmed. So, in 1913 the Highlanders baseball team started playing at the Manhattan Polo Grounds where the team was again renamed- this time as the New York Yankees .
The New York Yankees shared the Manhattan Polo Grounds Stadium with the New York Giants baseball team until the opening season of 1923, when they moved into their new stadium.
Click here to read our report about the history of Yankee Stadium in the Concourse neighborhood of the Bronx.
---
1487
Take me out to the Ball Game ...
Buy me Some Peanuts & Cracker Jack ...
I Don't Care if I Never get Back ...
April 9, 2018 / Bronx Neighborhoods / Bronx Sports & Bronx Culture / Bronx Buzz NYC.
It's that time of year again, although given we had a snowfall on April 2nd, you'd never know it. The 2018 Major League Baseball season has begun and both the Yankees & the Mets are off and running. The Mets are in first place in the National League East with 7 / 1 after placing second to the last with their Spring Training record. And the Yankees, came in fifth place with their Spring Training record, and are now in the middle of the pack of the American League East with a 5 / 5 record.
American Baseball 7th Inning Stretch Song
I got a hankering for a bit of baseball and the 7th inning stretch, and the song that accompanies it, so what follows is a bit of the history of the Take Me Out To The Ball Game song.
The first baseball song was reportedly created in 1858 and was called The Baseball Polka Song. In 1908 a New York song writer, Jack Norworth, wrote the song and it was set to music by composer Albert Von Tilzer. It was performed in vaudeville acts and also in recordings.

The song was played at the 1934 World Series between the St. Louis Cardinals, whose nickname was the Gashouse Gang because the players were a rowdy, boisterous and reportedly unbathed group. In 1935 the Marx Brothers used it in one of their films, A Night at the Opera. The war likely put its growth on hold, but it returned to popular culture in the 1950's and 1960's. In 1958, on the 50th anniversary of the song creation - the songwriter, Jack Norworth, was presented with a gold lifetime pass to the Brooklyn Dodgers baseball games.
Click here to learn more about the 7th inning stretch song entitled Take Me Out To The Ball Game.
---
1495
Orchard Beach in Pelham Bay Park Bronx
Salsa Sways & Swoons in the Bronx
August 8, 2017 / Pelham Bay Park & Orchard Beach Neighborhoods / Bronx Dance & Theater / Bronx Buzz NYC.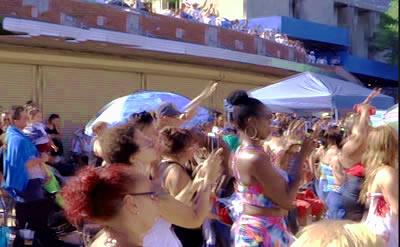 The folks at Orchard Beach in Pelham Bay Park have been hosting Sunday Salsa for over 50 years. The event takes place on Sunday afternoons on the cement pavilion that stands adjacent to the Orchard Beach facility - between the structure and the water. The concerts / dance parties run from 1 pm to 5 pm and are hosted by either a DJ or a live band playing salsa tunes so attendees and beach-goers can dance salsa.
The photo at right shows folks in the Pavilion at the Sunday Salsa party at Orchard Beach in the Bronx.
Salsa County Continues to Dance
According to Salsa New York, DJ Carlos Santiago is the organizer of the event. And Bronx Borough President Ruben Diaz calls Bronx 'El Condado de la Salsa' or 'Salsa County' ... which it seems to be.
I made my way to Orchard Beach last Sunday, taking the #6 train northeast to the last stop of the line - Pelham Bay Park station. I then hopped aboard an Orchard Beach bus - which runs seasonally between the Memorial Day and Labor Day weekends - and only during the operating hours of the park. There was quite a bit of traffic on the road between the subway station and Orchard Beach / City Island - in part because it was a beautiful day and in part because there's construction work being done on the bridge between City Island and the Mainland.
---
1470
History of the New York Botanical Gardens in the Bronx
One of NYC's Finest Attractions Resides in Bronx Northern Neighborhoods
August 17, 2017 / Bronx Neighborhoods - Bedford Park & Norwood / Bronx Things to do / Bronx History / Bronx Buzz NYC.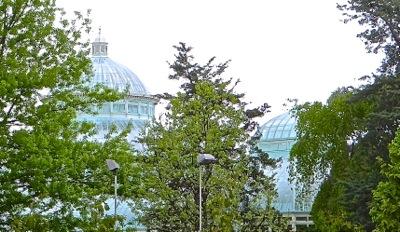 The New York Botanical Gardens are located in the Bronx. While New York City has Botanical Gardens in three of its other boroughs [Queens, Brooklyn & Staten Island], only one - its best - bears the metropolitan city name. The botanical gardens in the other boroughs are competitive in their own right, but the New York Botanical Gardens in the Bronx is like few botanical gardens in the entire world.
Notable within the New York Botanical Gardens walls lie 50 acres of primordial landscape, largely kept intact from colonial and pre-colonial times. This tract of open landscape was once occupied by the Lenape Indians and is called the Thain Family Forest, named after the family that financed the preservation and enhancement of the forest, which has suffered many ravages since its inception.
The ravages to the primordial forest were first addressed in 1904 less than a decade after the site was dedicated to the NY Botanical Gardens. According to an NYT report the original footpaths led to the destruction of the hemlock grove, as the footpaths destroyed the shallow roots. In 1926 new hemlocks were planted, but in 1986 most of the hemlocks were destroyed when a hurricane blew in Asia beetles which destroyed most of the hemlocks that were left.
Also around 1904 a blight destroyed all but two of the original 1,500 chestnut trees. And Dutch elm disease wreaked havoc with the primordial forest elms. There were a number of other such intrusions, so the primordial forest is now a mix of old and new. A research paper provided by the NY Botanical Gardens outlined the work being done to mitigate aggressive intrusions into the forest over the past half decade or so.
Click here to read the rest of our report on the New York Botanical Gardens near the Bronx neighborhoods of Belmont, Bedford Park, Norwood and Fordham.
---
1469
History of the Bronx Zoo in New York City
The Bronx Zoo is one of the Best City Zoos on the Planet
September 27, 2017 / Central Bronx Neighborhoods - Belmont / Bronx History / Bronx Things to do / Bronx Buzz NYC.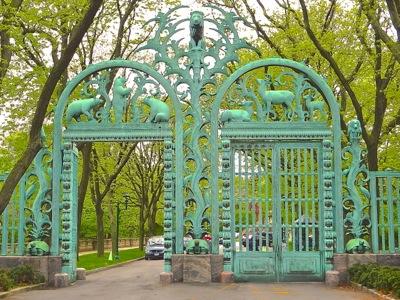 The Bronx Zoo is, as the headline says, one of the best zoos in the world. It offers visitors a day of amazing discoveries and safe exploration of natural wild life. The Bronx Zoo stands on 250 acres of land that is cut through by the Bronx River. Inside are tall trees, a wide array of bird species, wild jungle animals shown in habitats resembling their origin, polar mammals, gorillas, snaky reptiles and as Dorothy of the Wizard of Oz would say, "Lions and tigers and bears ... Oh my!"
The Bronx Zoo is open from 10 am to 5 pm daily. They offer kids rides, a shuttle and select participation in the feedings. There are several public feedings scheduled daily including feeding the Sea Lions at 11 am and 3 pm, with the Penguins being fed at 3.30 pm. In addition they offer an assortment of programs for classes for school aged children and other groups.
The Bronx Zoo also offers a '4-D' theater where you can see real wildlife, a seasonal Asian monorail that takes you through a replicated Asian wildlife refuge, and seasonal camel rides. These are in addition to the feedings mentioned above.
There are four main entrances to the Bronx Zoo. The first is Gate A or the Asia Gate [Bug Carousel} located along the west side of the Bronx Zoo along toward Southern Blvd at about 183rd Street. The second is Gate B, is located off Boston Road, which you get to by heading south on Bronx Park East off the Pelham Parkway. This entrance is located along the east side of the zoo in the Pelham Parkway neighborhood. And the third is Gate C, which is located at the north end of the zoo - and home to the famous gates - along East Fordham Road between Southern Blvd between Bronx Park East. There's a fourth gate which is located off the parking area adjacent to the Gate B entrance, located on the south east area of the park.
The Bronx Zoo opened in 1899, a year after the City of New York allotted 250 acres to the New York Zoological Society to develop a zoo, to preserve native animals and promote an interest in Zoology. The Bronx Zoo opened as the New York Zoological Park.
A former Smithsonian employee who was a conservationist, zoologist, taxidermist and author, namely William Temple Hornaday, was signed on as the Director of the Bronx Zoo where he remained for the next 30 years. Hornaday was driven by the desire to build a world class zoological institution and by all accounts today, he appears to have succeeded.
Click here to read the rest of our report about the Bronx Zoo - things to do in the Bronx.
---
A Short Report & Photos of the Solar Eclipse of 2017 in NYC
The Solar Eclipse was an American Communal Shared Experience
August 21, 2017 / Queens Neighborhoods / Manhattan Neighborhoods / Gotham Buzz NYC.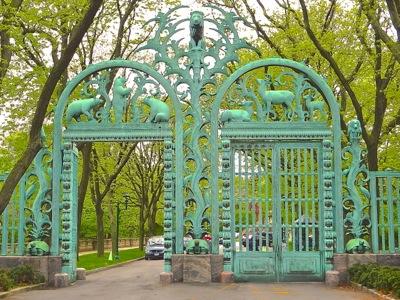 I set about to experience the solar eclipse of 2017, departing for Manhattan at about 1.30 pm which was about the time the eclipse was to begin. As I made my way to the subway, I met a woman who was heading to Hunters Point South Park to do the same. She offered me the use of her eclipse glasses, which I examined but it was far too early to really use to any great effect.
Solar Eclipse Glasses were Opaque
The eclipse glasses were opaque and I couldn't see through them looking down the street. Apparently they only work when you're looking at the sun. The glasses this woman had were sponsored by Cisco Systems through a science camp in Rochester, NY. Consumers were advised to be careful about which eclipse glasses to use, as apparently some would not filter out the harmful, eye-damaging rays of the sun. One eclipse audience member told me that the glasses were being sold online - ten for $100. I'll have more about the protective glasses a bit later as I used the glasses to take what I would call 'meaningful' photos.
There were many reports published about how one can damage their eyes by looking directly at the sun. The Washington Post noted that the damage can begin in as little as one and a half minutes, and that looking at the sun in a sequence of little peaks at a time, may not prevent you from doing real damage. It's worth noting that one can also damage their camera by pointing it directly at the sun for a long period of time. The New York Times noted that the longest the full eclipse will last, is less than three minutes, and that in many places in America it will last less than a minute.
Solar Eclipses Happen Regularly, but Not Where We can See Them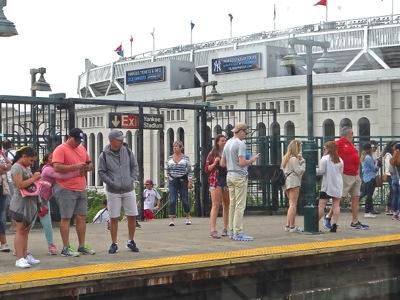 Historically, it's worth noting that the moon eclipsing the sun happens every 18 months, but most eclipses happen over the oceans which cover about two thirds of the planet earth surface. According to the New York Times, the last time America experienced a full solar eclipse was in 1918, a full 99 years ago, so few if any who are old enough to experience the eclipse this time, are likely to see it again.
The eclipse began along the west coast in Oregon at about 1.15 pm, the peak was at about 2.45 pm and the final was at about 4 pm. I'll note a few of my times as we run through the rest of this report.
Solar Eclipse NYC 2017 on the Upper East Side
Anyhow, I arrived at Lexington and 77th Street about 2 pm, about 45 minutes before the peak of the eclipse. A few folks were standing in the street looking up, so I shot a photo of the sun at that time, but it didn't look like much at the blinding rays of light blocked any real photo clarity.
I started journeying westward to Central Park which was my destination. Sheep Meadow to be exact, as I expected there to be a large crowd there - even though it was a Monday afternoon. After all, today was eclipse afternoon in NYC, a once-in-a-century / lifetime event. I wasn't disappointed.
Solar Eclipse NYC Photos 2017 in Central Park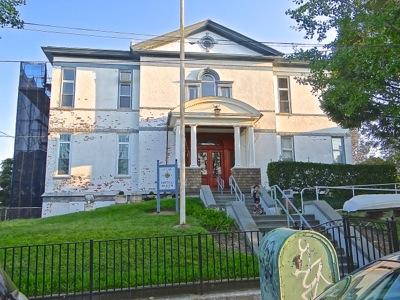 Actually most of Central Park was kind of teeming with life. My first stop was the Conservatory Water just south of the Alice in Wonderland statue along the east side of Central Park. People were milling about, sailing boats and looking upward. Not much seemed to be happening here, so I moved west to the Central Park Boathouse and Bethesda Fountain. I knew I was getting warmer as the fountain area and terrace were pretty packed. Again, folks were looking skyward so I shot a few photos without any filter and got shots that only marginally indicated the eclipse.
Down here on earth, if you weren't looking for it, you wouldn't have known there was an eclipse. And the clouds weren't helping clarify the issue either.
Click here to read the rest of our report on the Solar Eclipse 2017 in NYC with photos of eclipse in Central Park Manhattan & a park in Queens.
---
1368
Saving Jamaica Bay
Local Documentary Film At The Queens World Film Festival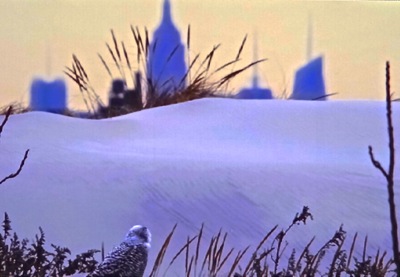 March 21, 2016 / Jamaica Neighborhood / Bronx Environment & Parks / Queens Buzz NYC.
I attended the 6th annual Queens World Film Festival on Thursday where I had an opportunity to view a film that's been years in the making by a local filmmaker, Dan Hendrick. The film is entitled Saving Jamaica Bay and it's an hour and 16 minute documentary about the ecosystem of New York City's Jamaica Bay.
The film storyline and cinematography capture the juxtaposition and the intensifying struggle, between man and nature. The beauty of the bay is captured on film, showing us that the fair maiden is in distress. But she's being rescued, or at least fought for, by a naturalist and former manager of the National Park Service Jamaica Bay Wildlife Refuge in tandem with a retired fireman and his son, who've taken upon themselves the mission of protecting what was shown to us to be an area of great urban abuse and refuse, but even greater beauty.
Click here to see more still photos and a review of the film entitled Saving Jamaica Bay at the Queens World Film Festival in March. The film is scheduled to be shown at other film festivals throughout the year, a few of which will be listed at the end of this report.
---
Which Bronx & NYC Pols Support $8 Tolls To Cross 60th Street & East River Bridges?
Borough President Brewer, NYS Assemblyman Rodriguez, Cuomo's Deputy of Legislative Affairs Weprin & Many Manhattan CCM's Support $8 Tolls to Raise Capital for the MTA
NYS Governor Cuomo Supported Congestion Traffic Pricing in the Past & Cuomo's Deputy of Legislative Affairs Mark Weprin Is Supporting It
August 2016 / Bronx Neighborhoods / NYC Politics / News Analysis & Opinion / Bronx Buzz NYC.

The new Congestion Traffic Pricing Plan has been making its way into the legislative process over the past year. Just last week NYS Assemblyman Robert Rodriguez, a Democrat from Manhattan introduced the bill on March 23, 2016. The Move NY Congestion Traffic Pricing Plan is being sold into the legislature as a means to raise revenue to fund MTA Capital projects.
Manhattan Borough President Gale Brewer, NYS Assemblyman Robert Rodriguez, Cuomo's Deputy of Legislative Affairs Mark Weprin, CCM's Ydanis Rodriguez, Margaret Chin, Mark Levine & Corey Johnson support installing $8 tolls on 60th Street & East River bridges to raise capital for the MTA.
Governor Cuomo's Words Are ...
Governor Andrew Cuomo supported the Congestion Pricing Plan put forth years ago, which wasn't popular with many of the voters in Brooklyn & Queens. The two boroughs have a combined population which rounds to 5 million or 25% of the 20 million people who live in New York State.
Cuomo was quoted as making the following statement by the Observer in an article published a year ago on March 15, 2015,
"It's not, 'Can I support it?' Will the people support it? Can you get it done? Can you get a congestion plan passed and we've gone through this a couple of times and it was an overwhelming 'no' and I haven't seen anything happen that would change my opinion,"

The Governor has essentially been repeating this position publicly ever since.

Inconsistent with Governor Cuomo's Staff Actions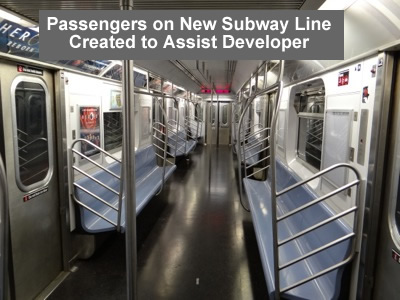 But while the Governor is publicly distancing himself from the measure which is unpopular in Queens and Brooklyn, former NY City Councilmember Mark Weprin, who is now Cuomo's Deputy of Legislative Affairs, has supported the Move NY Congestion Traffic Pricing Plan.
Weprin vehemently oppposed Congestion Traffic Pricing in 2008 when he was a NY City Councilmember, but in 2015 Weprin began publicly supporting the revised Congestion Traffic Pricing Plan as he transitioned from NY City Councilmember to becoming Cuomo's Deputy of Legislative Affairs. NYS Assemblyman David Weprin, Mark's brother, continues to publicly oppose the plan.
It's worth mentioning that the Weprins and the Cuomos have had close family political ties spanning two generations.
Move NY's 'New & Improved' Congestion Traffic Pricing Plan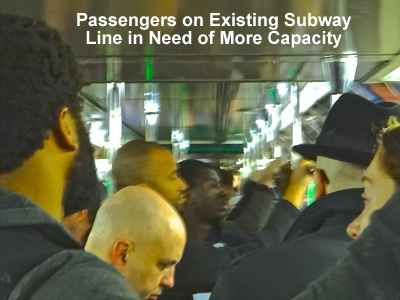 We studied the Move NY Traffic Congestion Pricing proposal by first taking a closer look at what groups are pushing the plan [follow the money]. Gridlock Sam Schwartz Consulting LLC is one of the primary promoters of the plan, and the consulting company is owned in part by a large, multi-national, transit infrastructure contractor. We also evaluated the assumptions they used to create the estimates provided in the plan, which we found to be inconsistent with fairly recent independent studies by respectable institutions, and we also looked at what happened in one of the other cities around the world that implemented the plan.
In essence the plan retrofits [re-prices] the fossil fuel infrastructure, by making a significant investment to install and operate tolling around the center of Manhattan. The remaining proceeds would then go to fund other MTA capital projects [in London this was about half the proceeds]. The pricing would require those who can't afford the $8 tolls [each way] to either use mass transit [recent NYC metro studies have shown this switching doesn't happen] or to cross the bridge at other times at which time the tolls would cost less. The proponents say this would enable those who can afford the tolls to cross the East River bridges and 60th Street more quickly and move around mid Manhattan more easily [less traffic congestion with the rest of the community priced out of their way]. How 'democratic' is this?
Previously MTA Invests Billion$ in New Subways Appearing to Accommodate Billionaire Manhattan Developer(s) & Now Pols Want Metro Residents & Employees to Fund a System to Toll Tax Them to Fund MTA Capital Budget
The MTA during the Bloomberg (Republican) Administration made approximately $8 billion in MTA capital investments for about 30 to 40 blocks of Manhattan subway lines. One line travels from Times Square to the Javits Center [$2.4 billion mostly paid by city] and the other, which was strongly supported by NYC Comptroller Scott Stringer, is expected to travel along Second Avenue from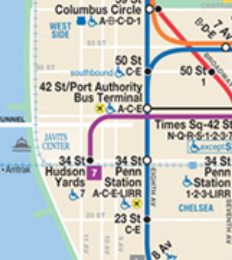 about East 60th Street to about East 86th Street when it is completed [ran way past budget and time estimates - currently about $5.2 billion].
The latter subway line has been called the 'subway to nowhere', while the other isn't much different - as it terminates at the Javits Center and billionaire real estate developer Steven Ross' & Related Companies' new Hudson Yards development - without any other subway connections. Pundits have opined that one [new #7 Hudson Yards station] and possibly both of these multi-billion dollar investments were made to accommodate Manhattan real estate developers [such as Ross], more than to facilitate transit for commuters and residents of New York City.
When I confronted an MTA spokesperson with this perspective, they told me that the Q line extension would alleviate a considerable amount of the congestion on the north / south east side Manhattan subway line, but made no comment regarding the Hudson Yards station.
The photos above show no passengers on the Javits subway [at an admittedly random time and not long after it was installed], while the second photo shows the #6 subway along the Upper East Side, also at a random time. The map to your right shows the new #7 subway line extension ending as an unconnected spur.
Perhaps if the MTA and the government officals who oversee MTA capital project spending were more judicious in their selection of multi-billion dollar projects and allocation of funds, they wouldn't need to make a huge investment of the public's money in the creation and operation of an expensive new tolling system which they plan to use to charge taxpayers $8 tolls to cross 60th Street and the East River Bridges.
This plan essentially aids the wealthy by making their lives easier, while economically discriminating against those with less wherewithal, by making their lives harder. This doesn't strike me as a solution that's 'democratic' at all. There must be less costly, more fair ways to raise additional revenue for transit that NYC commuters - not Manhattan real estate developers - really need.
CLICK HERE TO SCAN / READ THE FULL REPORT on the Move NY Congestion Traffic Pricing Plan.
---
1321
LaGuardia Airport - Airplane Noise
Jackson Heights, Corona & Queens Voice Concerns Regarding LGA Airplane Noise
FAA Considering Extension of LaGuardia Airport Hours & Other Changes

October 19, 2015 / Bronx Neighborhoods / Bronx Transit Issues NYC / News Analysis & Opinion / Gotham Buzz.
I attended a town hall meeting about the airplane noise coming from LaGuardia Airport at PS 69 in Jackson Heights. The town hall had been organized by NYS Senator Peralta's office and the panel of speakers included local government officials and representatives of the Federal Aviation Administration [FAA] and the New York New Jersey Port Authority [NYNJPA].
Standing Room Only at PS 69
The auditorium was packed and there were people lined up along the walls as well as standing in the back of the auditorium. Airplane noise has emerged as a big issue for Jackson Heights due to a couple of construction projects going on at the airport - both of which will be completed at the end of November.
Cynical Audience Member's Point of View
The timing of the town hall meeting, only six weeks before the construction was to end, led one of the local pundits to cynically suggest that this was merely political theater, rather than an effort to accomplish anything substantive.
There was an earlier town hall meeting organized about two years ago by NYC City Councilmember Dromm, to tackle the problem in its early stages, and while it was happening - not after it was all over - which is what we're close to today.
But that said, these town hall meetings are not just political theater, although inevitably that is some of it, which you will see in the video. And while the immediate problem will subside, we discovered that there a number of efforts either underway or in the planning stages, in which the community has a vested stake in the outcomes.
Not Said In Meeting: Federal Register States That Consideration Is Being Given To Extending LGA's Operational Hours & Slots
In doing follow up research I found a piece on the Federal Register government website that informed me that the FAA is considering changing the operational hours and slots for LaGuardia Airport. This was not discussed at the town hall [click into story for additional detail]. We also found other things that were either scarcely touched upon or not addressed, which we included in this report.
Click here to read the rest of this report about LaGuardia Airport & Airplane Noise in NYC. The report includes video presentations, including some audience interaction, and a photo slide show and other information about FAA air traffic changes, airplane noise and what you can do about it.
---
NYS Medical Marijuana Law & DPA
Drug Policy Alliance Reports First Deadline For Submissions Passes
June 8, 2015 / Bronx Social Issues / Bronx Healthcare / Bronx Buzz NYC.
I attended a forum on medical marijuana last week. It was sponsored by the Drug Policy Alliance, a non profit group, whose mission is to promote
"drug policies that are grounded in science, compassion, health and human rights".
During the course of this forum I found that there's a lot going on in this area - not just with regard to implementing the legalized use of marijuana for medical use - but in going signficantly beyond that milestone, to making it available to the general public by regulating it in a manner, of which the options range in similarity to: pharmaceuticals, alcohol or tobacco.
To be sure, as public perceptions and policy change, there are important concerns and issues associated with these changes that must be properly managed, or the results of these changes won't be beneficial to the community as the marijuana legalization advocates suggest - but rather could be just the opposite.
We'll have more on the Drug Policy Alliance forum held last week at ABC Carpets on Broadway.
Click here for things to do in the Bronx NYC.
---
1373
Sterling Equities & Related Companies Lose A Court Battle
Plans to Build Shopping Mall on Flushing Meadows Corona Park Land Reversed on Appeal, but Legal Wrangling will Continue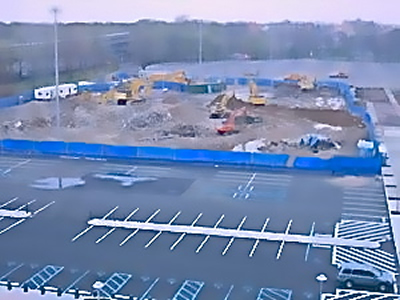 July 6, 2015 / Flushing Neighborhood / Bronx Neighborhoods / Bronx Business & Real Estate / News Analysis & Opinion / Queens Buzz NYC.
This report is based on an Associated Press report dated July 2, 2015 and a Queens Tribune story dated August 28, 2014.
In August of 2014, New York State Supreme Court Judge Manuel Mendez decided in favor of Related Companies / Sterling Equities by throwing out a lawsuit filed by the City Club of New York and NYS Senator Tony Avella.
The plaintiffs alleged that billionaire Stephen Ross's Related Companies, the real estate developers of Hunters Point South and the Hudson Yards, and the Sterling Equities which was co-founded by the NY Mets owners, mega-millionaires Saul B. Katz and Fred Wilpon, had not gone through the NYS legislature for the approval of the transfer of the parkland as required by law.
The lawsuit, filed in February 2014, alleged that the transfer of 47 acres of Flushing Meadows Corona Park land that currently represents the western part of the Mets parking lot, was done without following the procedure for a proper public review [see photo above right]. The City had proposed transferring the 47 acres to Related Companies / Sterling Equities who had planned to build a 1.4 million square foot shopping mall next to Citifield.
The NY City Council and the billionaire former Mayor Bloomberg approved the project in October 2013, but the proposal never went to Albany for a vote. According to the Queens Tribune report one of the plaintiffs said that the Judge Manuel Mendez's ruling goes against the Public Trust Doctrine, ignores longstanding case law history, and bestows too much power that was formerly the purview of the Board of Estimate in one person: the NYC Mayor.
On Thursday, July 2nd, 2015, the four-judge Appellate Court overturned Judge Mendez's decision and ruled that the Willets West Mall Project was illegal because the land is a part of Flushing Meadows Corona Park, in spite of its current paved over status as a parking lot [see 2009 photo above].
And because it is a part of the public parkland of the people, it may not be turned over to the real estate developers without approval of the NY State Legislature. The judges rejected the ruling in favor of the mall development made by Judge Manuel Mendez, wherein Mendez sided with the wealthy real estate developers who argued that the 54 year old, 1961 law authorizing the construction of Shea Stadium, also included a mall.
The photo above shows the Citifield parking lot in 2009, as it was being paved over following the demolition of Shea Stadium which was authorized in 1961. The new Citifield stadium built to replace Shea, is smaller.
According to the Associated Press report, a spokesman for the real estate developers said that they would appeal the decision.
Click here for the full report on Sterling Equities Saul Katz Fred Wilpon / Related Companies Stephen Ross lose court battle over Flushing Meadows Corona Park development in Flushing Queens.
---
1119
Affordable Care Act Review
Obamacare Check Up One Year Out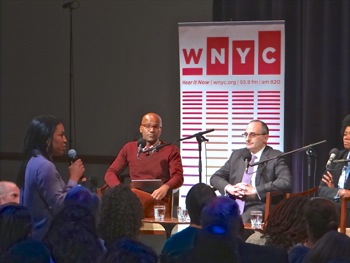 October 20, 2014 / Bronx Neighborhoods / Bronx Hospitals & Healthcare / Gotham Buzz.
I rarely leave Manhattan for a story, but last week I had an opportunity to attend an NPR forum on the Affordable Care Act at the New Jersey Performing Arts Center in Newark. The program was designed to look back on the promise, disappointment and possibilities of Obamacare one year since the program was rolled out.
Brian Lehrer of NPR was the moderator of the forum which included a panel of experts representing different groups involved in the administration of the Affordable Care Act. There were representatives from a local hospital, an insurance group, a journalist who's been tracking the Affordable Care Act for NPR, a documentary filmmaker and the Director for State Health Policy from Rutgers University.
I arrived by train from Penn Station. The train ride took less than twenty minutes and the walk to the New Jersey Performing Arts Center took less than ten minutes. I had never been to the NJPAC and was impressed by its sparkling beauty on both the inside and out. Its a modern glass and steel structure and the windows provided views of the New York City skyline in the distance. But I digress.
Click here for our full story about the Affordable Care Act NYC. This includes delving a bit into doctor participation, patient behavior, costs, breadth and depth of coverage, where the program is meeting / not meeting its objectives and an outlook of the future.
---
1104
People's Climate March Photos
Over 300,000 People March / Interesting Signage / Creative Costumes / Jazzy Music / Important Message / By The People & For The People / We Are One World / We Are One People / We Must Learn To Live In Harmony With Each Other & With Our Ecosystem

September 22, 2014 / Midtown Neighborhood / Bronx Environment & Parks / News Analysis & Opinion / Gotham Buzz NYC.
I came up the subway stairs at Times Square Sunday, September 21, 2014 shortly before 1 pm. I had hoped to cover the People's Climate March story beginning at 11.30 am at Columbus Circle which was when the parade was to start; but I was detained and rushed to cover what I had thought might be the END of the parade. Boy, was I wrong. I ran head on into the BEGINNING of the parade, although I had missed the very front of it.
It truly was a People's Parade as there were few government officials were in attendance. According to one report I read after the parade, NYC Mayor Bill de Blasio, former U.S. Vice President Al Gore and UN Secretary General Ban Ki-moon joined the head of the parade around 12.45 pm, which wasabout the time I had arrived, so I missed them.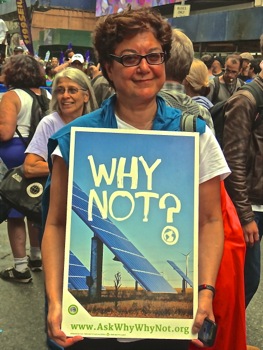 There were also a few NY City Council Members who marched, versus an NYT report that indicated a third or more planned to march. I recognized three of about five NY City Councilmembers that were there: NY City Council Speaker Viverito, UWS CCM Rosenthal and Astoria Queens CCM Costa Constantinides.
Green Companies Missed Big Marketing Opportunity To Reach Their Passionate Audience
Click here later today to read our full report of the People's Climate March including hundreds of photos, and a number of parade marchers' views of what's really going on, as well as what can practically be done by regular folks about it.
Click here to read our report and view photos of the UN organized People's Climate March in NYC. Story and photos by Michael Wood.
---
Affordable Care Act Insurance Deadline
Deadline To Complete Enrollment Extended To February 28th
But February 15th Is Final Day To Begin NYS Insurance Enrollment
Updated February 15 / February 12, 2014 / Bronx Neighborhoods / Bronx Healthcare / Gotham Buzz NYC.
New Enrollments For ACA Health Insurance Ends February 15, 2015. Those who have begun the enrollment process by February 15th will have until February 28th to complete them. The deadline is February 15th to begin an enrollment. We received reports that many folks were having difficulty in getting through to a telephone operator, so it looks like there was a spike in demand near the deadline, which also happened in 2014.
On Saturday, NY State of Health extended the enrollment deadline by two weeks to enable those who do not complete their enrollments by Sunday, February 15th. Hence, enrollees now have until February 28th to complete enrollments in the New York State health insurance plans associated with the Affordable Care Act. It's worth mentioning that the NY State Of Health does not have operators available on Sunday and that they are only available Saturday from 9 am - 1 pm.
Enrollment On Target With Government Incentives. According to recent national news services, there were already 9.5 million enrollees in the Affordable Care Act plan as of a few weeks ago [mid / late January 2015]. The total enrollment target nationally for this year is 10.5 million. Last year the New York State of Health - which runs the NYS Affordable Care Act enrollments - signed up nearly 371,000 people. There were reports in January 2015 that the number of NY State of Health enrollees has grown this year. We also understand that the folks who enrolled last year and are currently participants in a plan will be automatically renewed in their Affordable Care Act Health insurance, so they are not required to update their enrollment with the state. But that said, they must renew their status with their health insurance provider around the time of the anniversary of their enrollment.
One news site recommended that folks already enrolled in the plan ought to review and update their enrollment to make sure they want to stay with their present insurer, and that they fully understand the tax consequences of their healthcare choices.
Tax Penalties 2015. One report noted that the majority of Affordable Care Act enrollees get some measure of monetary incentive to enroll in the plan. In 2014 the tax penalty for not having health insurance was $95 per adult or 1% of household income. In 2015 the penalty rises to $325 per adult or 2% of income.
Click here to view the New York State of Health website.
---
1029
Obamacare Comes To NYC, NYS & America
NYC Prepares For The Affordable Healthcare Act
Update November 13, 2013 / Astoria Neighborhood / Healthcare in NYC / Gotham Buzz NYC.
Update - Over 197,000 New Yorkers Have Completed Applications of which over 48,000 have already selected and enrolled in a plan. Over 142,000 people were helped by the New York State of Health which runs the health plan marketplace for New York State. Note that open enrollment for the tax year 2014 ends on March 31, 2014.
November 7, 2013 / Gotham Buzz NYC.
I just returned from the United Civic Community Association [UCCA] sponsored forum on Obamacare at the Museum of the Moving Image. The forum did a nice job of providing what appeared to be a good summary look into what the federal government's Affordable Healthcare Act [also known as Obamacare] is really all about.
The forum was moderated by Rose Marie Poveromo, President of the United Community Civic Association of Astoria and included a panel of experts. The panel included U.S. Congressman Joseph Crowley, Rebecca Jackson, a NY State of Health Project Coordinator, Caryn Schwab Executive Director of Mount Sinai Queens, Judy Trilivas Chief Operating Officer of Mount Sinai Queens and Minna Elias Congresswoman Maloney's Chief of Staff. They are shown seated from left to right in the photo above, at the UCCA hosted Obamacare Forum at the Museum of the Moving Image in Astoria.
Click here to read more about Obamacare comes to America NYC NYS.
---
1033
Cyclists Rights In NYC - Biking Laws & Rules In NYC
Knowing Your Rights & Responsibilities As An NYC Cyclist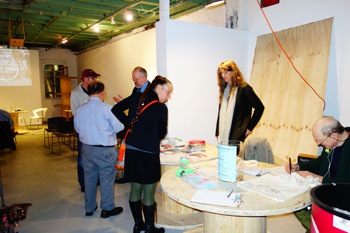 November 7, 2013 / Bronx Parks & Sports / NYC Bike Laws / Biking Rules Bronx NYC / Bronx Buzz. By Philip Papas.
The introduction to the Cyclists' Rights Forum was given by Christina Vassallo, Executive Director, Flux Factory. She told us that the event came about after she and a friend were stopped for cycling violations, which they thought were not illegal, or had erroneously been applied as violation points to their motor vehicle driver's license. As a result she saw the need for a forum to clarify laws, rights and proper procedures for cyclists to follow.
Click here to read our full report about NYC Bike Laws / Cyclists' Rights Forum in Queens at the Flux Factory in LIC.
---
OVER 63,000 - STOPPED
nyc restaurants | Bronx 4th of July Fireworks NYC | Bronx Mothers Day Restaurants NYC | St Pats Day Pubs Bronx Irish Restaurants Bronx NYC | Bronx Parades NYC | Bronx Things To Do Columbus Day Weekend NYC | Bronx Things To Do Memorial Day Weekend NYC | Bronx Things To Do Labor Day Weekend NYC | Bronx Things To Do Presidents Day Weekend NYC | Bronx Things To Do Martin Luther King MLK Day Weekend NYC | Bronx Halloween Parties Parades Events NYC
Bronx Business Directory NYC, Bronx Neighborhoods NYC, Bronx Farmers Markets NYC, Bronx Street Fairs NYC, Bronx Shops & Shopping NYC, Bronx Restaurants NYC, Bronx Real Estate & Business NYC, Bronx Summer Movies Free NYC, Bronx Summer Concerts Free NYC, Bronx Summer Theater Free NYC, Bronx Member Events Calendar NYC, Bronx Op Eds & Opinions NYC, Bronx Holiday Events NYC, Bronx Holiday Markets NYC, Bronx Swimming Pools Free NYC, Bronx Things To Do This Weekend NYC
Copyright © and Trademark ™ 2007 - 2023 All Rights Reserved
Brooklyn Neighborhoods | Copyright / Privacy / Terms of Service | Bronx Blogs - About News Websites Bronx NYC