In Search Of A Civilization Lost By Mass Media
LaGuardia College Performing Arts Center Uses Theater & Art To Stimulate Cross Cultural Community Conversation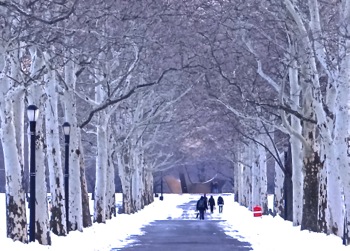 February 9, 2015 / Queens Theater & Arts / Bronx Theater in NYC / Gotham Buzz NYC.
It was nearing sunset on Saturday evening as I made my way through a beautifully quiet Flushing Meadows Corona Park. The clean white snow glistened gently in the fading light, and the leafless trees along the road provided what felt like an ancient natural cathedral.
I checked in at the admissions desk and made my way to the second floor of the Queens Museum. The Queens Museum was once the home to the United Nations and hence provided the perfect context for this community conversational performance. The floor to ceiling windows looked out onto the landmarked Unisphere which emanated a universal vibe. In the long wide hallway a crowd was engaged in clustered conversations following the conclusion of four performances shown that afternoon. I had seen the performances at an event earlier in the season.
I began talking to Tasneem, a member of the audience who is shown in the photo at right standing alongside a photo taken by a friend of hers who is shown in the photo. Tasneem came fromJordan twelve years ago, only two years after 911. She said that it's important for the general populace of Muslims to stop being afraid of showing they're Muslim, because otherwise New Yorkers and the rest of America will be left with the picture of Islam as depicted by a few extremists which is amplified and continually repeated by the American mass media.
I couldn't deny it. It seems American television stations, radio stations, newspapers and magazines are obsessed with providing the Islamic terrorists all the publicity they want.
But here, tonight, in the Queens Museum; I would not see any of the faces shown by our mass media. I would see only the faces of everyday Islamic New Yorkers who generally receive no publicity at all. Muslims who hail from dozens of cultures around the world. And there wasn't a single terrorist among them. Hence - and likely not coincidentally - there also wasn't a single mass medium reporter covering this event.
Tasneem told me how she, like many other American Muslims, fears showing she's Muslim because of the stereotypes created by the terrorists and perpetuated and blown up by the American mass media. The notion of a silent majority came to mind.
It occurred to me that the gore of the Islamic extremists must be good for tabloids and TV ratings. And I pondered what it must feel like to be stereotyped by this relentless, distorted depiction of one's culture and people. Andy Warhol's characterization of the mass production of images came to mind.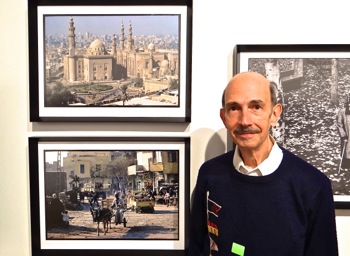 I thought about what it would be like if I lived somewhere else in the world where the nation's media mass produced stereotypes of Americans, depicting us as murderers, rapists and thieves. That could easily be done if a nation's media decided to portray Americans by solely covering the 5.6 million violent crimes and the 17.1 million property crimes that took place in this country in 2011 alone [source: Wikipedia / Bureau of Justice Statistics]. That just wouldn't be right ... would it?
And yet, it seems that this is exactly what's been happening to Muslims in America, because of the unbalanced coverage of Islam by the big American mass media companies. The TV and newspaper tabloids make a living by sensationalizing - spinning things out of context - but aren't the real journalists supposed to provide perspective by putting things back in context?
This seems generally not to have been done.
And so the LaGuardia Performing Arts Center applied for and received a grant to begin such an effort. An effort to provide exposure to the lives and contributions of the other billion Muslims who go peacefully and productively about their lives each day, just like most of the rest of us. An effort to create a community conversant with a deeper and broader understanding of a millenial and centuries old culture that is embedded in the lives of over a billion people on the planet. People who live in dozens of nations around the globe, and none of whom are terrorists - and hence generally not represented in the American mass media.
I met American born Charles Bernett of Rego Park who had traveled to Cairo in 1979. Thirty-five years ago he was about to embark on his second trip through Africa ... [see photo at right].
The LaGuardia Performing Arts Center exploratory, year-long, theater and arts, cultural endeavor entitled Beyond Sacred: Unthinking Muslim Identity, more of which you can find on our Queens Buzz website. Click here for a related piece done around the same time about Art & Theater in NYC: Exploring Islamic / Muslim identity in America.
---
'Damn I Look Good'
Art Exhibit At Topaz Arts In Woodside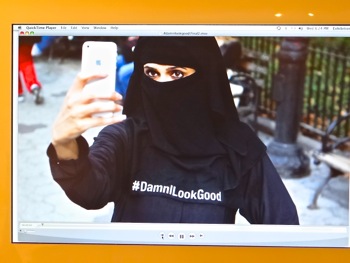 November 17, 2014 / Queens Theater & Arts / Bronx Theater in NYC / Gotham Buzz NYC.
On Wednesday I attended a performance of the Theater of the Oppressed NYC at Topaz Arts in Woodside. The performance is one of a number of artistic and theatrical programs organized in conjunction with a year long effort entitled, Beyond Sacred: Unthinking Muslim Identity, by the LaGuardia College Performing Arts Center.
On exhibit at Topaz Arts was a related art exhibit entitled Beauty, created by Qinza Najm of Manhattan. Qinza's work included a couple of oil on canvas paintings and a video, a photo still of which, you can see in the photo to your right. The intent of the art project was to challenge people's perceptions about Islam and Islamic garb.
The 911 terrorist attack on the World Trade Center killed 2,977 people and irreversibly changed the lives of the countless more who loved them. It also created a negative perception of all Muslims in the public eye, and hence also changed the lives for many millions of Muslims living in America who had nothing at all to do with 911. It's estimated that between five and ten million Muslims live in the U.S. - of which a third are believed to be from Africa, another third from southern and eastern Asia, and the remaining third from the Middle East. Is it estimated that there are 1.6 billion Muslims in the world, representing nearly a quarter of the world population.
Qinza's video has her wearing a black burqa in public places in New York City taking selfies [photos of herself as shown in the photo above]. The burqa has enscribed on it a Twitter hash tag followed by the art project name '#DamnILookGood'. The video includes Qinza's artistic statement that this is America and people of all cultures are free to wear what they want. In her video Qinza approaches people to try to get them to wear Islamic clothing for just a few minutes in public places in order to sensitize them to the current prejudicial feelings against them which is manifested through people's reaction to them while wearing traditional Islamic clothing. The burqa is the most conservative Muslim garb worn by Muslim women and is part of the ancient Islamic tradition of women completely covering their entire bodies when out in public.
We'll have more on this art exhibit and the Theater of the Oppressed at a later time.
---
NYC Related Links
$element(adman,groupad,Catgry Rest)$
Click this link for promotions, discounts and coupons in nearby Queens NYC.
---
$element(adman,groupad,Catgry Foodwine)$
Site Search Tips. 1) For best results, when typing in more than one word, use quotation marks - eg "Astoria Park". 2) Also try either singular or plural words when searching for a specific item such as "gym" or "gyms".
$element(bwcore,insert_search,N)$
---
$element(adman,groupads,Sectional2 Ad)$
---
Click the log in link below to create an ID and post an opinion.
Or send this story to a friend by filling in the appropriate box below.
---