Ruben Diaz Delivers State of the Borough Address
Bronx Borough President Provides Holistic Overview of Borough Affairs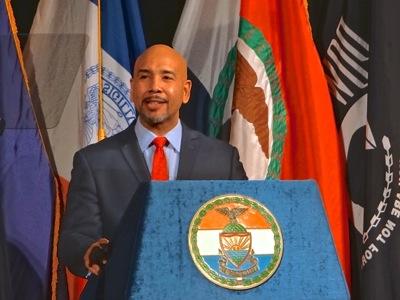 February 26, 2018 / Bedford Park Neighborhood Central Bronx / Bronx Politics & Government / Bronx Neighborhoods / Bronx Buzz NYC.
I attended Bronx Borough President Ruben Diaz's State of the Borough Address last Thursday at the Bronx Science High School in the Bronx neighborhood of Bedford Park.
There was a reception that began at 10.30 am and the speech was scheduled to begin at 11.30 am. I arrived a bit after Bronx President Ruben Diaz began his speech.
Diaz began by talking about how much things had improved since he became Bronx Borough President. Crime is down, as homicides have dropped below 100 for the fifth straight year, and he told us that this year was the lowest year on record. He told us that employment is up, that the Bronx has a 5.5% unemployment rate and that 110,000 new jobs have been added since he took office as the Bronx Borough President in 2009. Diaz said that school graduation rates are up, and drop outs are down, but that the Bronx still has the lowest math and reading scores in the city. He went on to say that many high school graduates are unprepared for the future.
The Bronx Borough President noted that there is still far more to do. And it was about what needs to be done, that he spoke about at his 9th State of the Borough Address.
Public Education in the Bronx & NYC is Underfunded
Regarding education, he told us that NYC schools continue to be underfunded. He allocated $20 million last year to technology and auditorium upgrades, and has allocated $60 million on 400 schools since he took office eight years ago. He said that over 50% of NYC schools are overcrowded, and that 60% of elementary and middle school kids were in overcrowded classes last year. He said he would like to see the Department of Education [aka DOE] cap classes at 22 students.
Are Schools in the Bronx & Ethnic Communities Underperforming?
Bronx Borough President Ruben Diaz said that he has been working with Brooklyn Borough President Eric Adams to address what he termed an uneven playing field for Blacks and Latinos. He said that while Blacks and Latinos represented 44% of those taking the Specialized High School Admissions tests, they only received 10% of the offers.
It's worth noting that this skew is possibly the result of using the test scores to place students. But even if so - it still illustrates the problem of unequal opportunity. And lower test scores by Blacks and Latinos, may be due to underperforming schools in their neighborhoods, which represents a more deeply embedded educational opportunity inequality.
---
Ruben Diaz Delivers State of the Borough Address
Bronx Borough President Provides Holistic Overview of Borough Affairs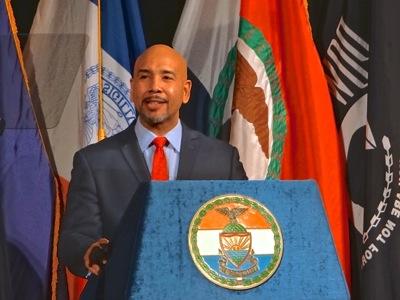 February 26, 2018 / Bedford Park Neighborhood Central Bronx / Bronx Politics & Government / Bronx Neighborhoods / Bronx Buzz NYC. Continued.
Linking CUNY Graduates to NYC Department Hiring?
Diaz suggested that incentive programs be created that create direct links between the New York City government and qualified CUNY school system graduates. He suggested that CUNY Lehman College nursing and healthcare graduates should be given consideration in the NYC Health & Hospitals Corporation, that CUNY Baruch business majors be given consideration in the NYC Economic Development Corporation, and that CUNY City College architecture and engineering graduates be given consideration in the NYC Department of Housing Preservation and Development.
He also suggested tax credits and contract preferences be given to companies that hire recent CUNY graduates.
One has to ask whether it's not in NYC's best interest to hire the best qualified candidates, regardless of from where they come. But that said, it's also an interesting idea, that in some controlled measure, seems worth exploring.
Expansion of Bronx Affordable Housing Units
Bronx Boro President Diaz went on to tell us that 21,000 new affordable housing units have been created. He said neighborhoods have been rezoned to create more functional and inviting neighborhoods, while trying to mitigate the displacement of current residents.
Bronx President Diaz said that his office directly funded 8,000 new affordable housing units by investing $52 million since he took office. This past year he told us, he invested $7 million in private developments to create 1,500 new affordable units. Some of the housing was allocated to the victims of domestic violence, some to the homeless and some to LGBT seniors.
He is also trying to obtain a "right to counsel" for victims facing evictions. In the Bronx neighborhoods where this has been implemented, there's been a 15% drop in evictions.
Jerome Avenue Rezoning - Bronx Neighborhoods of Belmont, Bedford Park & Norwood
The Jerome Avenue rezoning negotiations resulted in strong tenant protection programs, including a Certificate of No Harrassment pilot program, whereby landlords must prove they do not harass their tenants in order to obtain a permit to make significant alterations to their buildings. Additionally, Bronx President Ruben Diaz, identified 2,000 units of affordable housing that need to be preserved and rehabbed, as part of the Jerome Avenue rezoning. Diaz commended the Bronx Coalition for a Community Vision for their work on this rezoning plan.
Sheridan Expressway - Bronx Neighborhood of Hunts Point
He noted that the Sheridan Expressway was in the process of being converted into a boulevard, so that it will be safer for pedestrians and cyclists.
NYCHA
Healthcare
Crime

Puerto Rico
To Be Continued at a later date.
---
Poe Cottage History - Fordham Neighborhood - Bronx News
Poe Cottage History & Neighborhood Bronx News & Related Info
Click this link for promotions, discounts and coupons in the Bronx.
Click these links for promotions by advertisers in the Bronx.
Click this link to go to the Bronx Neighborhoods section.
---
Site Search Tips. 1) For best results, when typing in more than one word, use quotation marks - eg "Midtown Neighborhood". 2) Also try either singular or plural words when searching for a specific item such as "gym" or "gyms".
Click the log in link below to create an ID and post an opinion.
Or send this story to a friend by filling in the appropriate box below.
Click this link to the Bronx Buzz front page.
---
Bronx NYC Related Links
Click for Bronx Restaurants - Bronx NYC.
Click for Bronx Banks Loans & Mortgages - Bronx NYC.
Click for Bronx Shopping - Bronx NYC.
Click for Bronx Things To Do Bronx NYC.
Click for Bronx Neighborhoods - Bronx NYC.
Click for Bronx Real Estate & Business - Bronx NYC.
Click for Bronx Schools & Bronx Public Education NYC.
Click for Bronx Street Fairs NYC.
Click for Bronx Politics & Government NYC.
Click for Bronx Farmers Markets NYC.
Click for Bronx Arts & Culture
---
---