Offer Made For Steinway & Sons Piano
Kohlberg & Co Bids For Steinway Musical Instruments
July 23, 2013 /Astoria / Bronx Neighborhoods & History Bronx NYC / Steinway Mansion History & Steinway Hall NYC / News & Opinion / Gotham Buzz.
Kohlberg & Company offerred $438 million for the Steinway Musical Instruments Company, owner of Steinway & Sons Piano in Astoria. The 160 year old company, Steinway & Sons Piano, was founded in Manhattan in 1853.
Kohlberg & Co Make Offer for Steinway Musical Instruments
The Steinway & Piano Company has changed hands a couple of times over the past 160 years, once being acquired by CBS Television, and later being acquired by Selmer Musical Instruments.
The Kohlberg & Co tender offer includes a provision allowing other companies to bid for the Steinway shares by mid August, but to date we have not heard of any other competitive suitor. The deal is expected to close in the third quarter of this year.
The business of making Steinway Pianos by hand, is not without its challenges. But inspite of the marketplace realities - some of which we detail below - Kohlberg & Co told the NYT that they will continue to build artesanal musical instruments. Since many of the artesanal Steinway Pianos are made right here in the Astoria section of Queens; we can only hope that Kohlberg & Company will live up to their statement.
Steinway & Sons Piano Company History
The sale of the company follows on the heels of the sale of the 88 year old Steinway Hall in June of
this year. In 1925 Steinway Hall was built across from Carnegie Hall on 57th Street in Manhattan - replacing a prior version of itself further south on 14th Street.
The hand made Steinway Pianos have been made for about a century and a half in the U.S. in Astoria, Queens; and in Germany near the founders' home town. As mentioned above, Steinway & Sons Piano still make the hand crafted Steinway Pianos in a factory near the northern end of Steinway Street in the Astoria neighborhood of Queens. Click this link to view a story about the making of a Steinway Piano in Astoria.
The Steinway Musical Instruments Company had merged Steinway Pianos in with a portfolio of other brand name musical instruments. The company portfolio of products includes brand name saxaphones, trumpets, French horns, clarinets, trombones and drums.
Click here for the rest of our report about the proposed sale of the Steinway & Sons Piano Company / Steinway Musical Instruments.
---
Offer Made For Steinway & Sons Piano
Kohlberg & Co Bids For Steinway Musical Instruments
July 23, 2013 /Astoria / Bronx Neighborhoods & History Bronx NYC / Steinway Mansion History & Steinway Hall NYC / News & Opinion / Gotham Buzz. Continued.
Snapshot: Steinway Musical Instruments Company & The Piano Making Business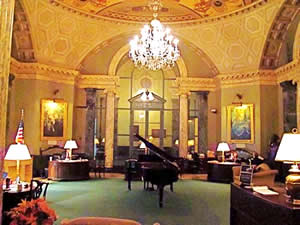 The production of these other musical instruments resides outside of Queens, as do the modern technological keyboards / pianos currently made by the Steinway Musical Instruments Company. Most, or all, of the digital Steinway brand pianos are made in Japan. Steinway Musical Instruments, as recently as only a few years ago [2010], was making in the single digit millions of dollars in profit, although this was during the economic downturn.
Yamaha has cut into the piano business with its digital keyboards over the past few decades. Digital keyboards have many advantages as they require less space, cost less and contain added functionality. But all of the musicians we interviewed told us that the natural vibration and sound quality of a handmade Steinway Piano cannot be well replicated by an electronic keyboard.
Steinway Mansion: Remnant Of Two Great Legacies
The Steinway Mansion, also located near the northern end of Steinway Street in Astoria, was once owned by the founders of Steinway & Sons Piano Company [Steinway Musical Instruments predecessor]. It's been three years since the mansion was put on the market and the current asking price is $1.9 million.
The Steinway Mansion is one of the last great Astoria Mansions of the 19th century, and it was inhabited for nearly a half century by one of the most influential New Yorkers of that period: William Steinway.
Some historians credit William Steinway with transforming New York into a cultural capital, rivaling the great cities of Europe, by seeking and paying great musicians to perform on Steinway Pianos in NYC and other parts of America. William Steinway was also an adaptor of new technologies. In the late 1800's he lead the first meaningful effort to build a tunnel underneath the East River in order to connect Manhattan and Queens by rail. That is why today, the #7 subway line tunnel that connects the two boroughs, is referred to as the Steinway Tunnel. Click here to read more about the Steinway Mansion and the Steinway legacy.
Benjamin Pike: Marketer Of 19th Century Scientific Instruments / Technology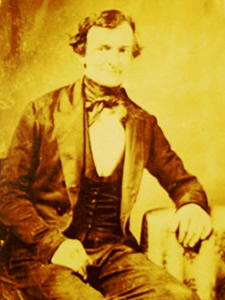 The man who built the Steinway Mansion, Benjamin Pike, was one of the early American purveyors of technological instruments. Most of the technology / scientific instruments he purchased came from Europe / England and hecreatively sold them by using the U.S. postal service / direct mail. Catalogues were sent to educators and inventors across the young nation, and he sold them by mail and through his shop in downtown Manhattan. What we refer to as technology today, was at the time, referred to as 'scientific instruments'.


Lately we've heard a lot of Queens candidates talk about turning Queens into a technological powerhouse. Yet not one of the candidates talks about preserving the Steinway Mansion, which was once the home to two of Queens, NYC's & America's innovative marketers and users of technology.
Steinway Mansion Preservation Spending: Zero - $0
The Steinway Mansion is not only a great historical architectural structure, representative of the wealthy American dwellings of that period; it is also one of Queens most important existing historical sites of the 1800's. And, as just mentioned above, it is home to at least two seminal NYC legacies: Benjamin Pike's lead as an early American technologist and direct marketer and William Steinway's leadership in transforming NYC into one of the great cultural and modern urban capitals of the world.
Knowledgeable Queens historians have told me that the Steinway Mansion is likely the single most important historical structure from the 19th century. And yet, excluding the questionable value of lip service, not a nickel of Queens government officials' discretionary spending has been allocated toward doing anything to save the Steinway Mansion.
Queens Government Discretionary Spending: $250,000,000
It's not that funds have not been available, as more than $250 million of discretionary municipal government funds have been collectively spent by Queens government officials since the mansion was put up for sale. And, as mentioned above, the current asking price is $1.9 million, which is far less than 1% of the discretionary government funds spent in Queens during this time.
It's An Election Year: Preservation = Jobs
It's an election year, so choose your government officials wisely. My election year wish list includes getting an enterprising, activist and visionary government official to spearhead preservation in the borough, starting with the Steinway Mansion.
But, barring that, I'd take a wealthy public-minded philanthropist, who will champion the cause of preserving the Steinway Mansion for the ages. Someone who will put the great cultural and historical mansion - and its associated legacies - to work for the businesses and residents of Astoria and Queens.
---
$element(adman,groupad,Catgry Realestate)$
NYC Neighborhoods & History - Queens Borough Links
Click on these advertisements for promotions, discounts and coupons by retailers and restaurateurs in Astoria and nearby LIC.
---
$element(adman,groupad,Catgry Rest)$
Site Search Tips. 1) For best results, when typing in more than one word, use quotation marks - eg "Astoria Park". 2) Also try either singular or plural words when searching for a specific item such as "gym" or "gyms".
$element(bwcore,insert_search,N)$
---
$element(adman,groupad,Sectional2 Ad)$
Click the log in link below to create an ID and post an opinion.
Or send this story to a friend by filling in the appropriate box below.
---