History of the Bronx Zoo in New York City
The Bronx Zoo is one of the Best City Zoos on the Planet
September 27, 2017 / Central Bronx Neighborhoods - Belmont / Bronx History / Bronx Things to do / Bronx Buzz NYC.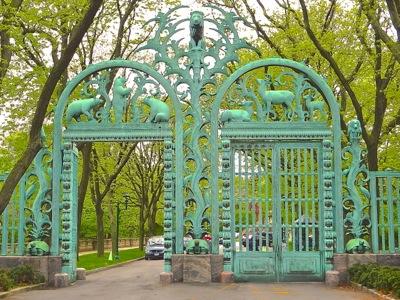 The Bronx Zoo is, as the headline says, one of the best zoos in the world. It offers visitors a day of amazing discoveries and safe exploration of natural wild life. The Bronx Zoo stands on 250 acres of land that is cut through by the Bronx River. Inside are tall trees, a wide array of bird species, wild jungle animals shown in habitats resembling their origin, polar mammals, gorillas, snaky reptiles and as Dorothy of the Wizard of Oz would say, "Lions and tigers and bears ... Oh my!"
The Bronx Zoo is open from 10 am to 5 pm daily. They offer kids rides, a shuttle and select participation in the feedings. There are several public feedings scheduled daily including feeding the Sea Lions at 11 am and 3 pm, with the Penguins being fed at 3.30 pm. In addition they offer an assortment of programs for classes for school aged children and other groups.
The Bronx Zoo also offers a '4-D' theater where you can see real wildlife, a seasonal Asian monorail that takes you through a replicated Asian wildlife refuge, and seasonal camel rides. These are in addition to the feedings mentioned above.
There are four main entrances to the Bronx Zoo. The first is Gate A or the Asia Gate [Bug Carousel} located along the west side of the Bronx Zoo along toward Southern Blvd at about 183rd Street. The second is Gate B, is located off Boston Road, which you get to by heading south on Bronx Park East off the Pelham Parkway. This entrance is located along the east side of the zoo in the Pelham Parkway neighborhood. And the third is Gate C, which is located at the north end of the zoo - and home to the famous gates - along East Fordham Road between Southern Blvd between Bronx Park East. There's a fourth gate which is located off the parking area adjacent to the Gate B entrance, located on the south east area of the park.
The Bronx Zoo opened in 1899, a year after the City of New York allotted 250 acres to the New York Zoological Society to develop a zoo, to preserve native animals and promote an interest in Zoology. The Bronx Zoo opened as the New York Zoological Park.
A former Smithsonian employee who was a conservationist, zoologist, taxidermist and author, namely William Temple Hornaday, was signed on as the Director of the Bronx Zoo where he remained for the next 30 years. Hornaday was driven by the desire to build a world class zoological institution and by all accounts today, he appears to have succeeded.
Click here to read the rest of our report about the Bronx Zoo - things to do in the Bronx.
---
History of the Bronx Zoo in New York City
The Bronx Zoo is one of the Best City Zoos on the Planet
September 27, 2017 / Central Bronx Neighborhoods - Belmont / Bronx History / Bronx Things to do / Bronx Buzz NYC. Continued.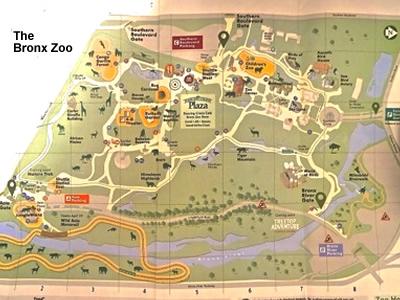 William Temple Hornaday also undertook efforts to save the American bison, which were nearly extinct [15 million were slaughtered] and his efforts are said to be a contributing reason that that the bison are still alive today. Today the New York Zoo is home to over 4,000 animals representing 650 species, and the institution continues to collaborate with outside conservationist groups to protect wildlife and habitats around the nation and world.
I feel obliged to mention the Bronx Zoo scandal of 1906 when Hornaday featured a pygmy native of the Congo, Ota Benga, in the monkey house at the zoo. Hornaday claimed it was an attempt to build an "ethnological exhibit", but nonetheless closed the exhibit after two days, as there was a growing outrage by the African American community. Ota Benga stayed here until 1916 when he was scheduled to return home to the Congo. WWI delayed Ota Benga's return and he reportedly committed suicide.
In addition to the wide range of animal life noted above there are also several notable architectural and sculptural works at the Bronx Zoo.
One of the most famous is Rockefeller Fountain, which may be found at the zoo in Astor Court. Rockefeller Fountain was donated by William Rockefeller in 1903 to the New York Zoological Society, and moved to its present location in 1910. The fountain had been created in 1872 by Italian sculptor Biagio Catella. It is made of limestone and granite and was restored in 2008.
Another of notable sculpture is at the Gate C entrance on Fordham Road, where the Rainey Memorial Gate stands. This gate is made of bronze [and wrought iron I think], and includes 22 full-sized sculpted creatures, as well as a number of trees and plants - all resident at the Bronx Zoo at the time. The gate was created by American sculptor Paul Manship who began the project in 1926, and was donated by Grace Rainey Rogers who dedicated it in honor of her brother Paul. Paul was supportive of a number of wildlife preservation projects and a big game hunter who died at sea in 1923 while traveling to go on safari in Africa. Two monolithic 26 ton pieces of granite were used to anchor both sides of the gate.
And for naturalists, it's worth mentioning the Rocking Stone which may be found overlooking the Buffalo Range. The Rocking Stone is a ten foot wide, seven foot high, 30 ton cube of granite that is perfectly balanced on a granite base. It used to be that a couple of men could 'rock' it. According to the Bronx River organization, local legend also has it that a team of 24 oxen could rock it but not move it. It was reportedly dropped here during the last Ice Age, when the glaciers carved out the Bronx River, which flows through the zoo. Today the stone has been firmed up, as curators became concerned that one day someone might get hurt while trying to 'rock' it.
The Bronx Zoo is a 'rocking' place where families and individuals are provided a great opportunity to learn about the nature of our planet right in the heart of New York City.
---
Bronx Zoo History - Belmont Neighborhood - Bronx News
Bronx Zoo & Fordham & Belmont Neighborhood Bronx News & Related Info
$element(adman,groupad,Catgry Foodwine)$
Click this link for promotions, discounts and coupons in the Bronx.
Click these links for promotions by advertisers in the Bronx.
Click this link to go to the Bronx Neighborhoods section.
---
$element(adman,groupad,Catgry Rest)$
Site Search Tips. 1) For best results, when typing in more than one word, use quotation marks - eg "Midtown Neighborhood". 2) Also try either singular or plural words when searching for a specific item such as "gym" or "gyms".
$element(bwcore,insert_search,N)$
Click the log in link below to create an ID and post an opinion.
Or send this story to a friend by filling in the appropriate box below.
Click this link to the Bronx Buzz front page.
---
$element(adman,groupad,Catgry ManWmn)$
Bronx NYC Related Links
Click for Bronx Restaurants - Bronx NYC.
Click for Bronx Banks Loans & Mortgages - Bronx NYC.
Click for Bronx Shopping - Bronx NYC.
Click for Bronx Things To Do Bronx NYC.
Click for Bronx Neighborhoods - Bronx NYC.
Click for Bronx Real Estate & Business - Bronx NYC.
Click for Bronx Schools & Bronx Public Education NYC.
Click for Bronx Street Fairs NYC.
Click for Bronx Politics & Government NYC.
Click for Bronx Farmers Markets NYC.
Click for Bronx Arts & Culture
---
$element(adman,groupads,Sectional2 Ad)$
---