Fordham University Rose Hill Campus in the Bronx
Fordham University Serves Approximately 15,000 Students
October 10, 2017 / Bronx Neighborhoods - Fordham / Bronx History / Bronx Colleges Universities Schools / Bronx Buzz NYC.
$element(bwcore,insert_search,N)$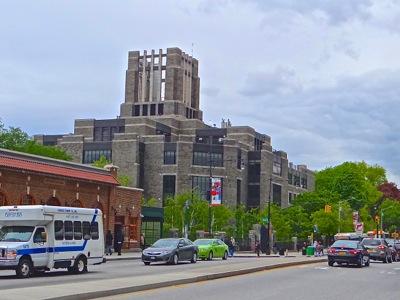 During my travels in the Bronx in the spring and summer of 2017 I could not help, but make a visit to Fordham University. According to Wikipedia Fordham University was originally founded as St. Johns College in 1841 and changed its name to Fordham University in 1907. Just a couple of years earlier, in 1904, they had begun both a graduate medical school and a graduate law school.
Wikipedia reports that Fordham University is the third oldest university in New York, and the oldest Catholic college / university in the northeast section of the United States. In 1969 the Board of Trustees was reorganized to include a majority of non clerical members, thus officially making Fordham University an independent institution.
Historically, Fordham has been known as a Jesuit school. The Fordham University website notes that their Rose Hill campus is comprised of 85 acres and that their ten schools - including the college, law school, medical school, business school, education & others] serves nearly 16,000 students. Of the total Fordham University student body, over 9,000 of the Fordham University students attend the college. As for locations, nearly 8,000 students attend Fordham University in the Bronx at their Rose Hill campus, while over 7,000 attend Fordham University at their Lincoln Center location. Fordham University also has a small outlet in Westchester County that serves about 500 students.
Fordham is a highly regarded school. According to U.S. News Fordham University is #60 in the ranking of 1600 colleges and universities in the U.S. That puts it in the top 4%, with high school counselors ranking them #42 and with their business program ranked #77. This kind of education doesn't come cheap as U.S. News noted that tuition and fees are pegged at $47,000 and room and board is estimated at $16,000.
Click here to read the rest of our report on the history of Fordham University in the Bronx neighborhood of Fordham and Belmont.
---
Fordham University Rose Hill Campus in the Bronx
Fordham University Serves Approximately 15,000 Students
October 10, 2017 / Bronx Neighborhoods - Fordham / Bronx History / Bronx Colleges Universities Schools / Bronx Buzz NYC. Continued.
Fordham University was originally founded as a small school in what was rural New York. People could reach Fordham [originally St. John's] by crossing the Harlem River and taking a horse drawn carriage or train north. According to a Lehman College photo exhibit, between 1842 and 1910 a total of eight bridges were erected over the Harlem River, thus making travel into the Bronx less time consuming and more predictable. And in 1841 Fordham was one of the stops on the New York and Harlem Railroad.
But even before that time a couple of early bridges crossing the Harlem River had been erected during colonial times, in the half century leading up to the American Revolutionary War. The first to be erected was by a Dutch nobleman, Frederick Phillipse, who swore allegiance to the British Crown, which worked well in his favor as the British prevailed over the Dutch. In 1693 Phillipse built the Kings Bridge near modern day 225 -230th Streets in the Marble Hill neighborhood of Manhattan. It's worth noting that 225th Street becomes Kingsbridge Avenue just east of the Major Deegan, that Marble Hill resides on the Bronx side of the Harlem River, and that the Phillipse' bridge was a toll bridge.
In 1758 the Free Bridge was erected by Jacob Dyckman, and opened in 1759 to compete with the Kings Bridge, which it successfully did. After all, it was free. I believe the Free Bridge [now University Bridge] was erected just south of the Kings Bridge [now Broadway Bridge] along the Harlem River. Both bridges are located in and around the same area near Marble Hill, as the primary travel of the time followed north and west along the Hudson River, and headed north and east along the Old Boston Road to the east. The current day 225th Street in the Bronx morphs into Kingsbridge Avenue, which runs into West Fordham Road, which as you'll see below, becomes the Old Boston Post Road.
The Hudson River was the main north / south artery in New York state, which was made even more important with the opening of the Erie Canal in 1825 when the furs, timber, minerals, foods and other natural resources could be easily and quickly shipped by water from destinations as far away as Chicago. Shipping along the Erie Canal became the primary conduit for goods from within the United States, replacing the Mississippi Riverboats, which traveled down the river through the Gulf of Mexico to reach the east coast of the United States and / or ship to Europe.
The old Boston Post Road is labeled as such in Pelham in Westchester County, then morphs into the Boston Road as it cuts through the north and eastern neighborhoods of the Bronx. It then becomes East Fordham Road and then West Fordham Road, which terminates in the Bronx at the Harlem River, just across from the Inwood neighborhood of Manhattan at 207th Street. This is unconfirmed, but I believe the current day University Bridge stands where the Free Bridge once stood.
These early Harlem River bridge crossings made the Fordham area desirable, as well as its location along the New York Central rail line.
Also noteworthy is that Fordham University is only blocks away from two of New York City's finest world-class tourist attractions - the Bronx Zoo and the New York Botanical Gardens - and one of New York City's most well known dining areas - Arthur Avenue or Bronx Little Italy.
In 1891, Columbia University botanist Nathaniel Lord Britton, and his botanist wife, Elizabeth chartered a private, non-profit corporation in partnership with New York City and State to open and manage the New York Botanical Gardens. In 1895 they chose 250 acres of City-owned land that included 50 acres of old growth forest. Today it houses thousands of forms of plant life, including rarities, and related objects including a collection of first editions of Darwin's Origin of Species.
In 1898, the City of New York allotted 250 acres to the creation of the New York Zoological Park, where the NY Zoological Society started a zoo. The Bronx Zoo, over a century later, continues to be one of the largest metropolitan zoos on the planet.
Arthur Avenue runs south off Fordham Road for several blocks. It is lined with small food shops and restaurants, most of which are still Italian, and a few still run by descendants of prior owners. Mayor Fiorello LaGuardia opened the Arthur Avenue Retail Market in 1940 in an effort to attract push cart vendors in off the street and provide better sanitation.
---
Fordham University History - Fordham Bronx News
Fordham University & Fordham Neighborhood News & Related Info
$element(adman,groupad,Catgry Foodwine)$
Click this link for promotions, discounts and coupons in the Bronx.
Click these links for promotions by advertisers in the Bronx.
Click this link to go to the Bronx Neighborhoods section.
---
$element(adman,groupad,Catgry Rest)$
Site Search Tips. 1) For best results, when typing in more than one word, use quotation marks - eg "Midtown Neighborhood". 2) Also try either singular or plural words when searching for a specific item such as "gym" or "gyms".
$element(bwcore,insert_search,N)$
Click the log in link below to create an ID and post an opinion.
Or send this story to a friend by filling in the appropriate box below.
Click this link to the Bronx Buzz front page.
---
$element(adman,groupad,Catgry ManWmn)$
Bronx NYC Related Links
Click for Bronx Restaurants - Bronx NYC.
Click for Bronx Banks Loans & Mortgages - Bronx NYC.
Click for Bronx Shopping - Bronx NYC.
Click for Bronx Things To Do Bronx NYC.
Click for Bronx Neighborhoods - Bronx NYC.
Click for Bronx Real Estate & Business - Bronx NYC.
Click for Bronx Schools & Bronx Public Education NYC.
Click for Bronx Street Fairs NYC.
Click for Bronx Politics & Government NYC.
Click for Bronx Farmers Markets NYC.
Click for Bronx Arts & Culture
---
$element(adman,groupads,Sectional2 Ad)$
---