Government, Media & Politics 2016
---
$element(bwcore,article_picker,1398-1376,Y,N,page_title_home,N)$
Clinton Defeats Sanders, Trump Defeats Rivals
Clinton 58% vs Sanders 42%; Trump 60% vs Kasich 24% & Cruz 15%
April 20, 2016 / Bronx Neighborhoods / Bronx Politics, Government & Media / Bronx Buzz NYC.
Bernie Sanders has been campaigning in New York the past week, drawing large crowds ranging from thousands to tens of thousands, as if he were a rock star. But on Tuesday, the voters weighed in and handed Hillary Clinton a convincing victory, helping her widen her delegate lead, and likely put her on the path to the Democratic Party nomination.
Democratic Delegate Count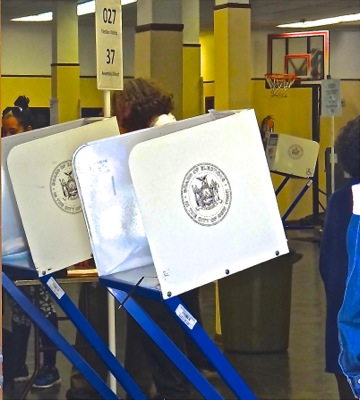 To win the Democratic Party nomination, a candidate needs 2383 delegates of 4763 total. Within that total there are 712 super delegates, who can align themselves / vote for whomever they want but there's pressure to vote in favor of the direction that the state voted. The remaining 4051 delegates are won via the voting process and are called pledged delegates.
According to the Associated Press estimate, following the NY State win Hillary Clinton now has 1428 pledged delegates and 469 super delegates, while Bernie Sanders has 1151 pledged delegates and 31 super delegates. There are 1472 pledged delegates remaining, so to win a majority of pledged delegates, Hillary has to win 598 or 41% of the remaining pledged delegates, while Bernie has to win 874 or 59% of them. Clinton has already received commitments from more than half of the 'super delegates'.
Given Sanders is generally still behind in the polls in some of the larger remaining states [behind 16% in Pennsylvania and behind 8% in California], that seems a tall order. While the polls were dead wrong in Michigan, they were spot on in New York. The Sanders campaign told a news outlet Tuesday evening that they will see how they do in the contests this coming week and then evaluate their chances going forward. The Democratic Convention has been scheduled from July 25 - 28, 2016 in Philadelphia.
Republican Delegate Count
Meanwhile on the Republican side there wasn't much news. Trump won handily defeating Kasich and Cruz. The Republicans have 2473 total delegates and 1237 are needed to win. According to the Associated Press estimate, following the NY State win, Trump has 845 delegates, while Cruz has 559 and Kasich has 147.
Trump needs 392 more delegates [about 40%] to go uncontested to the Republican Convention. There are 992 delegates remaining, but according to CBS only 674 delegates are available in the remaining voting contests prior to the Convention. So Trump may have to win 60% of the remaining unpledged delegates to go to the Convention uncontested. The Republican Convention is scheduled for July 18 - 21, 2016 in Cleveland.
The voting contests next week include Pennsylvania, Connecticut, Maryland and Delaware.
The fat lady hasn't yet sung, but it is beginning to look like a Clinton / Trump race to the White House.
---
On the Campaign Trail & 'Feeling the Bern'
Sanders Introduces Democratic Socialism to the American People
Updated April 19, 2016 from 4/15/16 / Village Neighborhood / NYC Politics / News Analysis & Opinion / Bronx Buzz NYC.
If nothing else, this has been an interesting presidential election cycle. It's not 'reality TV', its televised reality.
Making America Great ... again?
The Republicans attracted most of the attention early on, thanks mostly to Donald J. Trump's shock jock presidential candidacy. A candidacy that turned presidential debates about public policy into name calling, discussions of poll numbers & penis size, and relentless barrages of vituperative insults.
The Donald has, in his campaign, essentially told us to forgeddabout the ballooning government deficit, a dated and at times crumbling infrastructure, fixing our public education system, helping the shrinking middle class and addressing global climate change.
The Donald has distracted us from an intelligent discussion about these 'loser' subjects, and told us that he's going to rip 12 million people [the equivalent of about 5% of the nation's population] away from their families by deporting them, punishing women for getting abortions, and erecting a wall along the border with Mexico which he tells us the Mexicans are going to pay for.
Does Trump really think this is how to 'make America great ... again'?
Trump Candidacy Increases Ratings Which Translates to Profits
Trump may not make America great again, but he's been good for corporate-owned, network television ratings. The Hollywood Reporter quotes CBS Chairman, Leslie Moonves telling a Morgan Stanley conference in San Francisco on February 29th, 2016 that,
"The money's rolling in and this is fun ... this going to be a very good year for us. Sorry. It's a terrible thing to say. But, bring it on, Donald. Keep going."
While Sanders Delivers Substance & Expands Public Debate
So while Donald Trump has been filling the pockets of corporate-owned mass media, Bernie Sanders - the man with the real story - has largely been ignored. Ignored by the mass media, but embraced by the social media and a signficant and growing segment of the American populace. In fact Sanders, during the past week of campaigning in New York, attracted crowds of tens of thousands, while the other candidates on both sides of the ticket did not.
Click here to see photos of the Bernie Sanders rally in LIC Queens, as well as a story about the contest between Sanders and Clinton.
---
$element(bwcore,article_picker,1354,Y,N,page_title_home,N)$
---
$element(adman,groupads,Sectional Ad)$
---
Brewer Gives State of the Borough Address
Manhattan Borough President Gale Brewer Talks About Manhattan 2016
February 1, 2016 / Bronx Neighborhoods / Bronx Politics, Government & Media / News Analysis & Opinion / Bronx Buzz NYC.
I attended Manhattan Borough President Gale A. Brewer's State of the Borough Address on Sunday afternoon. The event was held at the New School at 63 5th Avenue just south of 14th Street in the Village neighborhood. Last year Gale Brewer gave her State of the Borough Address up at Columbia University, followed by a forum where she discussed general issues facing the borough. This year, at the New School, the forum topic was about engaging Manhattan borough youth through school and after-school activities.
Gale Brewer's State of the Borough Address
Brewer began her address by thanking all of the other government officials in attendance, as well as members of her family. She encouraged folks to keep out their phones and use Twitter to comment on the forum as it proceeded. The Twitter posts were shown on a big screen behind her, which is something I found more a distraction / nuisance than helpful - but I don't have Attention Deficit Disorder - so my opinion may not reflect the general populace.
Social & Economic Issues Facing Manhattan
Brewer focused on about four topics: 1) affordable housing, 2) small business, 3) urban gardening, 4) police / community relations and 5) public schools.
She told us that she introduced 32 pieces of legislation this year, 8 of which were passed by the NYC City Council. The bills included: 1) shielding applicants arrest records from employers so they can't discriminate against people who had conflicts with the police, 2) the passage of paid sick leave for employees where she claimed that she did all the work to get the bill passed, while the Mayor got the credit, rezoning bills for 3) Midtown that she worked on with NYCCM Garodnick and NY City Planning for Midtown East and 4) rezoning for the South Street Seaport with NYCCM Chin wherein the real estate developer finally withdrew their plans for a large tower along the East River near the Brooklyn Bridge. She mentioned something about the Zoning legislation set forth by the de Blasio Administration to enable development of affordable housing, which didn't pass, but I didn't catch the gist of it.
Manhattan Borough President's Community Efforts in 2015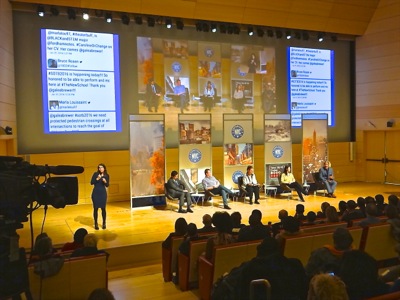 There were other things that Manhattan Borough President Gale Brewer talked about that she and her staff had done last year including, a) working with the police and the community to improve relations [not sure what], b) hosting small business round tables and an urban gardening symposium, c) organizing two mixers with teachers and private businesses in the arts and technology, and d) something about presenting a large scale map of Manhattan on the 19th floor gallery.
Manhattan Borough President Gale Brewer noted that the Upper West Side was heralded as the second most livable communities for the 50 plus crowd by some organization or magazine, which also cited New York City as the 5th most livable city for the 50 plus crowd in the larger cities category. Manhattan Borough President Gale A. Brewer noted that the age to serve on Community Boards had been lowered to 16 years and that applications to serve on the Community Boards must be submitted by February 1, 2016 [now closed].
[Editor's Comment: One has to question the wisdom of allowing 16 year olds to represent a community as there's a great deal of life's lessons that one doesn't have at that age which leaves them susceptible to manipulation by powerful people and politicians. Isn't 18 or 21 young enough?]
Manhattan Borough President Hosts Panel Discussion About Youth at the New School
Then the panel began which featured: 1) an African American Khary Lazarre-White of the Brotherhood / Sister Sol, 2) an Asian Sumie Okazaki of the NYU Steinhardt School, 3) a Hispanic Francisco J. Nunez of Young Peoples Chorus of NYC and 4) a Caucasian Marc Murphy who is a chef / restaurateur.
The topic of the discussion was how to engage youth. They talked about: 1) income / opportuity inequality and discrimination, 2) that not everyone is able or interested in being a Rhodes Scholar and hence need to be engaged with in other endeavors or they become lost, 3) that music, farming and food are several of such avenues, 4) that income segregated housing isn't good for society, 5) that immigrant parents' language capabilities limit their ability to help their children evolve, 6) that ethics should be a part of the school curriculum because it's not always taught and reinforced in the home, and 7) that managing the impact of social media on kids complicates educators and parents ability to manage social situations that go awry.
Unfortunately I could not stay for the entire discussion, but I think you can get a flavor of the event from what I've reported above. Have a good year.
---
Move NY Congestion Traffic Pricing Plan
Proposal To Toll Tax Away NYC Traffic Congestion Caused By A Century Of NYC Infrastructure Designed With Manhattan As The Hub
Van Bramer & Peralta Support 'Move NY' Plan Which Calls For The Installation Of $8 Tolls On Queensboro, Brooklyn, Manhattan & Williamsburg Bridges

November 9, 2015 / Bronx Neighborhoods / Bronx Politics, Government & Media / News Analysis & Opinion / Bronx Buzz.
NYC Councilmember Jimmy Van Bramer and 14 Democratic Progressives recently embraced the Move NY Congestion Traffic Price Plan, which among other things, calls for $8 tolls [or $5.54 with the use of an EZ Pass] on all East River Bridges, including Queensboro, Brooklyn, Manhattan & Williamsburg Bridges.
NYS Senator Jose Peralta of Jackson Heights / Corona has been an early advocate of the Move NY Congestion Traffic Price Plan.
Most of the rest of the Queens government officials do not support the plan. And hence we decided to take a closer look into the plan, to better understand what the issues are.
And we were more than a little bit surprised at what we found.
How Do The Plan Assumptions Stack With Known Realities?
In this report we're going to describe the Move NY repackaged Congestion Traffic Price Plan. Specifically we will explore the assumptions upon which the plan is based, and then go behind the curtain to explore some of the relationships between the different groups pushing the plan, in order to better understand the economics of the politics.
Move NY Congestion Traffic Pricing Plan Organizers & Shadow Lobbyists

After the meeting I started investigating the Move NY Fair Plan and stumbled across a website name that feeds into the Move NY organization's website. The current Move NY official website name is www.iheartmoveny.org - but you can also get there using www.move-ny.org - which will forward you to the same site.
The owners of the www.move-ny.org site are listed as Blue State Digital, which is a public relations firm. Their website says that they,
"... build and galvanize communities on behalf of some of the world's leading nonprofits, advocacy groups, and brands."
They were written up in a New York Times OpEd piece by Thomas Edsell entitled Shadow Lobbyists, as a new class of public relations firms that galvanize public opinion in the same way that one galvanizes support for political candidates. It's still public relations, but the techniques are different. We'll probe the vested interested parties in more detail a bit further into the story.
In Move NY 'Fair' Plan There's More Than A Dozen(s) Of "Komanoff Assumptions or Estimates"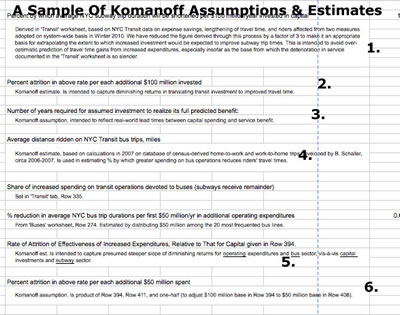 Charles Komanoff is a consultant for the Sam Schwartz Move NY 'Fair' Plan. The Move NY Plan appears to have relied very heavily [or entirely?] on Komanoff's BTA or Balance Transportation Analyzer. In a quick perusal at some of the underlying math, I found easily more than a dozen estimates and assumptions which were entitled 'Komanoff Estimate' or 'Komanoff Assumption'.
It's worth noting that in general, economic models such as the Balanced Transportation Analyzer or BTA, can be made to produce any conclusion one wants, if one is in control of the underlying assumptions.
Congestion Traffic Pricing Plan Assumptions & Pricing Elasticity
There are many underlying assumptions baked into the Move NY Plan that are worth questioning in far greater detail. But the biggest key assumption to
investigate is the pricing elasticities baked into the plan. Pricing elasticity predicts whether or not people will drive over a bridge or a road, if the price of the toll on the bridge / road increases or decreases.
Based on a number of studies done over the past decade, including two in the New York City area, some drivers will adjust the time of day they travel over a toll bridge or road slightly, in order to obtain a discounted rate, but few appear to decide whether or not to use a bridge or toll road because of a toll price increase.
Part of the implicit positioning of the plan is that it will reduce carbon emissions. Implicit because both Komanoff who provided the BTA [Balanced Transportation Analyzer] econometric model for the Move NY Plan, and Matthiessen who runs the public relations firm lobbying for the Move NY organization, are on the board of the Carbon Tax Center. More on this later.
Independent Studies Have Shown That Toll Price Increases Negligibly Impact WHETHER Or Not Drivers Will Use Bridges Or Roads Vs Public Transit, But Can Impact WHEN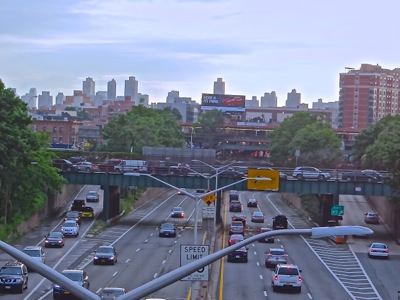 The studies of the impact of toll price changes on roads and bridges, were done by independent institutions like established universities and governments. The goal was to determine if pricing can be used to alter traffic patterns. We will provide you with the results of some of these studies further into this report, so you can judge for yourself whether or not to rely on the assumptions embedded in the Make NY Plan by consultant Charles Komanoff.
For those of you who didn't get a chance (or weren't interested) in studying economics, price elasticity is:
"... is a measure of the responsiveness of demand or supply of a good or service to changes in price. The price elasticity of demand measures the ratio of the proportionate change in quantity demanded to the proportionate change of the price."
An elastic price means if the price goes up, the quantity goes down and vice versa. An inelastic price means that people won't change their behaviors much in response to price increases
- oftentimes because they don't have what they consider to be reasonable alternatives.
Take electricity into your household prior to deregulation as an example. If the monopoly power company took a price increase, you didn't quit using the lights, stove, TV, furnace or washer / dryer because the options weren't that reasonable. Apparently the folks who use the toll bridges and toll roads don't feel they have good options either. So if the price of a toll bridge or toll road goes up, there's a negligible change in usage behavior - except with respect to shifting the time of use.
Of course in this case, the Move NY Plan is really advocating more than a toll price increase, as they are advocating the introduction of tolls where they had not been.
Toll prices appear to influence bridge / road usage times [eg. motorists plan their trips either immediately before or after peak periods] but do not appear to alter the means of transportation chosen [eg. take the car vs take the train]. The implication is that there may not be an ecological benefit to this plan.
NEW: Congestion Pricing Experience In London
London, Stockholm and Milan have implemented Congestion Traffic Pricing Plans in parts of their cities. One cannot underestimate the differences between New York City and its European counterparts including road widths [the plans targeted European Medieval town centers], the population density [Manhattan is many times more dense than of any of them], the geography [Manhattan is an island connected by 18 bridges and tunnels, while London, Milan & Stockholm are not] and so forth.
That said, London was the first city to implement congestion traffic pricing in 2003. We will take a brief look into some of the outcomes of that implementation later in this report, but the two key findings that stick with me are: 1) London never went forward with extending the Congestion Traffic Pricing zone and 2) it's been reported that the implementation infrastructure costs were very sizeable.
New York City Transit System Designed in 1900 & Built by 1961 When NYC Was A Different Place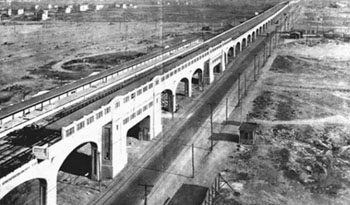 In 1900 Manhattan represented 52% of the population of New York City and Brooklyn represented 33% - the remaining 15% was spread in the other three boroughs which were somewhat rural and low density population areas.
Around the turn into the 20th century city planning, by necessity, came into vogue. And it was also the time during which New York City mass transit began being built. By 1940 most of the build out was completed save the Brooklyn Battery Tunnel (1950), the Verrazano Narrows Bridge (1961) and the Throgs Neck Bridge (1961).
Today Manhattan represents about 20% of the population, while Brooklyn is about 30%, Queens 27%, Bronx 17% and Staten Island 6%. If you look at the map below, you'll see how the bridges and tunnel transportation infrastructure converges on Manhattan because that's historically and still the New York City hub.
Can The City Toll Price Its Way Out Of A Century Of Infrastructure Design & Build?
The total bridge / tunnel crossings of the outer four boroughs is 28 and 15 of them are with Manhattan. Manhattan by itself has a total of 18 crossings, including the 15 just mentioned and another 3 major crossings coming in from New Jersey.
Decades of prior New York City Mayors and New York State Governors & the respective legislative bodies have failed to recognize and address perhaps the most basic reality and issue facing the New York City transportation system today - that the overall transportation infrastructure was designed and built 70 to 100 years ago to serving Manhattan as the hub.
While the population densities of the boroughs has changed significantly, Manhattan still remains the center of the city in terms of commercial and cultural activity and this is due in part to its accessibility.
How Fair Is The Move NY 'Fair' Plan?

Sam Schwartz's Move NY Congestion Traffic Pricing Plan appears to be a socially and economically regressive tax increase because if it succeeds, the brunt of the pain will be borne by the lower and middle income wage earners who will bear the costs if they can't leave their car - and if they do, who will put an even greater strain on the subway system which already appears to be running near full capacity. The subway system is a transit category upon which the Move NY Plan only marginally touched upon.
Geographically the burden targets the Bronx, Manhattan and other motorists who cross Manhattan at 60th Street and the motorists including from Queens, Brooklyn and Manhattan who cross the East River. They are not, as the Move NY Plan states, crossing for free because they contribute plenty to the public coffers in high rents, property taxes and municipal taxes that support both New York City and New York State infrastructure. And many of whom likely need to use their cars to enter Manhattan because they probably don't have good choices, contrary to what Move NY Plan hypothecates.
The Move NY Plan will certainly raise needed funds for public transit, and might possibly reduce carbon emissions IF the motorists re-schedule their trips AND the new tolls REDUCE bottlenecks at the East River Bridges and along 60th Avenue in Manhattan - not make them worse. Currently neither the bridges nor the 60th Street cross line have tolls.
The research indicates that the plan will not likely reduce the number of motorist trips as toll pricing appears to be inelastic and thus not a deciding variable as to whether or not people use their cars. And if the London experience is any guide, expect a sizable chunk of new revenue to go toward creating and managing the implementation of the Congestion Traffic Pricing Plan in lieu of investments in other public transit.
Click here for the rest of our story about the Move NY Congestion Traffic Pricing Plan as we explore in greater detail a connected web of people, lobbyists and organizations behind Move NY Congestion Traffic Pricing Plan and their possible motivations. We critique the plan including a review of the assumptions, and a closer look at independent studies done with regard to motorists response to toll prices and changes.
Click here to read the rest of our report about the Move NY Congestion Traffic Pricing Plan.
---
$element(bwcore,article_picker,1348-1324,Y,N,page_title_home,N)$
Albany Legislative Session To End Friday
Pending Bills: Public School Funding & Rent Stabilization Law
June 15, 2015 / Bronx Neighborhoods / Bronx Politics, Government & Media / Bronx Buzz NYC.
There are two important bills expected to be finalized by the New York State Legislature this week: 1) one having to do with taxation and funding for the public schools and 2) the second having to do with NYC rent stabilization law.
I've been paying some modest measure of attention to both of these bills, and the following is a brief snapshot of a critical talking point in each bill.
Use Public Money To Fund Private Education?
From what I can gather, perhaps the most contentious item in the public education funding bill is the provision for sizeable tax deductions for those who choose to send their children to private, not public schools.
As I understand it, these tax deductions would be included as part of the funding for the public schools budget and therefore will reduce what's left for the NYS / NYC public school systems.
It's worth noting that private school tuition in NYC can cost in the range of about $5,000 to $30,000 per year per student. And that there are about 900 private schools in NYC alone, so depending on how these proposed deductions are ultimately structured, the funds reallocated from the public schools to private individuals would be in the tens to hundreds of millions of dollars and possibly more.
You might want to contact Governor Cuomo's office at 1.518.474.8390 to let him know you support or oppose the measure, since we understand that he's been the major force pushing for this public school funding change. You can also send him an email via the Governor's contact form.
Albany & Expiring Rent Stabilization Laws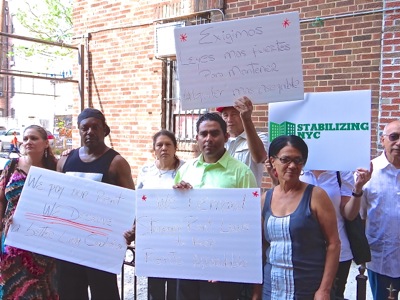 The Rent Stabilization Laws are due to expire tonight, June 15, 2015.
There was talk earlier this year that there would be a push to expand or strengthen the Rent Stabilization Laws given the rapid growth in homelessness in New York City. The NYC homeless population is currently estimated at over 60,000 or nearly 1% of the entire NYC population. About 70% of New York City residents are renters, of which about two million of less than eight and a half million residents, live in rent stabilized apartments.
Over the past decade or so, the Rent Stabilization Laws have been curtailed in the favor of the free market and landlords. The curtailment of rent price control legislation is believed to have spurred additional real estate development investment, as the profits of most new buildings are no longer affected by rent stabilization laws.
Much of the rapid growth in homelessness over the past decade is believed to be the result of tenants losing their rent stabilized apartments, as new owners of buildings have found ways to circumvent the laws. A recent NYU Furman Center Study has shown the loss of over 330,000 unsubsidized affordable apartments since 2002, due in part to the rent stabilization legislative changes referenced above.
NYS legislative insiders told me that tenants rights supporters were hoping to make legislative gains this year, but that the NYS Assemblypeople and NYS Senators opposing the changes, were going to allow the rent stabilization laws to expire as a negotiating tactic.
Vicki Been, Commissioner of NYC Department of Housing Preservation and Development, informed us that the current rent stabilization laws remain in effect through the term of existing leases and leases up for renewal that are already in the hands of the tenants. She also said that tenants should call 311 with any questions or problems.
Cuomo & NYS Officials - Quinnipiac Poll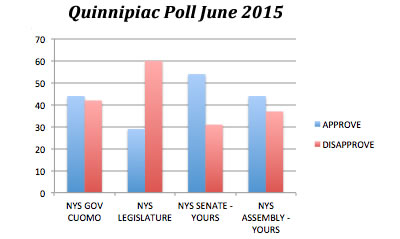 On June 3, 2015 Quinnipiac released a poll showing voters are feeling negatively about the NYS Legislature as a whole, while continuing to favor their local representatives. In the poll Governor Cuomo has only a 2% margin of those favoring him.
Governor Cuomo had a 44% approval rating versus 42% disapproval rating, as voters are not satisfied with his handling of the corruption scandals that have plagued Albany this year. In February 2015 Assembly Speaker Sheldon Silver [Democrat Manhattan] was indicted on federal corruption charges. And in May 2015 NYS Senate Leader Dean Skelos [Republican Long Island] was indicted by a federal Grand Jury.
Less than a year ago, NYS gubernatorial candidate Zephyr Teachout, a law professor at Fordham University surprised polls by garnering nearly 2 votes for every 3 won by the governor in the NYS Democratic primary. Ms. Teachout did not have much in the way of significant private backing or union support, but won nearly 40% of the vote waging an online campaign.
According to the Quinnipiac poll, voters by a margin of 52% - 32% said that with respect to Albany's corruption problem:
"... the Governor is part of the problem, not part of the solution."
As for the NYS Assemblymembers and NYS Senators the Quinnipiac Poll reported the following:
"Voters disapprove 60 - 26 percent of the job the State Legislature is doing, but approve 44 - 37 percent of their own Assembly member and approve 54 - 31 percent of their own state senator."
"At the same time, 45 percent of voters say their state senator should be thrown out in a general house-cleaning, while 40 percent say their senator deserves reelection."
"Voters are divided 41 - 41 percent on whether their Assembly member should be reelected or thrown out."
As you can see, the sentiments collected in the Quinnipiac poll seem a bit contradictory, as the answers received depend on how the questions are stated. Nonetheless, this looks to be an interesting legislative week as things wind down in Albany, and as the 2016 election cycle begins to ramp up.
---
New York City Makes 'Budget Handshake'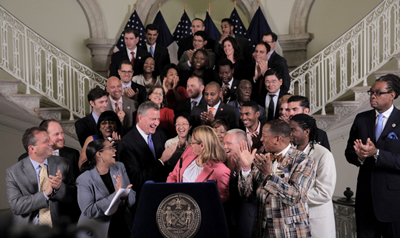 June 23, 2015 / Bronx Neighborhoods / Bronx Politics, Government & Media / Bronx Buzz NYC.
We received this missive from New York City Councilmember Helen Rosenthal of the Upper West Side. We've made few edits, but the text is essentially a reprint of her email.
Over 100 hours of budget hearings revealed much information that helped to shape the final agreement. [Helen Rosenthal said that] As a member of the City Council's Finance Committee and the Budget Negotiating Team, I can honestly say that all 51 members of the Council had input to ensure that New Yorkers in every borough will get the services they need. In addition to major investments in neighborhood police, there is additional funding for mental health services, veterans, and Vision Zero education.

Photo Credit: William Alatriste for the New York City Council
Education and Youth
• There will be an increase of 80 school crossing guards citywide, and the Upper West Side will gain more crossing guards. Renewed focus on recruitment and retention will happen in discussions over the summer.
• There are unprecedented amounts of funding for our young adults from summer jobs and year-round jobs to support for City University of New York (CUNY) students to keep them in college and help them graduate.
• The additional $39 million for libraries will yield 6-7 day a week service in every borough.
• The free lunch program in middle schools will continue, and there will be an expansion of the "breakfast after the bell" program, so that all elementary schools will offer it by 2018.
• Teachers will receive up to $125 in reimbursement for school supplies that they bring into the classroom. While this is an improvement, it is not enough. We must give teachers all the tools they need to teach well, and I will continue to work to improve this system in the next fiscal year.
Tenant Protections
• Over $35 million for lawyers, clinics, and advocacy to support tenants who experience harassment by landlords - the largest the City has ever dedicated to this issue.
• Dedicated legal advice for public housing (NYCHA) residents in housing court at 250 Broadway.
• Dedicated team of inspectors to investigate particularly egregious landlords.
Seniors and Safety Net
• Elimination of the wait list for seniors needing home care services.
• Commitment to build 5,000 new units of senior affordable housing over the next five years with dedicated on-site social services.
• Additional funding for the emergency food program and local food banks.
• The largest investment in addressing elder abuse through outreach and social services.
Small Business Support
• Dedicated funds to local Business Improvement Districts (BIDs) and civic associations. Council members will be able to designate money to support small business in their area.
• Double the investments in worker cooperative support yielding an additional 30-40 new worker-owned businesses throughout the City.
Contract Services
• Community-based organizations providing EarlyLearn NYC services will receive wage parity with DOE employees providing that service.
• Increase of the minimum wage of "Human Service" contract workers to $11.50/hour with targeted career ladder support.
• Funding to continue providing local services from small, community non-profits that lost contracts through the citywide process.
The City Council will formally "adopt" the City's budget at a Stated meeting later this week. At that time, we will have additional information about my dedicated funding for the Upper West Side.
Again, this a reprint of an email from New York City Councilmember Helen Rosenthal of the Upper West Side.
---
$element(bwcore,article_picker,1132-1401,Y,N,page_title_home,N)$
---
De Blasio's State Of The City Address
NYC Mayor Maps Out A Framework To Tackle NYC's Affordable Housing Crisis
Real Estate Lobbyist: "Zoning Is The Equivalent Of Minting Money"
February 9, 2015 / Bronx Neighborhoods / Bronx Politics, Government & Media / Bronx Buzz NYC.
Mayor Bill de Blasio sent the NYC political, media and real estate worlds abuzz on Tuesday, February 3rd, 2015 when he laid out his administration's plan to solve one of the severest shortages of affordable housing in the history of New York City. It seems everyone had something to say in response to it - from the folks on the street to the NYS Governor. NYC Mayor Bill de Blasio is shown standing in the bottom left corner of the photo, after giving his first State of the City Address.
The housing crisis in New York City reached crisis proportions during the Bloomberg Administration. Former Mayor Bloomberg's approach to the issue was to let rent regulated apartments expire or become transformed to encourage investment, provide generous tax incentives and city land deals to real estate developers to build luxury high rise apartments, and build more homeless shelters.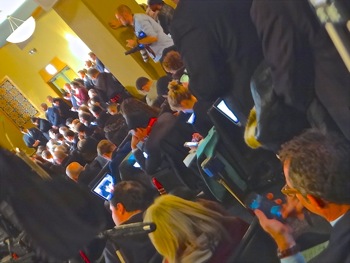 A severe shortage of affordable housing was lurking in the background, as candidate Bill de Blasio began running for the office of mayor with the theme of "the tale of two cities". His campaign keyed into the pinch being felt by the 70% of New Yorkers who rent.
Thus one year later, while giving his first State of the City Address, the 109th Mayor of New York City put the affordable housing problem front and center for his Administration in a manner similar to what he had done on the campaign trail.
And in doing so, the Mayor set afire talk about affordable housing by city and state pols, the media and city real estate developers.
Click here later in the week to read the rest of our report about Mayor Bill de Blasio's State of the City Address, including reactions by banking and real estate executives, members of labor unions and other government officials. By Michael Wood.
---
Tuesday - Primary Elections
The Real 'Choice' Is In The Primaries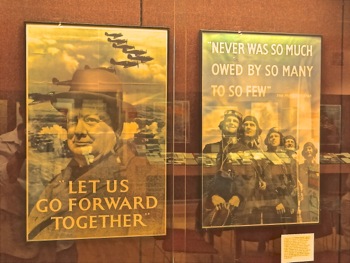 September 8, 2014 / Bronx Neighborhoods / Bronx Politics, Government & Media / Bronx Buzz NYC.
Tuesday, September 9th, is an important election day as most Bronx races are decided at that time given the borough of Bronx is comprised of about 80% Democrats.
On Tuesday the polls open at 6 am and close at 9 pm for the primary elections for New York state and federal offices. The polls are primarily staffed by civic volunteers.
The number of people who vote in the primaries is about 10 - 25% of the electorate, generally ending up on the lower end of that range. Hence, every vote carries far more weight than in the general election.
Knowing who the candidates are, what they really stand for and voting for them is one of the key pillars of our democracy. Many of our ancestors died fighting for this right and almost all of our early American ancestors took great risks to come here to exercise that right.
One of my favorite quotes of Thomas Jefferson is, "If a nation expects to be ignorant and free . . . it expects what never was and never will be".
I know you're busy with all kinds of other responsibilities. But I hope you'll do your best to stay informed about who the candidates are and make the effort to vote for those who best represent your point of view. It's a small investment to make to ensure we maintain our rights and freedoms. You needn't look far around the world to see what life is like in places that don't enjoy the right to elect / choose those who govern them.
Click here to find your Manhattan polling place - and again polls are open from 6 am - 9 pm.
---
De Blasio Wins Primary But May Face Runoff, Stringer Edges Out Spitzer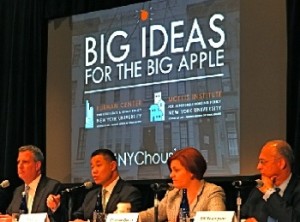 September 11, 2013 / Bronx Neighborhoods / Bronx Politics, Government & Media / Bronx Buzz NYC.
Scott Stringer, outgoing Manhattan Borough President, edged out Elliot Spitzer in the Democratic primary. Bill De Blasio won the Democratic NYC Mayoral primary with about 40% of the vote. A tabulation of some paper ballots may determine whether there will be a runoff later this month.
And Gale Brewer, City Council Member of the Upper West Side inManhattan District 6 won nearly 40% of the vote in the race for Manhattan Borough President. Jessica Lappin, formerly Community Board One Chair won nearly 24% of the vote and City Council Member Robert Jackson of District 7 of Morningside Heights and West Harlem won 29% of the vote. In District 5 Ben Kallos won nearly 46% of the vote, while Assemblyman Micah Kellner won nearly 40% of the vote. And in District 4 there wasn't any primary as the candidates went uncontested.
---
Stringer Conditionally Approves Midtown East Development
September 12, 2013 / Bronx Neighborhoods / Bronx Politics, Government & Media / Bronx Buzz NYC.
I attended the Community Board 6 Meeting in Manhattan on Wednesday following the election and heard the announcement that outgoing Manhattan Borough President Scott Stringer had conditionally approved the large scale development in the eastern section of Midtown Manhattan.
We'll have more about the Midtown East real estate development, including residents' and businesses' concerns about it in a future report.
---
Borough Presidents Race September 10th
July 2013 / Bronx Neighborhoods / Bronx Politics, Government & Media / Bronx Buzz NYC.
The primary election for Manhattan Borough President will come to a close on September 10th. Click here to find your NYC polling place.
---
Midtown / UES / UWS - Manhattan NYC
$element(adman,groupad,Catgry Rest)$
Click here to go to the Arts & Culture section of this site.
Click these links for promotions by advertisers in Manhattan.
Click this link to go to the Manhattan Neighborhood.
---
$element(adman,groupad,Catgry Finance)$
Site Search Tips. 1) For best results, when typing in more than one word, use quotation marks - eg "Midtown Neighborhood". 2) Also try either singular or plural words when searching for a specific item such as "gym" or "gyms".
$element(bwcore,insert_search,N)$
Click this link to the Gotham Buzz front page.
---
Click the log in link below to create an ID and post an opinion. Or send this story to a friend by filling in the appropriate box below.
---
---
$element(adman,groupads,Sectional2 Ad)$
---
Click the log in link below to create an ID and post an opinion.
Or send this story to a friend by filling in the appropriate box below.
---
---
NYC Related Links
Click for New Years Parties & Restaurants NYC
Click for Manhattan Farmers Markets NYC
---