New York Pizza Festival in the Bronx
1st Annual NY Pizza Festival in Bronx Little Italy was a Success
October 7, 2018 / Belmont Neighborhood & Arthur Avenue / Bronx Restaurants / Bronx Neighborhoods / Bronx Buzz NYC.
It was a warm, humid afternoon as I made my way north to the Arthur Avenue section of the Belmont neighborhood in the Bronx. I was on my way to the first annual Pizza Festival hosted by the Belmont BID [Business Improvement District] in the Bronx Little Italy.
As I made my way east from the subway and began to enter the neighborhood, I began to feel the transformation of entering another world. Visiting Bronx Little Italy on Arthur Avenue had never felt like this before. Perhaps it was the laziness of a Saturday afternoon in the Fall, or possibly the increased pedestrian traffic associated with the Pizza Festival, but Arthur Avenue looked great in all of its Italian splendor.
So I took my time walking south along the Avenue to Crescent Street where the festival was being held. There were plenty of people out and about, enjoying the afternoon in the neighborhood, and Arthur Avenue had dressed up to impress, showing its charm as a competitive alternative to the more touristed Little Italy in Manhattan.
When I arrived at Cresent Street there were blocks of small white tents lined up along one side of the street. A large but dispersed crowd was milling around many of the booths, even though I had arrived around 4 pm, well past the opening at noon.
I made my way past the entertainment to get a closer look at the pizza makers, their ovens and their wares. Making pizza looked to be a fairly simple process for these pros. The Belmont BID website said there were about 34 pizza makers from NYC who were there to compete for the attendees' interest and sales.
I began talking to some of the pizza makers, who seemed to be having fun. I caught up with Mayor de Blasio midway through the festival. He was surrounded by a lot of the pizza makers and / or the NY Pizza Festival attendees, and there seemed to be a bit of back and forth and picture taking and what not. So I took a few photos too, before moving on to Gino's Pizza.
---
New York Pizza Festival in the Bronx
1st Annual NY Pizza Festival in Bronx Little Italy was a Success
October 7, 2018 / Belmont Neighborhood & Arthur Avenue / Bronx Restaurants / Bronx Neighborhoods / Bronx Buzz NYC. Continued.
Many of the pizza makers had brought along these little fire burning pizza ovens, some even used wood. The pizza makers used the traditional long handled pizza shovels, called peels or spatulas, to insert and extract the fresh pizzas made in front of us.
Gino's Pizza of Manhattan & Naples, Italy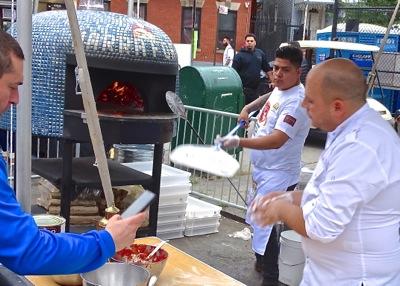 I spent a fair bit of time at the pizza tent run by Gino, an Italian immigrant who only spoke Italian. Gino was helped by the peeler, a Mexican American who helped me navigate my way through their ingredients and process.
The Gino's Pizza stand was offering two kinds of pizza - the Margherita and the Pork Ricotta Panetta. I went with the Classic Italian pizza which was made with a smooth tomato sauce, fresh basil, a light fiore de latte Mozarella cheese, and a tender, doughy crust made with Caputo flour.
Gino is a Napolitano [from Naples]. He and his brother come from a long line of Italian pizza makers. He tells us that his family opened a pizzaria in 1935 in Naples, and it still stands today. Their father was one of 21 children -apparently all pizza makers. They opened the shop, the address of which is noted below, in Manhattan in November 2017.
The pizza was every bit as good as it sounds, and more.
The NY Pizza Festival in the Bronx on Video
I asked a few folks if they had been there awhile and some had been and some had not. The ones who had been around a while told me that the crowds had been steady all day, meaning the 34 pizza makers who attended the event must have been feeding folks all day, as there were easily hundreds there when I arrived in the mid to late afternoon.
I stuck around to watch Gino and company make the panetta, and then I moved on. A video of the Mayor and some pizza making is shown below. Gino's pizzas cost $15 - $18 and Gino's Pizza is located at 334 Bowery between Great Jones Street and Bowery in Manhattan. You can learn more by visiting www.Sorbillonyc.com.
I'm already looking forward to next year.
---
---
Belmont Neighborhood - Bronx News
Feast of St Anthony at Our Lady of Mt Carmel & Belmont Neighborhood Bronx News & Related Info
$element(adman,groupad,Catgry Foodwine)$
Click this link for promotions, discounts and coupons in the Bronx.
Click these links for promotions by advertisers in the Bronx.
Click this link to go to the Bronx Neighborhoods section.
---
$element(adman,groupad,Catgry Rest)$
Site Search Tips. 1) For best results, when typing in more than one word, use quotation marks - eg "Midtown Neighborhood". 2) Also try either singular or plural words when searching for a specific item such as "gym" or "gyms".
$element(bwcore,insert_search,N)$
Click the log in link below to create an ID and post an opinion.
Or send this story to a friend by filling in the appropriate box below.
Click this link to the Bronx Buzz front page.
---
$element(adman,groupad,Catgry ManWmn)$
Bronx NYC Related Links
Click for Bronx Restaurants - Bronx NYC.
Click for Bronx Banks Loans & Mortgages - Bronx NYC.
Click for Bronx Shopping - Bronx NYC.
Click for Bronx Things To Do Bronx NYC.
Click for Bronx Neighborhoods - Bronx NYC.
Click for Bronx Real Estate & Business - Bronx NYC.
Click for Bronx Schools & Bronx Public Education NYC.
Click for Bronx Street Fairs NYC.
Click for Bronx Politics & Government NYC.
Click for Bronx Farmers Markets NYC.
Click for Bronx Arts & Culture
---
$element(adman,groupads,Sectional2 Ad)$
---