York College - Jamaica Queens
Emerging Powerhouse In Central Queens
March 21, 2011 / Bronx Neighborhoods NYC / Bronx Public Schools NYC & Bronx Public Education NYC / Queens Buzz NYC.
I had occasion to visit York College to learn more about one of the four CUNY [City University Of New York] colleges in Queens.
The four CUNY colleges in Queens are geographically dispersed throughout the borough, including locations in Long Island City [LaGuardia Community College], Flushing [Queens College], Jamaica [York College] and Bayside [Queens Borough Community College].
York College and Queens College are four year Baccalaureate degree awarding colleges, which also offer several Masters degrees; while LaGuardia and Queens Borough Community Colleges are two year Associates degree awarding colleges. CUNY also has a Law School which will be re-located from Flushing to Long Island City [LIC] in the fall of 2011.
Click here to read our full report, including numerous photos, about York College and the York Performing Arts Center.
---
York College - CUNY In Queens
Emerging Powerhouse In Central Queens
March 21, 2011 /Bronx Neighborhoods NYC / Bronx Public Schools NYC & Bronx Public Education NYC / Queens Buzz NYC. Continued.
York College History
I was greeted by Marcia Moxam Comrie who is a member of the community relations staff of York College. She provided me with much of the background information included in this report.
York College was chartered in 1966 and opened in 1967. When the school first opened, it leased space from Queens Borough Community College in Bayside, followed by leasing space in the old Montgomery Ward Building on Jamaica Avenue in downtown Jamaica.
Twenty years later, in 1986 the Core Academic Building on Guy Brewer Blvd was opened on the York College campus. This building still serves as the focal point of the college. The photo to your left shows a view from the inside of the Core Academic Building at York College.
York College - CUNY Magnet Schools
While York College continues to develop its entire curriculum, it has developed a growing reputation in some specialties such as the health sciences, nursing, aviation and business administration. The reasons for York's growing reputation in these areas are due to some of the initiatives the college has taken over the past decade. For example the FDA has a district office located on campus and this enhances the college's efforts in developing its health sciences program.
York College stature is growing in Aviation in part because of the college's evolving ties with two of the nation's busiest airports [LaGuardia and JFK] which are located in Queens. These ties are further strengthened by some of the airlines using these airports, including Queens-based Jet Blue. The York College nursing program is supported by evolving ties with NYC hospitals. And the York College business program is supported by strengthening ties with York College alumni.
York College Student Body - Ethnically Mixed
The student population of York College reflects the melting pot quality of the borough. Students come from over 80 different countries and speak over 50 different languages. Currently over half of York College students are of African / Caribbean descent, a fifth are of Latin / Hispanic descent, less than a fifth are of Asian descent and the rest of European descent. York currently matriculates 7,200 students per year and a class of over 800 students received their degrees in 2010.
The photo to your right was taken on the first floor inside the York College Core Academic Building.
CUNY Separate From NYC Board Of Education
As mentioned in the introduction, York College is a CUNY [City University of New York] College.The CUNY system is managed separately from all of the other public [elementary, intermediate and high] schools managed by the NYC Board Of Education. The current Chancellor of CUNY is Matthew Goldstein, while the Chancellor of the Board of Education is Cathleen Black. These systems are run separately, but naturally there is interaction between them.
Marcia Keizs - York College President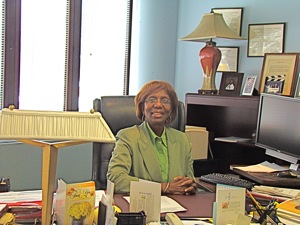 I had the opportunity to speak with Marcia Keizs, President of York College to talk about the college and its evolving vision of the future. Keizs came to York in 2005 after serving as the VP of Academic Affairs for the Bronx Community College. Keizs' educational background includes a BA in English, an MA in Teaching and a Doctorate in Education from Columbia University.
President Marcia Keizs is shown in the photo to your left seated in her office in the Core Academic Building on the York College campus.
York College Educational Success - Five Point Plan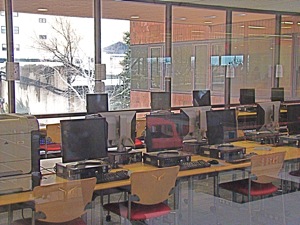 President Keizs is an educator and during the conversation that followed, I learned about the CUNY approach toward higher education in public schools. Keizs appears to have helped York College stay focused on the current CUNY strategy to secure improved outcomes for all of its various constituents.
Educational / institutional success is not just measured in terms of the college's academic performance, but also in terms of student performance. The overall guiding principle is to help the young citizens of Queens find the right path to obtain the knowledge and learn the skills they need to become productive, educated, self sufficient citizens. The York College computer lab is shown in the photo to your right.
York College Goals - #1 Find Right Fit
Hence the first goal of York College is to find the right fit of students for the institution. In the past York had accepted students who were not ready for college level work. As such, both the school and the students failed, as York was not funded to help students attain the level of academic achievement they should have had BEFORE entering college.
York College Admission Requirements
To implement this approach, all CUNY students are now required to pass exams in reading, writing and math. A minimum SAT score of 800 is required, with a minimum of 400 in math and 400 in language skills. They also require a minimum high school average of 78 in order to begin enrollment.
By setting these standards, CUNY prevents students from spending their money on a probable failure. Experience has shown that students who do not meet these minimum requirements have not been able to keep up with the course work required at York or other CUNY colleges. When students start at this disadvantage, they almost always drop out. The current approach is intended to prevent that.
Students who do not have these minimum credentials can still work their way into college, but they must first take classes to enhance their language and / or math skills, and then retake the exams and SAT tests. The two year CUNY community colleges [LaGuardia and Queens Borough] both have funding to help students reach college requirements in language and math skill levels.
York College - #2 Achieve Enrollment Targets
The second goal is to try to reach enrollment targets in order to obtain sufficient levels of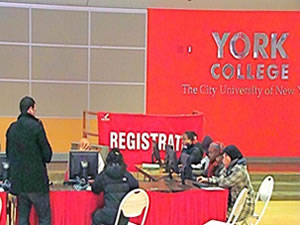 private funding [aka student tuition] to augment public funding [state and city budget allocations]. This goal and the first goal are at cross-purposes, as the first goal seeks to limit who enters York College, while this goal seeks to expand enrollment. In the photo to your right, York College students are shown enrolling for the spring semester.
Hence President Keizs hired an Admissions Director / team that works with Queens high schools to help make them aware of the various opportunities York College has to offer. The college also markets itself to students at both of the two-year community colleges in Queens, to make them aware of the additional advancement opportunities offered by attending a four year college. And York has had some success with working with students who graduate from the Borough Of Manhattan Community College, as many Queens residents start there because they want a 'Manhattan experience'.
York College - Freshman Enrollment Up Over 25%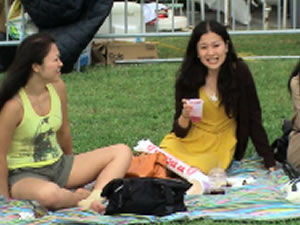 In the fall of 2006, during the first year of implementing the higher standards requirements, freshman class enrollment fell. But since then, freshman class enrollment has grown between 25% to 30%. Part of that growth has come from an increase in the college's Asian population and from growing interest in the Aviation, Nursing, Health Sciences and Business Administration curriculums. In the photo to your right, people are hanging out on the campus at York College.
York College - #3 Strengthen Curriculum
The third goal is to strengthen and expand academic programs. This goal plays to President Keizs' background and strengths. As such, Keizs has done a lot of work to expand and enhance York's curriculum, as well as to obtain important accreditation from the state. Her efforts toward this goal also go a long way toward supporting the achievement of both the first and second goals as they are all a part of a whole.
Develop & Differentiate York's CUNY Curriculum
A lot of the work toward strengthening the curriculum involves establishing a curriculum that suits the student body, finding and hiring the right faculty, and ultimately attracting the right students. President Keizs has greatly expanded the programs included in the York College curriculum.
Today York College offers Aviation Management, a Nursing B.S. [York also now has a two year program which is required to become a registered nurse (RN)], a Pharmaceutical Science degree and a Journalism degree. In the future it's worth noting that the York campus will be the site of the CUNY School of Pharmacy, which will confer a pharmacy doctorate [not a Ph.D.]. A slide talking about the York College FDA Scholarships is shown in the photo at right.
Engage Faculty & Students For Mutual Success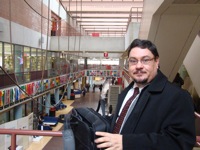 All of these programs have added to the appeal of York College, and as previously mentioned, its student body has grown in size. To accommodate the student body growth, the faculty has grown as well. The faculty is currently comprised of 206 members, up from 166 faculty members six years ago. Robert Aceves Ed.D. is shown in the photo to your right. He is the director of the York College CUNY Aviation Institute.
Increase Accredited Courses & Degrees
Since Keizs became President, York has also expanded the accredited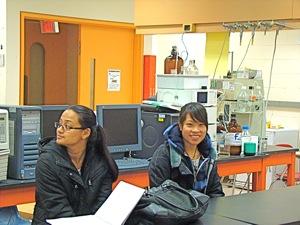 degrees it now offers. York College has established a Center For Excellence In Teaching and Learning [CETL] and now provides accredited degrees in teacher education. And although courses were previously offered for Physician's Assistants, it wasn't until the program became accredited that students could obtain certified degrees in the field. York also offers a newly accredited program for Clinical Laboratory Science [also referred to as Medical Technician].
All the while York was establishing these new offerings, it sought and received re-accreditation for Physician Assistant [PA] and Occupational Therapy [OT]. Teacher Education, Nursing and Social Work are up for re-accrediation in 2011. York College also has a Middle States Accreditation which it will renew in 2013.
York - Emerging Health Sciences & Aviation College
Having just done a story on Queens College I asked about the difference in the curriculums between the two CUNY schools. Like the public high schools, the CUNY colleges appear to be in the process of positioning themselves for different areas of excellence.
As I verbalized this, Keizs quickly informed me that York College has a strong presence in the Health Sciences including a BS / MS degree in Occupational Therapy. York also confers an RN / BSN degree in Nursing, a BS Physician's Assistant degree, and a nationally certified Medical Lab Technician degree. Queens College doesn't currently offer degrees in any of these areas [use the search function on this site to find the story about Queens College to learn more about their curriculum]. The photoat right shows a Jet Blue poster which was posted by the CUNY Aviation Institute at York College.
York College - #4 Enhance Communications
The fourth goal was for York College to enhance its communications programs within the college and within the community. This goes back to the recruitment effort, working with area high schools to inform them about how York College can help them get ahead. York's efforts also include marketing themselves to the nearby two-year community colleges such as LaGuardia and Queens Borough, and also Nassau Community College which is a nearby SUNY [State University of New York] school of approximately 18,000 students.
To this end, as previously mentioned, York hired a new Admissions Director and staff that have been working collaboratively with faculty and students to communicate a clear and consistent message to its target audience.
Queens Science High School York
I also noticed that the Queens High School of Science is located on campus. During my visit I was informed that Queens High School of Science is very highly ranked by U.S. News & World Report as one of the leading science high schools in the nation. I looked it up and it's ranked in the top 100 high schools nationwide. Queens Science High School is shown in the photo above and is located on the York College campus.
York College - #5 Improve Facilities
The fifth goal is to enhance the college's facilities. President Keizs noted that upon her arrival in 2005, $13 million had been allocated to York College for general facilities enhancements thanks to local government officials. She used these funds to do renovations to the library, cafeteria and atrium, in addition to planting 300 trees on the campus to encourage students to spend more time there; exchanging ideas, learning, growing and developing relationships with their peers. A view out onto the York College campus is shown in the photo to your right.
Classrooms & Computer & Science Labs Enhanced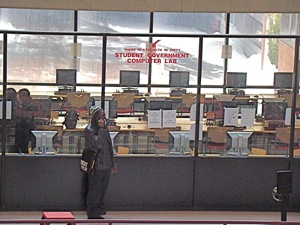 Enhancements were also made to the computer labs and upgrading the classrooms with current technology for lectures and presentations. Several years after the improvements were made, the former editor of the school newspaper returned for a visit and remarked, "Now York looks and feels like a real college campus." In the photo to your left is a computer lab where students have easy access to the internet and computer programs.
York College & CUNY - Fundraising
CUNY has begun to make efforts to raise money from private sources including the CUNY alumni network. Public colleges are beginning to follow private colleges in working to establish endowments by asking successful alumni to help continue the mission of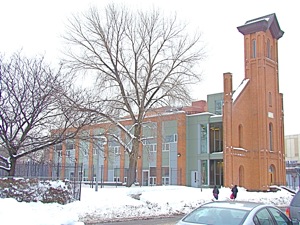 public education. To this end there is a major fundraiser planned in conjunction with the annual York College Merit Scholars Gala event scheduled on April 11th [see more about this event below].
York College - Vision Of The Future
Keizs also talked about college's vision for its future. A strategic plan has been drafted and is now in the process of being reviewed by the faculty and students as part of the ratification process. The plan includes the development of a new building across 159th Street to create an academic village and conference center. The new facility will house the admissions and financial aid offices, the bursar, business faculty classrooms and offices, and office space for student government. In the photo to your right is York College Child and Family Center which was the former St. Monica's church. The 1856 facade was preserved, and it's interesting to note that former Governor Mario Cuomo once served as an altar boy there.
York College - A Work In Progress
In understanding York College, it is important to think about it as a work in progress. While the college was ranked in the second tier by U.S. News & World Report in 2010, its efforts clearly have been focused toward enhancing its standing. During the past five years York has seen numerous positive changes come about with respect to the growth and enhancement of the faculty, an expanded and more highly accredited curriculum and a higher performing student body. Deb N. Chakravarti, Ph.D., professor of Chemistry is shown in the photo to your right. He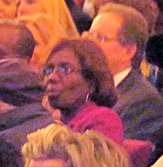 works as a liaison in collaborations with both York College and the FDA.
As we wrapped up, I thanked president Keizs for her time and informative overview of York College. Over the past five years York College in Jamaica Queens has been attracting far more attention than in the past. And as I left president Keizs' office, I began to understand why - York College appears to be an emerging educational powerhouse in central Queens. York College president Marcia Keizs is shown in the photo to your right at the State of the Borough Address given by Helen Marshall.
There was a time when you could click here to obtain the contact information including a map for York College in Queens [see Queens Buzz website].
---
Part II
York College - CUNY In Queens
Emerging Powerhouse In Central Queens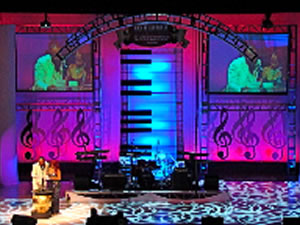 January 30, 2011 / Queens Neighborhoods NYC / NYC Public Schools & NYC Public Education / Gotham Buzz NYC.
I left the Core Academic Building and walked across the street into the York Performing Arts Center [YPAC]. YPAC is a large building which is home to three separate performance spaces and a carpentry shop.
I met Matthew Katz, Director of the York Performing Arts Center. Katz manages one of the busiest performing arts centers in the Queens / NYC metro area. In the photo to your right is the main stage theater of the York Performing Arts Center in Jamaica during the IRAWMA [International Reggae And World Music Awards] ceremony in 2010.
York Performing Arts Center - Capacity & Events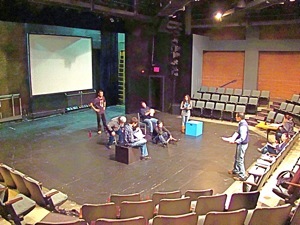 The York Performing Arts Center opened in 1987. The main theater has a seating capacity of 1,358 seats and the small theater has 152 seats. There is also a small dance studio for rehearsals located within the building, as well as a carpentry shop used for the creation and management of stage sets and props.
The York Performing Arts Center hosts over 200 events each year. The mix of events includes college events, public school recitals and graduations, YPAC series programs, government sponsored events and other events sponsored by local and community organizations. The Little Theater of the York Performing Arts Center is shown in the photo to your right.
York Performing Arts Center - Performance Space Rentals
Government sponored events include the borough presidents State of the Borough Address [2009], the NYPD Community Outreach Program, NYPD and NYFD department graduations, swearing in events for new U.S. citizens, and seniors events
The York Performing Arts Center rents its space to private organizations. Examples of events done in the past include the IRAWMA awards ceremony, Bollywood events, The Arthur Christian Theater, Branford Marsalis, the Three Divas and many others. The photo to your right shows the audience in attendance at the IRAWMA Awards in 2010.
York Performing Arts Center - Ease-Of-Use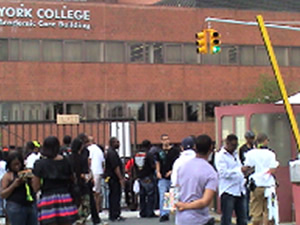 Matthew cites the reason for the popularity of the York Performing Arts Center as a venue is its central location, good transit access, ample parking, and a professionally staffed, turn-key operation. Once a renter signs for the space, the York Performing Arts Center staff handles lighting, sound, box office / seating, performance space and there's controlled entrance parking in the rear of the facility. The entrance to the YPAC parking is shown in the photo to your right.
Katz mentioned that his full-time staff consists of a production manager, business manager and program series manager; all of whom contribute to managing a continuous calendar of differentiated events. Most of his staff are York College graduates. Click here to obtain the contact information for the York College Performing Arts Center.
York Fest & Spring Gala - At York College
Over the past five years the York College has kicked off the school year with a musical celebration entitled York Fest. The one day event is used to welcome new and returning students to the campus, and to provide the surrounding community with an opportunity to become more familiar with the York College campus and its academic offerings.
Each year York College also hosts the York College Merit Scholars Gala, which is designed to raise scholarship money for high achieving and under-funded students. In prior years the event was headlined by Branford Marsalis, Brian Stokes Mitchell and Three Mo' Tenors [who came directly from their run on Broadway]. This year the Gala Event is scheduled for April 11th, 2011 and will feature Three Mo' Divas [a trio of classically trained singers performing a variety of genres].
York College Performing Arts Center Series
The York Performing Arts Center also hosts a cultural series of about 15 events each year. This series books outstanding talent in the areas of classical music, jazz, modern dance and theater. Examples of some of the performers include Kenny Barron, Vissi Dance Theatre, and a variety of jazz masters. Matthew Katz, Director of the York Performing Arts Center, is shown in the photo to your left.
York College Music and Theater Departments
The York Performing Arts Center is also home to local performances given by the music and theater departments of York College. I witnessed a class working on a production in the Little Theater during my visit there. The college theater and music departments have both presented engaging works, some of which we plan to cover in the future.
York College Campus - Historic Cemetary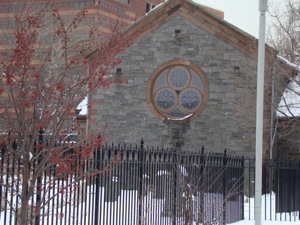 As I headed home I noticed a small church surrounded by a cemetery on the York College campus. The Three Sisters / St. Monica's cemetery is one of the oldest in the city, dating back to 1660 and contains the remains of the state of New York's first Attorney General.
The cemetery chapel is now called Illinois Jacquet Performance Space, named after a international jazz musician who once lived in the area. The chapel has been transformed into a performance space. It was once the Chapel of Three Sisters, which is located amidst the oldest family burial ground in Queens, and one of the oldest cemeteries in the NYC metro area. Some of the gravestones date back to the pre-revolutionary 1700's.
As I left the campus I mused about what I'd seen and heard. It was plain to see that York College is an educational institution on the move. Many thanks to President Keizs, Matthew Katz and Marcia Moxam Comrie for their time and help in providing much of the information contained in this report.
---
NYC Queens Neighborhoods & Related Info
$element(adman,groupad,Catgry Rest)$
Click this link to go to the Jamaica Neighborhood.
Site Search Tips. To find restaurants, shopping or other things to do in any of the neighborhoods, use the search function: 1) For best results, when typing in more than one word, use quotation marks - eg "Astoria Park". 2) Also try either singular or plural words when searching for a specific item such as "gym" or "gyms".
$element(bwcore,insert_search,N)$
---
$element(adman,groupads,Sectional Ad)$
---
Click the log in link below to create an ID and post an opinion.
Or send this story to a friend by filling in the appropriate box below.
---