---
Nature's Wonders at Wave Hill in the Bronx
Historic Wave Hill in Riverdale Overlooks the Hudson River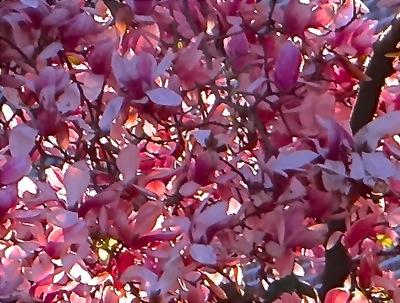 April 23, 2018 / Riverdale Neighborhood / Bronx Parks / Bronx Buzz NYC.
Wave Hill is a 28 acre estate, in the western section of the Riverdale neighborhood in the Bronx, overlooking the Hudson River. The estate was built in 1843 by William Lewis Morris, a lawyer, to accommodate his large family. Morris was a descendant of one of the Bronx and America's founding families, which included a 17th century colonialist who migrated here following the Cromwellian Wars in Britain, a contributor and signer of the Declaration of Independence, and a vast land holding family in the Bronx.
Wave Hill evolved over the years, starting as a Georgian Revival home, but later converted to a Victorian manor by Publisher William Henry Appleton [1866 - 1869]. Appleton purchased a section of the estate from Morris's heirs following his death.
President Theodore Roosevelt [1870 - 1871], author Mark Twain [1901 - 1903], Italian Conductor Arturo Toscanini [1942 - 1945], and the British delegation to the UN hosted John Foster Dulles, Konrad Adenauer and Queen Elizabeth [1950 - 1956] over numerous summers there. The Wave Hill of today includes what was once two estates, which were merged by Financier turned Conservationist George W. Perkins in 1903. Perkins added the greenhouses and the second house of the estate which I believe [unconfirmed] was called Glyndor. It burned in the early 1920's and was replaced by a smaller Glyndor II, completed in 1927. Wave Hill was inherited by daughter Dorothy Woosley Freeman and her husband Edward.
Wave Hill was donated to New York City in 1960, designated a New York City Landmark in 1966, added to the National Registry of Historic Places in 1983 and added to the Riverdale Historic District in 1990.
In 2011 Wave Hill closed for two years for renovations. In 2013 it reopened, with enhanced facilities that included upgrades to the Sally and Gilbert Kerlin Learning Center where family art projects are conducted, and enhanced lighting and sound [2014] in the Amour Hall which is host to musical performances. A new space, the Sarah and Geoffrey Gund Theater was added where lectures are held and films are shown and the cafe was expanded and the dining room renovated.
Today all areas are used to accommodate public programs, many of which include a fee, and many of which are free with admission. Local artists, musicians and performers are oftentimes showcased. We periodically post their events on the weekends, so stay tuned.
Sources for this story include Wikipedia.org / LivingPlaces.com / WaveHill.org.
---
Golfing in Historic Van Cortlandt Park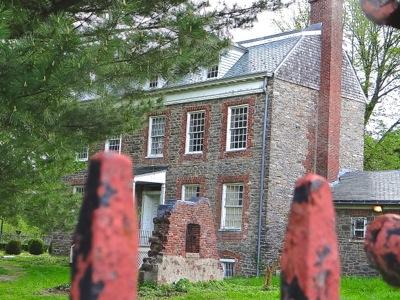 April 2018 / Bronx Neighborhoods / Bronx Sports & Parks / Bronx Buzz NYC 5/17.
The Spring is a good time to get out the golfing clubs to continue or resume work on a golf game. The sport is aerobic and good for one's health, regardless of gender.
Van Cortlandt Park is home to one of the oldest continuous operational golf courses in the United States, dating back well over a century.
The Van Cortlandt golf course in the Van Cortlandt neighborhood of the Bronx is pretty easily accessible by subway, coming up along the Upper West Side of Manhattan on the #1 train.
In addtion to the golf course, there's a public swimming pool and an historic home that's worth a visit. Golfing with a cart costs about $46 / person for late-in-the-day golfing and $70 per person with a cart during prime time. Subtract about $20 for the cart on the off-hours and maybe subtract about $30 for the cart during prime time.
Also in Van Cortlandt Park is the Van Cortlandt House Museum. The Van Cortlandt House is reortedly the oldest house in the Bronx borough as it was built in 1746.
---
1489
Jeff Klein's IDC: Republicans Running as Dems?
The Independent Democratic Caucus Aligns with Republicans which Enables Republicans to Control the NYS Senate
Updated September 7, 2018 / March 21, 2018 / Bronx Neighborhoods & Bronx News / Bronx Politics / News Analysis & Opinion / Bronx Buzz NYC.
There's an NYS State primary election this month. The primaries will be held on Thursday, September 13th; instead of on Tuesday, September 11th, in recognition of 911. And the general election will be held on Tuesday, November 6th.
As in any year, the elections are important, but perhaps made more so this year, by what appears to be the anarchistic destruction and disrespect, for our government institutions and processes, by Republican President Donald Trump.
Trump Republicans: Debt Bomb Deficits Levied on America's Children to Enrich the Richest?
The Donald passed a stimulus tax bill that is expected to increases the deficit by $1.5 trillion over the next ten years, and there are some pundits who put the figure higher. He and the Republicans passed this budget busting stimulus tax bill, while the economy was operating at levels considered above a full employment economy [5% unemployment is considered standard / normal] and at a time when wages were rising over 2%.
Inflation above 2% is considered to be detrimental to economic stability by the Federal Reserve, so stimulating the economy while it's at full employment with rising wages is about the opposite of what makes sense, especially when you consider the funding for it is coming from America's children and most of the benefits for it are going to the wealthiest people on the planet. We posted a report analyzing the Trump Tax Reform Bill slightly before it was finalized, which includes a lot of facts and figures to help provide context to better understand what was in the bill they passed.
The Independent Democratic Caucus Aligns with NYS Senate Republicans & Gives Them Control
In 2010 / 2011 NYS Senator Jeffrey Klein broke away from the Democratic Party and formed the Independent Democratic Caucus which aligns with the Republican Party, thereby giving them control of the NYS Senate. The effect of this is that bills passed by the Democratic controlled NYS Assembly are indefinitely tabled, or in lay man's terms pretty much killed, in the Republican-controlled NYS Senate. The Republicans control the NYS Senate, because eight NYS senators who run as Democrats [IDC Independent Democratic Caucus], either vote with or kill bills with the Republicans.
Democratic NYS Assembly Bills Effectively Killed by IDC
According to the Democratic Senate Conference, the Republican controlled NYS Senate - with the help of their Republicans running as Democrats allies - have effectively killed one education bill providing full day kindergarten funding, three wage / leave bills, four voting rights bills including the allowance of early voting, four immigration bills including one related to the DREAM Act, four housing bills including several pertaining to NYC rent laws that help renters, three criminal justice bills including creation of correctional ombudsman and sealing of marijuana possession records [as marijuana is rapidly being legalized in states across the country], one related to LGBTQ issues, and six regarding healthcare, several of which pertain to women's reproductive rights.
The IDC Deception: REPUBLICANS RUNNING AS DEMOCRATS?
The net effect of this is that Democrats are, in a sense, cheated or tricked out of their majority by what appears to be Republicans running as Democrats. The Independent Democratic Caucus or IDC includes Jeffrey Klein of the Bronx, who founded the IDC, David Valesky of Oneida and Madison Counties in upstate New York, David Carlucci of Rockland and Westchester Counties, Diane Savino of Staten Island / Brooklyn, Tony Avella of Queens, Jose Peralta of Queens, Jesse Hamilton of Brooklyn, and Marisol Alcantera of Washington Heights / Manhattan. Simcha Felder of Brooklyn also runs as a Democrat and caucuses with the Republicans.
The following is a list of challengers, eight of which I obtained off the NoIDCNY.org website. For some reason Blake Morris - Simcha Felder's challenger - was not included on their website. I have just contacted them to find out why.
Jessica Ramos is challenging Jose Peralta in District 13 in Queens.
John Liu is challenging Tony Avella* in District 11 in Queens.
Robert Jackson is challenging Marisol Alcantera in District 31 in Washington Heights / Inwood / Manhattan.
Alessandra Biaggi is challenging Jeff Klein in District 34 in the Bronx.
Zellnor Myrie is challenging Jesse Hamilton in District 20 in Brooklyn.
Blake Morris is challenging Simcha Felder in District 17 in Brooklyn.
Jasmine Robinson is challenging Diane Savino in District 23 in Brooklyn / Staten Island.
Julie Goldberg is challenging David Carlucci in District 38 in nearby upstate New York.
Rachel May is challenging David Valesky in District 53 in upstate New York.
* A Word About NYS Senator Tony Avella as He Appears to be a Real Independent
Of all of the IDC candidates listed above, NYS Senator Tony Avella deserves special consideration. NYS Senator Avella CHALLENGED Republican Mayor Michael Bloomberg and Queens Country Democratic Party Chairman Joe Crowley when both of these men, and many in their parties, supported real estate developments in Flushing Meadows Corona Park. Queens Borough President Melinda Katz took a position that appeared somewhere between supportive of the developments to - at best - indifferent.
NYS Senator Avella advocated on behalf of the community to thwart billionaire and mega millionaire real estate developers from grabbing Queens parkland - AND WON. In doing this, NYS Senator Tony Avella, appears to be more like a Maverick or Independent, resembling legislators like deceased U.S. Senator John McCain (Republican) and U.S. Senator Bernie Sanders (Democrat), both of whom have charted their own path through party-dominated politics.
Avella is an important independent voice in the Queens, NYC and NYS community, which the Democrats in his district will have to decide whether or not to keep.
---
$element(adman,groupad,Catgry Rest)$
$element(adman,groupad,Catgry Realestate)$
---
NYC Mayoral Debates: De Blasio & Albanese
Democratic Candidates Discuss Issues Facing NYC
September 4, 2017 / Upper West Side Neighborhood / NYC Politics & Government Manhattan / Gotham Buzz NYC.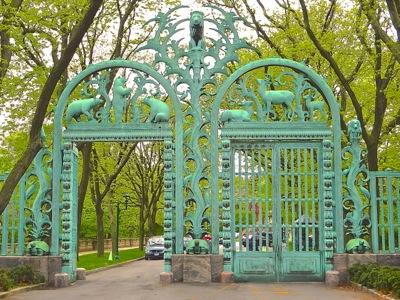 On Wednesday evening, August 23, I made my way to Symphony Space on the Upper West Side to watch the two Democratic candidates for mayor of New York City debate the issues.
Sal Albanese Democratic Challenger
Sal Albanese is the Democratic challenger, who raised just enough money to qualify for the NYC Campaign Finance Board qualification, which mandates debates between candidates who receive matching funds.
Albanese hails from Brooklyn and served as a member of the NYC City Council from 1983 to 1998. In the twenty years since he left public office, Sal has run for mayor on two previous occasions as a reformer. Since leaving office, Albanese spent ten years working in financial services and the rest of the time as an attorney, doing related work. Based on his political career efforts, Albanese appears to support many of the same progressive causes as Mayor de Blasio.
Conservative Commentator Sliwa Backs Albanese Bid
I ran into conservative talk show commentator Curtis Sliwa of the Guardian Angels who told me he was there to support liberal reformer Sal Albanese. I found this to

be ironic - given that Sliwa is a conservative Republican commentator who a couple years ago publicly announced that he was going to run as a Republican for Queens Borough President, challenging Democrat Melinda Katz. When I asked him if he still planned to run as a Republican against Democrat Katz, he replied no, and said he was here tonight supporting Sal Albanese and the Reform Party.
NYC Mayoral Debates 2017
What follows is probably less a summary, than a full accounting of the debate.
As I came out of the subway, I saw people gathered in front of Symphony Space. Some were supporters of the Mayor and some supporters for Goodwin, a challenger to the Upper West Side NYC City Councilwoman, Helen Rosenthal.
Inside I found that the free tickets had been fully subscribed, and while the auditorium was generally filled - it was not full - as not everyone used the tickets they booked.
Errol Louis of NY1 was the debate moderator and the debate panelists included: Brian Lehrer of WNYC, Laura Nahmias of Politico, Grace Rauh of NY1 and Juan Manuel Benitez of Noticias on NY1.
Each candidate opened with brief statements.
Albanese: Cites The Issues Facing NYC & America
Albanese started by talking about many of the major issues facing not just New York, but in many respects, all of America. He mentioned class warfare, pay to play politics, public transit investment, empty
storefronts, lawless developers, and the negative impact of gentrification on communities, public space and tenants.
De Blasio: Cites Administration Accomplishments
De Blasio started by talking about the accomplishments of his administration over the past three and a half years. He noted that his administration is in the process of building affordable housing for 500,000 tenants and is on time and on budget. That Stop N Frisk is down 93% while the NYC crime rate has continued to fall, so that NYC is now one of the safest big cities in America. And that 78,000 children are now attending pre-school. He said while his Administration has achieved a lot, there's a lot more to do.
Later this week I'll post the rest of the report about the Mayoral Debate between Sal Albanese and Mayor Bill de Blasio.
---
Fashion Show on the Hudson
Riverbank Park Fashion Show Highlights New & Known Clothing, Models & Designers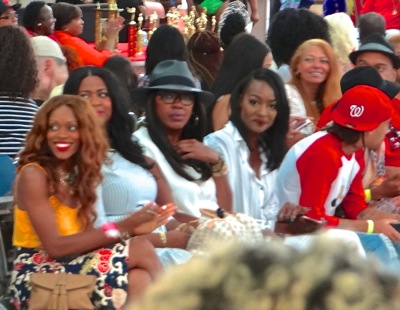 August 1, 2017, Inwood Neighborhood / Manhattan Fashion & Designers / Manhattan Buzz NYC.
A couple of weeks ago I made my way to the 8th Annual Fashion on the Hudson fashion show at Riverbank Park at 679 Riverside Drive along the Hudson River in the Inwood neighborhood of upper Manhattan. It was a beautiful Saturday afternoon as I headed into the Cultural Building in the 28 acre park.
The audience filled the Cultural Building, so I had to move around to get some photos of the models who were in the process of displaying men's swimwear. The muscular male models, with washboard ribbed stomachs marched down the runway showing a range of swimming suits that ranged from modest white trunks, to skimpy speedo cuts with psychedelic designs. I surveyed the crowd and found a number of women who seemed appreciative of the new designs and cuts.
As I was tight on time, I decided to make my way backstage to talk to a few of the models and designers to learn a bit more about them. Backstage a number of models had queued up for the ongoing swimwear segment of the program, while deeper backstage a number of the formal wear models were prepping for their debut.
In the photo above right you can see members of the audience enjoying themselves at the Fashion on the Hudson fashion show at Riverbank Park in the Inwood neighborhood of Manhattan.
Fashion on the Hudson Showcases Local Designers & Models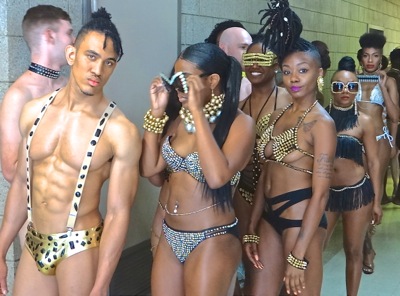 Fashion aficionado Daryl H. Miles, Founder of Beyond Styles by Miles, took a few minutes to talk to me about the show. He told me that Sofia Davis, editor of Fashion Avenue News, founded the show and that it has been produced at this location since its inception. At first Sofia held the show outside, but given the vagaries of the weather she decided to bring it in, where it has been ever since.
This year the show hosted 30 designers displaying swimwear, formal wear, casual wear and other stylish creations. The show is free to the public, but you must rsvp because seating is limited. The Fashion on the Hudson fashion show represents a great opportunity to see what's new and what's hot in the local NYC metro fashion world, and provides an opportunity for people interested in the business to meet models, designers and fashion buyers.
Daryl of Beyond Styles by Miles [www.beyondstylesbymiles.com - not to be confused with www.stylesbymiles.com] has been in the business for a number of years helping designers, models and fashion show organizers promote their fashion lines and brands.
I stayed a bit longer shooting photos of the models and lines before departing. And I'm looking forward to being able to spend more time covering the show next year.
In the photo above right you can see models who participated at the Fashion on the Hudson fashion show at Riverbank Park in the Inwood neighborhood of Manhattan.
---
Quite a Memorial Day Weekend in the Bronx
Good Weather, Cook outs Galore & Plenty of Things To Do
May 30, 2017 / Bronx Neighborhoods / Holidays in the Bronx / Opinion / Bronx Buzz NYC.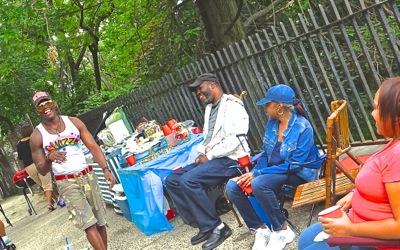 I spent a fair amount of time biking around the Bronx this weekend. I ventured as far east as the Bartow-Pell Mansion Museum in the East Bronx across the waterway from Co-op City [Hutchinson River?], as far north as the Woodlawn Cemetary and Mosholu Golf Course by Norwood, as far west as the High Bridge [formerly an aqueduct] in Highbridge along the Harlem River and as far south as Barretto Point Park in Hunts Point. And overall I found traveling the borough to be good exercise and quite fascinating.
Over the Memorial Day Weekend I found more people cooking out than I've seen in any other borough over the past 30 years. People were relaxing, hanging out with their family and friends, and playing games with their kids.
Given it was Memorial Day Weekend, I stopped by the Woodlawn Cemetery to pay my respects to those who fought for the freedoms we currently enjoy. To be sure Freedom is a Right. But it's a right that had to be fought for and many died so that others might live. It seems our freedoms are under attack these days, so it's worth reminding folks of a few sayings that one of our Founding Fathers said.
Thomas Jefferson said that "Eternal vigilance is the price of democracy." and "A nation that expects to be ignorant and free is expecting something that never was and never shall be." and "were it left to me [Jefferson] to decide whether we should have a government without newspapers or newspapers without a government, I should not hesitate a moment to prefer the latter."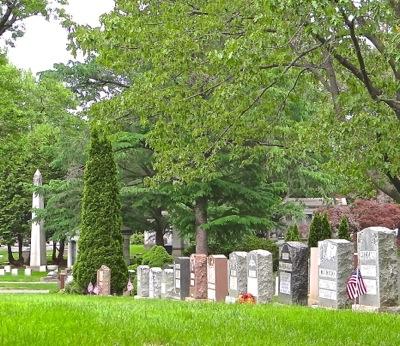 There are those who seem to never be able to get enough for themselves, no matter what the cost by others. And these people, throughout all prior generations, and for generations to come, are constantly finding ways to hack our system of checks and balances so that they might get more and others get less - by simply changing the laws to work in their favor. Left unchecked, we will return to the misery of the past.
The first place to start is to make sure that you're not voting on soundbytes put out there by unreliable or very self-interested people. We've been running a series on billionaire Rupert Murdoch who over the past few decades bought and now controls Fox TV, the Wall Street Journal, the NY Post and the National Geographic. He appears to have taken these generally reliable brands and repurposed them to further his own interests, oftentimes at the expense of the American people. Scroll down to learn more.
Click here for stories about Bronx street fairs, Bronx farmers markets, and upcoming free summer theater in the Bronx and free summer concerts in the Bronx.
---
$element(adman,groupad,Catgry ManWmn)$
$element(adman,groupad,Catgry Finance)$
---
Update: LaGuardia Airport Development Project
First Phase Moving Along with Second & Third Phases About to Begin
April 24, 2017 / Astoria Neighborhood / Queens Real Estate / Bronx Buzz NYC.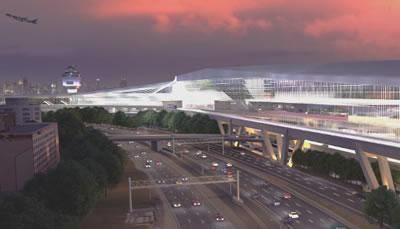 I attended a Community Board One meeting at the Astoria World Manor on Wednesday, April 19th. People representing the LaGuardia Airport development project were scheduled to provide the community with an update regarding several of the multi-billion dollar renovation projects associated with LaGuardia Airport, that are either currently in the works or nearing the end of the planning process.
The presentation was split into three parts: 1) LaGuardia Airport development project construction updates, 2) traffic mitigation efforts and 3) community outreach including job opportunities related to the projects.
Click here to read our report on the LaGuardia Airport development project & expansion, related job opportunities, its possible impact on travel times to the airport and the public hearing details on May 3rd, 2017 in Flushing. We have also included a small bit of history about the airport and the fight over the property and development in Flushing Meadows Corona Park. The graphic at right was created as part of the LaGuardia Airport development project.
---
$element(bwcore,article_picker,1446-1441,Y,N,page_title_home,N)$
NYC Crime Continues To Drop, Breaking Records
Mayor de Blasio & NYPD Discuss City Safety & Ongoing Improvements
February 7, 2017 / Bronx Neighborhoods / Bronx Government / Bronx Buzz NYC.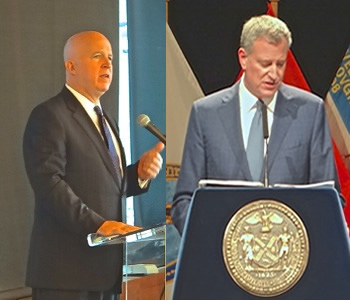 This just came in on the heels of our coverage of the Public Safety discussion below. Mayor de Blasio and NY Police Commissioner O'Neill spoke in the Bronx regarding ongoing efforts and results in improving safety in the city. The following are some of the crime statistics noted in their meeting taken directly out of a press release sent by them.

Chief of Crime Control Strategies Dermot Shea, NYPD: Thank you, Mr. Mayor. Good afternoon, everyone. As you've heard, we have begun a strong start to 2017 in terms of overall crime reduction. Strategies that have been put in place to address repeat offenders, illegal gun possession and gangs are having the desired effect. We're building on the momentum of the last few years.
So, some of the highlights for crime statistics from this January - overall index crime is down 0.2 percent for the month of January. When you carry it over to this morning, we are now down 2.7 percent in overall index crime in New York City.
To note - with the overall index crime, January marks the tenth consecutive month of reduced index crime. That's the momentum we've been talking about. Currently, four out of five boroughs in New York City - all but Queens - are down to start the year.
Homicides - we recorded 20 homicides in January. That's down two from 22. That 20, as the Mayor alluded to, is the lowest January that we have ever recorded going back a minimum into the 1960s.
Shooting incidents - down 1.7 percent in January. Last January we hit the modern mark with 59 shooting incidents. We came in with 58 this January.
Talking about momentum again - nine of the last 13 months we've had a reduction in shooting incidents. Nine of the last 13.
Three months in a row we've had a reduction in shooting incidents in New York City. We have now, when you look at New York City as a whole, we now have 24-hour periods where we do not record a shooting incident in New York City. That kind of thinking was impossible in the not too distant past.
This is the new normal. We want to build on it and we feel that we will build on it but there's still plenty of work to do.
Stabbings and slashings for January - down 7.2 percent.
Robberies - down 7.5 percent. Lowest January robbery number we've seen.
Felony assaults in New York City - down 5.4 percent.
Burglaries tied the lowest mark set last year.
Transit crime - down 1.4 percent.
And housing crime - not to be outdone - down 1.9 percent.
Clearly, a wide breath of crime across New York City - property and violent crime, down.

But there is, I alluded to, there is still work to do - three categories we saw increases in January.
Grand larceny, specifically, credit card related skimming and forging of checks - those two drove grand larcenies. And grand larceny was up for the month of January 4.7 percent.
And lastly, rounding out the crime totals - stolen vehicles which we have seen drop to unprecedented lows saw an increase of ten cars for January. So, that's 480 versus 470 - a two percent increase.
Commissioner O'Neill: Okay, thanks, Dermot. We'll take your questions.

Question: Do you think it's possible, really to keep driving crime down further at this point? And how could you achieve that?
O'Neill's response was yes, with some added context.
---
$element(bwcore,article_picker,304-300,Y,N,page_title_home,N)$
$element(adman,groupads,Sectional Ad)$
---
Which Bronx & NYC Pols Support $8 Tolls To Cross 60th Street & East River Bridges?
Borough President Brewer, NYS Assemblyman Rodriguez, Cuomo's Deputy of Legislative Affairs Weprin & Many Manhattan CCM's Support $8 Tolls to Raise Capital for the MTA
NYS Governor Cuomo Supported Congestion Traffic Pricing in the Past & Cuomo's Deputy of Legislative Affairs Mark Weprin Is Supporting It
August 2016 / Bronx Neighborhoods / NYC Politics / News Analysis & Opinion / Bronx Buzz NYC.

The new Congestion Traffic Pricing Plan has been making its way into the legislative process over the past year. Just last week NYS Assemblyman Robert Rodriguez, a Democrat from Manhattan introduced the bill on March 23, 2016. The Move NY Congestion Traffic Pricing Plan is being sold into the legislature as a means to raise revenue to fund MTA Capital projects.
Manhattan Borough President Gale Brewer, NYS Assemblyman Robert Rodriguez, Cuomo's Deputy of Legislative Affairs Mark Weprin, CCM's Ydanis Rodriguez, Margaret Chin, Mark Levine & Corey Johnson support installing $8 tolls on 60th Street & East River bridges to raise capital for the MTA.
Governor Cuomo's Words Are ...
Governor Andrew Cuomo supported the Congestion Pricing Plan put forth years ago, which wasn't popular with many of the voters in Brooklyn & Queens. The two boroughs have a combined population which rounds to 5 million or 25% of the 20 million people who live in New York State.
Cuomo was quoted as making the following statement by the Observer in an article published a year ago on March 15, 2015,
"It's not, 'Can I support it?' Will the people support it? Can you get it done? Can you get a congestion plan passed and we've gone through this a couple of times and it was an overwhelming 'no' and I haven't seen anything happen that would change my opinion,"

The Governor has essentially been repeating this position publicly ever since.

Inconsistent with Governor Cuomo's Staff Actions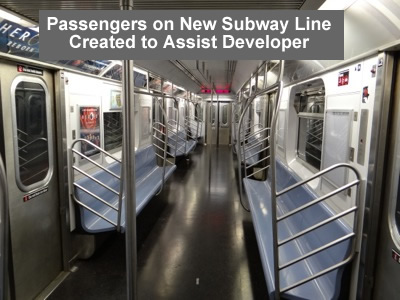 But while the Governor is publicly distancing himself from the measure which is unpopular in Queens and Brooklyn, former NY City Councilmember Mark Weprin, who is now Cuomo's Deputy of Legislative Affairs, has supported the Move NY Congestion Traffic Pricing Plan.
Weprin vehemently oppposed Congestion Traffic Pricing in 2008 when he was a NY City Councilmember, but in 2015 Weprin began publicly supporting the revised Congestion Traffic Pricing Plan as he transitioned from NY City Councilmember to becoming Cuomo's Deputy of Legislative Affairs. NYS Assemblyman David Weprin, Mark's brother, continues to publicly oppose the plan.
It's worth mentioning that the Weprins and the Cuomos have had close family political ties spanning two generations.
Move NY's 'New & Improved' Congestion Traffic Pricing Plan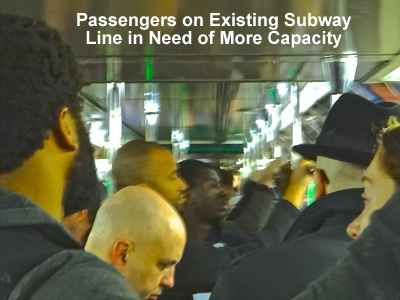 We studied the Move NY Traffic Congestion Pricing proposal by first taking a closer look at what groups are pushing the plan [follow the money]. Gridlock Sam Schwartz Consulting LLC is one of the primary promoters of the plan, and the consulting company is owned in part by a large, multi-national, transit infrastructure contractor. We also evaluated the assumptions they used to create the estimates provided in the plan, which we found to be inconsistent with fairly recent independent studies by respectable institutions, and we also looked at what happened in one of the other cities around the world that implemented the plan.
In essence the plan retrofits [re-prices] the fossil fuel infrastructure, by making a significant investment to install and operate tolling around the center of Manhattan. The remaining proceeds would then go to fund other MTA capital projects [in London this was about half the proceeds]. The pricing would require those who can't afford the $8 tolls [each way] to either use mass transit [recent NYC metro studies have shown this switching doesn't happen] or to cross the bridge at other times at which time the tolls would cost less. The proponents say this would enable those who can afford the tolls to cross the East River bridges and 60th Street more quickly and move around mid Manhattan more easily [less traffic congestion with the rest of the community priced out of their way]. How 'democratic' is this?
Previously MTA Invests Billion$ in New Subways Appearing to Accommodate Billionaire Manhattan Developer(s) & Now Pols Want Metro Residents & Employees to Fund a System to Toll Tax Them to Fund MTA Capital Budget
The MTA during the Bloomberg (Republican) Administration made approximately $8 billion in MTA capital investments for about 30 to 40 blocks of Manhattan subway lines. One line travels from Times Square to the Javits Center [$2.4 billion mostly paid by city] and the other, which was strongly supported by NYC Comptroller Scott Stringer, is expected to travel along Second Avenue from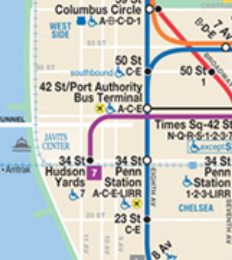 about East 60th Street to about East 86th Street when it is completed [ran way past budget and time estimates - currently about $5.2 billion].
The latter subway line has been called the 'subway to nowhere', while the other isn't much different - as it terminates at the Javits Center and billionaire real estate developer Steven Ross' & Related Companies' new Hudson Yards development - without any other subway connections. Pundits have opined that one [new #7 Hudson Yards station] and possibly both of these multi-billion dollar investments were made to accommodate Manhattan real estate developers [such as Ross], more than to facilitate transit for commuters and residents of New York City.
When I confronted an MTA spokesperson with this perspective, they told me that the Q line extension would alleviate a considerable amount of the congestion on the north / south east side Manhattan subway line, but made no comment regarding the Hudson Yards station.
The photos above show no passengers on the Javits subway [at an admittedly random time and not long after it was installed], while the second photo shows the #6 subway along the Upper East Side, also at a random time. The map to your right shows the new #7 subway line extension ending as an unconnected spur.
Perhaps if the MTA and the government officals who oversee MTA capital project spending were more judicious in their selection of multi-billion dollar projects and allocation of funds, they wouldn't need to make a huge investment of the public's money in the creation and operation of an expensive new tolling system which they plan to use to charge taxpayers $8 tolls to cross 60th Street and the East River Bridges.
This plan essentially aids the wealthy by making their lives easier, while economically discriminating against those with less wherewithal, by making their lives harder. This doesn't strike me as a solution that's 'democratic' at all. There must be less costly, more fair ways to raise additional revenue for transit that NYC commuters - not Manhattan real estate developers - really need.
CLICK HERE TO SCAN / READ THE FULL REPORT on the Move NY Congestion Traffic Pricing Plan.
---
$element(adman,groupad,Catgry Foodwine)$
$element(adman,groupad,Catgry ManWmn)$
---
$element(bwcore,article_picker,1459-1363-1441-1446,Y,N,page_title_home,N)$
---
$element(adman,groupad,Catgry Rest)$
$element(adman,groupad,Catgry Realestate)$
---
$element(bwcore,article_picker,300-304,Y,N,page_title_home,N)$
North & West Bronx Neighborhoods - North & West Bronx News
North & West Bronx Neighborhood News & Related Info
$element(adman,groupad,Catgry Foodwine)$
Click this link for promotions, discounts and coupons in the Bronx.
Click these links for promotions by advertisers in the Bronx.
Click for North & West Bronx Neighborhoods / Bronx Neighborhoods / Bronx Buzz NYC.
Click here to go to the general Bronx Neighborhoods section of this site / Click here for North & West Bronx things to do / Click here for things to do in the Bronx generally / for Bronx Real Estate & Bronx Business / for Bronx Shops & Shopping / Bronx Restaurants / Bronx Schools / Bronx Politics & Government.
Click here for nearby Central Bronx Neighborhoods / nearby East Bronx Neighborhoods / South Bronx Neighborhoods.
---
$element(adman,groupad,Catgry Realestate)$
Bronx Neighborhoods - Bronx News NYC
Bronx Neighborhoods - Bronx NYC Related Info
Click this link for promotions, discounts and coupons in the Bronx.
Click here to go to the Bronx Arts & Culture section of this site.
Click for Central Bronx Neighborhood News.
Click for East Bronx Neighborhood News.
Click for North & West Bronx Neighborhood News.
Click for South Bronx Neighborhood News.
Click for Bronx Neighborhood News.
---
$element(adman,groupad,Catgry Rest)$
Site Search Tips. 1) For best results, when typing in more than one word, use quotation marks - eg "Midtown Neighborhood". 2) Also try either singular or plural words when searching for a specific item such as "gym" or "gyms".
$element(bwcore,insert_search,N)$
Click this link to the Bronx Buzz front page.
---
$element(adman,groupads,Sectional2 Ad)$
---
Click the log in link below to create an ID and post an opinion.
Or send this story to a friend by filling in the appropriate box below.
---
Bronx Related Links
---