They Call Me Q At St. Luke's In The Theatre District NYC
Original Script Performed By The Playwright At Off Broadway Theatre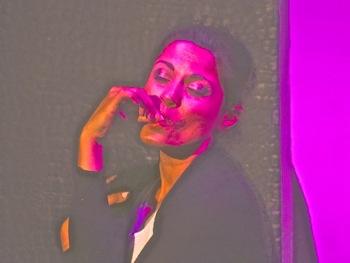 May 26, 2014 / Bronx Neighborhoods / Bronx Theater / Manhattan Buzz NYC.
I had an opportunity to preview an original theatrical work entitled They Call Me Q. The play opens at St. Luke's Theatre in Midtown on June 4th. The play is about an immigrant Indian woman's personal journey in search of finding comfort in her own identity which encompasses both Indian and American cultures.
She was born in India and spent her youth there [until age 13], before coming to America with her parents at a tender adolescent age. She arrived on these shores as a complete stranger in a strange land. Her parents settled into the Bronx and she began attending American public school.
The show provides a unique opportunity to peer inside the life of a first generation 21st century immigrant American. Q delves the depths of her emotional struggle to find peace with herself as the embodiment of the cultural crossroads of ancient traditions, living in a modern, urban, American borough called the Bronx.
Click here to read our review of They Call Me Q at St. Lukes Theatre NYC.

---
They Call Me Q At St. Luke's In The Theatre District NYC
Original Script Performed By The Playwright At Off Broadway Theatre
May 26, 2014 / Bronx Neighborhoods / Bronx Theater / Manhattan Buzz NYC.
Continued. They Call Me Q is a one-woman show, where the playwright and performer are one and the same: Qurrat Ann Kadwani.
I arrived shortly after the performance began. Q was talking about her home life in America at the age of 13. Her mother played an important guiding role in her life, and Q's depiction of her loving mother is reciprocated in her performance.
Q assumed the personas of her family and friends as she regaled her life's journey. At times her performances were humorous, using Indian cultural icons, like biryani cooking, to describe her emotional states. And at other times poignant, as she describes the emotional roller coaster of a young Indian woman, alone in American public schools.
We join her in high school as she begins to find her way into developing skills which give her confidence and satisfaction and through these activities, friends. She begins to pull away from her family as she grows up, but she continues to feel the tug of her parents' affection and interest in helping their only daughter find her way [she has a couple of brothers].
Eventually she leaves the Bronx for college, where she finds camaraderie with fellow Bronx bred classmates, with whom she finds a shared past. While away, she maintains communication with her mother and she begins to take a renewed interest in her native culture, first through food and then more expansively.
After college she must decide what to do with her life. Marry? Or do something else? She finds herself not able to accept an arranged marriage but - at her parents urging - returns to visit India where she spends time in her native culture with relatives and old friends.
The performance ends when she returns from that trip to America. It's an interesting journey, and I have left out many of the side roads she heads down for a short while on her journey through life. To be sure there are ups and downs along the way, as well as periodic comic relief.
Her tale strikes a universal chord that likely many New Yorkers can relate to - that being that once you leave your hometown for a long period of time, it's difficult to return to that cultural milieu in spite of its great familiarity. There's a small trace of a modern parallel to Thomas Wolfe's book, You Can't Go Home Again.
The stage is set simply with a few significant items that Q pulls into our view as she assumes the different roles she depicts. She uses lighting and music to create environments that embrace the story she's telling. And she characterizes her father, mother, family and friends by adopting different accents and voices, all of which made the hour and a half disappear without notice.
Many thanks to St Lukes Theatre for hosting this performance, to Paul Bourgeois the sound and lighting man, and of course to the talented playwright and performer, Qurrat Ann Kadwani for sharing this personal tale and performance with us.
They Call Me Q, begins June 4th, 2014 at the St Luke's Theatre on 308 46th Street at 8th Avenue in the Theatre District of Manhattan NYC.
Click here to view a photo slide show of the performance of They Call Me Q at St Luke's Theater in Manhattan.
---
$element(adman,groupad,Catgry Foodwine)$
Bronx NYC Related Links
Click for Bronx Restaurants - Bronx NYC.
Click for Bronx Banks Loans & Mortgages - Bronx NYC.
Click for Bronx Shopping - Bronx NYC.
Click for Bronx Things To Do Bronx NYC.
Click for Bronx Neighborhoods - Bronx NYC.
Click for Bronx Real Estate & Business - Bronx NYC.
Click for Bronx Schools & Bronx Public Education NYC.
Click for Bronx Street Fairs NYC.
Click for Bronx Politics & Government NYC.
Click for Bronx Farmers Markets NYC.
Click for Bronx Arts & Culture
---
$element(adman,groupad,Catgry Realestate)$
Site Search Tips. 1) For best results, when typing in more than one word, use quotation marks - eg "Astoria Park". 2) Also try either singular or plural words when searching for a specific item such as "gym" or "gyms".
$element(bwcore,insert_search,N)$
---
$element(adman,groupad,Sectional2 Ad)$
Click the log in link below to create an ID and post an opinion.
Or send this story to a friend by filling in the appropriate box below.
---