NYC Solar Panels & Energy In NYS
LICBDC Seminar - Solar Energy Tax Incentives 2011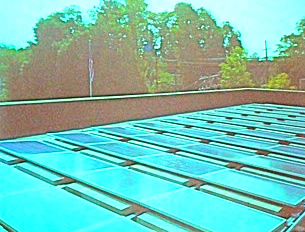 March 20, 2011 /Bronx Banks & Loans / Bronx Real Estate / Gotham Buzz NYC.
I just returned from a seminar detailing government incentives for installing solar on residential and commercial buildings in 2011. Based on what was presented in the seminar, anyone contemplating this sort of investment, might want to think about doing it in 2011.
The federal, state and city government are all offering tax incentives which add up to significant savings and shorten the payback period over which a building owner could recoup their investment in a solar energy system. Solar is a hedge against increases in oil prices, and demand for such systems is likely to grow. Given the tax incentives it's possible, that as we approach the end of the year, companies selling solar energy systems might become quite busy. The photo to your left shows a roof top solar energy system.
Click here to read our report about the NYC tax incentives for solar energy in NYS in 2011.
---
NYC Solar Panels & Energy In NYS
LICBDC Seminar - Solar Energy Tax Incentives 2011
March 20, 2011 / Bronx Banks & Loans / Bronx Real Estate / Gotham Buzz NYC. Continued.
It was a drizzly morning as I made my way to the Solar Economic Benefits seminar in Queens being hosted by the LICBDC in a conference room of their building in Long Island City. I met Dan Miner, who opened the conference [see photo to your left], introducing Green Logic, the company making the presentation.
Queens Solar Energy - Installations & Benefits
The benefits of solar are well known. It's clean energy, that in time could significantly reduce our dependence on foreign oil. And the installation of a solar system is a hedge against higher fuel prices. Lastly, the installation of a solar system reduces a building's operating expenses which theoretically should increase the value of a property.
Queens Solar Energy Systems - How They Work
The systems are call PV, which stands for photo voltaic. PV systems collect sunlight which becomes a direct current [DC] which is then inverted to an alternating current [AC - the American Standard - some countries use DC]. A breaker panel is installed which enables the owner of the system to either use the energy or sell it back to Con Ed. In the background of the photo to your right are three red and white stacks denoting one of the Con Ed power stations along the East River in Long Island City Queens.
Con Ed is actually encouraging the use of solar as it's strapped for power during the peak summer period, which is when Queens solar panels would be collecting the most energy. According to our presenter, sunlight in this region varies only about 5% per year, so fairly accurate estimates of solar power generation can be made.
Types Of Solar Systems Available In Queens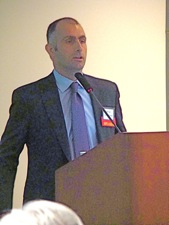 Bill Claps, the Green Logic presenter [shown in the photo to your left], spoke about four different types of solar panels / systems. They are: 1) flat or tilted roof panels, 2) panels that are integrated into a building roof, 3) laminates applied to roofs and 4) ground mounted panels. The flat or tilted panels are likely the ones most commonly seen. They're installed on a roof and pointed in the direction of the sun.
Panels that are integrated into the roof would likely only be done if one was installing a new roof. Laminates applied to roofs require conduits and other gear. And ground mounts are likely the easiest to install.
Solar System Installations In Queens - How To Go About It
So how does one go about installing a solar system? There are a number of steps in the process and they are as follows: 1) Building and roof structural evaluation to determine how much sunlight is available and what potential system could be installed, 2) cost estimates, 3) filing for government rebates and securing the Building and Electrical Permits, 4) installation and 5) monitoring the electric power production following the installation.
Solar Energy - Structural Evaluations In Queens
A quick and dirty roof feasibility analysis can be done over the phone using Google Maps. The purpose of this is to determine the roof orientation [southern exposure is best] and potential electricity production. The structural evaluation requires a visit, as does researching the electrical system of the building in order to determine what's involved in hooking up to Con Edison. We were told that in most cases the Con Ed hook up worked, but there have been exceptions. Every solar system is 'grid tied' back to the power grid so that the excess energy can be sold back to Con Ed. The presenter also took us through the government rebates and tax deductions.
Solar Energy Systems In Queens - Warranties, Maintenance & Durability
We were told that the silicon in solar panels generally last about thirty years. The silicon cells in the panels degrade at a rate of 0.6% per annum and by the 25th year generally collect about 80 to 85% of the sunlight of a new system.
Warranties for the panels are generally 25 years, but this may vary by manufacturer. Warranties for other parts of the systems are provided for a number of years, generally less than twenty, but we were told that these components cost less to fix or replace.
Solar panels don't have any moving parts which means little maintenance. However the inverters are electronic components with a typical 15 to 20 year lifespan, and they are the part of the system that would likely require maintenance first. Inverters convert the Direct Current [DC] collected by the panels into Alternating Current [AC] which is used in the American power grid.
Solar Panel Installations In Queens
Solar panels must be installed to withstand 120 mph winds. The structural evaluation is designed to analyze which type of installation would be most appropriate for a given roof. Solar panels are comprised of silicon cells covered by tempered glass that protect the silicon from damage from things like hail or golf balls. There are several different types of installations. For example attaching the panel racking to the roof is one method; or installing ballasted racking systems, held down by their own weight, is another. A good question to ask is how much, if any, roof top penetration is required.
Solar panels are typically installed at a 5 or 10 degree angle, which allows rain to wash away most dust or dirt that may accumulate. Dust or dirt accumulation has a minor effect on solar energy production and any power losses due to this should be calculated into production estimates. Buyers of solar systems may opt to wash the panels once or twice a year with a window cleaner or mild detergent to enhance solar power generation as the panels are made of tempered glass and are cleaned any other glass.
Solar Energy Panels & Investment - Analysis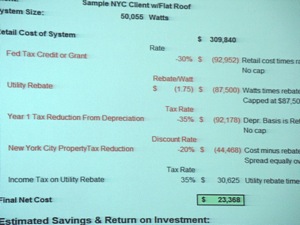 The following is a financial analysis, shown by the solar energy company presenting at the seminar. This analysis was used to highlight the value of the 2011 federal, state and city government incentives designed to motivate building owners in Queens to install solar energy systems this year.
The presenter took a 50 kilowatt system which would require about 6,000 feet of space, with a net cost after all incentives of approximately $23,000 (retail cost before incentives is approximately $300,000). This system generates $1000 of energy monthly [at current rates] to show how the government incentives make purchasing a solar energy system in Queens in 2011 a worthy investment.
These figures were provided by Green Logic of Long Island and may not be applicable to your tax situation and results may vary depending on a multitude of variables.
Government Incentives In 2011
According to the presenter the local, state and federal government are providing significant financial incentives to people who buy solar energy systems in Queens in 2011. These financial incentives will begin declining or go away starting in 2012.
New York State Energy Research & Development Authority - NYSERDA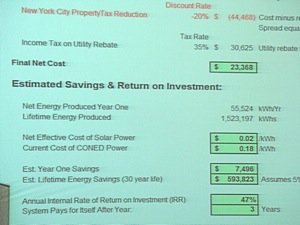 In New York there's a NYSERDA utility rebate of $1.75 / system watt. For a 50 Kilowatt system this amounts to an $87,500 direct rebate, which this year one can obtain via a direct check back to the system owner or apply it directly toward reducing the total system cost. Click here to learn more about NYSERDA.
Treasury Grant / 30% Tax Credit
The federal government is giving an income tax credit of 30% of the retail cost of the system, which for a 50 Kilowatt system translates into a $93,000 income tax credit. The presenter told us that this year solar buyers can obtain this tax credit in the form of a grant from the US Treasury, which is a check written directly to the owner of the system two months after installation, but only until the end of 2011.
Accelerated Depreciation Deduction
In 2011 ONLY you can depreciate 85% of the entire investment in a solar system in the first year after installation. After 2011 you can depreciate the system in as little as four years. This is a federal government income tax deduction.
New York City Tax Abatement
New York City allows a property tax abatement of 20% of the system cost, to be taken over four years. Last year the deduction was 30%, and in 2012 the tax deduction will be reduced again.
Non-Profits Can Benefit Too
We were told that there are means by which non-profits contemplating an investment in a solar system, may be able to benefit from these tax incentives. The presenter said that arrangements can be made with wealthy individuals or profitable enterprises, wherein they might be able to receive the tax incentives and then either lease the system or sell the energy to the non-profit.
Financing Solar Panel Energy Systems In Queens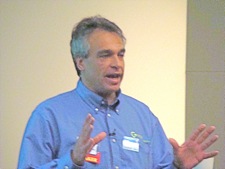 In the Question & Answer session a member of the audience asked about securing financing. The presenter told us that some banks have provided loans and leases for such systems at rates between 6% and 8% for terms of up to twenty years. Jean-Pierre Clejan talks about how solar energy systems function and expectations for long they will stay functional.
While we think every year is a good year to go green, looks like in 2011 one can go green without spilling red ink.
Many thanks to Dan Miner and the Long Island City Business Development Corporation [LICBDC], and the Green Logic corporation giving the presentation.
---
Click this link to the Bronx Buzz front page.
---
$element(adman,groupad,Catgry Rest)$
Bronx NYC Related Links
Click for Bronx Restaurants - Bronx NYC.
Click for Bronx Banks Loans & Mortgages - Bronx NYC.
Click for Bronx Shopping - Bronx NYC.
Click for Bronx Things To Do Bronx NYC.
Click for Bronx Neighborhoods - Bronx NYC.
Click for Bronx Real Estate & Business - Bronx NYC.
Click for Bronx Schools & Bronx Public Education NYC.
Click for Bronx Street Fairs NYC.
Click for Bronx Politics & Government NYC.
Click for Bronx Farmers Markets NYC.
Click for Bronx Arts & Culture
---
$element(adman,groupads,Sectional2 Ad)$
---
Bronx Holidays & Hotels in the Bronx NYC
NYC Holidays & Hotels Related Info
$element(adman,groupad,Catgry Realestate)$
Click this link for promotions, discounts and coupons in the Bronx.
Click these links for promotions by advertisers in the Bronx.
---
Click the log in link below to create an ID and post an opinion.
Or send this story to a friend by filling in the appropriate box below.
---