NY Federal Reserve In Queens
Current Business Economic Conditions In Queens 2011
March 11, 2011 / Flushing Neighborhood / Bronx Banks & Loans / Bronx Real Estate / Queens Buzz NYC.
I attended a presentation by the New York Federal Reserve president and CEO William C. Dudley. His purpose was to supplement the research done at the Federal New York Reserve with visits into 'the field' to see what's going on economically. A visit following his speech by a vice president of his staff to Crystal Window & Door Systems was a part of that effort [use the search function to find related stories].
Dudley first talked about the role of the Federal Reserve, which is to manage the nation's money supply. The Fed pursues a 'dual mandate' which is to purse the highest level of employment consistent with price stability. Dudley talked about the importance of the NY Federal Reserve in overseeing Wall Street and in helping the Federal Reserve execute monetary policy. Then he turned his remarks to the current state of the U.S., NYC and Queens economy.
Click here to read more about the Federal Reserve discussion about the economy and business climate - Bronx NYC .
---
NY Federal Reserve In Queens
2011 Business & Economic Conditions In Queens
March 11, 2011 / Flushing Neighborhood / / Bronx Banks & Loans / Bronx Real Estate / Queens Buzz NYC. Continued
Editor's Note: All of the charts shown herein were researched and / or created by QueensBuzz.com. William C. Dudley did not present any charts during his presentation.
Uneven Business Conditions In 2010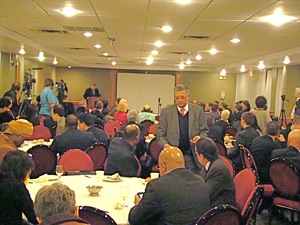 Dudley said that business conditions improved over the second half of 2010 nationally, but actually softened a bit in New York City. Growth for the nation was up 2.8% in the first half of 2010 and up 4.4% in the second half of 2010. Nationally exports climbed and inventories were drawn down, leading to what he believes will be further economic growth. He noted that unemployment fell below 9% nationally [click to see story about employment & unemployment in Queens], just prior to the end of the year, but that this decline in unemployment was not supported by a substantial growth in payrolls. Although payrolls grew, they did not appear to grow enough to support the drop in unemployment, which suggests that perhaps job seekers exited the labor market.
Separately, in conversations we have had with college educators around the borough, we noted that enrollment has increased supporting the notion that some people may have withdrawn from the labor force, and have begun upgrading their job skills through education.
U.S. Job Growth Noted In Early 2011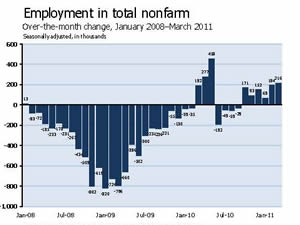 The economy added 192,000 jobs in February 2011, which is good, but not good enough to meet the sustainable growth target of 300,000 new jobs per month. Even after the nation reaches this level of job growth, it will still take a period of time to bring down the unemployment rate.
The chart to your left shows monthly total non-farm employment in the U.S. since January of 2008. In the past couple of months the U.S. has averaged net job increases in the neighborhood of 200,000 per month.
Progress Made In Reduction Of U.S. HH Debt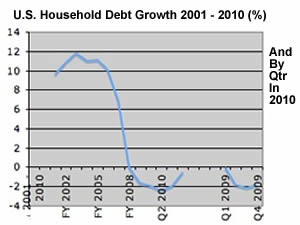 Dudley noted that American household [HH] finances have improved. Americans have paid down debt and re-financed, so that their debt payments are now comparable to what they were paying in the mid 1990's. He added that the U.S. savings rate has stabilized as Americans are now saving at a rate of 5% to 6% per year. This has also helped banks re-capitalize. And many banks have decreased their lending risks and exposure. As a result some measures of bank credit are now expanding which means the banks have begun to lend again.
As you can see in the chart to your right, household debt grew over 10% throughout most of the early part of the last decade, before falling in 2006. Households have reduced debt in the last part of the past decade and are in far better shape than they were a few years ago.
Federal Reserve & Gov't Stimulate Economy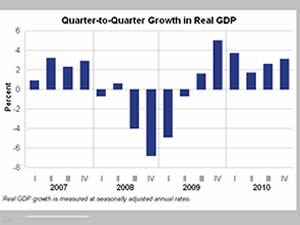 Dudley noted that the Federal Reserve and the U.S. government were doing what they could to support the recovery, by maintaining low interest rates and buying Treasuries / assets in order to push cash out into the economy. Federal government spending, also called fiscal policy, was also a means by which the federal government could push money into the economy in order to support employment. This year the federal government reduced social security withholding payments in order to continue to put more money in consumers' hands, so that the recovery can continue, even as government spending [aka fiscal policy] begins to decline.
The chart above shows U.S. economic growth over the past four years. As you can see the economy has begun to grow again following a period of decline.
Possible Risks To Potential Growth
Dudley noted that risks lie ahead that could dampen the budding recovery. He noted that housing remains weak and prices have begun to soften again in some parts of the nation. He also said that all levels of government are dealing with funding gaps, which will lead to spending cuts and likely further job losses.
Other risks noted include rising oil prices or some other international disruption, such as the situation in Japan [which had not yet happened at the time of this press conference].
Core Inflation Tame - Food & Fuel Fluctuating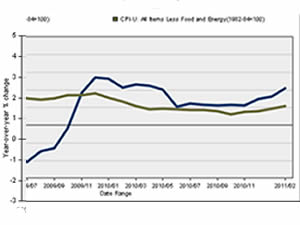 As for inflation, Dudley noted that inflation seemed stable and that core inflation is below 2%. He said that while a broad measure of commodity prices has risen 35% over the past year, commodities overall represent a less significant component of the overall U.S. economy than in many other parts of the world. Grocery items like fresh produce have risen, which impacts lower income families more given this is a higher percent of their spending than for middle and upper income households.
Core inflation [without food and energy] and total inflation are shown in the chart to your right. While food and energy prices have increased noticeably the past six months, core inflation remains tame.
New York Economy Vs National
Dudley stated that the NY economy seemed to slow from first half to second half of 2010. He was quick to add that there seemed to be some pick up in the national economy in early 2011.
Dudley said that Queens has fared better than many other places around the nation, including NYC, owing in part to its highly diversified economy [use search to find a related report on Queens employment]. Queens employment declined about 3% during this economic disruption, while the rest of the nation fell 7%, and NYC fell 4.5%.
---
NY Federal Reserve President In Queens - Q & A
There were a number of interesting questions from the audience following the press conference. The following are a few that we thought might be of interest.
Foreclosures In Queens - Will Gov't & Banks Help?
One person asked about foreclosures and obtaining mortgage assistance as his neighborhood in southeastern Queens had been particularly hard hit by the mortgage crisis.
Dudley indicated that he supported mortgage modifications so that the government, banks, consumers and investors could put the real estate debacle behind them.
According to USA Today, national foreclosures saw their first year-to-year monthly decrease in over five years in April of 2010. In New York State, according to a private research company, foreclosures were up 12% in Q2 of 2010 and up 6% in Q3 of 2010, indicating the possibility that foreclosures might be stabilizing. I couldn't find national foreclosure rates since the 2007 / 2008 time frame.
Foreign Exchange Rates - Queens Importers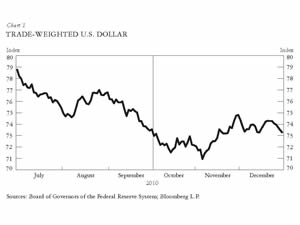 One person asked about foreign exchange rates of the dollar vs the Euro. Many small and large businesses in Queens manage import / export businesses. Dudley handled that question by saying the foreign exchange rates are not within the Fed's domain and are handled by the Treasury. Therefore he didn't comment.
In the chart to your right is a graph showing the exchange rate of the dollar versus a weighted basket of other currencies around the globe. The dollar appears to be on the mend or stabilizing.
New Monetary Policy Initiatives & Tools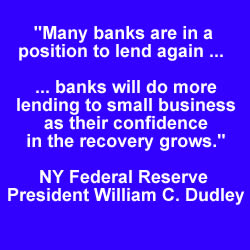 Another question was about the Fed's approach to pushing money into the economy by buying treasuries. Dudley talked about this as a new monetary instrument. He also talked about the Federal Reserve's new policy of charging interest on excess bank reserves. The purpose of these charges is to drain excess reserves out of the banking system - or put another way, use charges on money not lent, to encourage banks to lend.
Most Meaningful Remark During Visit
He also said something to the effect that banks were ready to lend just as soon as they have some assurance that the economy is back on track. A stronger economy reduces lending risk, which will significantly increase bankers' lending confidence. A stronger economy will increase the probability that the people to whom the banks lend, will be able to make a profit and hence pay back their loans.
This event was hosted by the Queens Chamber Of Commerce and the Queens Economic Development Corporation.
Click here if you wish to participate in a survey by the NY Federal Reserve about business conditions in Queens.
---
Economy & Business In Queens - Related Stories
Click here to view our section on doing business in the Bronx. Click here to view our section about economic conditions in the Bronx. Click here to read our report on employment in the Bronx. Click here to view our section about real estate in the Bronx. Click here to view our section about home improvement / building contractors in the Bronx. Click here to view our section about government in the Bronx.
---
$element(adman,groupad,Catgry Realestate)$
Bronx NYC Related Links
Click for Bronx Restaurants - Bronx NYC.
Click for Bronx Shopping - Bronx NYC.
Click for Bronx Things To Do NYC - Holidays in Bronx NYC.
Click for Bronx Neighborhoods - Bronx NYC.
Click for Bronx Real Estate & Business - Bronx NYC.
Click for Bronx Schools & Bronx Public Education NYC.
Click for Bronx Street Fairs NYC.
Click for Bronx Politics & Government NYC.
Click for Bronx Farmers Markets NYC.
Click for Bronx Arts & Culture
---
Economy & Businesses in the Bronx - Neighborhood Info
$element(adman,groupad,Catgry Rest)$
Click this link for promotions and discounts by merchants in the Bronx.
Click this link to go to the front page of Bronx Buzz.
---
$element(adman,groupad,Catgry Finance)$
Site Search Tips. 1) For best results, when typing in more than one word, use quotation marks - eg "Astoria Park". 2) Also try either singular or plural words when searching for a specific item such as "gym" or "gyms".
$element(bwcore,insert_search,N)$
---
$element(adman,groupads,Sectional2 Ad)$
---
Click the log in link below to create an ID and post an opinion.
Or send this story to a friend by filling in the appropriate box below.
---