Real Estate In Flushing - Willets Point
April 14, 2011 / Flushing Neighborhood / Bronx Banks & Loans / Bronx Business & Real Estate / Queens Buzz NYC.
This winter I attended the State of the Borough Address given by Queens Borough president Helen Marshall and a month later I attended a speech given by NYC deputy mayor of economic development, Robert K. Steel. This report captures their brief comments about Willets Point condominium and retail development project, as well as a considerable amount of research I did following those two presentations.
In the following report we provide you with a history of the effort to transform the Willets Point area and an outline of the proposed plans and including a detailing of some of the issues associated with the proposed development. A graphical depiction of the Willets Point development is shown above.
Click here to read more about Sterling Equities, Saul Katz & Fred Wilpon, Stephen Ross, Related Companies, Mayor Bloomberg use eminent domain on Willets Point real estate development project - controversy in Flushing Queens.
---
Real Estate In Flushing - Willets Point
April 14, 2011 / Flushing Neighborhood / Bronx Banks & Loans / Bronx Business & Real Estate / Queens Buzz NYC. Continued.
Willets Point Real Estate Developement Assessment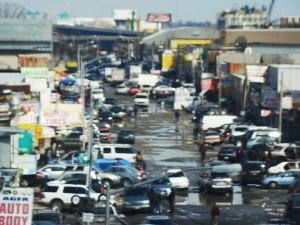 In 2002 city planners started working with local community groups to re-develop Willets Point. Over the course of the next few years it was decided that the neighborhood would have to be developed in toto versus a parcel by parcel approach because of some of the environmental conditions surrounding the neighborhood.
Some of the issues cited by city planners were widespread contamination from prior land use including ash deposits dating back a century and illegal dumping and oil spills from this century. They also cite that the area has a high water table [its adjacent to the Flushing Harbor / Long Island Sound] and that it lies within a 100 year flood plain.
In order to bring the neighborhood within FEMA [Federal Emergency Management Agency] guidelines a significant investment would be required to raise sections of the neighborhood by as much as six feet. The neighborhood is also in need of upgrades to its sewage system. All of this lead them to the conclusion that the neighborhood should be transformed all at once. A March 2011 photo of perhaps the best known street in Willets Point is shown to your right.
Willets Point Real Estate Development Plan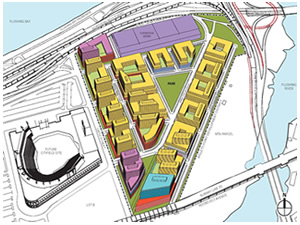 Willets Point re-development has long been on city government's to do list. Between 2002 and 2006 information was gathered, discussions held and a plan began to emerge. From 2006 to 2008 the city started selling the plan to the various interested constituencies, and by the end of 2008 had sought and received approval to rezone the neighborhood for its plan. A graphical depiction of the new zoning codes is shown in the photo to your left.
The city proposal is to plow the current Willets Point neighborhood completely under and begin anew. The proposal calls for a 400,000 square foot convention center [Jacob Javits is 675,000 square feet], 1,700,000 square feet of retail space, 500,000 square feet of office space, about 350,000 square feet of open space, 150,000 square feet of community space, 700 hotel rooms, 5,500 units of housing [about 20% of it affordable housing], 6,700 parking spaces and a school with 850 seats.
Willets Point Development Benefits
One of the primary purposes of the Willets Point Development is to clean up what many consider an urban blight, and its associated environmental / FEMA issues. City planners also estimate the first non-Manhattan NYC convention center would generate 5,300 additional jobs. City planners would also like to make many of the buildings LEED [Leadership Engineering Efficiency Design] certified, which means they would be energy efficient.
Willets Point Issues - Congestion
Experts estimate that the Willets Point development will generate an additional 80,000 vehicle trips per day. To help ease congestion associated with such a significant increase in vehicular traffic in the area, city officials pledged to obtain federal and state approvals to add two ramps to the Van Wyck Expressway. As of this report they have not obtained either governing body approval. The graphic depiction to your right shows the proposed changes to the Van Wyck Expressway to accommodate the increase in traffic expected from the Willets Point development project.
And, like the Flushing Commons development, this development would increase the burden on the number 7 subway line which is already running at capacity during peak times and for which no further expansion is planned at this time.
Willets Point Real Estate Development Controversy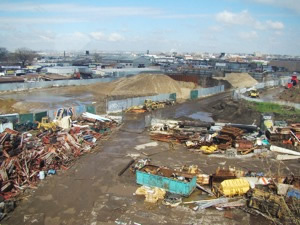 The Willets Point controversy appears to have arisen out of the desire of many Willets Point business owners to stay where they are, and to continue owning their own property and running their own businesses. In what has historically been a rarely used government action - the use of eminent domain - city government threatened to force landowners off their property against their will.
Currently there are still dozens of small landowners and one resident from Willets Point who continue to resist the city's re-development effort. The city has already acquired 90% of the land and they have already begun to work the site. The photo to your left was taken in March of 2011 and shows signs that the city has already begun to clean up the proposed Willets Point development site.
The group of owners, through their lawyer, challenged the city in the courts stating that the use of eminent domain requires demonstration of a public use. Since no developer has signed on to the plan outlined above, and won't sign up without the city paying many millions for all of the clean up and the new infrastructure, the group claims it's just a plan - not a public use.
Willets Point Real Estate Development - Flushing
A fire broke out the first week of April 2011 at Willets Point and a building of one of the holdouts was severely damaged. Approximately 140 firemen responded to extinguish the blaze - one of whom suffered minor injuries.
The city said it will use eminent domain to seize the remaining properties in 2012 if necessary. In an eminent domain seizure, a fair value payment is required to seize the land.
---
Airport Expansion - Queens Construction Projects
LaGuardia Airport opened its new control tower in January of 2011. It replaces the LaGuardia Airport control tower installed in anticipation of traffic for the 1964 World's Fair.
Throgs Neck Bridge - Queens Construction Projects
The Throgs Neck Bridge connects Queens and the Bronx and turned 50 this year [erected 1961]. Approximately 114,000 people cross the bridge every day. Many inbound drivers come through the Kew Gardens interchange which will undergo some renovation this coming year. Watch for summer traffic.
---
Queens Real Estate - Related Stories
City Withdraws Plans To Use Eminent Domain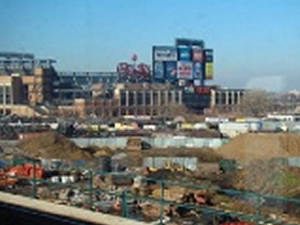 May 11, 2012 / Flushing / Queens Buzz. The Bloomberg Administration withdrew its threat to use eminent domain to condem the properties of the remaining Willets Point property-owners who did not want to sell their land. This statement was issued just prior to the beginning of court proceedings by the remaining holdouts, contesting the city's use of eminent domain.
The city had planned to remove the final holdouts and clear the way for a large new development that would include residential, commercial and office space, and parking. The city now owns 90% of the land in Willets Point, having bought out most of the prior owners.
Click here for a subsequent report about the Willets Point development in Flushing - eminent domain Sterling Companies Wilpon Katz Related Companies Steven Ross.
---
Queens Realtors, Queens Insurance & Banking - Links
Click here to go to the home page of TBD realtors.
---
$element(adman,groupad,Catgry Rest)$
Bronx NYC Related Links
Click for Bronx Restaurants - Bronx NYC.
Click for Bronx Shopping - Bronx NYC.
Click for Bronx Things To Do NYC - Holidays in Bronx NYC.
Click for Bronx Neighborhoods - Bronx NYC.
Click for Bronx Real Estate & Business - Bronx NYC.
Click for Bronx Arts & Culture
---
Real Estate In Bronx - Related Info
$element(adman,groupad,Catgry Realestate)$
Site Search Tips. 1) For best results, when typing in more than one word, use quotation marks - eg "Astoria Park". 2) Also try either singular or plural words when searching for a specific item such as "gym" or "gyms".
$element(bwcore,insert_search,N)$
---
$element(adman,groupads,Sectional Ad2)$
---
Click the log in link below to create an ID and post an opinion.
Or send this story to a friend by filling in the appropriate box below.
---