Organic Food & Organic Food Stores In NYC
All Natural Foods - Buying Organic Foods In NYC
August 2017 / Bronx Neighborhoods / Bronx Food Wine Shopping / Gotham Buzz NYC.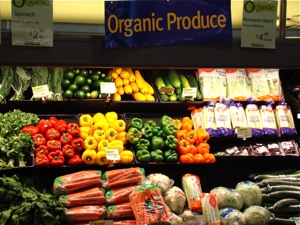 I've been doing research on local organic / all natural food for some time. I recently had the opportunity to interview an "organic insider", Metin Mangut who is one of the managing partners of a local supermarket which is an organic / all natural food store in Long Island City. Metin shared with me some of his insights into the changing landscape of organic, all natural and conventional foods.
In this report we'll delve into some of the issues and purchase strategies for buying from organic food stores / organic foods in the Bronx NYC and pretty much anywhere.
---
Organic Super Markets In NYC
Organic Food In NYC - Definition
August 2017 / Bronx Neighborhoods / Bronx Food Wine Shopping / Gotham Buzz NYC. Continued.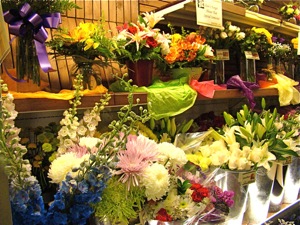 It's important to start with definitions which I looked up in Wikipedia. Organic in the U.S. means that 95% of ingredients must be organic. Any non-organically produced ingredients used in the remaining 5% are subject to other government regulations. These regulations cover the use of fertilizers, genetically modified food and manufacturing processes used. Generally the use of pesticides is greatly restricted and used only as a last resort. With respect to meat, poultry and other meat products it means no hormones and feeding the animals natural foods.
All Natural Food In NYC - Definition
Natural Foods are foods that are minimally processed and do not contain ingredients such as refined sugars and flours, milled grains, hydrogenated oils, sweeteners, food colors or flavorings. Aahh, nice to have that under our belt.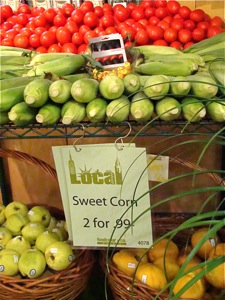 Organic Food Stores In NYC - Part Of Growing Trend
Organic and All Natural foods are part of a rapidly growing trend in the U.S. wherein people are becoming increasingly aware of what's been happening to the food supply over the past one hundred years. About 100 years ago, everything was organic. No pesticides and no manufacturing of the food we eat. It was taken from the farm and brought to your table in NYC.
Today, a lot of conventional food products are grown using genetically modified seeds, sprayed with pesticides and herbicides, processed in some manufacturing plant that adds artificial colors, artificial flavors and preservatives. Oftentimes the food you purchase and consume contains things your body wasn't built to recognize and process. One of the quotes that amused me during my interview with Metin was, "Your stomach is not a garbage can." The more I think about that quote, in light of what we're learning about food production, the less amusing that quote becomes.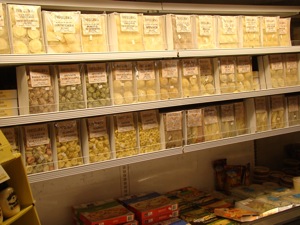 While studies regarding the health implications of the consumption of this sort of food are inconclusive, these studies are just in their infancy. It's worth noting that in the 1950's tobacco research regarding the health effects of smoking were also inconclusive. And we know the ending of that story. And it is just this sort of reasoning that has likely fueled the growth of organic and all natural foods.
Today the organic / all natural food segment of the market is growing at a very healthy double-digit rate. That said, it is still less than 5% of total food purchases nationwide. But 1% is in the tens of billions of dollars. The growth rate has slowed a bit [but is still double digit], likely due to the economy we're in. Organic and all natural still cost a bit more than conventional products, but each year the price differential narrows, as the popularity of organic and all natural increases.
All Natural / Organic Food In NYC - Guidelines

In this decade the USDA [U.S. Department of Agriculture] established regulations surrounding the production of food that can be labeled as organic. They now offer labeling for food producers who adhere to regulations they specify regarding the production of food [as mentioned in the definitions above].
Based on what I could learn the All Natural segment of the market isn't regulated. This part of the market, one could say is only a shaving away from organic. The objectives in producing All Natural food is the same as organic - minimal use or complete absence of unnatural ingredients, pesticides, modified seeds and manufacturing processes - but that it's not as highly regulated.
Organic Food Is Generally Fresher - No Preservatives
As Metin told me, "All Natural products contain only things your body will recognize". He gave me the example of the use of vanilla and vanillin. Vanilla is a natural bean extract, while vanillin is a chemical compound which is engineered to taste like vanilla. At his store in LIC they have a quality standards list, which they use to guide their selection of products brought into the store. They have a list of "unacceptable food ingredients" which they use to strike the purchase of non-organic / non natural food products.
Many of the ingredients they strike are preservatives, which in conventional products prevent things like mold, and allow the product to stay on the shelf for much longer periods of time. The flipside of that is that organic / all natural then are fresher products since they don't stay on the shelf as long because they can't. That said, given the changes in packaging technology over the years, there are a number of natural ways in which to maintain shelf life even for organic / all natural foods.
NYC Super Markets - Adapting To NYC Preferences
Originally this supermarket began as 100% Organic / All Natural, but soon they had to modify their stance to accommodate the market / local tastes. I inquired, "What sorts of conventional products did you have to bring into the store as a result of consumer demand?" He replied that popular brands like Coca Cola, Tide detergent and Dannon Yogurt had to be introduced to the store as they appear to be NYC staples [and that is likely true everywhere else in the nation too].
But even the large conglomerates like Coke, Unilever and Procter and Gamble have begun to awaken to the interest and demand for organic / all natural. It's a part of the rapidly growing interest in "GOING GREEN" which is sweeping the industrialized world as well as our local NYC boroughs.
Organic Food / All Natural Food / Local Food - Green Implications
When I mentioned the Green aspect of what his store was doing, Metin added that they purchase as much as they can from local producers, not just local farmers, but also local food producers. This adds a sort of boutique interest to the store one wouldn't normally find in a conventional supermarket as there's something kind of fun about trying new brands, especially those made within the community. Naturally this reduces the store's carbon footprint as the shipping and costs are greatly reduced.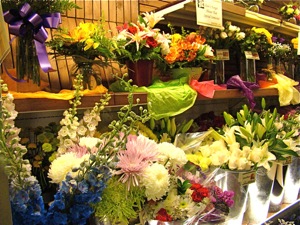 NYC Florists - Buying Local
Before I finished my interview Marjory Debrosse came to join us. She manages the floral shop within the store. As she caught the part about local, she mentioned that she buys a lot of her flowers in Queens county and on Long Island.
Organic and All Natural. Buying from local farmers and food producers. Reducing the carbon footprint while trying to help people live healthier lives. Hmm, I mused as I walked away, there is hope for us afterall.
Many thanks to Metin Mangut of Foodcellar in Long Island City.
---
All Natural Food Stores in the Bronx - Related Links
$element(adman,groupad,Catgry Foodwine)$
Click this link for promotional offers by merchants in Manhattan.
Click this link to the Bronx Buzz front page.
---
$element(adman,groupad,Catgry Rest)$
Bronx NYC Related Links
Click for Bronx Restaurants - Bronx NYC.
Click for Bronx Banks Loans & Mortgages - Bronx NYC.
Click for Bronx Shopping - Bronx NYC.
Click for Bronx Things To Do Bronx NYC.
Click for Bronx Neighborhoods - Bronx NYC.
Click for Bronx Real Estate & Business - Bronx NYC.
Click for Bronx Schools, Bronx Colleges & Bronx Universities NYC.
Click for Bronx Street Fairs NYC.
Click for Hospitals & Healthcare in the Bronx NYC.
Click for Bronx Politics & Government NYC.
Click for Bronx Farmers Markets NYC.
Click for Bronx Arts & Culture
---
$element(adman,groupad,Catgry Realestate)$
Site Search Tips. 1) For best results, when typing in more than one word, use quotation marks - eg "Astoria Park". 2) Also try either singular or plural words when searching for a specific item such as "gym" or "gyms".
$element(bwcore,insert_search,N)$
---
$element(adman,groupads,Sectional2 Ad)$
---
Click the log in link below to create an ID and post an opinion.
Or send this story to a friend by filling in the appropriate box below.
---