---
Bronx Art Space - Mott Haven Neighborhood Things To Do
Bronx Art Space in Mott Haven
Bronx Cultural Space Provides Venue for Artistic Expression
November 13, 2017 / Mott Haven Neighborhood / Bronx Neighborhoods / Arts & Culture in the Bronx / Bronx Buzz NYC.
A few weeks ago I visited the Bronx Art Space as part of my effort to in some measure capture [and release] the heart and soul of the Bronx in pixels. Beverly Emers was my primary contact and her guidance was invaluable not just into the Bronx Art Space, but also in introducing me in some small way to the surrounding community.
As a bit of background, the Bronx Art Space first opened in 2008 in the South Bronx to provide a communal artistic venue to local artists, musicians, film makers and performers. The Bronx Art Space was co-founded by Linda Cunningham and Mitsu Hadeishi.
I arrived on a Saturday evening to witness one of the Bronx Art Space Gatherings. In 2017 at the Bronx Art Space began hosting the Gatherings, which have been organized by James A. Brathwaite, who I met shortly after I arrived. James told me he's been organizing at least one Gathering per month. The Gatherings consist of performances by local talent which is offered free to the public.
James told me it's an opportunity for local dancers, musicians, comedians and performers to get in front of an audience to express themselves and show what they can do. At the time of the October 21st Gathering, James had organized and hosted nine of them year to date.
---
Fashion Show on the Hudson
Riverbank Park Fashion Show Highlights New & Known Clothing, Models & Designers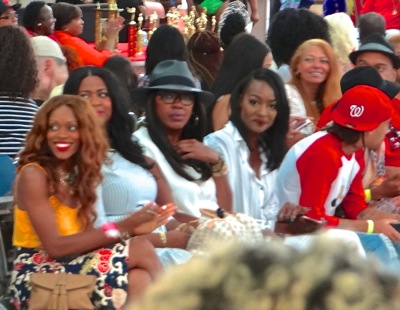 August 1, 2017, Inwood Neighborhood / Manhattan Fashion & Designers / Manhattan Buzz NYC.
A couple of weeks ago I made my way to the 8th Annual Fashion on the Hudson fashion show at Riverbank Park at 679 Riverside Drive along the Hudson River in the Inwood neighborhood of upper Manhattan. It was a beautiful Saturday afternoon as I headed into the Cultural Building in the 28 acre park.
The audience filled the Cultural Building, so I had to move around to get some photos of the models who were in the process of displaying men's swimwear. The muscular male models, with washboard ribbed stomachs marched down the runway showing a range of swimming suits that ranged from modest white trunks, to skimpy speedo cuts with psychedelic designs. I surveyed the crowd and found a number of women who seemed appreciative of the new designs and cuts.
As I was tight on time, I decided to make my way backstage to talk to a few of the models and designers to learn a bit more about them. Backstage a number of models had queued up for the ongoing swimwear segment of the program, while deeper backstage a number of the formal wear models were prepping for their debut.
In the photo above right you can see members of the audience enjoying themselves at the Fashion on the Hudson fashion show at Riverbank Park in the Inwood neighborhood of Manhattan.
Fashion on the Hudson Showcases Local Designers & Models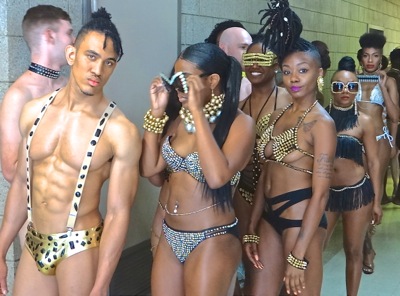 Fashion aficionado Daryl H. Miles, Founder of Beyond Styles by Miles, took a few minutes to talk to me about the show. He told me that Sofia Davis, editor of Fashion Avenue News, founded the show and that it has been produced at this location since its inception. At first Sofia held the show outside, but given the vagaries of the weather she decided to bring it in, where it has been ever since.
This year the show hosted 30 designers displaying swimwear, formal wear, casual wear and other stylish creations. The show is free to the public, but you must rsvp because seating is limited. The Fashion on the Hudson fashion show represents a great opportunity to see what's new and what's hot in the local NYC metro fashion world, and provides an opportunity for people interested in the business to meet models, designers and fashion buyers.
Daryl of Beyond Styles by Miles [www.beyondstylesbymiles.com - not to be confused with www.stylesbymiles.com] has been in the business for a number of years helping designers, models and fashion show organizers promote their fashion lines and brands.
I stayed a bit longer shooting photos of the models and lines before departing. And I'm looking forward to being able to spend more time covering the show next year.
In the photo above right you can see models who participated at the Fashion on the Hudson fashion show at Riverbank Park in the Inwood neighborhood of Manhattan.
---
---
---
Panorama Music Fest on Randalls Island
Three Day Musical Festival Strikes a Grammy Chord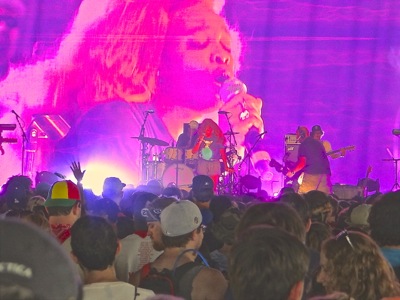 July 25, 2016 / Bronx Neighborhoods - Randalls Island / Bronx Music & Culture / Bronx Buzz NYC.
I attended the Panorama Music Festival on Randall's Island this past weekend. The music festival featured dozens of top and second tier bands and musicians with the event starting Friday and ending Sunday night. Some of the music festival headliners included award winning groups like Kendrick, Alabama Shakes and the return of LCD after a ten year hiatus. Panorama also featured a number of other highly regarded, well known groups - many of which are likely to continue gaining recognition.
In the photo at right, vocalist Sza, is performing in the Pavilion at the Panorama Music Festival on Randalls Island on Sunday.
The weather over weekend was a very seasonal hot, with temperatures hitting nearly 100 on Saturday [high 98], before descending into the low 90's on Sunday. But the island breeze coming across the East River on Randall's Island and not-too-high humidity, made strolling around the event campus not only doable, but enjoyable. There was also a public water station where you could refill your water bottle [free] and there was ample shade within the tree filled park.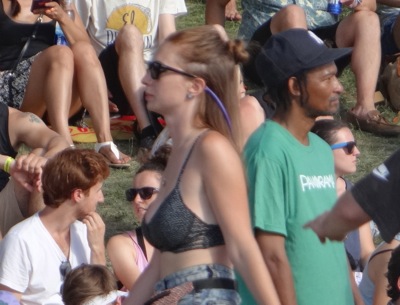 The crowd dressed for Panorama to beat the heat, more than anything else. This translated into a near beach-like scene for people-watching, with many youthful men and women enjoying the glow of their Adonis-like years. In 1992 there was a gender equality lawsuit, which contested women's right to go topless without being arrested - a right men enjoyed in this country since its founding. More than a decade later, in 2015, panhandlers in Times Square began asserting that right by painting their bare breasts with American flags and other designs, while soliciting tips from resident and tourist passers-by, for the pleasure of viewing them. These 'performance artists' were nicknamed the 'Desnudas'.
NYS and NYC Government officials found a way to reign in this practice - as it was creating quite a stir - by confining the solicitations to specified areas within the Times Square Plaza. Fast forward to 2016 and things continue to evolve, with women now wearing swimsuit / lingerie-like tops as fashion statements, some of which were on display at the Panorama Music Festival.
In the photo at right, a woman sports a fashionable swimsuit / lingerie-like top, at the Panorama Music Festival on Randall's Island.
We'll have a bit more later this summer, including video and a discussion of some of the art on exhibit at the Panorama Music Festival on Randall's Island in NYC.
---
Bronx: NYC Film - Avante Garde Film in NYC - Performa MoMI
Persona Performa - Ming Wong At MOMI
Museum of the Moving Image Steps Out In Astoria
January 11, 2012 / Astoria / Film in NYC near the Bronx / Queens Buzz NYC.
People were lined up outside of the Museum of the Moving Image [MOMI] on both Thursday and Friday nights. They were waiting to see Ming Wong's performance art production entitled Persona Performa. The production title tidily summed up its essence - an art performance based on an Ingmar Bergman film entitled Persona, which was being performed for Performa 11, the fourth biennial visual arts festival in NYC.
Artistic director, Ming Wong, developed the piece during his residency at MOMI in 2011. He told us that the inspiration for the production came from the minimalist architecture of the museum and an Ingmar Bergman film, Persona, which is generally believed to be one of the ten best works of cinematic art. The Ming Wong video piece Persona Performa Panorama will continue to be on view in the lobby until April 1st of 2012.
Click here to read our report of Ming Wong Persona Performa at the Museum of the Moving Image in Astoria - avante garde film in NYC near the Bronx.
---
Bronx: NYC Fashion Shows in NYC - Jamaica Queens
Fashionable Clothing in Queens
Come To Fashion Show Features Local Designers & Models
April 30, 2012 / Jamaica NY / Fashion Shows near the Bronx / Queens Buzz NYC.
On April 21st the first annual Come To Fashion show stepped out into the fashion world in the Jamaica section of Queens. The fashion show featured local fashion designers, local models and local retailers doing business in Jamaica Queens.
When I arrived at the Jamaica Performing Arts Center, I was pleasantly surprised by top tier polished look and feel of the entire production. Jamaica Center, the Jamaica BID, had hired a designer to create an original venue through which to present the models and the designers' clothing and those of us who attended were able to mingle with the models via the unique set design used for the show.
Click here to view photos and read our report about the Come To Fashion show - design, style & fashion shows near the Bronx NYC.
---
Bronx: Unfinished Film - American Meat
American Meat - Unfinished Film
Documentary About Current State Of Food & Farming
April 2011 / Sunnyside / Bronx Neighborhoods / Bronx Food Wine Shopping / Gotham Buzz NYC.
I managed to obtain an invitation to a screening of American Meat, which is an unfinished documentary film, at Cafe Marlene in Sunnyside. The screening was sponsored by Queens Harvest Co-op, which is an organization working to build an organic food cooperative in Queens.
The film is a rather eye opening look into how the economics of food / meat production in this country have taken us down an unsustainable path. A path which not only has significant health implications, but possibly even more dire consequences. The film provides an intelligent, behind-the-scenes look at how economics have been driving: 1) food production methods, 2) the composition of what's in the meat being sold at the grocery store, and 3) what we're feeding our children and ourselves.
The film was envisioned and began production in the spring of 2007 and the producers are hoping to finish it in 2011. Click here to view our preview of the unfinished documentary film entitled American Meat independent film at Cafe Marlene in Sunnyside and hosted by Queens Harvest Co-op. Bronx Film - NYC Health Issues & Food Quality in NYS & America.
---
---
---
Bronx Fashion & Film Related Links
Click this link for promotions, discounts and coupons in the Bronx.
Click here for Bronx Neighborhoods or Bronx Fashion & Film.
---
Or send this story to a friend by filling in the appropriate box below.
---