---
ID Studio Theater - Mott Haven Neighborhood - Latin Theater in the Bronx NYC
ID Studio Theater in the Bronx
Theater Gives Voice & Builds Community in Mott Haven
Posted December 5, 2017 / October 21, 2017 / Mott Haven Neighborhood / Bronx Neighborhoods / Bronx Theater & Dance /Bronx Buzz NYC.
I had an opportunity to visit the ID Studio Theater this Fall in Mott Haven. I briefly met the Artistic Director, German Jaramillo, who gave me a short tour of the theater, telling me that ID Studio Theater had moved into its new home to its new home at 311 East 140th Street in Mott Haven in the Fall of 2016.
German said he'd been working on renovating the ID Studio Theater new home ever since he'd arrived, to make it capable of providing rehearsal studio and performance space to work on new projects, community space and two studio apartments for visiting and affiliated performers. I had the opportunity to view the community space and the rehearsal space which are shown in the photos at right below. In the photo at right is the outside of ID Studio Theater in Mott Haven.
---
Salsa Sways & Swoons in the Bronx
August 8, 2017 / Pelham Bay Park & Orchard Beach Neighborhoods / Bronx Dance & Theater / Bronx Buzz NYC.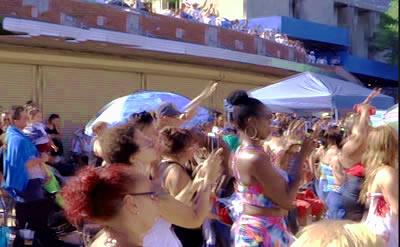 The folks at Orchard Beach in Pelham Bay Park have been hosting Sunday Salsa for over 50 years. The event takes place on Sunday afternoons on the cement pavilion that stands adjacent to the Orchard Beach facility - between the structure and the water. The concerts / dance parties run from 1 pm to 5 pm and are hosted by either a DJ or a live band playing salsa tunes so attendees and beach-goers can dance salsa.
The photo at right shows folks in the Pavilion at the Sunday Salsa party at Orchard Beach in the Bronx.
Salsa County Continues to Dance
According to Salsa New York, DJ Carlos Santiago is the organizer of the event. And Bronx Borough President Ruben Diaz calls Bronx 'El Condado de la Salsa' or 'Salsa County' ... which it seems to be.
I made my way to Orchard Beach last Sunday, taking the #6 train northeast to the last stop of the line - Pelham Bay Park station. I then hopped aboard an Orchard Beach bus - which runs seasonally between the Memorial Day and Labor Day weekends - and only during the operating hours of the park. There was quite a bit of traffic on the road between the subway station and Orchard Beach / City Island - in part because it was a beautiful day and in part because there's construction work being done on the bridge between City Island and the Mainland.
Orchard Beach in Pelham Bay Park is Recovering its Allure
Orchard Beach was once - and again is - a beautiful park and beach. The beach fell into neglect during the last decade(s) of the 20th century as did the water lapping up on its shores. The deterioration of the park was compounded by the pollution of its waters in a manner not unlike what happened to the water at nearby beaches in Brooklyn, Queens and Long Island. It's taken a bit longer for nature to clean the mess man left behind at Orchard Beach because the water doesn't renew itself as frequently due to the beach / City Island / Long Island Sound and East River geography. This is the observation of a neophyte - not an expert.
The photo at right shows the beautiful sun, sand and blue waters at Orchard Beach in Pelham Bay Park in the Bronx.
Nonetheless I saw people swimming in the water, and when I asked, the swimmers told me they shower after going in to be sure they're not coated with pollutants later. Some folks said they're still reluctant to go swimming, but enjoy spending the day soaking in the sand and the sun and the cool breeze off the beach.
After watching a end of the salsa party I made my way back amidst a loquacious and friendly crowd.
---
Mott Haven Historic District & St Mary's Park
Large Audience Attends SummerStage Music Gathering
August 14, 2017 / Mott Haven Neighborhood Bronx / Bronx Music / Bronx Buzz NYC.
On Sunday, July 30th, I attended the SummerStage concert in St Mary's Park in the Mott Haven neighborhood of the Bronx. The stage was set in the western side of the park, which opened up onto a large field, but also gave the advantage of providing 'balcony seats' where one could enjoy the concert watching and listening from the hills.
SummerStage Concerts Bronx: St Mary's Park Mott Haven
The SummerStage concert in St Mary's Park featured Lisa / Lisa who hit the national scene in 1985, in the year before she turned 20. The Hells Kitchen native and her 1980's group - Lisa Lisa and Cult Jam - took the hit single 'I Wonder if I Take You Home', to #1 on the Billboard Hot Club Dance Play chart for a week in June of 1985.
Lisa / Lisa is of Puerto Rican descent and was born and raised in Hells Kitchen in Manhattan. Lisa / Lisa was one of the wave of freestyle musicians to help usher in dance pop. In 1982 Michael Jackson released his best selling dance album Thriller which rose to become the world's best selling album - a title which I believe it still holds to this day. In 1984 - just two years later - teenager Lisa / Lisa and her Cult Jam band released 'I Wonder if I Take You Home', which as mentioned above, rose to number 1 atop Billboard Magazine's dance pop charts.
Lisa / Lisa shared the stage in concert where she had a male and female dancer who artistically interpreted her magical music while we in the audience moved to the rhythms. In the photo above right, Pop Dance Hip Hop musician Lisa / Lisa with one of the dancers at the SummerStage concert in St Mary's Park in the Mott Haven neighborhood of the Bronx.
The weather was a warm but dry 80 degrees as the sun was making its way west and we were sheltered by the St Mary's Park foliage. While most folks in attendance were adults there were also a number of families with children.
Mott Haven Historic District: Bronx
After the concert I made my way down past the Mott Haven Historic District to the #6 subway at 138th Street and Third Avenue. The Mott Haven Historic District is rather small, running along Alexander Avenue between 138th Street and 141st Street. The buildings date back to the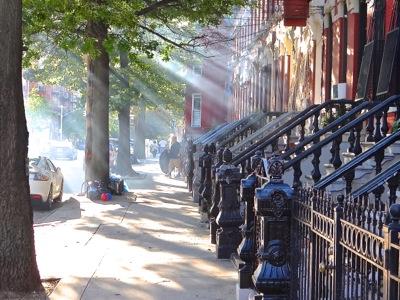 last half of the 19th century, when people were moving to the Bronx because rail transportation was enabling more easy movement of people and goods. Alexander Avenue is believed to have been named after Alexander Bathgate who was the Morris land holdings manager.
The photo at right shows some of the houses from the 19th century that still exist in the Mott Haven neighborhood of the Bronx.
The Morrises bought the land in the south Bronx in 1670 from Jonas Bronck, a Swedish immigrant and one of the original Bronx settlers and after whom the Bronx is named. Bronck in 1641, less than thirty years earlier, bought theland from the Dutch West India Company, which had purchased the lands from the Indians in 1639.
The Bronx neighborhood in which Alexander Avenue resides, is called Mott Haven, and was named after Jordan Mott. Mott was the inventor of the coal burning stove. In 1828 Mott opened up the first manufacturing facility in the Bronx, his ironworks. Today Mott Ironworks manhole covers are reportedly still in use today.
Also nearby is St Mary's Park where the SummerStage concert took place, as well as St Ann's Church, which is an Episcopalian Church where two generations of Lewis Morris are buried, as well as Gouverneur Morris. They are members of one of the founding families of the Bronx, second only to Jonas Bronck himself.
The Bronx SummerStage concert series is organized and sponsored by SummerStage and City Parks Foundation in tandem with the NYC Parks Department. SummerStage organizes several free concerts in Bronx each summer, including two concerts in Crotona Park in the Central Bronx.
---
---
Panorama Music Fest on Randalls Island
Three Day Musical Festival Strikes a Grammy Chord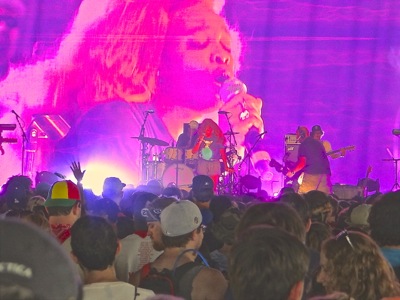 July 25, 2016 / Bronx Neighborhoods - Randalls Island / Bronx Music & Culture / Bronx Buzz NYC.
I attended the Panorama Music Festival on Randall's Island this past weekend. The music festival featured dozens of top and second tier bands and musicians with the event starting Friday and ending Sunday night. Some of the music festival headliners included award winning groups like Kendrick, Alabama Shakes and the return of LCD after a ten year hiatus. Panorama also featured a number of other highly regarded, well known groups - many of which are likely to continue gaining recognition.
In the photo at right, vocalist Sza, is performing in the Pavilion at the Panorama Music Festival on Randalls Island on Sunday.
The weather over weekend was a very seasonal hot, with temperatures hitting nearly 100 on Saturday [high 98], before descending into the low 90's on Sunday. But the island breeze coming across the East River on Randall's Island and not-too-high humidity, made strolling around the event campus not only doable, but enjoyable. There was also a public water station where you could refill your water bottle [free] and there was ample shade within the tree filled park.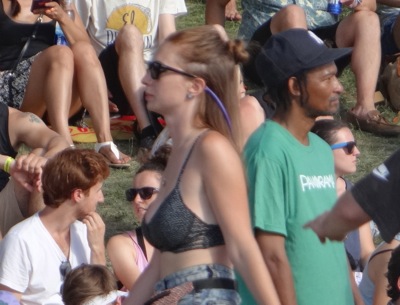 The crowd dressed for Panorama to beat the heat, more than anything else. This translated into a near beach-like scene for people-watching, with many youthful men and women enjoying the glow of their Adonis-like years. In 1992 there was a gender equality lawsuit, which contested women's right to go topless without being arrested - a right men enjoyed in this country since its founding. More than a decade later, in 2015, panhandlers in Times Square began asserting that right by painting their bare breasts with American flags and other designs, while soliciting tips from resident and tourist passers-by, for the pleasure of viewing them. These 'performance artists' were nicknamed the 'Desnudas'.
NYS and NYC Government officials found a way to reign in this practice - as it was creating quite a stir - by confining the solicitations to specified areas within the Times Square Plaza. Fast forward to 2016 and things continue to evolve, with women now wearing swimsuit / lingerie-like tops as fashion statements, some of which were on display at the Panorama Music Festival.
In the photo at right, a woman sports a fashionable swimsuit / lingerie-like top, at the Panorama Music Festival on Randall's Island.
We'll have a bit more later this summer, including video and a discussion of some of the art on exhibit at the Panorama Music Festival on Randall's Island in NYC.
---
Bronx: NYC Art & Theater - Exploring American Islamic Muslim Identity
In Search Of A Civilization Lost By Mass Media
LaGuardia College Performing Arts Center Uses Theater & Art To Stimulate Cross Cultural Community Conversation
February 9, 2015 / Queens Theater & Arts / Bronx Theater / Queens Buzz NYC.
It was nearing sunset on Saturday evening as I made my way through a beautifully quiet Flushing Meadows Corona Park. The clean white snow glistened gently in the fading light, and the leafless trees along the road provided what felt like an ancient natural cathedral.
I checked in at the admissions desk and made my way to the second floor of the Queens Museum. The Queens Museum was once the home to the United Nations and hence provided the perfect context for this community conversational performance. The floor to ceiling windows looked out onto the landmarked Unisphere which emanated a universal vibe. In the long wide hallway a crowd was engaged in clustered conversations following the conclusion of four performances shown that afternoon. I had seen the performances at an event earlier in the season.
I began talking to Tasneem, a member of the audience who is shown in the photo at right standing alongside a photo taken by a friend of hers who is shown in the photo. Tasneem came from Jordan twelve years ago, only two years after 911. She said that it's important for the general populace of Muslims to stop being afraid of showing they're Muslim, because otherwise New Yorkers and the rest of America will be left with the picture of Islam as depicted by a few extremists which is amplified and continually repeated by the American mass media.
I couldn't deny it. It seems American television stations, radio stations, newspapers and magazines are obsessed with providing the Islamic terrorists all the publicity they want.
But here, tonight, in the Queens Museum; I would not see any of the faces shown by our mass media. I would see only the faces of everyday Islamic New Yorkers who generally receive no publicity at all. Muslims who hail from dozens of cultures around the world. And there wasn't a single terrorist among them. Hence - and likely not coincidentally - there also wasn't a single mass medium reporter covering this event.
Tasneem told me how she, like many other American Muslims, fears showing she's Muslim because of the stereotypes created by the terrorists and perpetuated and blown up by the American mass media. The notion of a silent majority came to mind.
It occurred to me that the gore of the Islamic extremists must be good for tabloids and TV ratings. And I pondered what it must feel like to be stereotyped by this relentless, distorted depiction of one's culture and people. Andy Warhol's characterization of the mass production of images came to mind.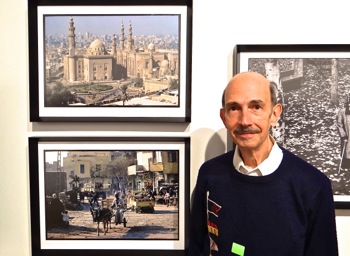 I thought about what it would be like if I lived somewhere else in the world where the nation's media mass produced stereotypes of Americans, depicting us as murderers, rapists and thieves. That could easily be done if a nation's media decided to portray Americans by solely covering the 5.6 million violent crimes and the 17.1 million property crimes that took place in this country in 2011 alone [source: Wikipedia / Bureau of Justice Statistics]. That just wouldn't be right ... would it?
And yet, it seems that this is exactly what's been happening to Muslims in America, because of the unbalanced coverage of Islam by the big American mass media companies. The TV and newspaper tabloids make a living by sensationalizing - spinning things out of context - but aren't the real journalists supposed to provide perspective by putting things back in context?
This seems generally not to have been done.
And so the LaGuardia Performing Arts Center applied for and received a grant to begin such an effort. An effort to provide exposure to the lives and contributions of the other billion Muslims who go peacefully and productively about their lives each day, just like most of the rest of us. An effort to create a community conversant with a deeper and broader understanding of a millenial and centuries old culture that is embedded in the lives of over a billion people on the planet. People who live in dozens of nations around the globe, and none of whom are terrorists - and hence generally not represented in the American mass media.
I met American born Charles Bernett of Rego Park who had traveled to Cairo in 1979. Thirty-five years ago he was about to embark on his second trip through Africa ... [see photo at right].
The LaGuardia Performing Arts Center exploratory, year-long, theater and arts, cultural endeavor entitled Beyond Sacred: Unthinking Muslim Identity, more of which you can find on our Queens Buzz website. Click here for a related piece done around the same time about Art & Theater in Queens near the Bronx NYC: Exploring Islamic / Muslim identity in America.
---
Bronx Theater - They Call Me Q
They Call Me Q At St. Luke's In The Theatre District NYC
Original Script Performed By The Playwright At Off Broadway Theatre
May 26, 2014 / Bronx Neighborhoods / Bronx Theater / Manhattan Buzz NYC.
I had an opportunity to preview an original theatrical work entitled They Call Me Q. The play opens at St. Luke's Theatre in Midtown on June 4th. The play is about an immigrant Indian woman's personal journey in search of finding comfort in her own identity which encompasses both Indian and American cultures.
She was born in India and spent her youth there [until age 13], before coming to America with her parents at a tender adolescent age. She arrived on these shores as a complete stranger in a strange land. Her parents settled into the Bronx and she began attending American public school.
The show provides a unique opportunity to peer inside the life of a first generation 21st century immigrant American. Q delves the depths of her emotional struggle to find peace with herself as the embodiment of the cultural crossroads of ancient traditions, living in a modern, urban, American borough called the Bronx.
Click here to read our review of They Call Me Q at St. Lukes Theatre NYC.
---
---
---
Bronx Music, Dance & Theater Related Links
Click this link for promotions, discounts and coupons in the Bronx.
Click here for Bronx Neighborhoods or Bronx Music Dance & Theater.
---
Or send this story to a friend by filling in the appropriate box below.
---