---
Jeff Klein IDC vs No IDC NY - Independent Democratic Caucus in the Bronx
Jeff Klein's IDC: Republicans Running as Dems?
The Independent Democratic Caucus Aligns with Republicans which Enables Republicans to Control the NYS Senate
Updated September 7, 2018 / March 21, 2018 / Bronx Neighborhoods & Bronx News / Bronx Politics / News Analysis & Opinion / Bronx Buzz NYC.
There's an NYS State primary election this month. The primaries will be held on Thursday, September 13th; instead of on Tuesday, September 11th, in recognition of 911. And the general election will be held on Tuesday, November 6th.
As in any year, the elections are important, but perhaps made more so this year, by what appears to be the anarchistic destruction and disrespect, for our government institutions and processes, by Republican President Donald Trump.
Trump Republicans: Debt Bomb Deficits Levied on America's Children to Enrich the Richest?
The Donald passed a stimulus tax bill that is expected to increases the deficit by $1.5 trillion over the next ten years, and there are some pundits who put the figure higher. He and the Republicans passed this budget busting stimulus tax bill, while the economy was operating at levels considered above a full employment economy [5% unemployment is considered standard / normal] and at a time when wages were rising over 2%.
Inflation above 2% is considered to be detrimental to economic stability by the Federal Reserve, so stimulating the economy while it's at full employment with rising wages is about the opposite of what makes sense, especially when you consider the funding for it is coming from America's children and most of the benefits for it are going to the wealthiest people on the planet. We posted a report analyzing the Trump Tax Reform Bill slightly before it was finalized, which includes a lot of facts and figures to help provide context to better understand what was in the bill they passed.
The Independent Democratic Caucus Aligns with NYS Senate Republicans & Gives Them Control
In 2010 / 2011 NYS Senator Jeffrey Klein broke away from the Democratic Party and formed the Independent Democratic Caucus which aligns with the Republican Party, thereby giving them control of the NYS Senate. The effect of this is that bills passed by the Democratic controlled NYS Assembly are indefinitely tabled, or in lay man's terms pretty much killed, in the Republican-controlled NYS Senate. The Republicans control the NYS Senate, because eight NYS senators who run as Democrats [IDC Independent Democratic Caucus], either vote with or kill bills with the Republicans.
Democratic NYS Assembly Bills Effectively Killed by IDC
According to the Democratic Senate Conference, the Republican controlled NYS Senate - with the help of their Republicans running as Democrats allies - have effectively killed one education bill providing full day kindergarten funding, three wage / leave bills, four voting rights bills including the allowance of early voting, four immigration bills including one related to the DREAM Act, four housing bills including several pertaining to NYC rent laws that help renters, three criminal justice bills including creation of correctional ombudsman and sealing of marijuana possession records [as marijuana is rapidly being legalized in states across the country], one related to LGBTQ issues, and six regarding healthcare, several of which pertain to women's reproductive rights.
The IDC Deception: REPUBLICANS RUNNING AS DEMOCRATS?
The net effect of this is that Democrats are, in a sense, cheated or tricked out of their majority by what appears to be Republicans running as Democrats. The Independent Democratic Caucus or IDC includes Jeffrey Klein of the Bronx, who founded the IDC, David Valesky of Oneida and Madison Counties in upstate New York, David Carlucci of Rockland and Westchester Counties, Diane Savino of Staten Island / Brooklyn, Tony Avella of Queens, Jose Peralta of Queens, Jesse Hamilton of Brooklyn, and Marisol Alcantera of Washington Heights / Manhattan. Simcha Felder of Brooklyn also runs as a Democrat and caucuses with the Republicans.
The following is a list of challengers, eight of which I obtained off the NoIDCNY.org website. For some reason Blake Morris - Simcha Felder's challenger - was not included on their website. I have just contacted them to find out why.
Jessica Ramos is challenging Jose Peralta in District 13 in Queens.
John Liu is challenging Tony Avella* in District 11 in Queens.
Robert Jackson is challenging Marisol Alcantera in District 31 in Washington Heights / Inwood / Manhattan.
Alessandra Biaggi is challenging Jeff Klein in District 34 in the Bronx.
Zellnor Myrie is challenging Jesse Hamilton in District 20 in Brooklyn.
Blake Morris is challenging Simcha Felder in District 17 in Brooklyn.
Jasmine Robinson is challenging Diane Savino in District 23 in Brooklyn / Staten Island.
Julie Goldberg is challenging David Carlucci in District 38 in nearby upstate New York.
Rachel May is challenging David Valesky in District 53 in upstate New York.
* A Word About NYS Senator Tony Avella as He Appears to be a Real Independent
Of all of the IDC candidates listed above, NYS Senator Tony Avella deserves special consideration. NYS Senator Avella CHALLENGED Republican Mayor Michael Bloomberg and Queens Country Democratic Party Chairman Joe Crowley when both of these men, and many in their parties, supported real estate developments in Flushing Meadows Corona Park. Queens Borough President Melinda Katz took a position that appeared somewhere between supportive of the developments to - at best - indifferent.
NYS Senator Avella advocated on behalf of the community to thwart billionaire and mega millionaire real estate developers from grabbing Queens parkland - AND WON. In doing this, NYS Senator Tony Avella, appears to be more like a Maverick or Independent, resembling legislators like deceased U.S. Senator John McCain (Republican) and U.S. Senator Bernie Sanders (Democrat), both of whom have charted their own path through party-dominated politics.
Avella is an important independent voice in the Queens, NYC and NYS community, which the Democrats in his district will have to decide whether or not to keep.
---
Bronx St Patrick's Day Parade in Throgs Neck
20th Annual St Patrick's Day Parade in Throgs Neck, Bronx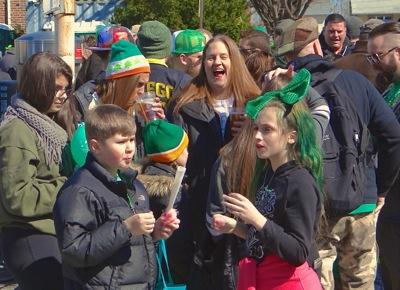 March 12, 2018 / Throgs Neck Neighborhood / Bronx Neighborhoods / Bronx Parades / Bronx Buzz NYC.
On Sunday I made my way north into a southeastern neighborhood in the Bronx, to attend the 20th annual St Patrick's Day in Throgs Neck. It's worth mentioning that the Throgs Neck neighborhood is also known as Throggs Neck, and apparently while the double g is the correct name and only spelling of the bridge [Throggs Neck Bridge], the Throgs Neck neighborhood uses both spellings.
It was a chilly Sunday morning, following the switch to Daylight Savings Time, so I began the day running a bit behind schedule, made worse by repair work being done along the #7 subway line in Queens.
The photo to your right shows folks milling along East Tremont where there's an Throgs Neck St Patrick's Day Parade after parade party.
Public Transit Between Flushing Queens & Throgs Neck Bronx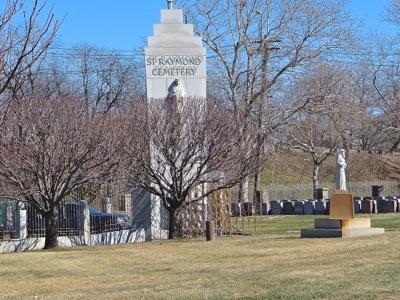 In the downtown section of the Flushing neighborhood of Queens I had planned to take the 44 SBS bus, but was [wrongly] advised to wait for the Q50. The Q50 came far less frequently, but it did get me there. That said, it's worth noting that the 44 SBS would have been faster, because four of them passed me while I was waiting for the Q50.
I departed the bus just off the Hutchison River Parkway at Lafayette Street and started walking east passing St Raymond's Cemetery. St. Raymond's Cemetery is one of the largest cemeteries in the city and associated with St. Raymond's Schools [one for Boys and another for girls] in Parkchester. Click here to see an earlier report we did regarding St. Raymond's Schools in nearby Parkchester, which is only a neighborhood [Schuylerville] away.
The Irish in the Throgs Neck Neighborhood of the Bronx
I continued along Lafayette to East Tremont Avenue where the parade had started. The parade had begun at 12 noon, and I arrived about 1 pm because of a late start and transit delays and, unfortunately, I had mostly missed the parade.
In the photo at right stands a mobile stage just south of Harding Avenue on East Tremont Avenue.
Undeterred, I began walking south following the parade route along East Tremont Avenue, snapping a few photos of the Throgs Neck commercial district along the way. Just south of the Cross Bronx Expressway there was a large tent set up in a parking lot which was a center of what looked to be ongoing festivities. And along East Tremont heading south of the tent, East Tremont Avenue had been closed off to allow celebrants safe passage across the street, where a number of local Throgs Neck restaurants and bars were filled with St Patrick's Day partiers.
St Patrick's Day Parade in Throgs Neck Bronx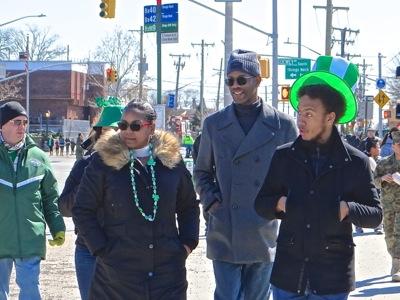 The mood was naturally generally celebratory. There was Irish music emanating from a couple of the bars and fairly sizeable crowds of parade attendees milling about outside of them. Quite a number of people had dressed up, or at the least were wearing some green, and it seemed that while all were not Irish descendants, today they were Irish in spirit [see photo at right].
The parade route was little more than about a mile long, and just south of Harding Avenue, at East Tremont Avenue, there stood a mobile stage which at this point was empty [see photo above right]. Apparently the crowd had been treated to some entertainment and speeches by local pols and musicians, prior to my arrival.
Generally the Throgs Neck neighborhood of the Bronx seems to be a quiet, residential, working class neighborhood that appears to have a large Irish population, but there were also a few folks representing other ethnicities as well.
It's worth mentioning that President Kennedy was of Irish descent and that he sacrificed his life, as did other Americans like Martin Luther King, defending the human rights for all embedded in the United States Constitution. I mention this, because seeing people of all backgrounds come together to share in each others' cultural celebrations strengthens the bonds of our humanity and of our nation.
And this seems particularly important today, as hostile foreign powers appear to be trying to exploit some of our historical fissures, in attempts to weaken us, even as we lead the planet in evolving and uniting the world into one planetary people.
Throgs Neck Neighborhood: Quiet, Residential & Near Water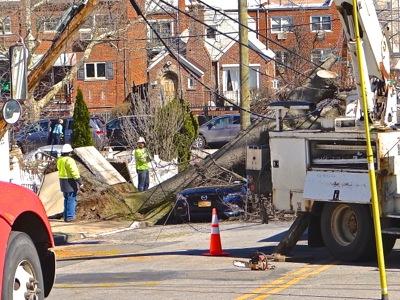 I spent some time looking around the Throgs Neck neighborhood before departing. I found a fallen tree being removed along one street, and a local boat marina at the southern end of the neighborhood at Locust Point.
In the photo at right you can see a tree being removed at Lawton Avenue near Throgs Neck Blvd in the Throgs Neck neighborhood of the Bronx. There's what looked to be a nice car lying underneath the fallen tree. The Throgs Neck neighborhood of the Bronx is surrounded by the water on its southern and eastern sides.
There's also an MTA run service center for the Throggs Neck Bridge at the foot of the Throggs Neck Bridge on the Bronx side, and a beautiful view of the Throggs Neck Bridge from the houses and apartment buildings that have been erected along the Hammond Creek shoreline.
Throgs Neck Neighborhood is Near the Throggs Neck Bridge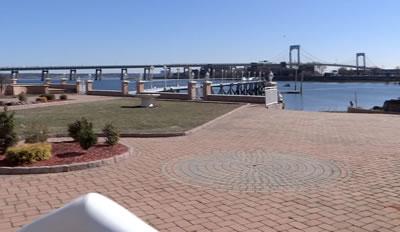 The photo at right shows the Throgs Neck Bridge as seen looking south / east from the southern tip of the Throgs Neck neighborhood, just east of the marina at Locust Point.
On my way back to the bus stop I took a few photos of Edgewater Park which is along the water somewhere near where the Long Island Sound begins.
Next time I'll have to get an earlier start, but at least now I know how to use the public transit between northeastern Queens and southeastern Bronx.
Slainte which in Gaelic means 'good health to you'.
---
Ruben Diaz Delivers State of the Borough Address
Bronx Borough President Provides Holistic Overview of Borough Affairs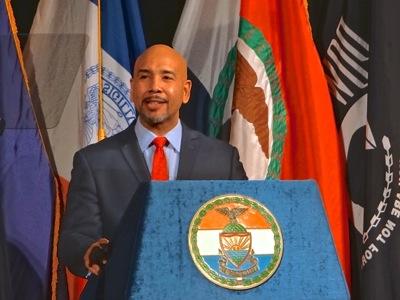 February 26, 2018 / Bedford Park Neighborhood Central Bronx / Bronx Politics & Government / Bronx Neighborhoods / Bronx Buzz NYC.
I attended Bronx Borough President Ruben Diaz's State of the Borough Address last Thursday at the Bronx Science High School in the Bronx neighborhood of Bedford Park.
There was a reception that began at 10.30 am and the speech was scheduled to begin at 11.30 am. I arrived a bit after Bronx President Ruben Diaz began his speech.
Diaz began by talking about how much things had improved since he became Bronx Borough President. Crime is down, as homicides have dropped below 100 for the fifth straight year, and he told us that this year was the lowest year on record. He told us that employment is up, that the Bronx has a 5.5% unemployment rate and that 110,000 new jobs have been added since he took office as the Bronx Borough President in 2009. Diaz said that school graduation rates are up, and drop outs are down, but that the Bronx still has the lowest math and reading scores in the city. He went on to say that many high school graduates are unprepared for the future.
The Bronx Borough President noted that there is still far more to do. And it was about what needs to be done, that he spoke about at his 9th State of the Borough Address.
Public Education in the Bronx & NYC is Underfunded
Regarding education, he told us that NYC schools continue to be underfunded. He allocated $20 million last year to technology and auditorium upgrades, and has allocated $60 million on 400 schools since he took office eight years ago. He said that over 50% of NYC schools are overcrowded, and that 60% of elementary and middle school kids were in overcrowded classes last year. He said he would like to see the Department of Education [aka DOE] cap classes at 22 students.
Are Schools in the Bronx & Ethnic Communities Underperforming?
Bronx Borough President Ruben Diaz said that he has been working with Brooklyn Borough President Eric Adams to address what he termed an uneven playing field for Blacks and Latinos. He said that while Blacks and Latinos represented 44% of those taking the Specialized High School Admissions tests, they only received 10% of the offers.
It's worth noting that this skew is possibly the result of using the test scores to place students. But even if so - it still illustrates the problem of unequal opportunity. And lower test scores by Blacks and Latinos, may be due to underperforming schools in their neighborhoods, which represents a more deeply embedded educational opportunity inequality.
Linking CUNY Graduates to NYC Department Hiring?
Diaz suggested that incentive programs be created that create direct links between the New York City government and qualified CUNY school system graduates. He suggested that CUNY Lehman College nursing and healthcare graduates should be given consideration in the NYC Health & Hospitals Corporation, that CUNY Baruch business majors be given consideration in the NYC Economic Development Corporation, and that CUNY City College architecture and engineering graduates be given consideration in the NYC Department of Housing Preservation and Development.
He also suggested tax credits and contract preferences be given to companies that hire recent CUNY graduates.
One has to ask whether it's not in NYC's best interest to hire the best qualified candidates, regardless of from where they come. But that said, it's also an interesting idea, that in some controlled measure, seems worth exploring.
Expansion of Bronx Affordable Housing Units
Bronx Boro President Diaz went on to tell us that 21,000 new affordable housing units have been created. He said neighborhoods have been rezoned to create more functional and inviting neighborhoods, while trying to mitigate the displacement of current residents.
Bronx President Diaz said that his office directly funded 8,000 new affordable housing units by investing $52 million since he took office. This past year he told us, he invested $7 million in private developments to create 1,500 new affordable units. Some of the housing was allocated to the victims of domestic violence, some to the homeless and some to LGBT seniors.
He is also trying to obtain a "right to counsel" for victims facing evictions. In the Bronx neighborhoods where this has been implemented, there's been a 15% drop in evictions.
Jerome Avenue Rezoning - Bronx Neighborhoods of Belmont, Bedford Park & Norwood
The Jerome Avenue rezoning negotiations resulted in strong tenant protection programs, including a Certificate of No Harrassment pilot program, whereby landlords must prove they do not harass their tenants in order to obtain a permit to make significant alterations to their buildings. Additionally, Bronx President Ruben Diaz, identified 2,000 units of affordable housing that need to be preserved and rehabbed, as part of the Jerome Avenue rezoning. Diaz commended the Bronx Coalition for a Community Vision for their work on this rezoning plan.
Sheridan Expressway - Bronx Neighborhood of Hunts Point
He noted that the Sheridan Expressway was in the process of being converted into a boulevard, so that it will be safer for pedestrians and cyclists.
NYCHA
Healthcare
Crime

Puerto Rico
To Be Continued / Rest of this coming later in March.
---
Cigars Made the Old Fashioned Way
February 19, 2018 / Belmont Neighborhood Bronx / Bronx Shops & Shopping / Bronx Buzz NYC.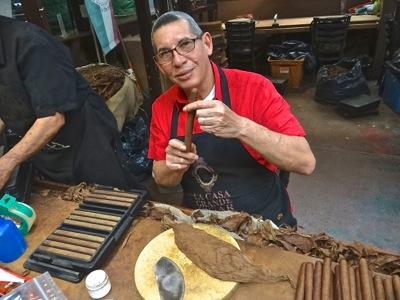 A while back I was strolling through Bronx Little Italy on Arthur Avenue. I spent a bit of time inside the Arthur Avenue Retail Market which was founded back in the 1930's by one of NYC's most famous Mayors, Italian American Fiorello LaGuardia. The market was an effort by the former Mayor to clean up Arthur Avenue as many vendors sold their goods out in the open air on the street.
Inside the old-fashioned, indoor market there are a dozen or more vendors selling food and other items. The vendor that caught my interest on this particular voyage, was the cigar maker busily toling away, rolling his fresh tobacco products on a table near the front of the market.
LCD Cigars bills itself as the original cigar of Arthur Avenue. The cigar maker comes from Latin America and has many years of experience making fine cigars. I bought a couple to bring home and enjoyed the smooth draw of the fresh rolled man-sized cigars.
I misplaced my notes of that voyage, but in addition to the rolling table where he makes cigars, he operates a small store which sells a selection of cigars and accessories, like cases to protect the cigars while traveling - one of which I purchased to ensure the cigars would make it safely home. You can find him in the Arthur Avenue Retail Market or buy from him online at LCDCigars.com.
---
Bronx Holiday Markets & Shopping - Kwanzaa Hanukkah & Christmas Holiday Markets Bx NYC
Bronx Holiday Markets, Shopping & Bronx Holiday Events Bx NYC
Bronx Holiday Shopping, Bronx Christmas Markets, Bronx Hanukkah Shopping, Bronx Kwanzaa Markets & Bronx Holiday Markets & Events
December 17, 2021 / Bronx Neighborhoods / Bronx Holiday Events / Bronx Events & Things To Do / Bronx Shops & Shopping / Bronx Buzz NYC.
HYBRID.
EDITOR NOTE. While it seems we've turned the corner on the CoVid pandemic, it's after effects still linger. Hence a number of holiday markets we saw in 2019 may not yet return in 2021 for reasons related to CoVid, or possibly finances, or perhaps an assessment that the rewards of a holiday market at this time aren't worth the risks of operating one. Lastly, shopkeepers / market makers still have to operate knowing there remains some uncertainty in being able to obtain the selection goods you want in the time frame you want because of lingering issues associated with the supply chain. So while they may not return this year, they might make a comeback next year.
The holidays are a special time of the year. In ancient times there were harvest celebrations to give thanks and enjoy the bounty of the year after a long season / year of work.
There were also winter solstice celebrations to commemorate the end of the darkening of the skies. Many cultures celebrate with a festival of lights, and in Christian cultures the holidays are marked with holiday lighting, tree lightings, candle lightings - as well as the celebration of giving through the most well known and most generous man in the world - Santa Claus.
The photo at right shows the Christmas tree at the three corners plaza at Third Avenue, 149th Street and Willis / Melrose Avenue in the Mott Haven and Melrose neighborhoods.
Meanwhile, back in the Bronx we celebrate in a number of ways, which carry on some of these ancient traditions. The following provides the dates / times / locales and some details regarding many of the various Bronx holiday markets for folks to enjoy shopping between now and the end of the year.
Click here to read our report about Bronx Holiday Markets / Bronx Holiday Events & Things To Do NYC.
---
---
---
NYC Mayoral Debates Fall 2017
Dietl Effervesces, Malliotakis Attacks & de Blasio Defends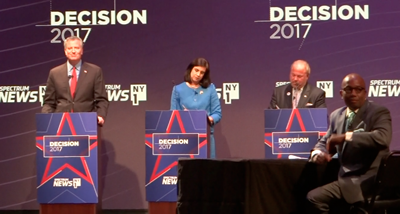 October 15, 2017 / Upper West Side Neighborhood UWS / Queens Politics NYC / News Analysis & Opinion / Gotham Buzz NYC.
I attended the Mayoral Debate at Symphony Space on Tuesday, October 10th, where former NYC Detective [1970 - 1985] and security firm businessman Bo Dietl [Independent], New York State Assemblywoman Nicole Malliotakis [Republican Staten Island] and Mayor Bill de Blasio [Democrat] squared off for one of two general election debates. The debates are sponsored by the New York Campaign Finance Board and are a requirement for those candidates who receive matching funds.
NYC Mayoral Debates - Opening Statements
Each candidate came out and made opening statements. Bo Dietl talked about his time working the streets as a policeman in the 1970's and 1980's and how since then he has run a successful security firm that also employs minorities. He described his two opponents as Column A and Column B candidates.

Nicole Malliotakis told us how she is the first member of her family to obtain a college degree and a Masters of Business Administration and that she is the 'American Dream'. She went on to say she would fix our schools, transit system and homelessness.
Bill de Blasio said that his two opponents were both right wing Republicans and that he was the only one that would stand up to Trump. He went on to say that crime is down, test scores at NYC public schools are up, but that there's more to do and he needs New Yorkers' help to continue making progress.
There was a small, but very boisterous minority of rude and disruptive people in the audience, who began their noisy tirades with the opening statements. It wasn't until near the end of the program - that one of [several of] the loudest shouters and screamers was finally escorted out.
Click here for a fairly full recount of the NYC Mayoral Debates with Malliotakis, Dietl & de Blasio.
---
Yankee Stadium History: Concourse Neighborhood Bronx
Yankee Stadium History: Concourse Neighborhood Bronx
A Bronx Institution Since 1923 was Rebuilt in 2009 with Taxpayer Funds on Public Parkland
October 8, 2017 /South Bronx Neighborhoods - Concourse / Bronx History / Bronx Things to do / Bronx Parks & Sports / Bronx Buzz NYC.
In 1901 the New York Yankees baseball team originated in Baltimore as the Orioles [no relation to present day team]. In 1903, they were purchased by casino man Frank J. Devery and former police chief William S. Farrell, and moved to New York, where they were renamed the Highlanders, because of a Scottish reference and because they played in Hilltop Park which is in present day Washington Heights. Today Hilltop Park is occupied by New York Presbyterian / Columbia University Medical Center at 165th Street and Broadway.
The New York Giants baseball team had reportedly tried to keep the Highlanders out of New York, by disallowing them the use of the Manhattan Polo Grounds as a venue. The Manhattan Polo Grounds was located in East Harlem at 112th Street west of 5th Avenue [and just north of Central Park], and it is where the New York Giants baseball team played.
In 1911 the Manhattan Polo Grounds burned down, and for a time, the NY Giants used Hilltop Park. While the Manhattan Polo Grounds was being rebuilt, relations between the two teams warmed. So, in 1913 the Highlanders baseball team started playing at the Manhattan Polo Grounds where the team was again renamed– this time as the New York Yankees .
The New York Yankees shared the Manhattan Polo Grounds Stadium with the New York Giants baseball team until the opening season of 1923, when they moved into their new stadium.
Click here to read our report about the history of Yankee Stadium in the Concourse neighborhood of the Bronx.
---
History of the Bronx Zoo in New York City
History of the Bronx Zoo in New York City
The Bronx Zoo is one of the Best City Zoos on the Planet
September 27, 2017 / Central Bronx Neighborhoods - Belmont / Bronx History / Bronx Things to do / Bronx Buzz NYC.
The Bronx Zoo is, as the headline says, one of the best zoos in the world. It offers visitors a day of amazing discoveries and safe exploration of natural wild life. The Bronx Zoo stands on 250 acres of land that is cut through by the Bronx River. Inside are tall trees, a wide array of bird species, wild jungle animals shown in habitats resembling their origin, polar mammals, gorillas, snaky reptiles and as Dorothy of the Wizard of Oz would say, "Lions and tigers and bears ... Oh my!"
The Bronx Zoo is open from 10 am to 5 pm daily. They offer kids rides, a shuttle and select participation in the feedings. There are several public feedings scheduled daily including feeding the Sea Lions at 11 am and 3 pm, with the Penguins being fed at 3.30 pm. In addition they offer an assortment of programs for classes for school aged children and other groups.
The Bronx Zoo also offers a '4-D' theater where you can see real wildlife, a seasonal Asian monorail that takes you through a replicated Asian wildlife refuge, and seasonal camel rides. These are in addition to the feedings mentioned above.
There are four main entrances to the Bronx Zoo. The first is Gate A or the Asia Gate [Bug Carousel} located along the west side of the Bronx Zoo along toward Southern Blvd at about 183rd Street. The second is Gate B, is located off Boston Road, which you get to by heading south on Bronx Park East off the Pelham Parkway. This entrance is located along the east side of the zoo in the Pelham Parkway neighborhood. And the third is Gate C, which is located at the north end of the zoo - and home to the famous gates - along East Fordham Road between Southern Blvd between Bronx Park East. There's a fourth gate which is located off the parking area adjacent to the Gate B entrance, located on the south east area of the park.
The Bronx Zoo opened in 1899, a year after the City of New York allotted 250 acres to the New York Zoological Society to develop a zoo, to preserve native animals and promote an interest in Zoology. The Bronx Zoo opened as the New York Zoological Park.
A former Smithsonian employee who was a conservationist, zoologist, taxidermist and author, namely William Temple Hornaday, was signed on as the Director of the Bronx Zoo where he remained for the next 30 years. Hornaday was driven by the desire to build a world class zoological institution and by all accounts today, he appears to have succeeded.
Click here to read the rest of our report about the Bronx Zoo - things to do in the Bronx.
---
Mott Haven Historic District & SummerStage in the Bronx
Mott Haven: Historic District & SummerStage in St Mary's Park
Large Audience Gathers to Enjoy Communal Music Feast
August 14, 2017 / Bronx Neighborhoods - Mott Haven / Bronx History / Bronx Live Music / Bronx Buzz NYC.
On Sunday, July 30th, I attended the SummerStage concert in St Mary's Park in the Mott Haven neighborhood of the Bronx. The stage was set in the western side of the park, which opened up onto a large field, but also gave the advantage of providing 'balcony seats' where one could enj oy the concert watching and listening from the hills.
SummerStage Concerts Bronx: St Mary's Park Mott Haven
The SummerStage concert in St Mary's Park featured Lisa / Lisa who hit the national scene in 1985, in the year before she turned 20. The Hells Kitchen native and her 1980's group - Lisa Lisa and Cult Jam - took the hit single 'I Wonder if I Take You Home', to #1 on the Billboard Hot Club Dance Play chart for a week in June of 1985.
Lisa / Lisa is of Puerto Rican descent and was born and raised in Hells Kitchen in Manhattan. Lisa / Lisa was one of the wave of freestyle musicians to help usher in dance pop. In 1982 Michael Jackson released his best selling dance album Thriller which rose to become the world's best selling album - a title which I believe it still holds to this day. In 1984 - just two years later - teenager Lisa / Lisa and her Cult Jam band released 'I Wonder if I Take You Home', which as mentioned above, rose to number 1 atop Billboard Magazine's dance pop charts.
Lisa / Lisa shared the stage in concert where she had a male and female dancer who artistically interpreted her magical music while we in the audience moved to the rhythms. In the photo above right, Pop Dance Hip Hop musician Lisa / Lisa with one of the dancers at the SummerStage concert in St Mary's Park in the Mott Haven neighborhood of the Bronx.
The weather was a warm but dry 80 degrees as the sun was making its way west and we were sheltered by the St Mary's Park foliage. While most folks in attendance were adults there were also a number of families with children.
Mott Haven Historic District: Bronx
After the concert I made my way down past the Mott Haven Historic District to the #6 subway at 138th Street and Third Avenue. The Mott Haven Historic District is rather small, running along Alexander Avenue between 138th Street and 141st Street. The buildings date back to the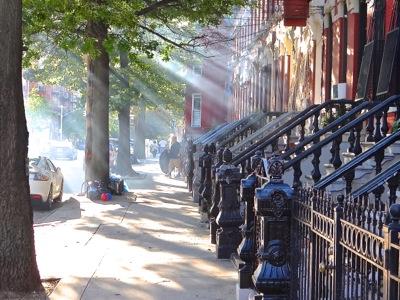 last half of the 19th century, when people were moving to the Bronx because rail transportation was enabling more easy movement of people and goods. Alexander Avenue is believed to have been named after Alexander Bathgate who was the Morris land holdings manager.
The photo at right shows some of the houses from the 19th century that still exist in the Mott Haven neighborhood of the Bronx.
The Morrises bought the land in the south Bronx in 1670 from Jonas Bronck, a Swedish immigrant and one of the original Bronx settlers and after whom the Bronx is named. Bronck in 1641, less than thirty years earlier, bought theland from the Dutch West India Company, which had purchased the lands from the Indians in 1639.
The Bronx neighborhood in which Alexander Avenue resides, is called Mott Haven, and was named after Jordan Mott. Mott was the inventor of the coal burning stove. In 1828 Mott opened up the first manufacturing facility in the Bronx, his ironworks. Today Mott Ironworks manhole covers are reportedly still in use today.
Also nearby is St Mary's Park where the SummerStage concert took place, as well as St Ann's Church, which is an Episcopalian Church where two generations of Lewis Morris are buried, as well as Gouverneur Morris. They are members of one of the founding families of the Bronx, second only to Jonas Bronck himself.
The Bronx SummerStage concert series is organized and sponsored by SummerStage and City Parks Foundation in tandem with the NYC Parks Department. SummerStage organizes several free concerts in Bronx each summer, including two concerts in Crotona Park in the Central Bronx.
Click here to view our story about the Mott Haven Historic District in the Bronx.
---
History of the Edgar Allan Poe Cottage - Bronx Museums near Fordham
History of the Edgar Allen Poe Cottage in the Bronx
House Edgar Allan Poe Spent his Last Couple Years
August 16, 2017 / Bronx Neighborhoods - Fordham / Bronx Things to do / Bronx History / Bronx Buzz NYC.
The Poe Cottage was erected in 1812. The small clapboard house is located in Poe Park where the Grand Concourse intersects with Kingsbridge Road in the Fordham neighborhood of the Bronx. The NY Parks Department, which in collaboration with the Bronx County Historical Society, runs the registered historic site - notes that it was a simple farmhouse built for laborers.
Edgar Allan Poe resided here during the last three years of his life. According to the NY Parks Department, the house was moved to its current location from where it had originally stood on Kingsbridge Road [about 450 feet south - near Valentine Avenue] when Poe lived in it.
Poe died in 1849 of causes unconfirmed as according to Wikipedia, his death certificate has been lost. There's a plaque in Boston denoting approximately where he was born, and a monument in Baltimore where he died and was buried. There's also an Edgar Allan Poe Museum in Richmond, Virginia – an area around which the author spent the majority of the formative years of his short life.
One of Poe's most famous works was The Raven, a poem published in 1845, less than a year before Poe moved into Poe Cottage. The Raven depicts a man struggling with a lost love, where Poe flexes his literary skills with cultural references and cadenced structure.
Another of Poe's most famous works, The Cask of Amontillado, was published in late 1846, after Poe had moved into the Bronx house. And The Bells, Poe's last poem, was written in 1849, the year of Poe's death. It is believed that the sound of the St. Johns College [Fordham University] Church bells could be heard at Poe Cottage after the church was built in 1845, and that the church bells were, in part, some of the inspiration for the poem. The Bronx County Historical Society website notes these two seminal works were penned in the bucolic setting of the Fordham neighborhood in the mid 19th century in the Bronx.
According to the Museum Register, it took a while for the City to take control of the place as an historical site. In 1902 it opened Poe Park and in 1913 it moved the Poe House to its current site. This year the weekend of October 14th and 15th, you can visit the Poe Cottage free as it is a participant in Open House New York, which is an historic site weekend.
Click here to read the rest of our story about Poe Cottage Museum in the Bronx.
---
Fordham University History - Bronx History in Fordham Neighborhood
Fordham University Rose Hill Campus in the Bronx
Fordham University Serves Approximately 15,000 Students
October 10, 2017 / Bronx Neighborhoods - Fordham / Bronx History / Bronx Colleges Universities Schools / Bronx Buzz NYC.
During my travels in the Bronx in the spring and summer of 2017 I could not help, but make a visit to Fordham University. According to Wikipedia Fordham University was originally founded as St. Johns College in 1841 and changed its name to Fordham University in 1907. Just a couple of years earlier, in 1904, they had begun both a graduate medical school and a graduate law school.
Wikipedia reports that Fordham University is the third oldest university in New York, and the oldest Catholic college / university in the northeast section of the United States. In 1969 the Board of Trustees was reorganized to include a majority of non clerical members, thus officially making Fordham University an independent institution.
Historically, Fordham has been known as a Jesuit school. The Fordham University website notes that their Rose Hill campus is comprised of 85 acres and that their ten schools - including the college, law school, medical school, business school, education & others] serves nearly 16,000 students. Of the total Fordham University student body, over 9,000 of the Fordham University students attend the college. As for locations, nearly 8,000 students attend Fordham University in the Bronx at their Rose Hill campus, while over 7,000 attend Fordham University at their Lincoln Center location. Fordham University also has a small outlet in Westchester County that serves about 500 students.
Fordham is a highly regarded school. According to U.S. News Fordham University is #60 in the ranking of 1600 colleges and universities in the U.S. That puts it in the top 4%, with high school counselors ranking them #42 and with their business program ranked #77. This kind of education doesn't come cheap as U.S. News noted that tuition and fees are pegged at $47,000 and room and board is estimated at $16,000.
Click here to read the rest of our report on the history of Fordham University in the Bronx neighborhood of Fordham and Belmont.
---
New York Botanical Gardens in the Bronx History
History of the New York Botanical Gardens in the Bronx
One of NYC's Finest Attractions Resides in Bronx Northern Neighborhoods
August 17, 2017 / Bronx Neighborhoods - Bedford Park & Norwood / Bronx Things to do / Bronx History / Bronx Buzz NYC.
The New York Botanical Gardens are located in the Bronx. While New York City has Botanical Gardens in three of its other boroughs [Queens, Brooklyn & Staten Island], only one - its best - bears the metropolitan city name. The botanical gardens in the other boroughs are competitive in their own right, but the New York Botanical Gardens in the Bronx is like few botanical gardens in the entire world.
Notable within the New York Botanical Gardens walls lie 50 acres of primordial landscape, largely kept intact from colonial and pre-colonial times. This tract of open landscape was once occupied by the Lenape Indians and is called the Thain Family Forest, named after the family that financed the preservation and enhancement of the forest, which has suffered many ravages since its inception.
The ravages to the primordial forest were first addressed in 1904 less than a decade after the site was dedicated to the NY Botanical Gardens. According to an NYT report the original footpaths led to the destruction of the hemlock grove, as the footpaths destroyed the shallow roots. In 1926 new hemlocks were planted, but in 1986 most of the hemlocks were destroyed when a hurricane blew in Asia beetles which destroyed most of the hemlocks that were left.
Also around 1904 a blight destroyed all but two of the original 1,500 chestnut trees. And Dutch elm disease wreaked havoc with the primordial forest elms. There were a number of other such intrusions, so the primordial forest is now a mix of old and new. A research paper provided by the NY Botanical Gardens outlined the work being done to mitigate aggressive intrusions into the forest over the past half decade or so.
Click here to read the rest of our report on the New York Botanical Gardens near the Bronx neighborhoods of Belmont, Bedford Park, Norwood and Fordham.
---
---
---
Bronx Farmers Markets & Green Markets - Bronx NYC
Bronx Farmers Markets 2022
April 19, 2022 / Bronx Neighborhoods / Bronx Shops & Shopping / Bronx Buzz NYC.
See HOURS, MAPS, ITEMS / SELECTION of the 23 BEST Farmers Markets / Green Markets in Bronx, w/ savvy shoppers' tips. This report includes the Mott Haven Farmers Market, Concourse Green Market, Coop City Farmers Market, Fordham Manor Green Market, Parkchester Farmers Market, City Island Farmers Market, Hunts Point Farmers Market, Claremont Village farmers markets and in between.
Click here for dates, times, locations of the Bronx Farmers Markets.
---
Bronx Street Fairs - Street Festivals in the Bronx
Bronx Street Fairs 2022 - In NYC
Bronx Street Fairs 2022 - Mott Haven, Fordham Heights, Mt Eden, Mt Hope, Morris Park, Riverdale, Hunts Point, Concourse, Middletown Pelham Bay, Morrisania, Norwood, Kingsbridge, Soundview, High Bridge, Throgs Neck, Westchester Square & Plenty More
August 4, 2022 / Bronx Neighborhoods / Bronx Shops & Shopping / Bronx Buzz NYC.
This is one of THE MOST COMPREHENSIVE BRONX STREET FAIRS including DATES, FOTOS & maps of most of the Bronx Street Fairs and Festivals in the NYC neighborhoods of Mott Haven, Fordham Heights, Riverdale, Hunts Point, Concourse, Middletown Pelham Bay, Morrisania, Norwood, Kingsbridge, Soundview, High Bridge, Throgs Neck, Westchester Square and plenty more.
Click here to view our report, including links to maps, of Bronx Street Fairs & Festivals 2022.
---
Golfing in Historic Van Cortlandt Park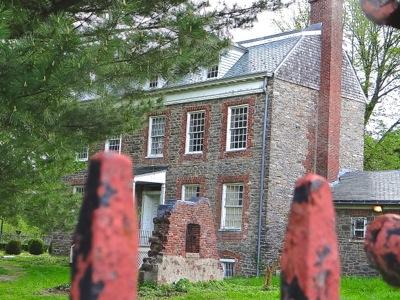 September 2017 / Bronx Neighborhoods - Van Cortlandt / Bronx Sports & Parks / Bronx Buzz NYC.
The Fall is a good time to get out the golfing clubs to continue or resume work on a golf game. The sport is aerobic and good for one's health, regardless of gender.
Van Cortlandt Park is home to one of the oldest continuous operational golf courses in the United States, dating back well over a century.
The Van Cortlandt golf course in the Van Cortlandt neighborhood of the Bronx is pretty easily accessible by subway, coming up along the Upper West Side of Manhattan on the #1 train.
In addtion to the golf course, there's a public swimming pool and an historic home that's worth a visit. Golfing with a cart costs about $46 / person for late-in-the-day golfing and $70 per person with a cart during prime time. Subtract about $20 for the cart on the off-hours and maybe subtract about $30 for the cart during prime time.
Also in Van Cortlandt Park is the Van Cortlandt House Museum. The Van Cortlandt House is reortedly the oldest house in the Bronx borough as it was built in 1746.
---
Update: LaGuardia Airport Development Project
First Phase Moving Along with Second & Third Phases About to Begin
April 24, 2017 / Astoria Neighborhood / Queens Real Estate / Bronx Buzz NYC.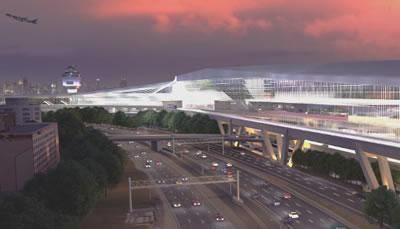 I attended a Community Board One meeting at the Astoria World Manor on Wednesday, April 19th. People representing the LaGuardia Airport development project were scheduled to provide the community with an update regarding several of the multi-billion dollar renovation projects associated with LaGuardia Airport, that are either currently in the works or nearing the end of the planning process.
The presentation was split into three parts: 1) LaGuardia Airport development project construction updates, 2) traffic mitigation efforts and 3) community outreach including job opportunities related to the projects.
Click here to read our report on the LaGuardia Airport development project & expansion, related job opportunities, its possible impact on travel times to the airport and the public hearing details on May 3rd, 2017 in Flushing. We have also included a small bit of history about the airport and the fight over the property and development in Flushing Meadows Corona Park. The graphic at right was created as part of the LaGuardia Airport development project.
---
NYC Crime Continues To Drop, Breaking Records
Mayor de Blasio & NYPD Discuss City Safety & Ongoing Improvements
February 7, 2017 / Bronx Neighborhoods / Bronx Government / Bronx Buzz NYC.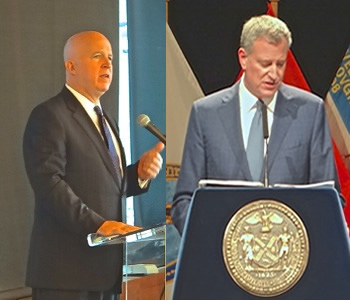 This just came in on the heels of our coverage of the Public Safety discussion below. Mayor de Blasio and NY Police Commissioner O'Neill spoke in the Bronx regarding ongoing efforts and results in improving safety in the city. The following are some of the crime statistics noted in their meeting taken directly out of a press release sent by them.

Chief of Crime Control Strategies Dermot Shea, NYPD: Thank you, Mr. Mayor. Good afternoon, everyone. As you've heard, we have begun a strong start to 2017 in terms of overall crime reduction. Strategies that have been put in place to address repeat offenders, illegal gun possession and gangs are having the desired effect. We're building on the momentum of the last few years.
So, some of the highlights for crime statistics from this January - overall index crime is down 0.2 percent for the month of January. When you carry it over to this morning, we are now down 2.7 percent in overall index crime in New York City.
To note - with the overall index crime, January marks the tenth consecutive month of reduced index crime. That's the momentum we've been talking about. Currently, four out of five boroughs in New York City - all but Queens - are down to start the year.
Homicides - we recorded 20 homicides in January. That's down two from 22. That 20, as the Mayor alluded to, is the lowest January that we have ever recorded going back a minimum into the 1960s.
Shooting incidents - down 1.7 percent in January. Last January we hit the modern mark with 59 shooting incidents. We came in with 58 this January.
Talking about momentum again - nine of the last 13 months we've had a reduction in shooting incidents. Nine of the last 13.
Three months in a row we've had a reduction in shooting incidents in New York City. We have now, when you look at New York City as a whole, we now have 24-hour periods where we do not record a shooting incident in New York City. That kind of thinking was impossible in the not too distant past.
This is the new normal. We want to build on it and we feel that we will build on it but there's still plenty of work to do.
Stabbings and slashings for January - down 7.2 percent.
Robberies - down 7.5 percent. Lowest January robbery number we've seen.
Felony assaults in New York City - down 5.4 percent.
Burglaries tied the lowest mark set last year.
Transit crime - down 1.4 percent.
And housing crime - not to be outdone - down 1.9 percent.
Clearly, a wide breath of crime across New York City - property and violent crime, down.

But there is, I alluded to, there is still work to do - three categories we saw increases in January.
Grand larceny, specifically, credit card related skimming and forging of checks - those two drove grand larcenies. And grand larceny was up for the month of January 4.7 percent.
And lastly, rounding out the crime totals - stolen vehicles which we have seen drop to unprecedented lows saw an increase of ten cars for January. So, that's 480 versus 470 - a two percent increase.
Commissioner O'Neill: Okay, thanks, Dermot. We'll take your questions.

Question: Do you think it's possible, really to keep driving crime down further at this point? And how could you achieve that?
O'Neill's response was yes, with some added context.
---
4th of July Fireworks 2016 Manhattan
Best Viewing Places / Locations to Watch Fireworks in Manhattan NYC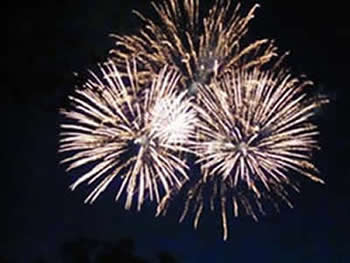 July 1, 2016 / Bronx Neighborhoods / Bronx Buzz NYC.
The Macy's 4th of July fireworks will be shown along the East River this year. They were shown along the East River in 2014 for the first time since 2008. Mayor de Blasio had lobbied the change, which now spans three years.
Weather. Highs will be in the mid 80's during the dayand in the high 60's at night. As no rain is forecast it should be a near perfect night.
The Grucci Brothers will be doing the Macy's 4th of July fireworks in NYC. They have been doing fireworks for many years and the Macy's July 4th fireworks in Manhattan for decades.
But for those looking for fireworks on 4th of July 2016, you'll have ample opportunity to view the fireworks as the pyrotechnic performance expansion is being continued this year.
Click here for a report about where to watch the 4th of July Fireworks 2016 Manhattan NYC & surrounding areas, including times and locations for the Macy's 4th of July fireworks in NYC and at Jones Beach on Long Island.
---
Bronx Swimming Pools - Public Pools in NYC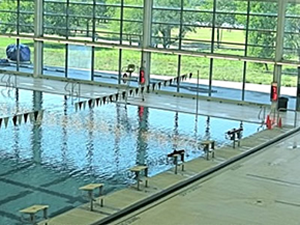 June / Bronx Neighborhoods / Bronx Buzz NYC.
Bronx offers easy access to a wide range of recreational swimming pools. The following is our first attempt to provide you with a view of the range of public swimming pools available in the parks of the Bronx. We encourage you to make use of these facilities because they provide healthy, fun, and frequently free or inexpensive entertainment for both individuals and families with children.
The following is a listing of Bronx swimming pools including South Bronx, Central Bronx, East Bronx and North West Bronx swimming pools.
Free Public Swimming Pools in the South Bronx. The Floating Pool at Barretto Point Park at the corner of Tiffany & Veile streets in Hunts Point.
The Mullaly Pool at 164th Street and Jerome Avenue just north of Yankee Stadium in the Concourse neighborhood of the Bronx.
Free Public Swimming Pools in the Central Bronx. The Claremont swimming pool in Claremont Park at 170th Street and Clay Avenue in Claremont Village neigoborhood.
The Crotona Pool at 173rd Street and Fulton Avenue near the Crotona Park Nature Center in the West Farms neighborhood of the Bronx.
The Mapes Pool across from Mapes Ball Field at 180th Street and Mapes Avenue in the Belmont neighborhood of the Bronx.
Free Public Swimming Pools in the North West Bronx. The Van Cortlandt swimming pool at 242nd Street and Broadway in Van Cortlandt Park in the Van Cortlandt neighborhood.
Free Public Swimming Pools in the East Bronx. And the Haffen Swimming Pool at Ely and Burke Avenues in Haffen Park in the Baychester neighborhood of the Bronx.
---
Clinton Defeats Sanders, Trump Defeats Rivals
Clinton 58% vs Sanders 42%; Trump 60% vs Kasich 24% & Cruz 15%
April 20, 2016 / Bronx Neighborhoods / Bronx Buzz NYC.
Bernie Sanders has been campaigning in New York the past week, drawing large crowds ranging from thousands to tens of thousands, as if he were a rock star. But on Tuesday, the voters weighed in and handed Hillary Clinton a convincing victory, helping her widen her delegate lead, and likely put her on the path to the Democratic Party nomination.
Democratic Delegate Count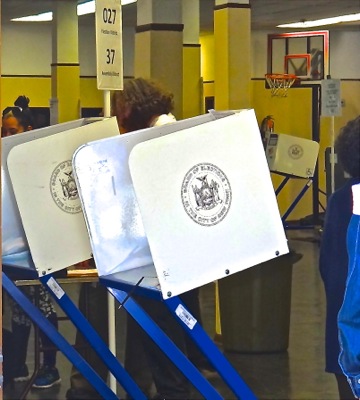 To win the Democratic Party nomination, a candidate needs 2383 delegates of 4763 total. Within that total there are 712 super delegates, who can align themselves / vote for whomever they want but there's pressure to vote in favor of the direction that the state voted. The remaining 4051 delegates are won via the voting process and are called pledged delegates.
According to the Associated Press estimate, following the NY State win Hillary Clinton now has 1428 pledged delegates and 469 super delegates, while Bernie Sanders has 1151 pledged delegates and 31 super delegates. There are 1472 pledged delegates remaining, so to win a majority of pledged delegates, Hillary has to win 598 or 41% of the remaining pledged delegates, while Bernie has to win 874 or 59% of them. Clinton has already received commitments from more than half of the 'super delegates'.
Given Sanders is generally still behind in the polls in some of the larger remaining states [behind 16% in Pennsylvania and behind 8% in California], that seems a tall order. While the polls were dead wrong in Michigan, they were spot on in New York. The Sanders campaign told a news outlet Tuesday evening that they will see how they do in the contests this coming week and then evaluate their chances going forward. The Democratic Convention has been scheduled from July 25 - 28, 2016 in Philadelphia.
Republican Delegate Count
Meanwhile on the Republican side there wasn't much news. Trump won handily defeating Kasich and Cruz. The Republicans have 2473 total delegates and 1237 are needed to win. According to the Associated Press estimate, following the NY State win, Trump has 845 delegates, while Cruz has 559 and Kasich has 147.
Trump needs 392 more delegates [about 40%] to go uncontested to the Republican Convention. There are 992 delegates remaining, but according to CBS only 674 delegates are available in the remaining voting contests prior to the Convention. So Trump may have to win 60% of the remaining unpledged delegates to go to the Convention uncontested. The Republican Convention is scheduled for July 18 - 21, 2016 in Cleveland.
The voting contests next week include Pennsylvania, Connecticut, Maryland and Delaware.
The fat lady hasn't yet sung, but it is beginning to look like a Clinton / Trump race to the White House.
---
Mayor de Blasio's State of the City Address 2016 NYC
De Blasio's State of the City Address 2016
Progress Moving NYC from 'Tale of Two Cities' to 'One New York'?
February 6, 2016 / Bronx Neighborhoods - Bedford Park Neighborhood / Bronx Politics & Government / Bronx Buzz NYC.
I attended Mayor de Blasio's second State of the City Address delivered at the Performing Arts Center at Lehman College in the Kingsbridge Heights neighborhood of the Bronx. In spite of its northern, non-central location, the speech was well attended. About three dozen protesters also made their way north of Manhattan into the Central west Bronx, wielding placards asking the Mayor to stop gentrification and something about fair labor practices.
I took my place among the press corps where we were seated right in the middle of the auditorium. After settling in, I started photographing the slides whizzing by on the main stage, showing the accomplishments of the de Blasio Administation during its first two years. I have included a slide show a bit later in this report, which contains some of the slides that I photographed.
Unlike last year, when the Mayor and the Police Commissioner were having difficulties adjusting to each other, this year the mood seemed buoyant. In front of me was a group of students from the Laboratory School of Finance & Technology - MS 223 - at 360 East 145th Street in the Mott Haven neighborhood in the Bronx. The school is connected with Bronx Prep and hence handles grades 6 through 12.
Click here to read our report of Mayor de Blasio's State of the City Address 2016. The report includes video excerpts of the Mayor's speech, as well as two other short video pieces including the harmony singing of the National Anthem by a talented Bronx choral group, and a few exchanges with the teachers and students of MS 223 in the Bronx.
---
NYC Snowstorm Emergency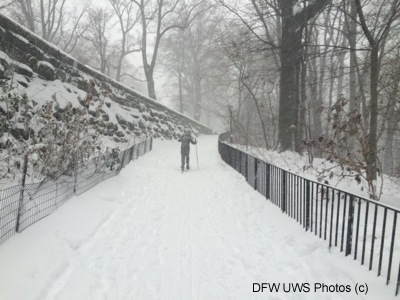 January 22, 2016 / Bronx Neighborhoods / Bronx Buzz NYC.
Mayor issues Travel Ban as of 2.30 pm Saturday. Asks theaters and restaurants to close as revised forecast could bring 20 - 25 inches of snow. The MTA announced that they will be shutting down above ground rail and subway and buses by 4 pm - click to NYC MTA Storm Update at - http://alert.mta.info - for details.
NYC Winter Emergency Declaration. Mayor de Blasio made a statement putting the government apparatus on notice to manage the implications of the storm.
Temperatures aren't dropping that low [20's / teens], and the estimated snowfall [about a foot] in and of itself doesn't appear to be anything we haven't handled in the past.
But the high winds [gusts of up to 50 mph] could stir up snowdrifts and some measure of trouble, particularly for pedestrians and motorists.
Oftentimes these things become much ado about nothing, but I reckon better safe than sorry.
Weekend Weather 1/22 - 1/24. The temperature highs will be around 30 on Friday & Saturday, climbing to the mid 30's on Sunday. The lows will be in the low 20's throughout the weekend. It will be clear on Friday, with a huge snowstorm expected Saturday.
The Snowstorm will start early, dropping about 6 - 9 inches by about midafternoon, and finishing the day with a few more inches. It's expected to be generally clear on Sunday. On Saturday it will be windy, with gusts of up to 50 mph.
Click MTA Link for Snowstorm Service Changes. Click here for details on the MTA Weekender - http://web.mta.info/weekender.html.
---
---
NYC Marathon: A Brief History
A Closer Look At The NYC Marathon Course & Runners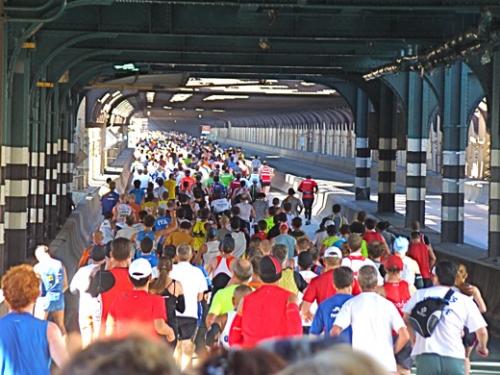 November 2, 2015 / Bronx Neighborhoods / Bronx Buzz NYC.
Every year about 50,000 runners converge on New York City on the first weekend of November to run in the New York Marathon. The race begins at 8.30 am with the wheelchair division, is followed at 8.52 am by the athletes with disabilities and handcyclers. And then from 8.55 am until 11 am a horde of 50,000 runners passes the starting line on their 26 mile journey ending in Central Park.
The course has changed since the first NYC Marathon and now runs through all five boroughs, starting in Staten Island, coming up through western Brookyn, cutting through Long Island City between the Pulaski and Queensboro Bridges and then looping up along the Upper East Side before circling back around just north of the Harlem River in the Bronx and heading back south into Manhattan and terminating in Central Park.
The race lasts about eleven hours, as the official end time is 7.30 pm, but the reality is that it's mostly over by about 5 pm. The NYC Marathon began in 1970 and the first one was held entirely in Central Park by having the runners circle around the park on various roadways multiple times. And, of course, it was a much smaller group of runners.
NYC Marathon Runner Demographics by the NYT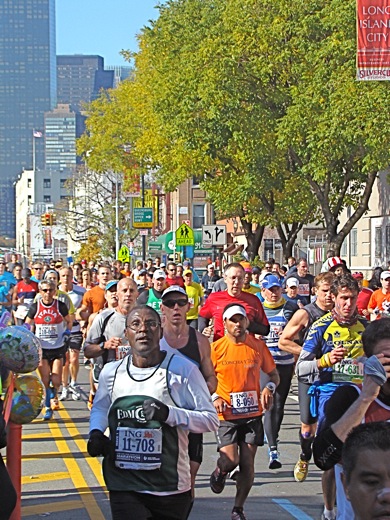 The NYT published a report about the NYC Marathon demographics. In it they noted that about three quarters of the runners make it over the finish line, and that about 40% of the runners are now women, which is up significantly from none in the first NYC Marathon in 1970.
This year only 48% of the runners are Americans, while another 4.5% come from Canada and Mexico, France and Italy represent 14% of the runners [split about evenly], and Britain, Germany and the Netherlands are another 15% (contributing in descending order], other parts of Europe, Latin America, Japan & China, Austrailia and South Africa.
Age-wise the largest group is between 30 and 40, the 2nd largest between 40 and 50, and a good measure from the 20 to 30 and the 50 to 60 demographics. Apparently many reaching their 40th and 50th birthdays like to 'prove that they still have it'. You can find the full report on www.nytimes.com, including some fun graphs.
NYC Marathon Winners Past & Present
The last time an American won the Marathon was in 2009 [Meb Keflezighi - a 2004 Olympic silver medalist born in Eritrea], and the last American winner born in the United States was Bill Rodgers in 1979. This year Meb was the first place finisher among all Americans and he broke the record for Masters Runners.
This year the winner for men was Stanley Biwott of Kenya who ran the NYC Marathon in 2:10:34, the winner for women was Mary Keitany, also from Kenya, who ran the course in 2:24:25, making this her second win in as many years. In the Wheelchair division, Ernst Van Dyk of South Africa beat Josh George of USA by one second coming in at 1:30:54. In the women's wheelchair division, Tatyana McFadden a Russian-born American, broke the NYC Marathon course record by seven minutes. It's been quite a year for her as she also won the marathon in Boston, Chicago and London this year.
Men's & Women's Marathon Times
As you can see by the times above, the best marathoners generally make the trip in a bit more than two hours, which means they ran at a pretty good clip of almost 13 miles per hour for over two hours. And it's worth mentioning that the gap between male and female NYC Marathon runners has been closing and at present is about 15 minutes.
Organizers & Sponsors of the NYC Marathon
New York Road Runners or NYRR is the organizer of the NYC Marathon and this year Tata Consultancy Services or TCS is the premier sponsor. TCS is an Indian software and IT services company based in Mumbai [formerly Bombay].
---
Century Bike Ride Manhattan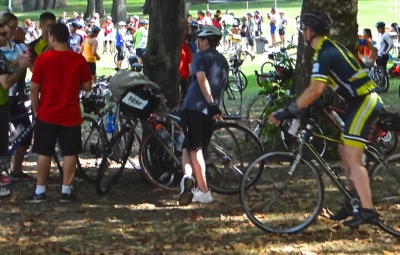 September 14, 2015 / Bronx Neighborhoods / Bronx Buzz NYC.
The Sunday forecast included a high probability of scattered thunderstorms, but fortunately for the Century bike riders the weather appeared to favor them.
The Century Bike Ride is organized by Transportation Alternatives, an environmentally-friendly group that promotes non-carbon and low carbon 'transportation alternatives' to NYC residents. This is the bike ride they sponsor and the receipts go toward their efforts to ensure the various levels of government do what they can to help promote a safe and regenerative urban transportation environment.
The Century Bike Ride offers four biking alternatives that individuals and / or groups can pursue on their own during the most-of-the-day event. The first start time was at 5.30 am in Central Park [Manhattan] and at 6 am for a Prospect Park [Brooklyn] start and the last rest stops at the two parks closed at 6 pm.
The four bike routes included a 35 mile, 55 mile, 75 mile and 100 mile [hence the name century] loop.The 35 mile loop is called the East River Ride, which runs along the East River primarily in Brooklyn and Queens. The ride started at 7.30 am and was expected to last between 3.5 and 7.5 hours. The 55 mile loop is called the Waterfront Ride which includes the East River loop, but also the Verrazzanno Bridge, Coney Island and part of the Brooklyn Greenway. This ride started at 7 am / 7.30 am and was expected to take about 3.5 to 8.5 hours. The 75 mile loop is called the Rockaways Ride and it excludes the north / south run along the East River in Brooklyn / Queens in exchange for a haul out to the Fort Tilden Beach in the Rockaways then north through a number of Queens Greenways [parks] before turning westward back toward Manhattan. The Century Bike Ride, the 100 miler, starts at 6 am / 6.30 am and is expected to take between six and twelve hours.
The Century Bike Ride started in 1989 and is celebrating its 26th year.
---
Greek Independence Day Parade NYC
Greeks Celebrate Independence From Ottoman Empire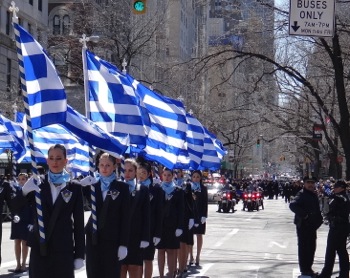 March 31, 2015 / Bronx Neighborhoods / Bronx Buzz NYC.
In 1821 a Greek Bishop tore down the flag of the reigning Ottomans and erected the Greek flag atop his church. This action and this moment is considered by many historians to be the official beginning of the Greek fight for independence from the Ottoman Turks. The Ottomans had ruled Greece for about four centuries.
Fast forward to the 21st century in New York City and the Greeks are on the march once again. The Evzones Presidential Guard marched near the front of the parade. They were preceded by a cadre of government officials including the Governor (who I missed) and the Mayor, as well as government officials from the Greek neighborhood of Astoria in Queens.
The parade was organized by the Federation of Hellenic Societies which is an inclusive group of a good number of different Greek cultural and civic groups in the tri-state area. The photo above right shows a group from the University of Thessaloniki in Greece marching along the east side of Central Park on Fifth Avenue in Manhattan.
It was a beautiful day as I made my way toward Central Park ... more to come later including a photo slide show.
---
MTA: Subway Fare Increases March 22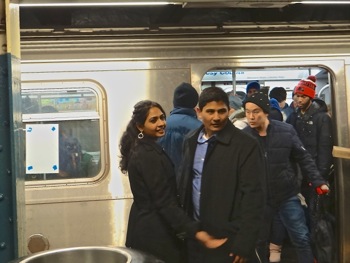 February 13, 2015 / Bronx Neighborhoods / Bronx Buzz NYC.
The Board approved increasing the base fare for the subway, bus, and MTA Staten Island Railway by 25 cents to $2.75, while also more than doubling the bonus amount added to MetroCard® purchases of at least one round-trip.
The combination of the increased fare and the increased bonus creates an effective fare increase of 4.1%, or 10 cents, for the Bonus MetroCard, which is used for 43% of trips. The 30-Day Unlimited Ride MetroCard, which is used for 29% of trips, will increase 4% to $116.50. The 7-Day Unlimited Ride MetroCard, which is used for 21% of trips, will increase 3.3% to $31. The remaining 7% of trips are made using non-bonus MetroCards, cash on buses or Single Ride Tickets, which are largely purchased near major tourist destinations.
---
Vision Zero Appears To Be Helping
Mayor de Blasio's Effort to Reduce Traffic Fatalities Appears To Have Some Success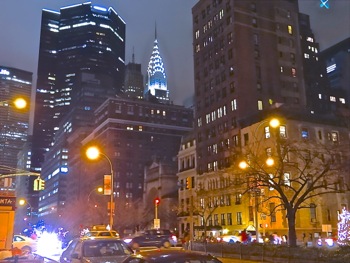 December 22, 2014 / Bronx Neighborhoods / Bronx Buzz NYC.
As of October 1, 2014 there were somewhere between 86 and 97 pedestrians killed by motorists in NYC, and 17 cyclists. In all of 2013 there were 177 pedestrians killed by motorists and 12 cyclists.
If the monthly average of deaths continues through to year end, then some progress will have been made in reducing motorist fatalities in NYC.
Communities have banded together to begin addressing the issue of traffic fatalities on New York City streets. Solutions included reducing the speed limit to 25 mph, continuing the effort to provide separate lanes for cyclists, and rearranging traffic patterns in order to protect pedestrians from death and motorists from ending up in jail.
To be sure, much more needs to be done to make our streets safe, but there was some small measure of encouragement in the 9 month fatality scorecard.
---
Bronx View: UN People's Climate March & Photos 2014
People's Climate March Photos
Over 300,000 People March / Interesting Signage / Creative Costumes / Jazzy Music / Important Message / By The People & For The People / We Are One World / We Are One People / We Must Learn To Live In Harmony With Each Other & With Our Ecosystem
September 22, 2014 / Midtown Neighborhood / Bronx Environment & Parks / News Analysis & Opinion / Gotham Buzz NYC.
I came up the subway stairs at Times Square Sunday, September 21, 2014 shortly before 1 pm. I had hoped to cover the People's Climate March story beginning at 11.30 am at Columbus Circle which was when the parade was to start; but I was detained and rushed to cover what I had thought might be the END of the parade. Boy, was I wrong. I ran head on into the BEGINNING of the parade, although I had missed the very front of it.
It truly was a People's Parade as there were few government officials were in attendance. According to one report I read after the parade, NYC Mayor Bill de Blasio, former U.S. Vice President Al Gore and UN Secretary General Ban Ki-moon joined the head of the parade around 12.45 pm, which wasabout the time I had arrived, so I missed them.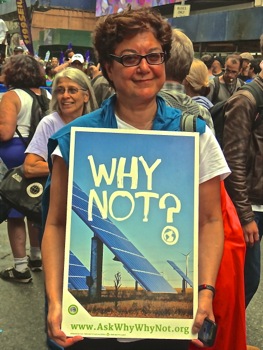 There were also a few NY City Council Members who marched, versus an NYT report that indicated a third or more planned to march. I recognized three of about five NY City Councilmembers that were there: NY City Council Speaker Viverito, UWS CCM Rosenthal and Astoria Queens CCM Costa Constantinides.
Green Companies Missed Big Marketing Opportunity To Reach Their Passionate Audience
Click here later today to read our full report of the People's Climate March including hundreds of photos, and a number of parade marchers' views of what's really going on, as well as what can practically be done by regular folks about it.
Click here to read our report and view photos of the UN organized People's Climate March in NYC. Story and photos by Michael Wood.
---
NYC Worlds Fair 1964
Battle for the Heart of a Park … and the Soul of a Borough
PART II - NYC Stadiums: Battle of the Titans
The NYC World's Fair: 1964 - 1965 in Flushing Queens
January 21, 2013 / Queens Neighborhoods / Bronx Neighborhoods & Bronx History / Bronx Art & Culture NYC / Queens Buzz NYC.
Click here for Part I of our report series on Developments in Flushing Meadows Corona Park where we journeyed back to the Corona Ash Dump, immortalized in the Great Gatsby, and later transformed into a World's Fair utopia by Robert Moses, Fiorello LaGuardia and the 1939 World's Fair committee.
The 1939 World's Fair attracted over 40 million people, but lost over $100 million, as it opened the year Nazi Germany beganinvading its European neighbors, and while Japan was busy invading China. Nonetheless, in spite of a financial failure for the 1939 World's Fair bondholders, the fair had enabled NYC and Robert Moses to complete phase one of his vision to transform the Corona Ash Dump into NYC's premier city park, and build a whole new network of highways around it.
Ebbets Field in Brooklyn & The Brooklyn Dodgers
We resume our story, after WWII, as a young lawyer in Brooklyn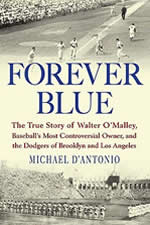 began working for the Brooklyn Dodgers. The Dodgers played at Ebbets Field just east of Prospect Park in what is the now Crown Heights neighborhood of Brooklyn. The year is 1943 as a 40 year-old lawyer, Walter O'Malley, leaves the Brooklyn Trust Company where he had oversight responsibilities for troubled companies, including the Brooklyn Dodgers.
You can click here to read Part II of our report on proposed developments in Flushing Meadows Corona Park entitled NYC Stadiums: Battle of the Titans.
Or click this link in the meantime to view Part I of our report series entitled - Out of the Ashes Rises the Phoenix - about the beginnings of Flushing Meadows Corona Park and the 1939 World's Fair.
---
F Scott Fitzgerald Great Gatsby Pile of Aches 1939 Worlds Fair
Battle for the Heart of a Park ... and the Soul of a Borough
The NYC World's Fair: 1939 - 1940 in Flushing Queens
PART ONE - Out of the Ashes Rises the Phoenix
January 12, 2013 / Queens Neighborhoods / Bronx Neighborhoods & Bronx History / Bronx Art & Culture NYC / Queens Buzz NYC.
Over the past six months we've been watching with interest as events have been unfolding regarding the building of a 25,000 seat soccer stadium right in the heart of Flushing Meadows Corona Park. There are also a number of other proposals working their way through the political process / local government, which calls for the cessation of public lands to build private enterprises on various sections of Flushing Meadows Corona Park.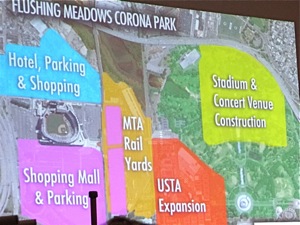 Currently four separate proposals are in process for planned developments in Flushing Meadow Corona Park. They include: 1) a chain store shopping mall / complex in the southwest corner of the Citifield parking lot [pink], 2) a housing / condominium / hotel complex on the lands the city acquired in its use of eminent domain to develop Willets Point [blue], 3) the expansion of the USTA facilities in the northwest section of the USTA franchise in the park [orange] and 4) the erection of a thirteen plus acre stadium / sports complex in the middle of Flushing Meadows Corona Park [yellowish green].
The graphic above was provided by one of the community groups opposed to the Flushing Meadow Corona Park developments. It's worth noting that most of the colored areas already have pavement or structures covering the land. The exception is that of the proposed Stadium & Concert venue [yellowish green], which would be a completely new development, replacing water vessels which were created for the Worlds Fair. See the map in the header of this series [top of page] where the dark red square represents the approximate acreage and location of the proposed stadium / concert venue.
Queens Buzz has put together a series of reports, which we will run in the coming days about the proposed developments in Flushing Meadow Corona Park. This report starts with a bit of the history of the park, which began around the turn of the last century when Flushing Meadows Corona Park was just an ashpile.
The focus of this report is the 1939 NYC World's Fair which was held in Flushing Meadow Park as it was then called.
---
Rupert Murdoch & the Rise of the Propaganda Press: Fox News Propaganda Machine NY Post Fake News
K. Rupert Murdoch & the Rise of the Propaganda Press
This Section is Dedicated to Preserving One Man One Vote Democracies by Exposing What Appears to be Murdoch's Life's Work in Propaganda
Updated 12/26/17 / November 4, 2016 / NYC Neighborhoods / NYC Politics / News Analysis & Opinion / Gotham Buzz NYC.
In the Spring of 2016, while watching the Bernie Sanders campaign unfold, I noticed that the 'mainstream media' was showing what seemed to be tangible bias in favor of Hillary Clinton. This prompted my first story about the Bernie Sanders campaign & phenomenon, and made me aware of how the mainstream media appeared to treat him unfairly.
After the New York Primary, I noticed a relentless onslaught of attacks by Rupert Murdoch's NY Post on Mayor de Blasio. The attacks were based on allegations and innuendo, and sometimes included as many as five attack stories per day. Their relentless attacks based on allegations and innuendo outraged my sense of decency and fair play, so I began a study of the NY Post reporting bias which resulted in the second story of this series.
While doing the de Blasio / NY Post story, I couldn't help but notice a wide ranging pattern of what appeared to be a rampant abuse of First Amendment power by Keith Rupert Murdoch and his organization, including breaking laws, invading people's privacy, and bribing public officials. While these activities were uncovered in Britain, it's not a stretch to think that given the same man, Murdoch, is controlling the Newscorp & 21st Century Fox global media empire, that these same sorts of nefarious activities might be going on here as well. In fact, people responsible for management oversight of the tainted operations were subsequently given high ranking positions in this country.
As the Republican and Democratic Conventions of 2016 approached, I decided that the time period surrounding the political party conventions, up through the general election in November, would provide me with a good case study period to evaluate whether and how Murdoch's Fox News, NY Post and other assorted media properties, including the Wall Street Journal and the National Geographic, might be used as propaganda outlets.
In doing the context research, I found America's and Britain's media laws had been rewritten and loosened over time. In numerous cases I noticed that Keith Rupert Murdoch, all too often appeared to be in close proximity to the politicians changing those laws - almost always having supported them with his media properties - and at least in one case - even making personally direct donations to their campaigns.
I dug a bit further and found that there are few 'real' media laws of the books in Australia, where Murdoch is no longer a citizen. In spite of his status as a foreigner he reportedly owns 64% of that nation's daily newspapers and has a controlling interest in the nation's satellite TV system. I did some cursory research and it's not a stretch to think that Murdoch may have gotten his start influencing the re-writing of a nation's media laws there.
I also found what appeared to be a striking pattern of Murdoch manipulations and moves that seemed to come straight out of the political and propaganda playbook written by two of the earliest, most successful, and most evil practitioners of modern mass market propaganda - Adolph Hitler and Joseph Goebbels.
Hitler and Goebbels came to my attention because I found that I really could not even begin to understand modern propagandist techniques without studying Hitler and Goebbels in Germany in the 1930's. Hitler's skillful use of propaganda appears to have hastened his ascent to power, and enabled him to keep his grip on it. These two men are the fathers of modern propaganda, and it appears that Keith Rupert Murdoch has adopted and updated their propagandist techniques to serve his own interests.
Those who do not learn from history are doomed to repeat it. So please read on.
Click here to view our report about the state of media coverage of the 2016 election.
Or click here to continue on with this story about Keith Rupert Murdoch & the rise of the propaganda press / media madness/ corrupt Fox News / NY Post.
---
---
---
Bronx Neighborhoods - Bronx News NYC
Bronx Neighborhoods - Bronx NYC Related Info
Click this link for promotions, discounts and coupons in the Bronx.
Click here to go to the Bronx Arts & Culture section of this site.
Click for Central Bronx Neighborhood News.
Click for East Bronx Neighborhood News.
Click for North & West Bronx Neighborhood News.
Click for South Bronx Neighborhood News.
Click for Bronx Neighborhood News.
---
Site Search Tips. 1) For best results, when typing in more than one word, use quotation marks - eg "Midtown Neighborhood". 2) Also try either singular or plural words when searching for a specific item such as "gym" or "gyms".
Click this link to the Bronx Buzz front page.
---
---
Click the log in link below to create an ID and post an opinion.
Or send this story to a friend by filling in the appropriate box below.
---
Bronx Related Links
---